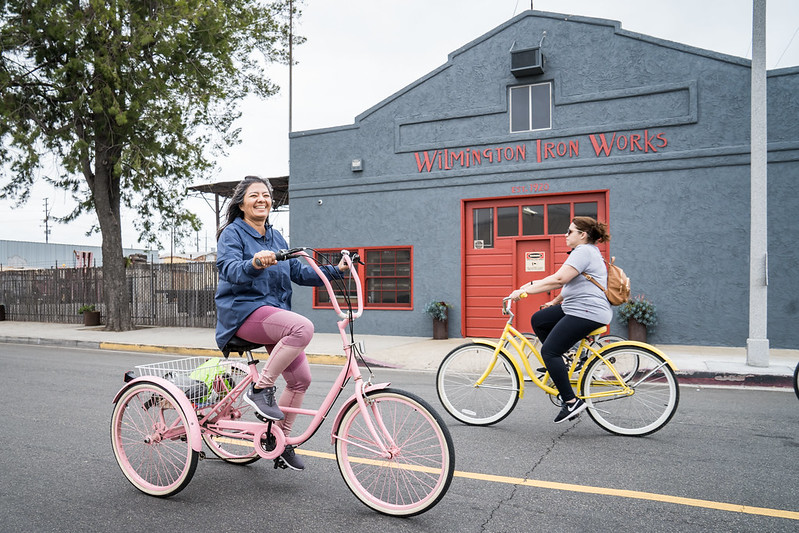 As Los Angeles finds its way out of the pandemic and restrictions gradually ease, we're continuing our bi-weekly round-ups of fun to-dos, mixing in the occasional online/virtual event with an ever-growing listen of in-person experiences and food ideas.
This weekend, from August 13 to 15, features Hollywood Fringe, Amazon's 'The Boys' pop-up butcher shop, Dance DTLA, CicLAvia in Wilmington, the Head Wraps in the Park festival, and more!
Friday / All Weekend
1. Hollywood Fringe -> The annual extravaganza of indie theater is back starting this Thursday, as Hollywood Fringe returns with a a huge lineup of community performances at over a dozen small and medium-sized spaces across Los Angeles, all taking place from Aug. 12-29. Get ticketing info and check the full schedule here.
2. The Boys Pop-Up -> In celebration of The Boys receiving five Emmy nominations, Amazon is bringing back the Butcher Shop pop-up with Chef Ludo Lefebvre for "Seven Super Days" plus new activations like a roaming ice cream truck, and Barry's Bootcamp "Supe Workout" classes across Los Angeles from August 13-19. Chef Ludo Lefebvre's two Petit Trois locations will be serving 50 complimentary Supe-inspired sandwiches at each location daily starting at noon and until sold out. A limited batch of "Compound V" themed cocktail will also be available during dinner service each day as well.
3. H.E.R. with LA Phil -> This Friday and Saturday evening at the Hollywood Bowl, the Oscar® and four-time Grammy® winning artist H.E.R. will perform with orchestral accompanient via the LA Phil led by Gustavo Dudamel. More info here.
4. Outfest LA -> The 39th Annual Outfest LA film Festival will return for in-person screenings and events August 13-22, 2021. Kicking off opening night is a screening of Everybody's Talking About Jamie presented by Cinespia at the Hollywood Forever Cemetery with in person appearances by Max Harwood, Lauren Patel, and director Jonathan Butterell, as well as Bianca del Rio. Nearly every film will also be available for streaming for those at-risk or who live outside of the region. Tickets for most in-person screenings are $16 for general admission. Complete film guide here.
5. Smell. Print. -> The A+D Architecture and Design Museum's new pop-up exhibition Smell. Print. offers guests the chance to going on a narrative journey that explores the link between the creation of memory and the power of scent. Tickets to the immersive show are free, but must be reserved in advance online. Runs Wednesday to Sunday through Aug. 21. More info here.
6. Dance DTLA -> The Music Center's Dance DTLA is back starting on Aug 13, for five Friday night dance parties on its Jerry Moss Plaza. On-site dance instructors will guide guests on easy-to-learn steps while DJs spin the soundtrack. This Friday opens with a Cumbia night, and other themes for the rest of the will include Disco, Motown, Salsa and Bollywood. Free to attend. Outdoors. More info here.
7. The Underground Railroad -> From this Wednesday to Sunday, The Aero Theatre in Santa Monica will host free screenings of the Amazon series The Underground Railroad, with two chapters in the ten part series airing each night from August 11-15. Attendees with RSVPs will be admitted on a first come, first served basis until the theatre reaches capacity. Sunday is members only. More info here.
8. The Chandelier -> Live dance is back at The Wallis with the world premiere of Heidi Duckler Dance's The Chandelier, a site-specific work choreographed and directed by company Founder/Artistic Director Heidi Duckler. Performances runs this Thursday to Sunday. Tickets are $50. More info here.
9. Ultra -> The Torrance Art Museum has collaborated with over 20 artists to create a series of public art installations freely accessible in locations around the City of Torrance, now through Aug. 28. More info here.
10. Los Angeles Black Restaurant Week -> Over 100 restaurants are participating in Black Restaurant Week this year (August 6-15) offering prix fixe menus, specials, and more. Check the restaurant directory for all participating spots. Most restaurants will be posting their specials through social media too.
11. Cardboard City -> Third Street Promenade is temporarily home to a 10,000 square foot pop-up art center featuring large-scale cardboard sculptures created by local artists and sponsoring architecture and design firms. Cardboard City is free to attend, open Thursday through Sunday from noon to 6 p.m. through Aug. 29. More info here.
12. Sing for Hope Pianos -> As part of the Sing for Hope Pianos recurring public art project, 16 special artist-designed pianos will pop up around Beverly Hills from Aug 5. to Sep. 6, offering public guests the opportunity to play and enjoy for free. More info here.
13. Aquarius Cocktail Pop Up -> Culver City's dining and shopping destination Platform LA is hosting a clothing pop-up this month for West Coast lifestyle brand Aquarius Cocktail. For a limited time shop one-of-a-kind summer looks that reimagine vintage materials into items like bucket hats (made of vintage beach towels!) Hawaiian shirts patched with bright vintage fabrics, dead stock shorts imprinted with smiley faces and much more.
14. DiscOasis -> Lights, disco, live performances, and food trucks, all presented in a lush, late-afternoon garden setting. That's the premise behind DiscoOasis, a new timed experience at the South Coast Botanic Garden that runs Tuesday through Sunday through Sep. 6. Tickets start at $39 per person. Get more info and buy tickets here.
15. NHM Extended Hours -> Every Friday now through Aug. 6, Natural History Museum will offer extended Friday hours (from 5 to 8 p.m.) that feature a live DJ in the Nature Gardens along with do-it-yourself family activities and food for purchase from the NHM grill. Admission is $15 for adults and $7 for children. More details here.
16. Levitt Pavilion Concerts -> A Lethal Amounts showcase takes over this Friday at the Levitt Pavilion in McArthur Park, and then on Saturday you can catch Son Rompe Pera along with Djs Subsuelo and Late Night Laggers. On Sunday Organización Regional de Oaxaca will present a night of live Oaxacan entertainment that includes music and dance. Concerts begin at 7 p.m. Free. Outdoors. All-ages. More info here.
17. The OC Fair -> This will be the last week of the 2021 Orange County Fair, with admission available this Thursday to Sunday. Tickets are $12 weekday general admission (Wednesday, Thursday) and $14 for weekend general admission. General parking is $10. Get more info and purchase tickets here.
Saturday
18. Head Wraps in The Park -> Celebrate African culture and beauty with a day-long festival featuring a fashion bazar, live entertainment, food for sale, and head wrap tutorials. Saturday from 11 a.m. to 6 p.m. Free, outdoors, and all-ages. More info here.
19. New Works at Thinkspace Gallery -> This Saturday Thinkspace will open two new solo shows, plus additional new works in the viewing room. Gallery One hosts Alex Face's debut US solo "Scorch and Drop" while Gallery Two will exhibit Huntz Liu's "Strata." In the viewing room new visitors will find works by Chicago-based Dovie Golden. Opening reception starts at 6 p.m. Proof of vaccination required. More info on all exhibitions here.
20. Vibrant Vinyasa Yoga with Blakwatter -> Compound, a newly opened cultural complex in Long Beach, hosts is hosting a free vinyasa yoga session on Saturday starting at 9 a.m. Offered both in-person and online for virtual participation. Free to join, but reservation required and space is limited. More details and signup here.
21. Monarch Butterfly Day -> A free day of outdoor fun at Mile Square Regional Park's Freedom Hall in Fountain Valley featuring onsite butterfly experts, a netted butterfly enclosure, and tutorial sessions for kids on how to plant their very own butterfly garden. Runs from 10 a.m. to 2 p.m. More info here.
22. Self-Care Yoga -> This Saturday, the California African American Museum host a free 60-minute yoga flow with yoga and meditation teacher Constance Hartwell. No previous experience necessary. Outdoor. RVSP required. More info here.
Sunday
23. CicLAvia -> L.A.'s biggest open streets initiative returns this Sunday 2.25-mile route in Wilmington connecting Banning Park and Wilmington Waterfront Park. Guests can bike, skate, run, walk, or skateboard along the route. All ages welcome. Runs from 9 a.m. to 4 p.m. More info here, and get a look at activities, shops and points of interest along the way via this interactive map.
24. Paws & Pages -> This Sunday, Annenberg PetSpace is offering a special book reading session for kids featuring the opportunity to meet an adoptable pet or critter ambassador, while also receiving a craft demonstration with materials to take home and complete. Tickets are $3. More info here.
25. Long Beach Antique Market -> Every third Sunday of the month, an open-air flea market featuring over 800 vendors pops up at Long Beach Veterans Stadium. General admission is $8. More info here.
Dining
26. ETA reopens after 17 months -> Highland Park's neighborhood cocktail spot ETA will reopen on Thursday, August 12 with $1 happy hour oysters (daily 5-8 p.m.) live jazz on Monday's (9 p.m.) and a fully updated food menu by Chef Ted Hopson (The Belwether, Father's Office.)
27. Korea's Mom's Touch now in the US -> South Korea's popular fried chicken concept, Mom's Touch lands in the South Bay with their fresh (never frozen) Korean fried chicken. On the menu are sandwiches, crispy chicken strips and wings in a variety of bold sauces like Fuego, Cheesy Onion and Apple Zing.
28. Messhall Kitchen -> Los Feliz neighborhood fave Messhall Kitchen will launch a new wanderlust inspired cocktail menu this Friday. Each cocktail is influenced by flavors around the globe and are made with a blend of homemade syrups and juices. To complement the new cocktail menu, Messhall is also introducing a new Seafood Market Plate that includes a family-style platter of salmon poké, tuna tartare, freshly oysters, shrimp, and crab salad for $79.
29. Sushi Note Adds More to Omakase -> Sherman Oak's popular wine and sushi bar Sushi Note recently added three more dishes to their Whole Note Omakase ($155) offering. Included are a Torotaku Handroll with pickled daikon radish and wasabi, a Yuzu Sorbet palate-cleanser, and a Yuzu Gelato. Now totaling 18 items, the Omakase also includes Miso Soup, Kuro Edamame, a 12-Piece Chef's Choice Japanese Market Fish, and Goma Tofu with sesame tofu and miso.
30. White Label Creamery -> Phong Ly Trinh of Pearl's Finest Teas has added a new ice cream shop right next door to his Fairfax Avenue business. On the menu is vegan ice cream, KAWS shaped waffles, and dairy soft serve. The sweets shop also features streetwear, shoes and art collectibles for sale. Starting August 12 White Label Creamery will host a Tokidoki collaboration of special sweets like a custom Donutella waffle with a variety of fillings, special soft serve and ice cream flavors and a Tokidoki themed out pop-up shop selling exclusive merchandise. The pop-up wraps up on August 29. This event has been postponed to August 19.
---
Any notes or corrections? Want to suggest an event we should add to an upcoming list? Hit us up at [email protected].