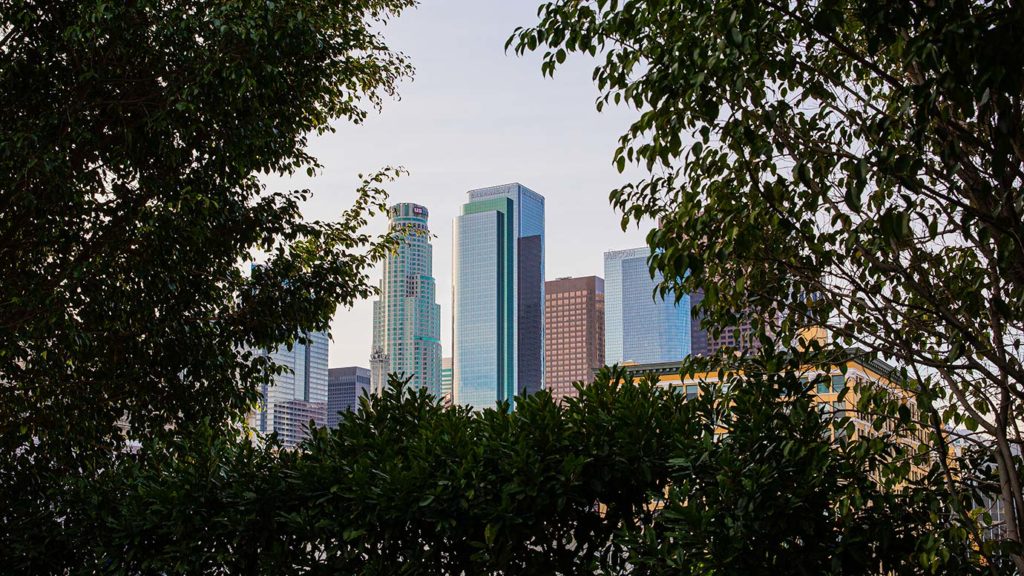 There's always lots to do in Los Angeles, and per usual we're here with a bi-weekly (Monday and Thursday) rundown of the best of what's happening in the city and county.
This week, from Sep. 7-10, features, Night Train to the Cinema, Radiohead Jazz Night, Halloween Horror Nights at Universal, a Santa Monica Mystery Quest, a Nine Perfect Strangers pop-up, the last Dance DTLA of the summer, and more!
[Remember, if you want to stay connected with our weekly updates, be sure to sign up for the We Like L.A. Newsletter]
Tuesday / Throughout the Week
1. Night Train to the Cinema -> Now through Oct. 1, American Cinematheque is presenting a series of classic films where the drama revolves around railway transportation. Screenings take place at either the Aero Theater in Santa Monica, or the Los Feliz 3 on Vermont Ave. This week's lineup includes Mystery Train (Tuesday at Los Feliz 3), Strangers on a Train (Thursday), Night Train to Munch (Friday at Aero), and Terror Train (Friday at Los Feliz 3). Tickets are $13 for general admission. More info here.
2. The Art of Citizen 13660 -> The Japanese American National Museum's newest exhibition honors the legacy of Miné Okubo's Citizen 13600. Published in 1946, Okubo's memoir was the first book-length account of the incarceration and internment of Japanese Americans during World War II. JANM's exhibit will include original sketches and drawings by Okubo, plus a draft copy of her final manuscript. Miné Okubo's Masterpiece: The Art of Citizen 13660 runs through Feb. 20, 2022. JANM's hours are 11 a.m. to 5 p.m., Tuesday through Sunday. Adult museum admission starts at $16. Get more info here.
Wednesday
3. Radiohead Jazz Night -> Bar Lis in Hollywood is now home to the weekly Tuesday night Jazz Eclectic series, but they're also showcasing a special monthly event featuring jazzy cover versions of songs from iconic bands This Wednesday kicks off the new series with a Radiohead-themed night beginning at 9 p.m. Make a reservation and get more info here.
4. Discovery from the Deep -> A new temporary exhibition at the Natural History Museum contains an extremely rare (and kind of horrifying) female Pacific footballfish (Himantolophus sagamius, a type of anglerfish), which was discovered in May 2021 at Crystal Cove State Park in Newport Beach, CA. The exhibit, on display through Nov. 29, allow guests to touch a model replicating the fish's spiky exterior and learn how the creature uses bioluminescent bacteria to hunt in the darkness of the deep sea. Adult admission at NHM is $15. Remember that L.A. County residents receive free museum admission daily from 3 to 5 p.m. More info here.
5. Vegan Playground -> This weekly Arts District night market pops up at Boomtown Brewery every Wednesday and features 20+ rotating vegan vendors each week. Starts at 5 p.m. Admission is free. More info and RSVP here.
6. Citizen Public Market Comedy Night -> The Setup is hosting an outdoor pop-up stand-up comedy series at the patio of Citizen Public Market in Culver City this Wednesday. Tickets are $15. Show starts at 8 p.m. More info here.
Thursday
7. Halloween Horror Nights -> Universal Studios Hollywood brings their annual terror attraction back starting on Sep 9. This year's edition includes the return of the "Terror Tram," featuring "The Ultimate Purge," along with a maze based on "Halloween 4: The Return of Michael Myers." GA tickets range between $69-$99, depending on the date of attendance. More info here.
8. FREESTATE Reception -> This Thursday the The El Segundo Museum of Art is throwing a party to spotlight artist Cole Sternberg's ongoing project FREESTATE: The Free Republic of California, an exploration of social, environmental, and moral issues through a conceptual website and multi-media art works. If you can't make the reception, the exhibit runs through Sep. 18. More info here.
9. Looking with the Heart: The Little Prince -> The Corey Helford Gallery's latest exhibition is a group art show celebrating the legacy of Antoine de Saint-Exupéry's classic children's' tale, The Little Prince, and includes new works from 65 artists from around the globe. The show runs through Sep. 18. Gallery hours are noon to 6 p.m., Thursday to Saturday. More info here.
10. The Last Cruze -> The latest exhibition at the California is LaToya Ruby Frazier's The Last Cruze, opening this Thursday, Sep. 8. Frazier's work includes an architectural installation complemented by 67 photographs and videos, which together document the lives of workers at the General Motors plant in Lordstown, Ohio, along with the ripple effects stemming from the shutdown of that plant in 2019. The Last Cruze runs through March, 2022. CAAM offers free admission, no reservations required. Open Tuesday to Sunday. More info on the exhibition here.
11. Remix The Art of Music -> The 4th annual Remix The Art of Music is a music-themed exhibition featuring 60+ artists, on display at Gabba Gallery now through September 18. Gabba Gallery is open Thursday through Saturday from noon to 3 p.m., or by appointment.
Friday
12. Hulu's Nine Perfect Strangers Activation -> In anticipation of the show Nine Perfect Strangers premiering on Hulu, Angelenos are invited to partake in a wellness pop up experience that includes aura photos, digital astrology readings and more. The activation will be free and open to the public from Friday, Sept. 10 through Sunday, Sept. 12, noon to 7 p.m.
13. One Colorado's Summer Flicks -> One Colorado in Old Pasadena is hosting an outdoor movie series in September featuring free admission, complimentary popcorn, and plenty of drinks and meal to-go options for purchase. This Friday the series continues with The High Note Screening begins at 8:30 p.m. Seating is based on capacity, and is first-come, first-serve. Early arrival is strongly encouraged. More info here.
14. Santa Monica Mystery Quest -> Downtown Santa Monica, Inc. in partnership with Santa Monica Mystery Quest have launched a free scavenger hunt series on the Third Street Promenade, taking place on the second Friday of each month from September through December. 2-4 players are recommended per squad. Get more info here.
15. Zombie Joe's Toxic Vampyre -> ZJU's newest horror walk-through experience opens this Friday, and performances will be limited to the next three weekends. Per a release, guests will be "…entranced by a terrifyingly-mischievous motley gang of hungry Vampyres as they guide you through their wretched, soul-sucking phantasmagoria with a blood-promise of a blissful eternal life devoid of fear, pain and worry." Sounds chill. Runs Friday and Saturday nights through Sep. 11. Tickets are $17.50. More info here.
16. Dance DTLA -> The Music Center's Dance DTLA is back starting on Aug 13, for five Friday night dance parties on its Jerry Moss Plaza. On-site dance instructors will guide guests on easy-to-learn steps while DJs spin the soundtrack. This Friday's concluding dance session will focus on Bollywood. The event is free and open to the public. More info here.
Dining
17. Gusto Green Pop-Up Dinner -> On Thursday Sep. 9 Gusto Green will host a ticketed ($80) pop-up dinner at Sun of a Gun. The five course plant-forward and omnivore-friendly menu prepared by Chef Michael Magliano is a preview of what's to come when Gusto Green officially opens in Downtown Los Angeles' Green Street Building in fall 2021.
18. $1 Oysters at Messhall Kitchen -> September 7 is the Messhall Kitchen's ninth anniversary and for one night only the Los Feliz restaurant will be bringing back their popular Oyster Tuesday offering guests $1 oysters and $5 draft beers from 4 p.m. and until they run out.
19. Berbere -> Berbere, Chef Tezeta Alemayehu's modern African-inspired vegan pop-up at Smorgasburg will open it's first brick and mortar location in Santa Monica this Tuesday Sep. 7. On opening day, the Berbere team will be donating 20% of profits to Take Care of Home, a nonprofit organization assisting underfunded public schools in rural Ethiopia and build classrooms with its community members.
20. Zankou Chicken Opens in DTLA -> Popular Mediterranean restaurant group Zankou Chicken has expanded their foot print into Downtown Los Angeles. The family-owned restaurant's latest location will include their famous rotisserie chicken, marinated tri-tip shawarma, kabob, falafel, the trademarked Chicken Tarna, and house-made sides and sauces including Zankou's signature Garlic Sauce.
---
Any notes or corrections? Want to suggest an event we should add to an upcoming list? Hit us up at [email protected].