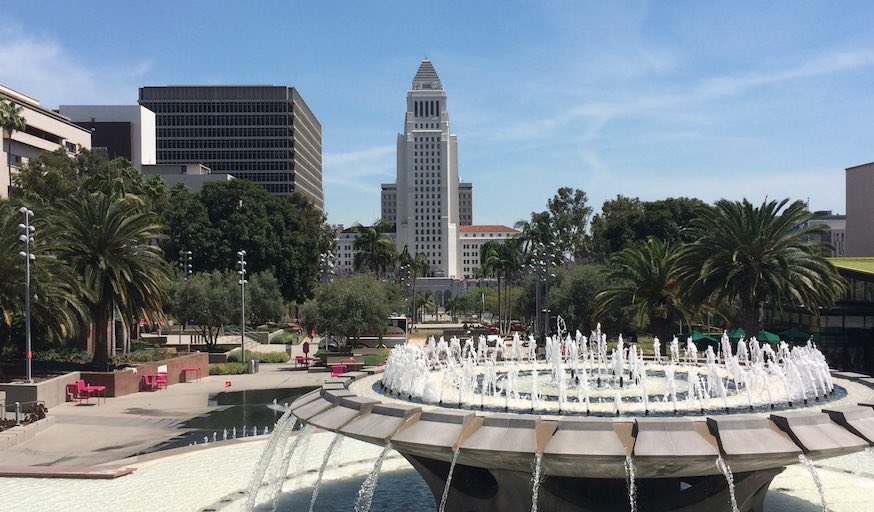 As Los Angeles finds its way out of the pandemic and restrictions gradually ease, we're continuing our bi-weekly round-ups of fun to-dos, mixing in the occasional online/virtual event with an ever-growing listen of in-person experiences and food ideas.
This weekend, from September 10-12, features Black Panther at The Bowl, Halloween Horror Nights, an immersive soundscape at the 18th Street Arts Center, Easy Mornings at Grand Park, the Pickwick Vintage Show in Burbank, free Sunday at USC Pacific Asia Museum, Paws & Pages at PetSpace and more.
[Remember, if you want to stay connected with our weekly updates, be sure to sign up for the We Like L.A. Newsletter]
Friday / All Weekend
1. Hulu's Nine Perfect Strangers Activation -> In anticipation of the show Nine Perfect Strangers premiering on Hulu, Angelenos are invited to partake in a wellness pop up experience that includes aura photos, digital astrology readings and more. The activation will be free and open to the public from Friday, Sept. 10 through Sunday, Sept. 12, noon to 7 p.m.
2. One Colorado's Summer Flicks -> One Colorado in Old Pasadena is hosting an outdoor movie series in September featuring free admission, complimentary popcorn, and plenty of drinks and meal to-go options for purchase. This Friday the series continues with The High Note Screening begins at 8:30 p.m. Seating is based on capacity, and is first-come, first-serve. Early arrival is strongly encouraged. More info here.
3. Black Panther at The Bowl -> This Friday through Sunday, The Hollywood Bowl will hold nightly screenings of Marvel's Black Panther, with the LA Phil on hand to perform the movie's film score live-to-screen. Tickets still available as low as $14. Screenings take place at 8 p.m. on Friday and Saturday, then 7:30 p.m. on Sunday. More info here.
4. Santa Monica Mystery Quest -> Downtown Santa Monica, Inc. in partnership with Santa Monica Mystery Quest have launched a free scavenger hunt series on the Third Street Promenade, taking place on the second Friday of each month from September through December. 2-4 players are recommended per squad. Get more info here.
5. Zombie Joe's Toxic Vampyre -> ZJU's newest horror walk-through experience opens this Friday, and performances will be limited to the next three weekends. Per a release, guests will be "…entranced by a terrifyingly-mischievous motley gang of hungry Vampyres as they guide you through their wretched, soul-sucking phantasmagoria with a blood-promise of a blissful eternal life devoid of fear, pain and worry." Sounds chill. Runs Friday and Saturday nights through Sep. 11. Tickets are $17.50. More info here.
6. Dance DTLA -> The Music Center's Dance DTLA is back starting on Aug 13, for five Friday night dance parties on its Jerry Moss Plaza. On-site dance instructors will guide guests on easy-to-learn steps while DJs spin the soundtrack. This Friday's concluding dance session will focus on Bollywood. The event is free and open to the public. More info here.
7. Halloween Horror Nights -> Universal Studios Hollywood brings their annual terror attraction back starting on Sep 9. This year's edition includes the return of the "Terror Tram," featuring "The Ultimate Purge," along with a maze based on "Halloween 4: The Return of Michael Myers." GA tickets range between $69-$99, depending on the date of attendance. More info here.
8. Looking with the Heart: The Little Prince -> The Corey Helford Gallery's latest exhibition is a group art show celebrating the legacy of Antoine de Saint-Exupéry's classic children's' tale, The Little Prince, and includes new works from 65 artists from around the globe. The show runs through Sep. 18. Gallery hours are noon to 6 p.m., Thursday to Saturday. More info here.
9. The Last Cruze -> The latest exhibition at the California is LaToya Ruby Frazier's The Last Cruze, opening this Thursday, Sep. 8. Frazier's work includes an architectural installation complemented by 67 photographs and videos, which together document the lives of workers at the General Motors plant in Lordstown, Ohio, along with the ripple effects stemming from the shutdown of that plant in 2019. The Last Cruze runs through March, 2022. CAAM offers free admission, no reservations required. Open Tuesday to Sunday. More info on the exhibition here.
10. Remix The Art of Music -> The 4th annual Remix The Art of Music is a music-themed exhibition featuring 60+ artists, on display at Gabba Gallery now through September 18. Gabba Gallery is open Thursday through Saturday from noon to 3 p.m., or by appointment.
Saturday
11. Three Structures Touching: An Immersive Soundscape -> This Saturday the 18th Street Arts Center in Santa Monica will host an open House to view the exhibition Three Structures Touching, which will be accompanied by the premiere of a new experimental soundscape installation by composer Ask Kaereby. Kaerby's work includes recorded sounds from the surrounding neighborhood, which were then processed and interlaced to create new artistic expressions. The open house is free to attend, but capacity is limited, and RSVP required. Runs from 1 to 5 p.m. More info here.
12. Easy Mornings at Grand Park -> Every Saturday in September Grand Park will play host to special morning events featuring family-friendly activities, including arts-based workshops, wellness and dance workshops, public art and live DJ entertainment. Free to attend. No RSVP required. Runs from 10 a.m. to 1 p.m. this Saturday. More info here.
13. Configured Landscapes -> On Saturday, Launch LA will host an opening reception for Configured Landscapes, a new group showcase of surrealistic works curated art historian Betty Ann Brown. Reception runs from 3 to 7 p.m. The exihibit will remain on display through Oct. 2. More info here.
14. Pasadena POPS at the Arboretum -> The Pasadena POPS' summer concert series at the L.A. Arboretum concludes this Saturday with a special tribute to 100 years of Broadway, featuring guest soloists Liz Callaway and Jordan Donica. Gates open at 5:30 p.m., show starts at 7 p.m. Tickets are $25. More info here.
15. MindTravel at Santa Monica Beach -> Experience a Pacific Ocean sunset while Murray Hidary's real-time piano compositions are streamed to your provided headphones, helping you zone in on the vibe of the moment. Offered both this Saturday and Sunday starting at 6 p.m. Tickets are $15 for kids under 12, and $45 for adults. More info here.
16. Pickwick Vintage Show -> 65 local vendors will gather at Pickwick Gardens in Burbank to offer a range of vintage clothing, jewelry, and other goods. Tickets range from $5-$20, depending on time of entry. More info here.
SPECIAL NOTE: It's not a "fun thing to do" but in acknowledgement of the 20th anniversary of the 9/11 attacks, we'd like to remind you that a number of tributes and remembrances will be taking place this Saturday in and around Los Angeles, including The Waves of Flags display at Pepperdine University in Malibu, and the 9/11 Memorial Garden in Beverly Hills.
Sunday
17. USC Pacific Asia Museum -> The USC Pacific Asia Museum in Pasadena offers free admission this Sunday with advanced reservations available online (click the 'Reserve Tickets' button on their website to see the offer). If you go, be sure to check out Nick Dong's Divine Immersion exhibit before it leaves the museum on Oct. 3.
18. Rose Bowl Flea Market -> Hundreds of vendors take over The Rose Bowl every second Sunday of the month. General admission is $10. More info here.
19. Paws & Pages -> On weekends, Wallis Annenberg PetSpace offers a reading program for youngsters that includes a book reading session, a meet-and-greet with an adoptable pet or critter ambassador, and a craft demonstration with materials to take home and complete. Tickets are $3. More info here.
Dining
20. Lunch at The Tasting Kitchen -> Venice's The Tasting Kitchen has brought back their weekend lunch menu. Chef Travis Passerotti and team's delectable menu features a crudo bar, gnocco fritto, sicilian style crab cakes, fresh pastas and the TK burger made with burrata, grilled onion, tomato and aioli.
21. Side Pie x Milk Cult -> Popular Washington D.C. based ice creamery Milk Cult is partnering with Altadena's Side Pie for an outdoor weekend pop-up featuring a trio of custom ice flavors unique to the Los Angeles event. There will also be cake from Sasha Piligian and Milk Cult branded merchandise. The pop-up runs Friday, September 10 and Saturday, September 11 from 4 to 9 p.m.
22. New Verve Location -> Verve Coffee Roaster will open a new beachfront location in Manhattan Beach this Friday, and the shop boasts a special menu only available at the MB location. New items include Coconut Sugar Vanilla Draft Latte, Honey Lavender Draft Latte, Housemade Oatmilk Soft Serve and an Affogato with Vanilla Oatmilk Soft Serve. A variety of grab-n-go food is also available such as avocado toast, poblano chicken salad sandwich and the popular Verve breakfast sandwich made with house-made maple bacon, organic egg, cheddar and sundried tomato jam on a brioche bun. The cafe's grand opening event on September 10 will include coffee, giveaways and more starting at 7 a.m.
---
Any notes or corrections? Want to suggest an event we should add to an upcoming list? Hit us up at [email protected].