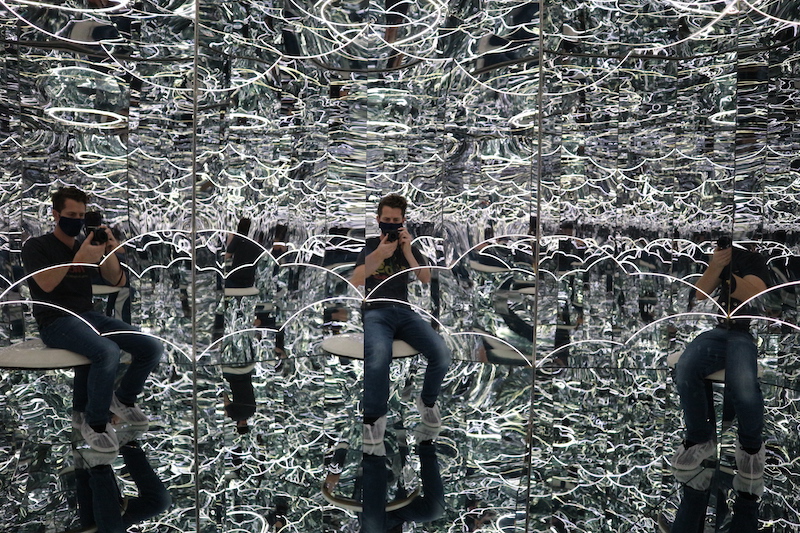 There's always lots to do in Los Angeles, and per usual we're here with a bi-weekly (Monday and Thursday) rundown of the best of what's happening in the city and county.
This week, from Sep. 13-17, features live events back at The GRAMMY Museum, The Enigmatist at The Geffen, Encoding Futures at Oxy Arts, turtle races at Brennan's, the Hola México Film Festival, the reopening of Wisdome LA, and more!
[Remember, if you want to stay connected with our weekly updates, be sure to sign up for the We Like L.A. Newsletter]
Monday / Throughout the Week
1. Mermaid Comedy Hour -> The Mermaid Comedy Hour returns to the Hollywood Improv Lab on Monday with a packed lineup of performers including Laurie Kilmartin (Conan), Subhah Agarwal (Jim Jeffries Show), Irene Tu (Comedy Central), Jasmine Ellis (Dry Bar Comedy), Jeena Bloom (Comedy Central) and JoAnn Schinderle (Vice). Tickets are $12. Shows starts at 7:30 p.m. More info here.
2. The GRAMMY Museum -> On Monday, in-person programming returns to the GRAMMY Museum starting with an intimate conversation and performance by country singer-songwriter Carly Pearce. Tickets are $25. More info here.
Tuesday
3. Barks & Brews –> Healthy Spot is hosting a dog-friendly Barks & Brews event this Tuesday at Brennan's in Marina Del Rey. The 'Yappy Hour' runs from 4 to 6 p.m., and includes trivia games plus broth and bites for your pup A donation of $10 per person comes with a free drink ticket, and proceeds benefit Marley's Pit Stop Rescue. More info and tickets here.
4. The Enigmatist -> If you have an addiction to solving puzzles, then you might want to check out The Enigmatist, an in-person experience created by New York Times crossword wizard David Kwong. Running from Sep. 14 to Oct. at The Geffen Playhouse. Tickets start at $30. More info here.
5. Free Admission at The Autry -> Every second Tuesday of the month, The Autry Museum in Griffith Park offers free general admission. Preview The Autry's latest exhibitions here, and learn more about planning a visit here.
6. Free Admission at LACMA -> The Los Angeles County Museum of Art offers free admission every second Tuesday of the month, with advanced reservation. Learn more about what's currently being exhibited here, and get info on tickets here.
Wednesday
7. Rooftop Cinema Club's Drive-Up -> Rooftop Cinema Club's special drive-up series at the Santa Monica Airport continues this week with Pulp Fiction on Wednesday, La La Land and Mad Max: Fury Road on Thursday, then Bridesmaids and Friday the 13th on Friday. Tickets for a lawn box (two guests) start at $29. More info here.
8. The Art of Citizen 13660 -> The Japanese American National Museum's newest exhibition honors the legacy of Miné Okubo's Citizen 13600. Published in 1946, Okubo's memoir was the first book-length account of the incarceration and internment of Japanese Americans during World War II. JANM's exhibit will include original sketches and drawings by Okubo, plus a draft copy of her final manuscript. Miné Okubo's Masterpiece: The Art of Citizen 13660 runs through Feb. 20, 2022. JANM's hours are 11 a.m. to 5 p.m., Tuesday through Sunday. Adult museum admission starts at $16. Get more info here.
Thursday
9. Encoding Futures -> This Thursday, Oxy Arts will host an opening reception for Encoding Futures: Critical Imaginaries of AI. Programming for the exhibition opening continues on Friday with a virtual lecture by Dr. Safiya Umoja Noble, author of Algorithms of Oppression. Then on Sunday a new virtual residency launches called Encoding Futures: Speculative Monuments for L.A. This augmented reality art show uses the 4th Wall app to create works at various sites near DTLA and NELA. All events are free. RSVP for the opening reception here.
10. Night Train to the Cinema -> Now through Oct. 1, American Cinematheque is presenting a series of classic films where the drama revolves around railway transportation. Screenings take place at either the Aero Theater in Santa Monica, or the Los Feliz 3 on Vermont Ave. This week's lineup includes The Train at Aero and Mystery Train at Los Feliz on Thursday. On Saturday the Aero will host a double feature of The General and Supercop. Tickets are $13 for general admission. More info here.
11. Turtle Races at Brennan's -> The signature turtle racing night at Brennan's in Marina Del Rey is now back every first and third Thursday of the month. Races run at 8:30 and 9:45 p.m. More info here.
12. Pay-What-You-Will at UPAM -> Tickets the to USC Pacific Asia Museum are only $10, but if that's still too much keep in mind that every Thursday is a pay-what-you-will day. Now through Oct. 3, visitors still chance to check out Nick Dong's Divine Immersion exhibit, including the immersive Heaven (pictured at the top of this article). Advanced reservations required. Get more info on planning a visit here.
13. Halloween Horror Nights -> Universal Studios Hollywood brings their annual terror attraction back starting on Sep 9. This year's edition includes the return of the "Terror Tram," featuring "The Ultimate Purge," along with a maze based on "Halloween 4: The Return of Michael Myers." GA tickets range between $69-$99, depending on the date of attendance. More info here.
Friday
14. Night Dive at The Aquarium -> The Aquarium of the Pacific's adults-only, after-hours event, Night Dive, returns this Friday featuring an array of art, DJs, live music, cocktails and food trucks. This Friday's event will also feature a live painting session by multimedia artist Samantha Tagaloa. Tickets are $24.95. Must be 18+ to attend. More info here.
15. Hola México Film Festival -> The 2021 Hola México Film Festival kicks off with a party this Friday at LA Plaza de Cultura y Artes, featuring a screening of Perdida, directed by Jorge Michel Grau. The festival continues with screenings at REGAL DTLA through Sep 24., then gets capped off by a final screening and party at LA Plaza on Sep. 25. Tickets for the opening are $50. Catch the full lineup of films to screen here.
16. Grand Performances -> This Friday's edition of Grand Performances features an evening of Afro-Latin sounds performed by L.A. locals Boogaloo Assassins. Free. Outdoors. Runs from 6 to 10 p.m. More info here.
17. One Colorado's Summer Flicks -> One Colorado in Old Pasadena is hosting an outdoor movie series in September featuring free admission, complimentary popcorn, and plenty of drinks and meal to-go options for purchase. This Friday the series continues with Tenet Screening begins at 8:30 p.m. Seating is based on capacity, and is first-come, first-serve. Early arrival is strongly encouraged. More info here.
18. Wisdome LA -> Wisdome LA, an immersive art park located in the Arts District, is reopening this Friday with a new artistic experience called Mystic Universe. Single tickets are $50, couples are $85. More info here.
Dining
19. Caboco -> Brazilian chef Rodrigo Oliveira has opened Caboco in the former Arts District location of Church and State. Best known for his two São Paulo restaurants, Mocotó and Balaio IMS, Oliveira's L.A. spot will focus on modern homestyle Brazilian cuisine, introducing Angelenos to Amazonian fruit and wild vegetables from southeastern Brazil. Unique highlights off the menu include mocofava (calf's foot soup with beans) pirarucu (Amazonian fish in cassava juice) and Moqueca de Caju a vegetable stew of cashew fruit, hearts of palm, plantain, ora-pro-nobis, tucupi and coconut broth. Caboco is open Wednesday through Thursday for dinner service.
20. Happy Hour at Café Fig -> The historic Hotel Figueroa in Downtown recently opened Café Fig and launched a new happy hour menu Monday through Friday from 3 to 6 p.m. Bites such as Masabacha Hummus, with tahini and laffa bread, Tuna Tartare Tostada and Cauliflower Bites, drizzled with smokey honey sriracha, scallions and roasted sesame seeds are all on the menu alongside craft cocktails.
21. Mezcal Week at Gracias Madre -> Now until Wednesday, Sep. 15, plant-based Mexican restaurant Gracias Madre is hosting their second annual "Mezcal Week" where $5 of every featured Agua Del Sol mezcal flight ($40) sold will go directly to the charity Ostros Dreams En Acción. The Agua Del Sol flight includes rare aged agave: Espadin Angustuolfia, a Bicuishe Karwiinski and a Mexicano Rhodacantha. Rare bottles of Agua Del Sol mezcal will also be available for purchase ranging $20 to $80.
---
Any notes or corrections? Want to suggest an event we should add to an upcoming list? Hit us up at [email protected]