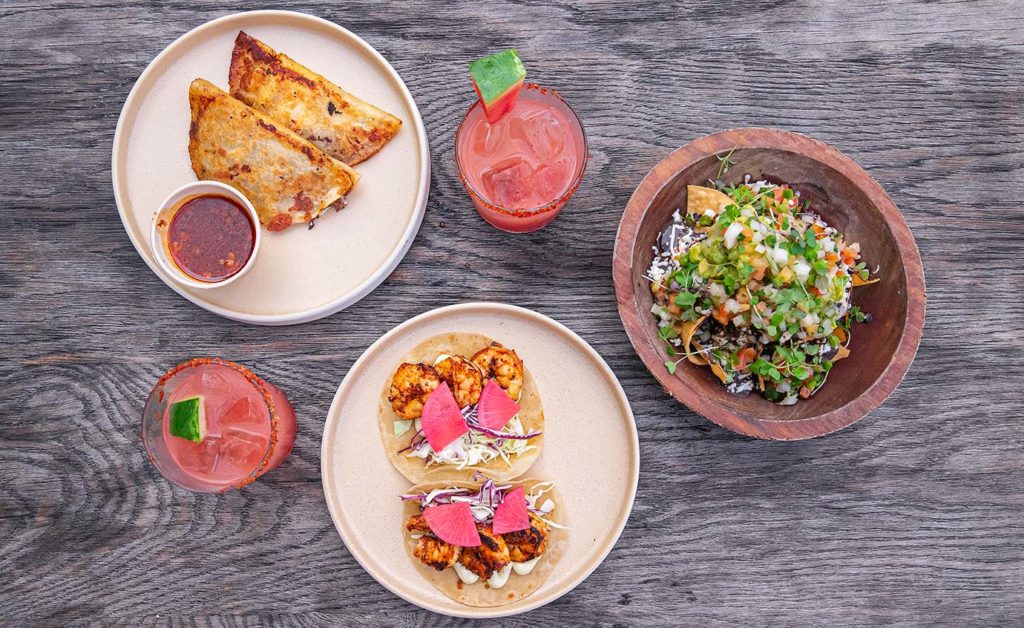 A premium happy hour is based on three key elements: The quality of the food and drink, the allure of the ambience, and the depth of the discount. For it to be truly special, you've got to have a mix of all three, with a heavy emphasis on the first ingredient. Quality over quantity every time, friends.
That said, the truth is that the "best" places for happy hour in Los Angeles are always changing, at least in my mind. Consider this list a snapshot of what's on my brain right now, from German beers and Peruvian tacos to Spanish tapas and inviting charcuterie plates. And yes, dollar oysters. Always dollar oysters.
Browse the below to scope out new places to try on your next outing. And if you're not a fan of the options provided, fret not. I'll be updating this list on the regular, so be sure to check back in a few months to see the best of the latest.
[LAST UPDATED SEPTEMBER 2021]
Hermanito (Sawtelle)
Sawtelle's Hermanito is a Mexican bar and eatery that infuses Japanese inspired ingredients onto their eclectic menu. Stop in for the "Off-Hour Menu" Thursdays through Sundays from 3 to 5 p.m. specials during this time include $10 plates like a trio of birria, al pastor tacos or veggie tacos, sharable nachos topped with black mole and Salsa Macha Chicken Wings with avocado salsa. A selection of craft cocktails including a High Ball, and Margarita are specially priced at $10 a pop. And, if you are looking for a place to dine outdoors, Hermanito can't be beat with three patio spaces, each distinguished by unique decor.
Otoño ( Highland Park)
It's Siesta Hour everyday from 4:30 to 6:30 p.m. at the bar and patio area of Chef Teresa Montaño's Spanish restaurant Otoño. Tapas range from $5 to $12, including Pan Con Tomate, Frito Mixto and Jamon Croqueta. An excellent selection of Spanish sandwiches on house-made stecca bread run $10 to $16 during this time as well. Cheers to a happy hour well spent with a $9 sangria in hand or for those looking to try something from the Basque Country an excellent Atxa white vermouth ($11.)
Red Lion Tavern (Silver Lake)
This Old school German beer garden and restaurant has served the Silver Lake neighborhood for over 60 years. Red Lion's extra long happy hour runs Monday through Friday from noon to 6 p.m. Here you can score German beers, wine and cocktails starting at just $5.75. Order the large warm pretzel for $5.25 and a large sausage platter that features three kinds of German sausages plus pickles, peppers and mustard for $9.50. It's all delicious.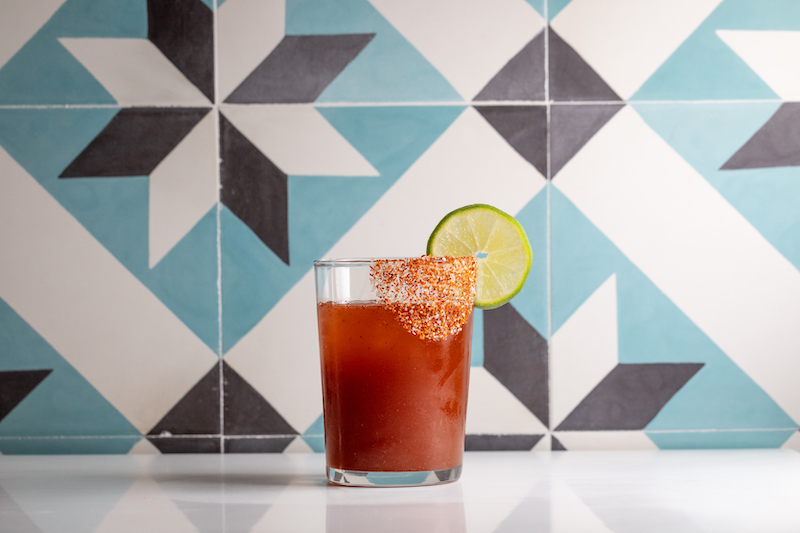 Madre (Torrance, West Hollywood, Palms)
Oaxacan food can be hard to find in some parts of the city, and a Oaxacan focused happy hour is rarer still. At Madre, savor a sizable menu of over a dozen small plates including $6 mole nachos with chicken, $6 seafood tacos and Queso Fundido with chorizo and tortillas for $9. Happy hour cocktails ($9) feature a mix of mezcal and reposado libations, beers are $5 a pop and wine by the glass as well as micheladas cost $6. Happy hour is available at all three locations of Madre from 3 to 6 p.m., Monday through Friday.
Big Bar (Los Feliz)
Happy hour at this acclaimed bar includes $5 draft beers, $8 wines by the glass, a cocktail of the week for $10 and an Afternoon spritz for $10. Bar bites like Yukon gold fries ($5) tempura battered crispy cauliflower ($8) and a burger ($12) are provided by Alcove which shares the space and garden patio with Big Bar. Stop by Monday through Friday from 2 to 7 p.m. to enjoy the specials. Big Bar is also conveniently located near The Greek Theatre, making it an ideal spot for a pre-show drink.
Bull & Butterfly (Playa Vista)
California ranch style steakhouse Bull & Butterfly hosts a weekday happy hour Wednesday through Friday from 3 to 5 p.m. that features $9 craft cocktails, $9 wines by the glass, beer deals, and rotating food specials only available during happy hour. Dishes like roasted artichokes, jalapeño mac and cheese and beef sliders with house made potato chips have all appeared on the menu. It's kind of a surprise with the happy hour food menu but if you must know, try checking the restaurants Instagram for details and delicious photos of whats on deck for the week.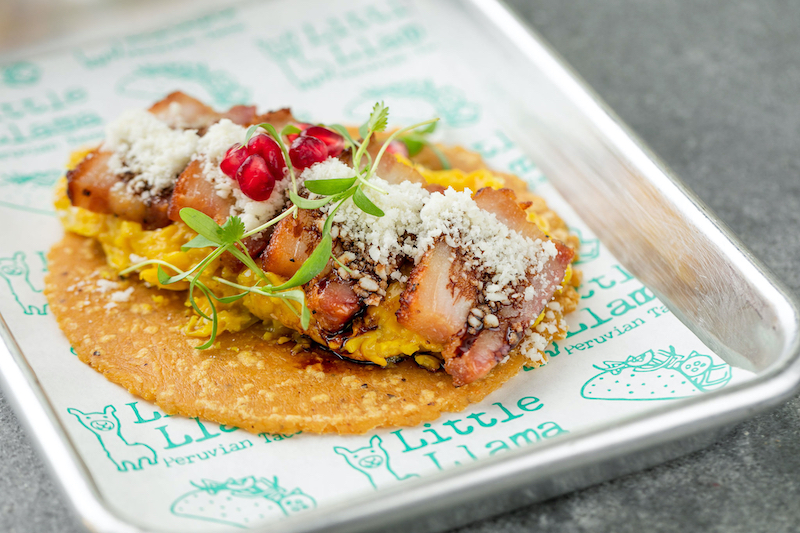 Little Llama Peruvian Tacos (Downtown Los Angeles)
Little Llama Peruvian Tacos owners Jean Valcarcel and Angela Wagner got their start working for Ricardo Zarate at Mo-Chica, one of the city's first Peruvian fine dining restaurants. From there, Valcarcel found inspiration from his Peruvian upbringing to start his own pop-up supper club, partnering with Wagner who managed the operations. Eventually that partnership gave birth to Little Llama Peruvian Tacos, first as a pop-up vendor at Smorgasburg and now as a casual brick and mortar serving modern Peruvian food. During happy hour Monday-Friday from 4:30 to 6:30 p.m., indulge in shrimp ceviche in aji amarillo leche de tigre on a tostada ($10.50), pollo a la brasa tacos on non-GMO corn tortillas ($4) and American Lager as well as wines by the glass for $7 that can be requested as a carafe (for a fee) to share for the table. Keep in mind the tacos are sizable, and two could easily work as a meal.
Saso (Pasadena)
Chef Dominique Crisp's Basque-inspired bistro Saso hosts happy hour Friday through Sunday 3:30 to 5:30 p.m. On the menu are wines, spirits and sangria for $7, Pacifico for $5 and tapas that run $5 to $13 that includes oysters, wagyu steak bites with chimichurri, croketas and a Jamon Iberico grilled cheese. The restaurant is attached to the historic Pasadena Playhouse, and I think the best seat in the house is in the arch-filled courtyard. Definitely request a to be seated there if space is available.
Gracias Madre (West Hollywood)
West Hollywood's plant-based restaurant Gracias Madre hosts happy hour on weekdays from 3 to 5 p.m. with $8 bites that include nachos, crispy taco filled with plantains, eggplant, an "al pastor" taco of mushrooms topped with grilled pineapple, and a heart of palm ceviche tostada. The Purista Margarita on happy hour is $8 with the option to sub in mezcal for an extra $1. House white and red wine is $7 and draft beer is $5. There's also a Taco Tuesday special where $25 gets you three tacos and a Purista Margarita.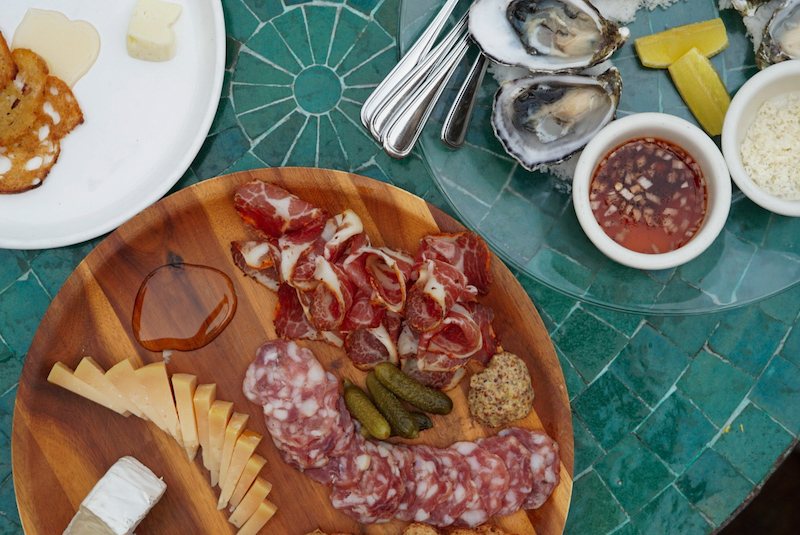 Esters Wine Shop & Bar (Santa Monica)
Part of the Rustic Canyon family of Santa Monica restaurants, Esters Wine Shop & Bar's happy hour runs Monday through Saturday from 4 to 6 p.m. and Sunday from 3 to 6 p.m. A selection of wines are $9 by the glass, featured beer is $5 and the special happy hour cocktail of the day is $9. To start, nibble on a snack plate of lavender almonds, marinated olives, curry cashews, and corn nuts for $13 or a charcuterie plate ($18). There's even a fantastic cheese plate for $20. Burrata & crostini ($10) and half dozen oysters ($20) are also on the happy hour menu.
The Burbank Pub (Burbank)
The pirate-themed Burbank Pub has a three-hour special on food and drinks they've dubbed the "High Seas Happy Hour" every Tuesday through Saturday from 2 to 5 p.m. Food ranges $3-$7 and includes tasty bar bites like a crispy brussels sprouts in Caribbean spices, SPAM sliders on Hawaiian buns, fish tots and a smashburger. Happy hour beer, wine and well drinks are all just $5 and a number of featured tiki cocktails run $7-$9.
Nick + Stef's (Downtown Los Angeles)
Elevated steakhouse Nick + Stef's happy hour is one of the most dependable in DTLA. It happens weeknights Monday through Friday from 5 to 7 p.m. in their outdoor and indoor lounges. Bar snacks like smoked deviled eggs, steakhouse sliders, and sweet potato fries are all under $10. For larger appetites there's a Steak Frites special for just $21. A number of featured specialty cocktails are $12 during happy hour, a selection of wines by the glass are $10 each and beers run $6 to 7.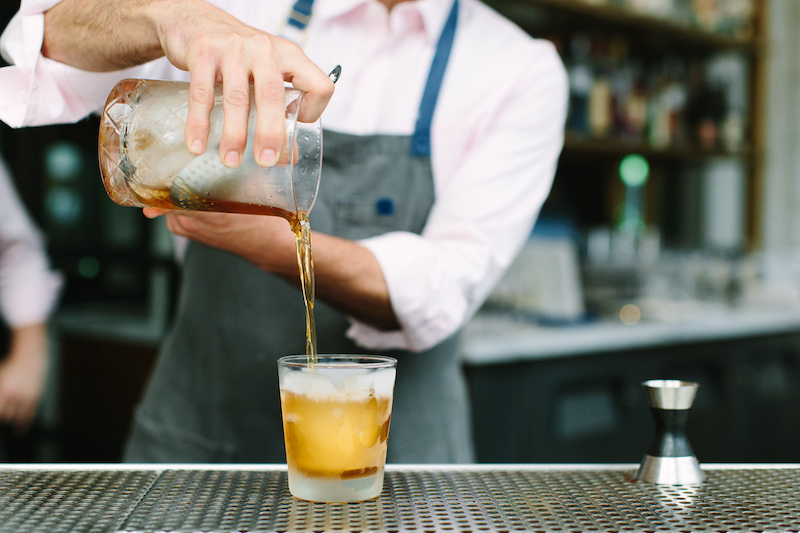 Redbird (Downtown Los Angeles)
Chef Neal Fraser's modern American restaurant Redbird is offering a happy hour menu at the bar where everything is $10. On Wednesday through Friday from 5 to 6 p.m. guests can mix and match craft cocktails (named after icons both real and fictional like Charlie Chaplin and Carrie Bradshaw,) while sampling elevated bar bites like grass fed beef tartare and prawns with green papaya, weiser melon and nuoc cham.
ETA (Highland Park)
Highland Park's neighborhood cocktail spot ETA has $1 happy hour oysters daily from 5 to 8 p.m. (or until they run out) along with a number of cocktails like Old Fashioned and Daiquiris for $10, draft lager and sake for $6 and featured wines for $10 a glass. Check ETA's Instagram to see what kind of oysters are featured for the day and for live music nights.
L.P. Rooftop (West Hollywood)
L.P. Rooftop's menu is full of snack-able plates and cocktails. There's even a daily happy hour Monday through Friday from 4 to 6 p.m. to go with the unbeatable views of West Hollywood and the surrounding neighborhoods. Menu highlights include a $9 cheeseburger, $10 calamari, $10 EP Froze, $12 house cocktail and more. During summer and fall L.P. also hosts a popular movie screening series on their rooftop, so if you dig the food then consider a dinner-and-a-movie night sometime in the future.
---
Got a suggestion for our happy hour update? Want to let us know about a change on one of the menus mentioned above? Feel free to write in to [email protected], subject line 'happy hours in L.A.'