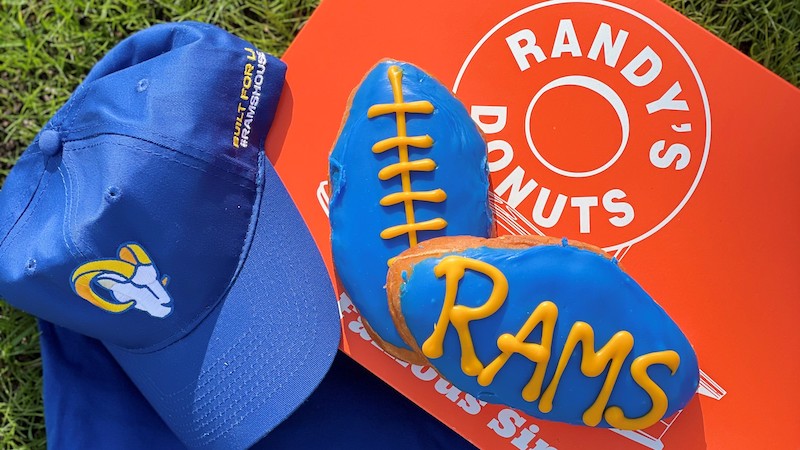 We used to tell you about all the things you could go out and do in Los Angeles on a daily, weekly, and monthly basis. Then, the coronavirus changed life for all of us, in a thousand small and massive ways. Until the pandemic is behind us, we'll post events that adhere to Public Health's current protocols—including plenty of at-home and online events—every Monday and Thursday. We hope they keep you busy, make you laugh, teach you something, or help you feel less alone.
This weekend, we've got Rams donuts, takeout specials, a virtual theater fest, art and gardening workshops, storytime for kids, and more. Have something you want to submit for next week? Hit us up: [email protected].
At-Home & Online Events
The Echo Theater Company presents LABFest 2021 on Jan. 16 & 17, featuring three new plays by Brian Otaño, Roger Q. Mason, and Christopher Sullivan that were developed in the company's 2020 Playwright's LAB. All three are free. Get your Zoom links here.
Eschaton returns on Jan. 16 at 7 p.m. for another evening of surreal surprises. You'll enter this virtual nightclub via Zoom, but from there, you can explore numerous pathways that lead to performances, puzzles, and much more. The experience lasts for exactly one hour before it vanishes until next month. Tickets are $13, but apt to sell out quickly.
Take a workshop with LACMA and learn how to create Pablo Picasso-inspired abstract portraiture. The two-hour online workshop takes place Jan. 16. Tickets are $25 for members and $30 for the general public.
Esotouric's next virtual tour is John Bengtson's Silent Echoes in Westlake: Early Los Angeles Film Locations. The webinar is based on tours Estouric conducted with author John Bengtson in March of 2019 and will explore Westlake filming locations from the silent movies of the 1920s. The event is on Jan. 16 at noon. Tickets are $10.
There's a free multi -ourse workshop on How to Grow Anything: Food Gardening for Everyone. Access anytime once you create an account.
Storybook Theatre is offering six of its children's shows for free on YouTube. They include musical retellings of popular fairytales like Little Red Riding Hood, Jack and the Beanstalk, Sleeping Beauty, and more.
On Jan. 17 at 11 a.m., Arena Cinematheque hosts a live Q&A with Another Round stars Mads Mikkelsen and Thomas Vinterberg. The film follows four middle-aged teachers who decide to see if maintaining a constant level of alcohol in their blood will help them find freedom and happiness. As the experiment continues, old issues emerge. RSVP here.
The City of West Hollywood's next WeHo Sounds is on Jan. 15 at 6 p.m. The free virtual concert features classical guitarist Steve Thachuk and flutist Sarah Wass. Watch here.
L.A. County Parks is offering over 175 virtual classes for all age levels. They include language, arts, computer, health, fitness, and other topics, all accessible from your home so long as you have internet access. Sign up here.
On Jan. 16 at 8 p.m., The Wallis presents Richard Shelton: Sinatra Raw. Per a release: "May 1971 – The Purple Room, Palm Springs. Frank Sinatra prepares for his last intimate gig before his retirement. The air is electric and people jostle for position. Times are changing and the music scene is dominated by The Beatles and rock & roll. He drinks "One For My Baby" too many and starts to reminisce when things take an unexpected turn. This is the 2 AM Sinatra you dream of meeting." Tickets are $25 per household and include streaming access for 24 hours.
Danielle Perez hosts Your Late Show Tonight! on Jan. 15 at 7 p.m. on Nowhere Comedy Club's Zoom. Guests include Daily Show correspondent Dulce Sloan, comedian Guy Branum, and RuPaul's Drag Race's Meatball. Tickets are $10-$30.
Take in some art this week by logging into a virtual gallery to explore Nancy R. Wise's latest exhibit, Neo Pointillism.
The Getty Get-Together invites the public to dive into the Getty Museum's collection. A gallery educator will host a casual, hour-long session on Jan. 15 at 4 p.m. Advance registration is required to access the Zoom link.
Gather your little ones and join the Natural History Museum of Los Angeles County on Jan. 15 at 11 a.m. for Story Time Live, a 30-minute live read of children's books. The series continues every Friday.
If you've exhausted your current list of recipes, Baketivity offers baking kits for a variety of fun desserts and baked goods, including cake pops, cookies, and cinnamon buns. Kits are available as one-offs or subscriptions.
Experience the best local and international performers from the 30-year history of Sundays Live at LACMA, free online this Sunday, Jan. 17 at 6 p.m.
Join Pasadena Walking Tours on Jan. 17 as they explore the history of El Monte, the first new settlement of American Southern California. Topics include the frontier justice of the Monte boys, tourist attraction Gay's Lion Farm, and Richie Valens and the Penguins' performance at the American Legion Stadium.
The Valley Economic Alliance is hosting its annual gala, "Valley of the Stars…Rising," on Jan. 15 at 5:15 p.m. Actor Jerry O'Connell will host an evening of awards and honorees. Tickets start at $50 and proceeds will benefit local small businesses, job search assistance for local residents, and advocacy for improving the quality of life in the San Fernando Valley.
Board and Brush in Santa Monica helps you complete fun and useful crafts at home. You can browse the online shop to choose from one of dozens of DIY home decor kits, or sign up for an online workshop, ideal for virtual get-togethers with friends.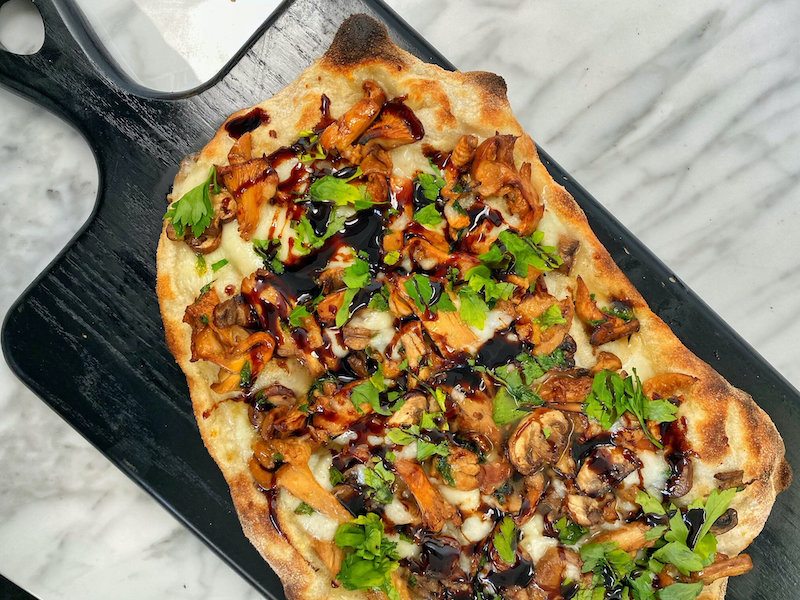 Pickup & Delivery
Oste is now open in Beverly Grove, offering Roman-style pizza and Italian wines for delivery and takeout. The new venture will feature pinsa, a unique style of pizza that uses a blend of rice, soy, and wheat flours in its dough, resulting in a lower calorie, light, airy dough with a crunchy crust. Open Weds., Thurs., and Sun. From noon to 9 p.m., and Fri. & Sat. From noon to 9:30 p.m.
Pigeon is a wok cart pop-up at Hermanito in Sawtelle open every Saturday and Sunday in January from noon to 6 p.m. The menu consists of stir-fried Asian-Latin street food, like Kimchi Chorizo Fried Rice $13 (kimchi, Oaxacan chorizo, fried egg, pickled daikon, sesame); Carne Asada Chow Fun $15 (carne asada beef, rice noodles, bok choy, pickled onion, crispy shallot); and Sichuan Tempura Veg Fried Rice $11 (tofu, sweet potato, maitake mushroom, shiitake mushroom, Sichuan seasoning, sesame). Available for pickup.
On Saturday, Jan. 16, Randy's Donuts is selling special L.A. Rams donuts to celebrate the game. They're glazed, Bavarian cream-stuffed donuts in the shape of a football, decorated in Rams colors. Available at all locations while supplies last.
Rappahannock Oyster Bar is offering a couple new meal packages priced $35, $75, and $145. The "L.A. Dinner" pack feeds two for $35 and includes oyster tacos, the lil rapp burger, truffle fries, crispy Brussels sprouts, and your choice of either two cans of Tecate or a bottle of wine (additional $10 fee). The "Fancy Comfort Food" pack feeds 3-4 for $145 and includes fresh oysters, shrimp cocktail, lobster mac & cheese, and more, along with a bottle of Cava.
Dominique Crenn, the first female three-star Michelin Chef in the United States, started a plant-based super foods meal delivery company during the pandemic. VitaBowl offers nourishing meals for $13 a pop. Find tasty creative options like spicy jackfruit or a lentil flax falafel on the menu. Each bowl is created with a specific health benefit in mind, such as anti-inflammatory, micro biotic, or gut health. Available on Postmates, GrubHub, and DoorDash. Mean plan delivery service Territory Foods has also recently included Crenn's VitaBowls on its menu.
Salt & Straw's new Vegandulgence menu is back, featuring five incredibly rich and creamy dairy-free flavors. They include Peanut Butter Strawberry Crumble, Bourbon & Caramelized Honeycomb, Chocolate Hazelnut Cookies & Cream, Coconut Rice Pudding, and Banana Avocado Sorbet. Available for pickup, local delivery, and nationwide shipping through Feb. 4. 
Shiku is now open at Grand Central Market for curbside pickup and takeout of homestyle Korean food and Baroo pantry items. 50% of the grand opening day gross sales will be donated to NAACP Legal Defense.
Thunderbolt is offering five tasty buttermilk biscuit sandwiches, including fried chicken, pork belly, and pickled fried green tomato, alongside a rotating selection of canned cocktails, beer, and wine. Available for takeout and delivery. Call them at (213) 372-5099 or find them on Postmates or GrubHub.