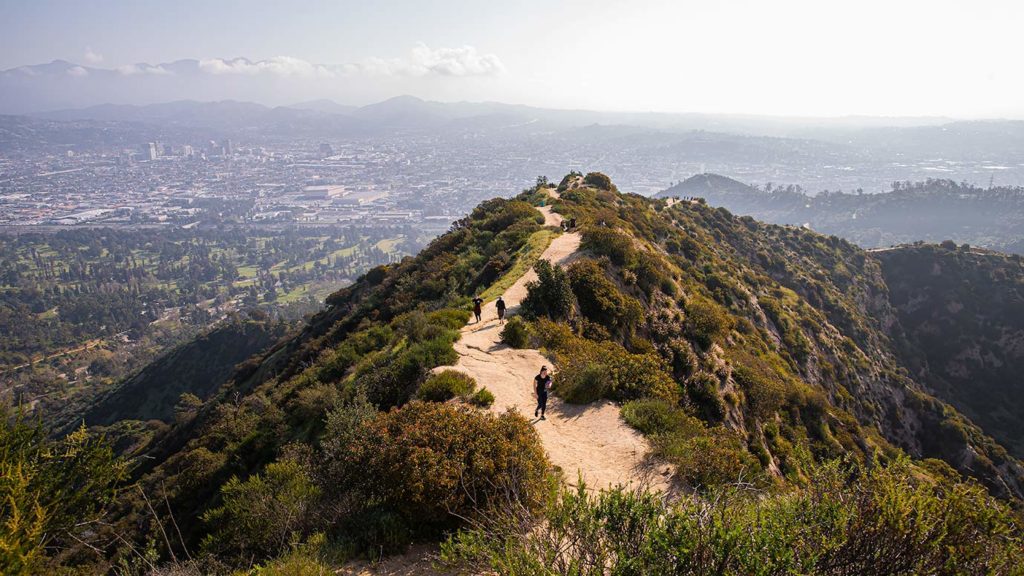 Were you expecting temps in the Southland to push 90 degrees this weekend? Yeah, us neither. But not to worry, there are plenty of cool ways to sail through the next few days in Los Angeles (see what we did there? Har har har…). Awful jokes aside, peep below to see what's on deck.
This weekend in L.A., from Nov. 12-14, features Lightscape at the LA Arborteum, a 125th anniversary celebration of Griffith Park, a beer fest at the California Science Center, Vulture Festival, Making Memories Festival, and more.
[Remember, if you want to stay connected with our weekly updates, be sure to sign up for the We Like L.A. Newsletter]
Friday / All Weekend
1. Lightscape at the LA Arboretum -> On Friday, Nov. 12, the LA Arboretum opens an illuminated nighttime attraction for the winter season called Lightscape. The mile-long, self-guided walk features thousands of twinkling lights in various themed attractions including a Winter Cathedral, Star Tunnel and Fire Garden. Adults tickets start at $32. Runs on select nights through Jan 16, 2022. More info here.
2. Intervention: Fresh Perspectives at USC PAM -> To mark the USC Pacific Asia Museum's 50th anniversary, the institution is hosting a group exhibition featuring seven asian American artists who created works in response to the PAM's collection. The new exhibition opens this Friday, Nov. 12, and runs through Feb. 6, 2022. Museum admission is $10, and remember that USC PAM offers free admission every second Sunday. More info here.
3. Moved LA + Stoned Yoga -> Moved LA and The Wavvy Cloud are teaming up for an evening of cannabis, yoga, movement, and music, all hosted at Frogtown Creative Studios. Treats and refreshments (alcoholic and non-alcoholic) will be provided. Tickets are $35. More info here.
4. GLOW SHOW! at Dynasty Typewriter -> Do you long to see comedians riff on their misadventures with mind altering drugs? This Friday at the Dynasty Typewriter, Reggie Watts, Daniel Webb, and Sara June will address the topic with standup sets in a black-lit setting (and plenty of glow sticks to go around). Tickets are $20 in advance, or $25 on the day of the show. More info here.
5. ACTIVATE LA at the Water Garden -> As part of The Wallis's Activate LA series, Jacob Jonas The Company is creating special evenings of dance and live music at open air spaces around Los Angeles. This Friday and Saturday the series comes to the Water Garden in Santa Monica, November 12-13. The back-to-back evening performances will also feature food and drinks catered by Sweet Pea. Tickets are $50 person. More info here.
6. Elf on the Shelf Magical Journey -> Elf on the Shelf is back at the Pomona Fairplex beginning Friday, Nov. 5. This year's attraction features newly upgraded scenic displays, a Christmas village, ice-skating rink, and of course the signature walk-through journey of Christmas from an elf's perspective. Tickets are $19.95 for children and $24.95 for adults. Runs on select dates through Jan. 2, 2022. More info here.
7. Portraits at LACMA -> The Los Angeles County Museum of Art has two new exhibitions celebrating portraiture now on view: The Obama Portraits Tour and Black American Portraits, both on display inside the Resnik Pavilion. The Obama Portraits Tour includes Kehinde Wiley's Barack Obama and Amy Sherald's Michelle LaVaughn Robinson Obama, both on loan from the Smithsonian's National Portrait Gallery. LACMA general admission tickets are $25, and remember that L.A. County residents can get free admission on weekdays after 3 p.m. More info here.
8. Becoming Jane: The Evolution of Dr. Jane Goodall -> A new exhibition at the Natural History Museum opens this Sunday focused on the life and work of renowned scientist and chimpanzee conservationist Dr. Jane Goodall. Visitors can explore Dr. Goodall's life and work through a series of multimedia installations, including digitally rendered chimpanzees, a life-size replica of Dr. Goodall's research tent, and even a talking hologram of Dr. Goodall herself. NHM general admission tickets are $15. More info on the exhibition here.
Saturday
9. Griffith Park's 125th Anniversary Celebration -> To mark the 125th anniversary of Griffith J. Griffith's donation of parkland to the city of Los Angeles, the L.A. Conservancy and the L.A. Department of Recreation and Parks are teaming up to host a day of special activities in Griffith Park. There will be educators and experts posted up at 30 sites throughout the park for visitors to converse with, plus specially timed activities including book readings, discussions, a meditative performance at the Old Zoo, and a hike from Fern Dell to Mount Hollywood led by Modern Hiker founder and Discovering Griffith Park author Casey Schreiner. All of the day's activities are free, but some (like the hike) require reservation. More info on the whole schedule of events here.
10. Los Angeles Brewsology -> This after-hours event at the California Science Center features dozens of local breweries and cideries to sip and sample from, plus attendees get museum access to check out exhibit and special science demos. GA tickets are $50, and VIP packages go for $65. More info here.
11. Mr. Goodboy Listening Pop-up -> Record cart pop-up Mr. Goodboy will be at Japan House LA this Saturday to curate and DJ a selection of Japanese City Pop, Adult Oriented Rock, and fusion music from the 1980s. The session aims to highlight the connection between Japanese graphic art and music, with attendees encourage to explore the latest Japan House LA exhibition WAVE: New Currents in Japanese Graphic Arts, which includes works in manga/anime, heta-uma, pop art, and photorealistic works. Saturday's event runs 1 to 3 p.m. Free to attend. No registration required. More info here.
12. Vulture Festival -> The 2021 Vulture Festival comes to Hollywood Roosevelt for two days (Nov. 13-14) of show reunions, performers in conversation, special rewatch screenings and panels with cast members from Insecure, Claws and The Great. Tickets for individual sessions range from $25 to $45, and all-access passes are available for $300. More info here.
13. Veterans Day at the Battelship USS Iowa -> One of the largest Veterans Day celebrations in SoCal comes to the Battleship USS Iowa this Saturday. will host the inaugural Veterans Day West celebration. This family-friendly event will opens with a formal Veterans Day program at 10 a.m., and the rest of the day includes live entertainment, food for purchase, and a veterans resource fair. Free to attend. More info here.
14. Labyrinths at the Annenberg Community Beach House -> Artist Lars Howlett has created three walkable labyrinths at the Annenberg Community Beach House, as part of Out-of-the-Blue, a program of Santa Monica Cultural Affairs. The labyrinths will be open for public exploration this Saturday and Sunday, and remember that the Beach House offers free public tours (space limited) on Fridays to Sundays from noon to 2 p.m. More info on the labyrinths and what to expect here.
15. Holiday Charity Marketplace -> This Saturday, a holiday charity sale to benefit Friends of Leaps & Bounds Pediatric Therapy will take place at Lavender Marketplace, a stunning 19th century Victorian Farmhouse in Sierra Madre. Expect local artisans, gourmet coffee and (apparently) alpacas. Entry is free. More info here.
16. Operatic Hansel and Gretal -> Pacific Opera Project's outdoor, family-friendly production of Englebert Humperdinck's iconic opera Hansel and Gretel comes to Forest Lawn Glendale for weekend performances on Nov. 13-14 and Nov. 20-21. Tickets range from $10-$35, and tables (for either two or four persons) are available. More info here.
17. New Art at Thinkspace -> Thinkspace Projects opens four new exhibitions on Nov. 13. In Gallery I will be Boris Anje's Black is the Color of Gold; in Gallery II will be Oscar Joyo's HOME_BODY. Additionally, Hiraeth by Stephanie Buer and Shades of Feelings by Jimbo Lateef will be on display in the Viewing Room. Saturday's reception for the new exhibitions runs from 6 to 9 p.m. Works will be on display through Dec. 4. More info here.
Sunday
18. Making Memories Festival -> Celebrate the 40th anniversary and support the mission of Alzheimers LA this Sunday at LA State Historic Park at the Making Memories Festival. The afternoon event (noon to 6 p.m.) features local bands, food trucks, and informational booths on brain health and lifestyle. Admission is $25 per person, with food available for purchase upon entry. More info here.
19. LAeatsJapan -> LAeatsJapan brings a cultural festival and celebration of Japanese cuisine to the heart of Little Tokyo this Sunday from 11 a.m. to 8 p.m. Guests can purchase food from over a dozen local vendors, and entertainment for the day also includes dance performances, martial arts demos, a car show, and a cosplay contest with a $1,000 grand prize. Admission is free. More info here.
20. Holiday Fun Festival -> Creative Communal Market brings a Holiday Fun Festival to 2nd and PCH this Sunday featuring plenty of holiday shopping options from local makers, live music and performances, face painting, and photos ops. Free to attend. More info here
21. Pop-Up Magazine -> Live multimedia storytelling event Pop-Up Magazine makes its return to the Theatre at Ace this Sunday at 7:30 p.m. Tickets start at $39. More info here.
Dining
22. Employees Only x Bridgetown Roti Pop-Up Dinner -> On Sunday Nov. 14., Rashida Holmes and her Caribbean pop-up concept Bridgetown Roti will join Employees Only's Chef Josh Buckwald for a one-of-a-kind collaboration dinner. Known for her signature curry-filled, handmade patties and rotis, Holmes pop-up was recently named one of Eater's "11 Best New Restaurants in America." Dinner reservations start at 6 p.m. and can be made through Resy. Items are offered à la carte and include Dhal Puri Shrimp Roti, Curried Pumpkin Ravioli, and Fire Roasted Jerk Chicken to name a few.
23. Holiday Inspired Ice Creams & Ice Cream Pies -> It's going to be a warm weekend. Cool down with some holiday inspired ice creams (and ice cream pie!) at one of our local scoop shops: Dear Bella Creamery is serving slices of their Ube Casserole Ice Cream Pie made with fresh butter-roasted ube, torched marshmallows, and candied pecans poured over a graham cracker crust. Seasonal ice cream flavors at the shop also include Caramel Apple and a Pumpkin Spice Latte soft serve. Note all items at Dear Bella Creamery are plant-based; Sweet Rose Creamery's November flavors include Brown Sugar Butter Pecan, Apple Pie, Dairy-Free Pumpkin Pie and a Dairy-Free Apple Cider Sorbet; McConnell's Ice Cream's has released a limited run of their Pumpkin Caramel and Candied Pecans ice cream; Salt & Straw's Friendsgiving themed ice cream flavors include Caramelized Turkey & Cranberry Sauce, Parker House Rolls with Salted Buttercream and Sweet Potato Pie with Double Baked Almond Streusel. 
24. Trejos Tacos x Todo Verde -> In honor of National Vegan Month Trejo's Tacos is teaming up with chef Jocelyn Ramirez's Todo Verde to serve a limited-time Jackfruit Tinga in either a Trejo's taco, burrito, or bowl at all three Trejo's Tacos Los Angeles locations now until the end of the month.
25. Ramen Nagi -> Japanese ramen brand Ramen Nagi made its SoCal debut this week at Westfield Century City Mall. The Tokyo based ramen brand founded by Chef Satoshi Ikuta is recognized for its fusion takes on noodles and broth that still honor traditional Japanese cuisine. Ramen is fully customizable from the level of salt, to broth density, the level of noodle doneness, broths and toppings. A traditional Tonkotsu broth made of pork marrow bones cooked for a minimum of 24 hours is on the menu and so is a unique broth called Niboshi, made of sardine and soy.
26. The Greyhound Rolls Out a New Menu -> The Greyhound in Highland Park will launch a full new menu on Thursday. Under the consultation of Chef Ted Hopson (The Bellwether) and executed by new Executive Chef, Jackie Fisher. Highlights include a Crispy Pickle-Brined Chicken Sandwich, Ahi Burger and a Vegan Al Pastor Torta.
27. Sofitel LA x PATH Thanksgiving Basket Donation Drive -> Not a place to eat, but if you'd like to help others get fed, remember that November is Homelessness Awareness Month and Sofitel LA is partnering with People Assisting the Homeless (PATH) to help provide food security to individuals experiencing homelessness. The public is invited to donate $20 grocery store gift cards for a turkey; side dish items such as boxed stuffing mix, mashed potato mix, boxed mac & cheese, cranberry sauce, canned vegetables, canned gravy, quick bread mix; and dessert items such as pie crust mix, dessert mix and pie filling. The hotel is taking donations now until Nov. 19, items can be dropped off at the concierge.
---
Any notes or corrections? Want to suggest an event we should add to an upcoming list? Hit us up at [email protected]