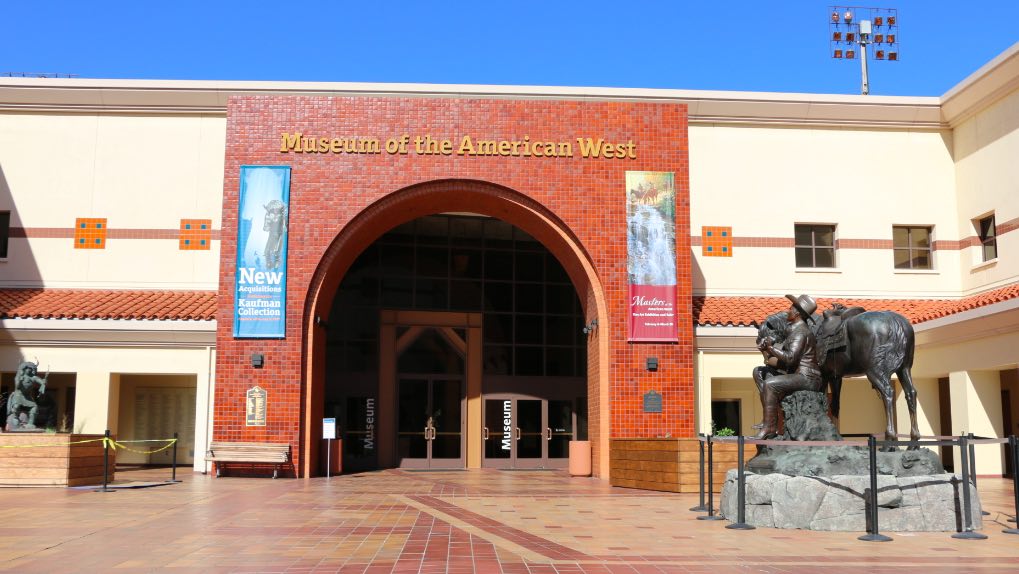 Get your proof of vax ready, because the City of Los Angeles has new rules going into effect today for COVID-19 vaccine requirements at a host of indoor establishments including gyms, restaurants, museums, and more. If you're not up to speed, get details here. If you're looking for events and things to do for the week ahead (per usual) then read on.
This week in L.A., from Nov. 8-12, features free days at LACMA and The Autry, SPARKLE DTLA, Lightscape at the LA Arboretum, Stoned Yoga, Fresh Perspectives at USC PAM, and more.
[Remember, if you want to stay connected with our weekly updates, be sure to sign up for the We Like L.A. Newsletter]
Monday / Throughout the Week
1. Barely Making It LA -> The Barely Making it LA comedy show makes its return on Nov. 8 at Bar Lubitsch in West Hollywood. Monday's lineup includes Rich Ruiz, Rob Stern, Madison Davis, Ahmed Bharoocha, Subhah Agarwal, and Moses Storm. Tickets are $10. More info here.
2. Portraits at LACMA -> The Los Angeles County Museum of Art has two new exhibitions celebrating portraiture now on view: The Obama Portraits Tour and Black American Portraits, both on display inside the Resnik Pavilion. The Obama Portraits Tour includes Kehinde Wiley's Barack Obama and Amy Sherald's Michelle LaVaughn Robinson Obama, both on loan from the Smithsonian's National Portrait Gallery. LACMA general admission tickets are $25, and remember that L.A. County residents can get free admission on weekdays after 3 p.m. More info here.
3. Becoming Jane: The Evolution of Dr. Jane Goodall -> A new exhibition at the Natural History Museum opens this Sunday focused on the life and work of renowned scientist and chimpanzee conservationist Dr. Jane Goodall. Visitors can explore Dr. Goodall's life and work through a series of multimedia installations, including digitally rendered chimpanzees, a life-size replica of Dr. Goodall's research tent, and even a talking hologram of Dr. Goodall herself. NHM general admission tickets are $15. More info on the exhibition here.
4. Patriotism in Conflict: Fighting for Country and Comunidad -> This latest exhibition at LA Plaza de Cultura y Artes looks back at the National Chicano Moratorium in East Los Angeles, contextualizing the rally with the events and cultural trends that led up to the historic day of activism. Over 300 materials are on display, including photographs, silkscreen prints, hand-made posters, flyers, textiles, multi-media artworks, and video and film installations; selected memorabilia, such as medals, buttons, flags, personal letters and certificates; and special reference publications from newspapers, magazines albums, and journals. LA Plaza is open Monday, Wednesday, Thursday and Friday from noon to 5 p.m., and Saturday to Sunday from 10 a.m. to 5 p.m. Free admission. More info here.
Tuesday
5. Elf on the Shelf Magical Journey -> Elf on the Shelf is back at the Pomona Fairplex beginning Friday, Nov. 5. This year's attraction features newly upgraded scenic displays, a Christmas village, ice-skating rink, and of course the signature walk-through journey of Christmas from an elf's perspective. Tickets are $19.95 for children and $24.95 for adults. Runs on select dates through Jan. 2, 2022. More info here.
6. Unsanitized Comedy -> Rupaul's Drag Race 2014 winner Bianca Del Rio caps off her worldwide Unsanitized Comedy Tour with back-to-back performances at the Theatre at Ace Hotel Los Angeles this Tuesday and Wednesday. Shows start at 8 p.m. both nights. Tickets are $39.50. More info here.
7. Free Admission at The Autry -> Every second Tuesday of the month, The Autry Museum in Griffith Park offers free general admission. Preview The Autry's latest exhibitions here, and learn more about planning a visit here.
8. Free Admission at LACMA -> The Los Angeles County Museum of Art offers free admission every second Tuesday of the month, with advanced reservation. Learn more about what's currently being exhibited here, and get info on tickets here.
9. An Evening With Denis Villeneuve -> To kickoff a series of events presented with Film Independent, this Tuesday The Wallis hosts a special conversation with director Dnis Villeneuve (Blade Runner: 2049, Dune). Tickets are $40. More info here.
Wednesday
10. Vegan Playground -> This weekly Arts District night market pops up at Boomtown Brewery every Wednesday and features 20+ rotating vegan vendors each week. Starts at 5 p.m. Admission is free. More info and RSVP here.
11. Citizen Public Market Comedy Night -> The Setup is hosting an outdoor pop-up stand-up comedy series at the patio of Citizen Public Market in Culver City this Wednesday. Tickets are $15. Show starts at 8 p.m. More info here.
Thursday
12. SPARKLE DTLA Opening Night -> The Bloc in DTLA has a new holiday experience kicking off this week that illuminates the night with 18 million hues of lights synchronized to festive tunes alongside a 32-foot Christmas tree and a 16-foot holiday ornament. SPARKLE DTLA debuts this Thursday with an opening night event featuring a lighting ceremony backed by songs from the UCLA Acapella Choir Group Scattertones, plus cookie decorating, a gingerbread competition, and other pop-up retail activities. More info here.
13. Honoring Veterans at the SaMo Mountains -> Santa Monica Mountains National Recreation Area celebrates Veterans Day this on Thursday, Nov. 11, with an event at the King Gillette Ranch Visitor Center. Guests can expect light refreshments, special guest speakers, a hike to Inspiration Point, and appreciation gifts for Veterans in attendance. Free event, but RSVP recommended. More info here.
Friday
14. Lightscape at the LA Arboretum -> On Friday, Nov. 12, the LA Arboretum opens an illuminated nighttime attraction for the winter season called Lightscape. The mile-long, self-guided walk features thousands of twinkling lights in various themed attractions including a Winter Cathedral, Star Tunnel and Fire Garden. Adults tickets start at $32. Runs on select nights through Jan 16, 2022. More info here.
15. Intervention: Fresh Perspectives at USC PAM -> To mark the USC Pacific Asia Museum's 50th anniversary, the institution is hosting a group exhibition featuring seven asian American artists who created works in response to the PAM's collection. The new exhibition opens this Friday, Nov. 12, and runs through Feb. 6, 2022. Museum admission is $10, and remember that USC PAM offers free admission every second Sunday. More info here.
16. Moved LA + Stoned Yoga -> Moved LA and The Wavvy Cloud are teaming up for an evening of cannabis, yoga, movement, and music, all hosted at Frogtown Creative Studios. Treats and refreshments (alcoholic and non-alcoholic) will be provided. Tickets are $35. More info here.
17. GLOW SHOW! at Dynasty Typewriter -> Do you long to see comedians riff on their misadventures with mind altering drugs? This Friday at the Dynasty Typewriter, Reggie Watts, Daniel Webb, and Sara June will address the topic with standup sets in a black-lit setting (and plenty of glow sticks to go around). Tickets are $20 in advance, or $25 on the day of the show. More info here.
Dining
18. Wise Sons Culver City Now Open for Dinner -> Jewish deli Wise Sons in Culver City has expanded their hours to offer dinner service as well as a wine and beer menu. Founder Evan Bloom's Bay Area based deli operation makes nearly everything in house from pastrami to pickles, bagels and babkas. On the menu you'll find familiar favorites as well as reimagined deli classics including a Kimchi Reuben. Exclusive to the Los Angeles location of Wise Sons is a Diner Tuna Melt made with wild albacore, lettuce, tomato, horseradish aioli, griddled with American and Swiss on rye.
19. Katsuya Brentwood's New Omakase Bar Experience -> Katsuya Brentwood recently rolled out a new omakase experience of 10 curated courses for $95. Expect signature Katsuya plates like Spicy Tuna Crispy Rice and Baked Snow Crab Hand Rolls along with new creations. A beverage pairing, featuring boutique wines, sake, and cocktails can also be added to the experience for $45. The omakase menu is available Thursday through Sunday.
20. Natural Wine Night at Lock & Key -> Neighborhood cocktail den Lock & Key is hosting a Natural Wine Event and live Gay Wine Podcast recording on Wednesday, November 10. Former Kismet beverage director and Forbes '30 under 30' wine steward Kae Whalen will curate three natural wines from Ranchelle Winery in Tuscany for the evening and walk all guests through what they're tasting. Guests can order the curated natural wines a la carte or as a flight, as well as deep-dish pizzas and other menu selections from Lock & Key's kitchen. Event starts at 7 p.m.
21. Full Proof Pizza -> The duo behind Lodge Bread Co. has expanded into the pizza game with New York style pies at two new storefronts in Beverly Hills and Brentwood. Focused on naturally leavened dough, Full Proof Pizza's debut menu offers ten different 18-inch pies that include classics like Pepperoni to seasonal options like the Goat Cheese and Chicories made with roasted chicories, creamy chèvre, caramelized Maui onions, aged balsamic, and fresh herbs. The Brentwood location of Full Proof Pizza is an 80s-inspired bar/arcade complete with retro games and a spacious dining room. The Beverly Hills location will act as a takeout and delivery hub with a small dining room.
22. Homebound Now Open at Union Station -> A new Dodger-focused sports bar and beer hall has emerged in space formerly occupied by the Imperial Western Beer Company inside Union Station. Homebound Brew Haus is now serving a menu of classic cocktails, beers, sausages, pretzels, burgers and sammies. There's also an outdoor dinging space and TV's playing the game.
23. Seasonal Drinks at HauteMess -> Neighborhood Italian market and deli HauteMess welcomes the holiday season with new drink offerings that include an Eggnog Latte and a special Pumpkin Spice Latte made with real pumpkin, cinnamon, ginger, cloves, and nutmeg.
---
Any notes or corrections? Want to suggest an event we should add to an upcoming list? Hit us up at [email protected]