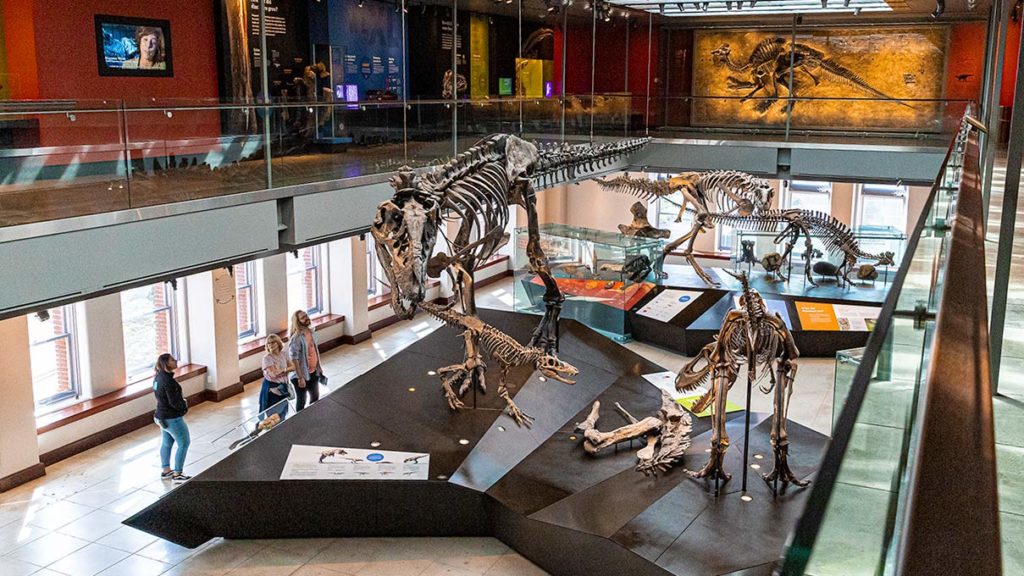 As you set your clocks back this weekend, hopefully you're putting that extra hour to good use. Maybe you're going to a music festival or trying a new brunch menu. Maybe you're resting up to run the LA Marathon. Or maybe you're just going to snooze town. Whatever you decide to do with your time, we've got lots of options for you, per usual.
This weekend in Los Angeles, from Nov. 5-7, features a Bike Ofrenda workshop, the Festival of Flight, an EVERYBODY park hangout, new exhibitions at LACMA and NHM, the Head in the Clouds Festival, ComplexCon, and more.
[Remember, if you want to stay connected with our weekly updates, be sure to sign up for the We Like L.A. Newsletter]
Friday / All Weekend
1. Elf on the Shelf Magical Journey -> Elf on the Shelf is back at the Pomona Fairplex beginning Friday, Nov. 5. This year's attraction features newly upgraded scenic displays, a Christmas village, ice-skating rink, and of course the signature walk-through journey of Christmas from an elf's perspective. Tickets are $19.95 for children and $24.95 for adults. Runs through Jan. 2, 2022. More info here.
2. Patriotism in Conflict: Fighting for Country and Comunidad -> This latest exhibition at LA Plaza de Cultura y Artes opens this Friday with a look back at National Chicano Moratorium in East Los Angeles, contextualizing the rally with the events and cultural trends that led up to the historic day of activism. Over 300 materials will be on display, including photographs, silkscreen prints, hand-made posters, flyers, textiles, multi-media artworks, and video and film installations; selected memorabilia, such as medals, buttons, flags, personal letters and certificates; and special reference publications from newspapers, magazines albums, and journals. LA Plaza is open Monday, Wednesday, Thursday and Friday from noon to 5 p.m., and Saturday to Sunday from 10 a.m. to 5 p.m. Free admission. More info here.
3. The Paramount Reopens -> Boyle Heights music venue The Paramount reopens for live shows this week after a nearly two-year hiatus due to the pandemic. On Friday, the space welcomes marimba-punk band Son Rompe Pera (tickets $15), then on Saturday the venue will host a watch party for the bout between Canelo Álvarez and Caleb Plant (tickets $10). Get more info on these and other upcoming events here.
4. Rick & Morty Trivia Night -> Grand Central Market's Horse Thief BBQ is hosting a Rick & Morty themed evening of trivia this Friday beginning at 7 p.m. Expect 7 rounds of questions, beer, prizes, and a costumed contest. Runs $10 if you reserve an early bird ticket. More info here.
5. A Quiet Place double-feature -> This Friday, Electric Dusk Drive-In will offer a double-feature drive-in movie event featuring A Quiet Place and A Quiet Place Part II. Tickets are $37 per vehicle/driver, and then $12 for each passenger. More info here.
6. First Fridays at Bixby Knolls -> The Bixby Knolls monthly art walk along Atlantic Ave in Long Beach presents a Día de los Muertos themed edition this Friday, including an altar contest between local businesses and Aztec dance performances. Free to attend. Runs 6:30 to 9:30 p.m. More info here.
7. A Groundling on Elm Street -> The newest sketch show at the Groundlings Theatre runs on Friday and Saturdays through Nov. 20. Tickets are $25. More info here.
Saturday
8. On The Ground: 2020 Protests and the Untold Stories of Los Angeles -> This Saturday, Art Share L.A. will hold an opening reception for a new exhibition featuring 30 photojournalists and artists who have contributed work capturing the vibe and essence of the tumultuous summer of 2020 following the murder of George Floyd. The opening event runs 5 to 8 p.m. Additionally, Art Share L.A. will host several public programs in conjunction with the exhibition before it closes on Dec. 18. More info here.
9. Bike Ofrenda Workshop -> In the spirit of Dia de los Muertos, join artist Sandra de la Loza and the Self Help Graphics & Art Youth Committee this Saturday as they instruct guests on how to transform their bikes into mobile altars. Then at 4 p.m. following the tutorial, de la Loza will guide a bike caravan through a tour of Eastside altar installations created by local families as part of Art 4 [CHANGE]. Workshop starts at 2 p.m. Free to attend. More info here.
10. ComplexCon -> The Complex Network's signature two-day convention comes to Long Beach offering shopping, product drops, talks, and performances, all centered on pthe op culture, fashion, art, food, sports and music of today. Single day tickets cost $80, and 2-day passes cost $135. More info here.
11. Head in the Clouds Festival -> Asian music and media company 88rising teams with Goldenvoice to present the third installment of Head in the Clouds Festival, a hip-hop and dance music event showcasing Asian and Asian-American artist. The festival runs both this Saturday and Sunday on the grounds of Brookside at The Rose Bowl. Two-day GA passes are available for $250. More info and tickets here.
12. Zombie Thoughts -> This Saturday, Nov. 6, Culver City Public Theatre returns to Carlson Park with west coast premiere of "Zombie Thoughts," a choose-your-own-adventure style story of two video game avatars, one of which teams with the audience to complete an interactive quest. The show runs Saturday and Sundays through Nov. 21. Free with RSVP. Get more info and tickets here.
13. Self Care: Yoga at CAAM -> Meditation instructor Constance Hartwell leads this 60-minute yoga flow session at the California African American Museum starting at 11 a.m. on Saturday. Free to attend. No experience necessary. Be sure to bring your own mat and water. More info here.
14. Brick Fest Live -> This touring, all-ages convention for LEGO (and other forms of brick building) enthusiasts comes to the Pasadena Convention Center this Saturday and Sunday. The event features life-size models, an interactive stage show, brick building activities, and plenty of merch for sale. Tickets are $34.99 for general admission, or $49.99 for VIP. More info here.
15. Artist Mafia Presents Elephante -> This Saturday night, L.A. based electronic DJ Elephante headlines a night of immersive art, dance, and music at the W Hotel. Tickets start at $35, event kicks off at 9 p.m. More info here.
16. Festival of Flight -> The Festival of Flight at Long Beach Airport makes its return this Saturday, Nov. 6 after a 2020 cancellation due to the pandemic. Thousands of guests are expected to attend to see aircraft on static display while they enjoy live music, food and beer trucks, activities for kids, and even helicopter rides (available for purchase, not free!). Runs 10 a.m. to 4 p.m. Free admission. More info here.
17. LA Printers Fair -> If paper, printing, and lettering are your bag, head to the International Printing Museum in Carson this weekend for the annual Los Angeles Printers Fair. Guests can enjoy hands-on printing activities, tours of the museum, a marketplace with over 80 vendors, and other special exhibits. Adult tickets are $10, and kids get in for $5. Runs Saturday and Sunday from 10 a.m. to 4 p.m. More info here.
Sunday
18. The LA Marathon -> The 2021 LA Marathon returns this Sunday with a route that starts at Dodger Stadium, goes south in DTLA, then heads west and concludes at Avenue of the Stars in Century City. If you're running, best of luck! And if you want to cheer on the runners, check the route on the marathon website. As far everyone else, make sure you're aware of the street closures if you're out and about on Sunday. More info here.
19. A Park Hang for Every Body -> Join KCRW and EVERYBODY Gym this Sunday for a hyper-inclusive day exercise at at Rio de Los Angeles State Park. The event opens at noon with a conversation between KCRW's Bodies host Allison Behringer and EVERYBODY Gym founders Sam Rypinski and Lake Sharpbetween. The talk will be followed by three workout sessions: a ballroom-inspired dance workout, yoga, and a Latinx dance style movement class. Free to attend. More info here.
20. Portraits at LACMA -> Beginning this Sunday, Nov. 7, the Los Angeles County Museum of Art presents The Obama Portraits Tour and Black American Portraits, a pair of exhibitions celebrating portraiture that will be on display inside the Resnik Pavilion. The Obama Portraits Tour includes Kehinde Wiley's Barack Obama and Amy Sherald's Michelle LaVaughn Robinson Obama, both on loan from the Smithsonian's National Portrait Gallery. LACMA general admission tickets are $25, and remember that L.A. County residents can get free admission on weekdays after 3 p.m. More info here.
21. Becoming Jane: The Evolution of Dr. Jane Goodall -> A new exhibition at the Natural History Museum opens this Sunday focused on the life and work of renowned scientist and chimpanzee conservationist Dr. Jane Goodall. Visitors can explore Dr. Goodall's life and work through a series of multimedia installations, including digitally rendered chimpanzees, a life-size replica of Dr. Goodall's research tent, and even a talking hologram of Dr. Goodall herself. NHM general admission tickets are $15. More info on the exhibition here.
22. This is Different -> This is Different is a recurring comedy show hosted outdoors at The Nitecap in Burbank. This Sunday's lineup includes Dana Gould (The Simpsons), Teresa Lee (Tribeca Film Festival), Sheng Wang (Fresh off the Boat), Monique Moreau (Team Coco Live), and Sahana Srinivasan (Netflix). Tickets are $10. More info here.
Dining
23. New Brunch Menu at The Waterfront -> Venice Beach's The Waterfront launches a new fall brunch menu on Saturday with offerings including a Gioella Ricotta Toast topped with marinated figs, hazelnut and wild flower honey; Chicken and Girolle Mushroom Pot Pie; and Lemon Ricotta Pancakes. The restaurant is walking distance from the beach, making The Waterfront a great spot to enjoy a weekend beach day.
24. Little Llama Peruvian Tacos Limited Time Nacho Menu -> Just in time for National Nacho Day (Saturday Nov. 6), Little Llama Peruvian Tacos in DTLA has introduced a new nacho menu that's only available for the month of November. Choose from Lomo Saltado, Pollo marinated in beer and aji panca pepper, Carnitas braised in Inca Kola and Shiitake Saltado. All nachos cost $15 and are topped with Chihuahua cheese, aji amarillo crema, huacatay aioli, pickled red onions and pickled Fresnos served with house made chips.
25. Jeni's Splendid Holiday Ice Cream Collection -> Starting today, Jeni's Splendid Ice Creams has released a limited run of five holiday inspired ice cream flavors available in shops and online for nationwide shipping. New this year are Pistachio Macaron, a two-toned roasted pistachio ice cream with almond and meringue-like texture, and Mexican Hot Chocolate, a velvety milk chocolate cream with red-hot cinnamon and cayenne. Sugar Plum, White Chocolate Peppermint, and Cognac with Gingerbread are all making their comeback this season as well. All flavors are available as scoops, individual pints and as a whole collection.
26. A New Latte Menu at Poppy and Rose -> Poppy + Rose, is offering a seasonal latte menu for fall using fine loose-leaf tea from master tea blenders, Harney and Sons. Pumpkin Spiced, Chai, Cinnamon Honey Oat and Lavender London Fog lattes are just a few available on the cozy menu. The lattes pair perfectly with Poppy + Rose's American comfort food menu (the Buttermilk Fried Chicken & Waffles is one of the best in town). If weather permits, drive up the rooftop to enjoy outdoor seating with a clear view of DTLA.
27. Eataly LA's Restaurant Fest -> Eataly LA's signature dining event Restaurant Fest returns Oct. 29 to Nov. 14 for two weeks of special two-course menus that highlight some of fall's best ingredients. Enjoy Italian staples like Ravioli Di Zucca (butternut squash ravioli) at La Pizza & La Pasta or grilled Balsamico Bistecca at rooftop woodfire restaurant Terra. The special menus come with affordable set prices of $25 at La Pizza & La Pasta and $49 at Terra. Premium Italian wines will also start at just $29 a bottle during this event.
28. Grain Reopens -> Playa Provisions has reopened Grain the whiskey bar tucked inside the back corner of the restaurant. The public can enjoy an elevated cocktail program under the direction of Bar Manager Liam Odien (The Corner Door and Bucato) and bar bites by Williamson.
29. New Fall Cocktail Menu at Piccalilli -> Piccalilli recently launched their new fall craft cocktail menu ​​focused on cozy cocktails made with fall-themed ingredients. Highlights include the "Chengdu Nights" made of Rittenhouse Rye, Mekhong Thai Spirit, spiced brown sugar and Szechuan bitters and the Double Bee a gin based drink with Latea Honey Boba.
---
Any notes or corrections? Want to suggest an event we should add to an upcoming list? Hit us up at [email protected]