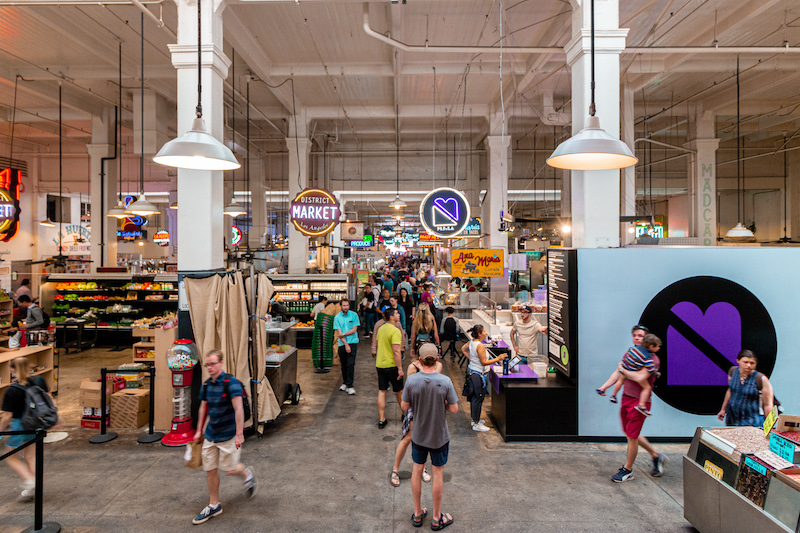 Halloween is over, and November has just begun. Check our list below, for things that might be fun. Yes, that rhymes. Sue us.
This week, from Nov. 1-5, features 24th Street Theatre's Día de los Muertos, Rick & Morty Trivia, Popular Kids Club Comedy, half-priced Pizzas at Ronan, Elf on the Shelf at Fairplex, First Fridays in Bixby Knolls, and more.
[Remember, if you want to stay connected with our weekly updates, be sure to sign up for the We Like L.A. Newsletter]
Monday / Throughout the Week
1. 24th Street Theatre's Día de los Muertos -> 24th Street Theatre's annual Día de los Muertos event returns on Monday, Nov. 1 with an evening affair headlined by Mexican composer and rock star Jaime López and featuring additional performances by Klezmer Juice; nueva trova musician/artivist Esteban León; cumbia band Gabriel y La Verdad; Mariachi Calilajara; Aztec dance troupe Huitzilopochtli; ballet folklórico Sol de Fuego; and more. Guests can expect homemade tamales, craft booths and a special area where families can make their own altars for departed loved ones. Event runs from 6 to 10 p.m. More info here.
2. Manos a la Obra -> Manos a la Obra is a new collection of works by Cog•nate Collective now on display at 18th Street Arts Center in Santa Monica. Gallery hours are 11 a.m. to 5 p.m. on Monday to Friday, and noon to 5 p.m. on Saturdays. Walks-ins welcome, but reservations are recommended. More info here.
3. Día de los Muertos altars at Grand Park -> A large-scale altar and over a dozen art installations curated by Self Help Graphics will be on display throughout Grand Park through Nov. 2. More info here.
Tuesday
4. Día de los Muertos at Nativo -> Highland Park's Nativo is hosting a Día de los Muertos evening event this Tuesday featuring face painting, live performances from El Trio Tres Souls & DJ Boo, and specially curated flights of mezcal and tequila. A $40 ticket includes access to the event, tequila or mezcal flight, special performances, and pan de muerto. Tickets are $65 if you want to add-on a special Sip & Paint experience. More info here.
5. 'Auteur/Voyeur: Through The Rear Window' Series -> From Oct. 11 to Nov. 3, American Cinematheque is showcasing at series of films at the Los Feliz 3, thematically connected by the subject of voyeurism. Tickets are $13 per film. This week the series concludes with screenings of The Window on Tuesday, and Blue Velvet on Friday. Get more info and the full series schedule here.
6. The Getty's College Night -> The Getty is bring back its College Night programming through a five-day virtual event focusing on the theme of True Crime in Ancient Times. Events feature art talks about murder, theft, and curses – both historical and mythological. Attendees can also take part in trivia, live-action-role-playing games, and drawing classes. See the full schedule and links to register here.
7. Everything is Connected -> Self Help Graphics' fall exhibition combines the work of visual and performative artists to underscore a central theme of universal connectedness. The exhibition is available to view for free, with advanced RSVP on Tuesday through Friday until Nov. 25. More info and tickets here.
Wednesday
8. Andy Warhol at The Luckman -> The Luckman Fine Arts Complex at Cal State LA is hosting a new exhibition of over 70 works by Andy Warhol, including 10 recently-acquired silk screens, plus a trove of polaroids from the artist's personal collection. Admission is free, but reservations (available Wednesdays through Sundays) are highly recommended. More info here.
9. Star Trek at Skirball -> Star Trek: Exploring New Worlds is now open at the Skirball Cultural Center. The exhibition highlights Star Trek's indelible imprint on modern culture and technology while giving fans a rare glimpse at over a hundred artifacts and props from the Star Trek films and television series, including tricorders, communicators, phasers, uniforms, space craft models, and even the command chair and the navigation console used in the original series. Tickets to Skirball start at $15 per adult. Get more info on the exhibition and planning your visit here.
Thursday
10. Popular Kids Club Comedy -> On Nov. 4, Popular Kids Club Comedy returns with a free outdoor show at Permanent Records (1906 Cypress Ave). This Thursday's lineup includes Mary Lynn Rajskub (24, It's Always Sunny in Philadelphia), Kurt Braunohler (The Big Sick, Hot Tub), Jenny Yang (Last Man Standing, Comedy Central), Rufat Agayev (New York Comedy Festival, DC Improv), and Mike Mulloy (Faded Comedy). Starts at 8 p.m. RSVP and get more info here.
11. Free Admission at the Martial Arts Museum -> The Martial Arts Museum in Burbank offers free admission on the first Thursday of every month from 3 to 6 p.m. More info here.
12. Turtle Races at Brennan's -> The signature turtle racing night at Brennan's in Marina Del Rey is now back every first and third Thursday of the month. Races run at 8:30 and 9:45 p.m. More info here.
Friday
13. Elf on the Shelf Magical Journey ->  Elf on the Shelf is back at the Pomona Fairplex beginning Friday, Nov. 5. This year's attraction features newly upgraded scenic displays, a Christmas village, ice-skating rink, and of course the signature walk-through journey of Christmas from an elf's perspective. Tickets are $19.95 for children and $24.95 for adults. Runs through Jan. 2, 2022. More info here.
14. Patriotism in Conflict: Fighting for Country and Comunidad -> This latest exhibition at LA Plaza de Cultura y Artes opens this Friday with a look back at National Chicano Moratorium in East Los Angeles, contextualizing the rally with the events and cultural trends that led up to the historic day of activism. Over 300 materials will be on display, including photographs, silkscreen prints, hand-made posters, flyers, textiles, multi-media artworks, and video and film installations; selected memorabilia, such as medals, buttons, flags, personal letters and certificates; and special reference publications from newspapers, magazines albums, and journals. LA Plaza is open Monday, Wednesday, Thursday and Friday from noon to 5 p.m., and Saturday to Sunday from 10 a.m. to 5 p.m. Free admission. More info here.
15. Rick & Morty Trivia Night -> Grand Central Market's Horse Thief BBQ is hosting a Rick & Morty themed evening of trivia this Friday beginning at 7 p.m. Expect 7 rounds of questions, beer, prizes, and a costumed contest. Runs $10 if you reserve an early bird ticket. More info here.
16. A Quiet Place double-feature -> This Friday, Electric Dusk Drive-In will offer a double-feature drive-in movie event featuring A Quiet Place and A Quiet Place Part II. Tickets are $37 per vehicle/driver, and then $12 for each passenger. More info here.
17. First Fridays at Bixby Knolls -> The Bixby Knolls monthly art walk along Atlantic Ave in Long Beach presents a Día de los Muertos themed edition this Friday, including an altar contest between local businesses and Aztec dance performances. Free to attend. Runs 6:30 to 9:30 p.m. More info here.
18. A Groundling on Elm Street -> The newest sketch show at the Groundlings Theatre runs on Friday and Saturdays through Nov. 20. Tickets are $25. More info here.
Dining
19. Half-Priced Pizzas at Ronan -> Ronan launches Monday service starting on Nov. 1, and to celebrate they've dubbed the first day of the week "Margherita Monday's" offering half-priced Margherita pizzas ($9.50, regularly $19) for dine-in guests every week. In addition to half-off Margherita pizzas, Ronan will also be offering $40 mezcal margarita pitchers (serves 2 to 4) on Mondays. 
20. Sweet Chick x Clarks Originals -> Sweet Chick and Clarks Originals are debuting a waffle-wrapped food truck throughout Los Angeles all week long serving up free ice cream in waffle cones, a chance to win tickets to ComplexCon (Nov 6-7) and exclusive collectibles. Part of The Wafflebee Collection, the limited edition collectibles includes a Wafflebee candle, a Mini Waffle Maker, a Butter Knife, and a Chicken-themed kitchen timer. The waffle-wrapped truck is making the following stops ahead of ComplexCon: Nov. 2: Sweet Chick on Fairfax Ave. from 1-4 p.m.; Nov. 3: Bodega in DTLA from 1-4 p.m.; Nov. 4: SneakersnStuff in Venice Beach from 1-6 p.m.; Nov 5: HVW8 Gallery Party on Spaulding Ave from 4-9 p.m.
21. Eataly LA's Restaurant Fest -> Eataly LA's signature dining event Restaurant Fest runs from Oct. 29 to Nov. 14. The two-week series features special two-course menus that highlighting some of fall's best ingredients. Enjoy Italian staples like Ravioli Di Zucca (butternut squash ravioli) at La Pizza & La Pasta or grilled Balsamico Bistecca at rooftop woodfire restaurant Terra. The special menus come with affordable set prices of $25 at La Pizza & La Pasta and $49 at Terra. Premium Italian wines will also start at just $29 a bottle during this event.
22. New Seasonal Cocktails at Genever -> Women-owned gin bar Genever is shaking up a new fall and winter drink menu with a global twist. New cocktails include "Star Me Kitten" a gin based libation with spiced red wine cordial, lavender citrus and tonic, and the "Earthcrosser" made of pandan tequila, Galliano Ristretto, coconut cream, egg and mole bitters. Genever also hosts happy hour from 6 to 8 p.m. with $7 specials that include a daily gimlet, martini, G&T, wine and a bourbon drink made of bitters and coconut sugar. A selection of beers are also available for $5 during this time. 
23. Friendsgiving themed scoops at Salt & Straw -> The ice cream shop will officially serve their new Friendsgiving themed flavors starting today (Monday, Nov. 1). On the menu you'll find flavors like Caramelized Turkey & Cranberry Sauce, Parker House Rolls with Salted Buttercream and Sweet Potato Pie with Double Baked Almond Streusel. The menu is available at all Salt & Straw locations and online. 
24. S.Pellegrino Destination Dining -> Starting this Friday, S. Pellegrino Destination Dining returns with a cross-coastal culinary exchange between restaurants in Los Angeles and New York. Diners in Los Angeles can enjoy signature dishes from some of the hottest restaurants in New York including Llama San, Contento, Di an Di and Shukette. Each week the program will focus on two restaurants from opposite coasts exchanging recipes for the week. From Oct. 29 through Nov. 5 there will be a collaboration with NYC's Chef Dennis Ngo of Di an Di and LA's Chef Kris Yenbamroong Night + Market. Each signature swap dish will come with a free bottle S.Pellegrino. More info here. 
25. Angler secret Jinx Dog Menu -> Angler has partnered with Jinx, the makers of premium, superfood-powered nutrition for dogs on a fine dining dog menu for the month of November. Available at the restaurant for dine-in or takeout, guests interested in treating their four-legged friends to a fine dining experience can simply ask a server about the secret menu with Jinx.  
26. The Food Event -> Not for this week, but wanted to give you a heads-up that tickets are on sale for Los Angeles Magazine's 15th Annual The Food Event. Happening Nov. 14 the epicurean event will take place at Hummingbird Nest Ranch in Simi Valley. Tickets cost $130 per person and include samplings from Los Angeles restaurants, live cooking demonstrations, boutique wines, craft cocktails, spirits tastings, and more. 
---
Any notes or corrections? Want to suggest an event we should add to an upcoming list? Hit us up at [email protected]