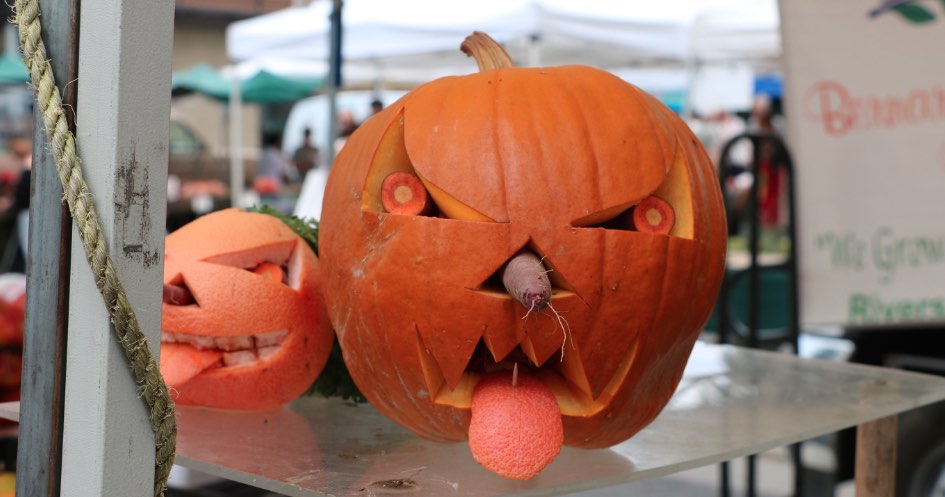 The spookiest weekend of the year is almost upon us, and with the intersection of Halloween and Dia de los Muertos celebrations, L.A. locals can look forward to a jam-packed three days of events.
This weekend, from October 29-31, features Boos and Brews at Angel City Brewing, a Halloween Hootenanny Craft Beer Fest, Haunted Little Tokyo, Boonion Station, a Squid Game party at Employees Only, Dia de los Muertos at Hollywood Forever, free Salt & Straw for costumed kids, and more. Browse weekend highlights below, and keep in mind if you're specifically looking for Halloween activities, we have a big list of Halloween to-dos that we've been curating since the end of last month. Enjoy, and be safe!
[Remember, if you want to stay connected with our weekly updates, be sure to sign up for the We Like L.A. Newsletter]
Friday / All Weekend
1. Boos and Brews -> This Friday, Angel City Brewery is hosting a free event featuring Halloween beers, candy pairings, and live performances, all from 7 to 10 p.m. Costumes encouraged. More info here.
2. Star Trek II: The Wrath of Khan at Skirball -> This Friday, the Skirball Cultural Center is celebrating their latest exhibition, Star Trek: Exploring New Worlds with a special screening of Star Trek II: The Wrath of Khan. The film will be preceded by conversation with director Nicholas Meyer and Star Trek expert Scott Mantz beginning at 6:15 p.m. Tickets for the event are $20. More info here.
3. The Nightmare Before Christmas w/ Danny Elfman -> Elfman's live-to-film version of The Nightmare Before Christmas was a longstanding tradition at the the Hollywood Bowl, but after a pandemic hiatus the show will now be hosted at Banc of California Stadium. Two shows are now scheduled, one for Friday, Oct. 29, and a second just recently added for Sunday, Oct. 31. Tickets available (as of first publication of this post) starting at $39. More info here.
4. Yappy Hour Halloween Edition -> The Fairmont Miramar Hotel & Bungalows invites Angelenos and their pups to kick of the howl-o-ween weekend with a festive Yappy Hour on Friday from 4 to 7 p.m. Sip on Nosotros Tequila cocktails in the Miramar Garden and treat your dog to some bites provided by Healthy Spot. Pooches who show up in costume can enter into a contest to win a one-night stay at the Fairmont Miramar.
5. Long Beach's inaugural Oktoberfest festival -> This Friday tips off two full weekends (Oct. 22-24 and Oct. 29-31) of Okbtoberfest action at Scottish Rite Event Center in Long Beach. Expect authentic German beer, food, dancing, and live entertainment. General admission tickets are $20 per person. Remember that beer, wine and food are all available for purchase, and not included with admission. More info here.
6. Night of Terror -> Freedom City Church is hosting at Night Of Terror at its 98-year-old church building located in Historic Uptown Whittier. This year's scare attraction and maze are built around the theme "Life is a Vapor." Runs Oct. 28-31. Tickets are $15. More info here.
7. Día de los Muertos at Hotel June -> On Friday, Hotel June will celebrate Día de los Muertos with an evening full of cocktails, dancing and DJ sets by Jason Bentley and Kyle Woods. The event is complimentary and open to the public. Guests are invited to also enjoy specialty cocktails at the bar and dinner at Hotel June's poolside restaurant, Caravan Swim Club.
8. Beware the Dark Realm -> Now in its fifth decade, The Silvey family's Beware The Dark Realm is one of the longest running mom and pop haunts in the county, offering what they describe as a "high intensity walk-through attraction filled with terrifying live monsters, amazing special effects, and incredible sets." Runs Oct. 15-16, 22-23, and 29-30. The event is free, but front-of-the-line tickets are available with a $10 donation to Family Promise of the Santa Clarita Valley. Get more info here.
9. Cemetery Lane at Heritage Square Museum -> The victorian homes at Heritage Square Museum get a haunted makeover during this 5-day vintage trick-or-treat experience, running from Oct. 27-31. There are 13 themed trick-or-treat stops in all, and tickets are $25-$30 depending on time of entry. More info here.
Saturday
10. Halloween Hootenanny Craft Beer Fest -> The Halloween Hootenanny festival comes to the Museum of Latin American Art in Long Beach on Oct. 30 for a day filled with over 40 craft breweries, local wineries and cideries, plus a "macabre marketplace" stocked with creepy art vendors, collectibles, local artists, live performers, and food options. General admission tickets are $45. More info here.
11. Haunted Little Tokyo -> On Oct. 30, Haunted Little Tokyo offers two events, one for the daytime, and one for the evening. Beginning at 2 p.m. an all-ages scavenger hunt kicks off the day at Japanese Village Plaza, with free maps available to pick up at Cafe Dulce. At 7 p.m., a block party gets going that'll include DJs, drinks, food, and a costume contest. 21+ only for the latter event. RSVP for the block party here get more info on both events here.
12. Self Help Graphics Dia de los Muertos -> Self Help Graphic's 48th annual Dia de los Muertos celebration returns to Mariachia Plaza in Boyle Heights this Saturday, Oct. 30. Activities for the day include live performances curated by The Paramount, a Muertos Market stocked with wares from local artists and artisans, special street food vendors, altars, plus a car caravan (3 p.m.) and walking procession (4 p.m.) Free to attend. More info here.
13. Dia de los Muertos at Hollywood Forever Cemetery -> Dia de los Muertos at Hollywood Forever returns after a pandemic hiatus, with this year's event split into daytime and nighttime sessions. The evening affair is now sold out, but tickets for the day event (running from 9 a.m. to 3 p.m.) are still available, starting at $40 for general admission. See the lineup of entertainment and get more info here.
14. Scariurm of the Pacific -> Family friendly event featuring a children's costume contest, creepy coloring contest, magic shows, underwater pumpkin carving, spooky storytelling, kooky crafts, and eerie animals in the Great Hall. Included with general admission purchase. Runs Oct. 30-31. More info here.
15. Boonion Station -> This two-day Halloween event runs Oct. 30-31 on the south patio of Union Station. Guests can expect a slew of family-friendly activities and entertainment including a fun and fuzzy spider forest, Halloween crafts, tarantula tattoos and mad scientist slime sessions, costume contests, a trick-or-treat train trail, spooky stilt walkers, and more. Admission is free, but RSVP is required. Runs 11 a.m. to 5 p.m both days, with timed entry split into two sessions on each day. More info here.
16. Free Screenings at the ITTV Festival -> The Italian Television Festival (running Oct. 30 to Nov. 2) kicks off this Saturday with an evening of free screenings hosted at the Little Italy Piazza in San Pedro (638 S. Beacon Street). Programming including the U.S. premiere of Pinocchio and Friends, plus episodes of Puffins and Arctic Friends, along with the animated short Mila Screenings begin at 6 p.m. Free and open to the public More info here.
17. Squid Game Halloween Party -> West Hollywood's Employees Only is hosting a Squid Game themed Halloween this Saturday, complete with a 'Honeycomb Challenge,' available as a $20 activity. If you can successful carve your shaped cookie (hopefully it won't be the umbrella!) you will receive a free specialty cocktail or shot of mezcal, and even if your cookie breaks you can still get a complimentary shot of mezcal. Drinks will be served by staff dressed in theme, and there will also be live music, spooky Squid Game-influenced decor, and episodes of the show streaming throughout the space. Proof of vaccination will be required. Reservations suggested.
Sunday
18. Dia de los Muertos at LA Plaza -> Celebrate Día de los Muertos at LA Plaza de Cultura y Artes this Sunday with day of music and food capped by a screening of Disney/Pixar's Coco. Live entertainment for the day includes Aztec dance by Xico Tepec, music by The Mariachi Conservatory, and special performances by Ballet Folclorico Princesa Donaji and Tierra Blanca Arts Center. The event kicks off at noon. Admission is free. More info here.
19. The Phantom of the The Opera at The Old Town Music Hall -> All throughout October, The Old Town Music Hall in El Segundo is screening spooky classics, including a Spanish language version of Dracula. On Oct. 31, the series of films caps off with two showings (2:30 or 7 p.m.) of the 1925 silent version of The Phantom of the Opera, which will be accompanied live on by the theater's Mighty Wurlitzer Pipe Organ. Tickets are $20 per person. More info here.
20. Halloween Costume Ball -> Riviera 31 at The Sofitel Hotel will host Affinity Nightlife's annual Halloween Costume Ball this Sunday with spooky cocktails like 'The Ghost Rider', a Dia de los Muertos drink menu, live music indoor and outdoors, complimentary party favors, candy and more.
21. Vampire Ball -> DTLA wine shop and bistro Good Clean Fun is hosting a Vampire-themed Halloween Party this Sunday. Expect a costume contest (vampires encouraged, all costumes welcomed), spooky décor, and plenty of music. Costume contest winners will receive a free bottle of wine. Also on the menu are Mommenpop aperitif jello shots and a one-night only dessert special, the 'Broken Glass Blood Cake' (chocolate cake, white buttercream frosting, sugar candy 'glass' shards and raspberry 'blood') from pastry chef Marina Pilar-Aranda. Event kicks off at 5 p.m.
22. Trick-or-Treat at Grand Central Market -> GCM is hosting a family-friendly trick-or-treat session for kids aged 10 or younger on Oct. 31, beginning at 4 p.m. Free to participate. More info here.
23. Mira Nair Double-Feature -> On Sunday, social impact collective ARRAY is hosting a free double-feature matinee of two films by director Mira Nair. Screenings of Monsoon Wedding and Mississippi Masala will bookend a live Q&A with the director. First movie starts at noon. Free tickets and more info available here.
Dining
24. Halloween Kids Scoops & Pup Cups -> Plant-based ice cream shop Dear Bella Creamery in Hollywood is treating kids (12 and under) and dogs who come into the store on Halloween in costume to complimentary ice cream and Pup Cups (ice cream for dogs.) Seasonal flavors this season includes "America's Favorite Candy Bar" a peanut butter nougat ice cream with ribbons of fudge and caramel-coated roasted peanuts and the "Caramel Apple" a house-made caramel ice cream with pockets of granny smith apple jam. The freebie runs noon to 11 p.m. on Halloween.
25. Halloween Kids Scoops -> Salt & Straw has a special Halloween-inspired menu which includes flavors such as The Great Candycopia, Don Bugito's Creepy Crawly Critters, and Jack o' Lantern Pumpkin Bread. Best of all, they're giving away one free kids scoop in a cup or sugar cone to all children (16 or under) who go to a Salt and Straw location in costume on Halloween.
26. Thunderbolt -> For Halloween weekend Echo Park's Thunderbolt will "dress up" as a Southern greasy spoon Friday through Sunday serving breakfast for dinner, booze out of coffee mugs and more. Nightly DJ tunes will make this one interesting party and costumes are encouraged. Vaccinations are required to enter Thunderbolt.
27. All Season Brewing -> Chicas Tacos and All Season Brewing are celebrating Halloween weekend Oct. 30-31 with a costume contest, burlesque performance and drink specials on Saturday and mezcal flights plus beer specials, a performance by Mariachi Las Catrinas and face painting on Sunday.
28. Creepy Carnival -> Conservatory West Hollywood is hosting a Creepy Carnival night this Saturday featuring cocktails such as Deadly Nightshade, Vampire's Kiss, and Weird Science Shots. The night will also include a DJ during dinner service and a tarot and or psychic readings for $10.
29. Theía -> Mediterranean restaurant Theía will host some lively entertainment, including belly dancers, sparkler theatrics, and live DJs this Friday and Saturday. The restaurant will be decked out in spooky Halloween décor and shaking up specially themed cocktails including 'The Graveyard' made of vodka, matcha powder, pineapple, lime, simple syrup, and garnished with a spooky eyeball gummy.
30. Free Hot Cocoa at Bardonna -> All-day brunch cafe Bardonna will be serving a complimentary Black Magic Hot Chocolate to kids dressed in costume on Halloween. The hot cocoa comes topped with whipped cream and sprinkles, and guests will also find a selection of festive treats on the menu like Pumpkin French Toast and Coffee Cake Skulls.
31. Haunted House Kit -> Huckleberry Bakery & Café is bringing back its Haunted House Kit ($65) for pre-order until October 31. The kit comes with a variety of organic and plant-based candies, sprinkles, icing, chocolate cookies and more to build a spooky house. The kits is available for pickup with 24 hours' notice by ordering online through Tock (click on Catering) or calling 310-451-2311 during business hours.
32. Halloween Specials at The West Hollywood EDITION -> From Oct. 25 through Nov. 2, the Lobby Bar at The West Hollywood EDITION is shaking up a bloody Sunset Sangre ($20) a deep bittersweet concoction featuring flavours of Bigallet China-China, agave nectar, sour blood orange puree and volcan reposado, the drink is served with a web of cotton candy. In addition Chef John Fraser's vegetable forward restaurant Ardor on the top floor of the hotel will offer a devious Poison Apple dessert ($16) on the menu for Halloween weekend Friday through Sunday. The dessert is made up of salted caramel espuma, roasted apple ice cream, caramelized puff pastry and an edible cinnamon stick.
---
Any notes or corrections? Want to suggest an event we should add to an upcoming list? Hit us up at [email protected].