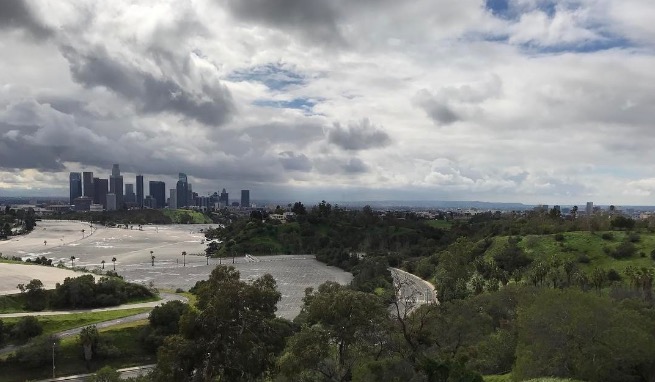 Is that atmospheric river raining on down on you as you read this? Fear not, sunshine is on the way, as is a week chock full of fun to-dos. Here's what's on deck:
This week, from Oct. 25-29, features more poolside movie screenings at Ace Hotel, a trick-or-treat experience at Heritage Square Museum, City of Ghosts at L.A. State Historic Park, Madonna: Truth or Dare at Expo Park, Boos and Brews at Angel City Brewery, The Nightmare Before Christmas live with Danny Elfman and more.
[Remember, if you want to stay connected with our weekly updates, be sure to sign up for the We Like L.A. Newsletter]
Monday / Throughout the Week
1. Manos a la Obra -> Manos a la Obra is a new collection of works by Cog•nate Collective opening at 18th Street Arts Center in Santa Monica on Monday, Oct. 25. In conjunction with the debut, the gallery will be holding a special walkthrough this Saturday at 1:30 p.m. If you want to view the collection on your own, gallery hours are 11 a.m. to 5 p.m. on Monday to Friday, and noon to 5 p.m. on Saturdays. Walks-ins welcome, but reservations are recommended. More info here.
2. Witchy Architecture Tours -> For the second year in a row, actress Amber Benson (Tara Maclay on Buffy the Vampire Slayer) is teaming up with with Friends of Residential Treasures: LA (FORT:LA) to create a tour guide showcasing five fairy tale-inspired residences around the Los Angeles area. FORT:LA will also offer Grimm's tales passages read by actors to accompany guests as they drive through the Witches Houses 2 Trail. You can download the tour map on FORT:LA's website for free starting on Oct. 13. Read about last year's tours here.
3. Carved at Descanso Gardens -> Carved is a family-friendly event with hundreds of carved pumpkins, a pumpkin house, hay maze and themed food and beverages that create a fun harvest festival atmosphere. Runs Oct. 11-31, with general admission tickets costing $32-35. More info here.
4. Icons of Darkness -> Opening at Hollywood and Highland on Sep. 27, the new Icons of Darkness exhibit promises hundreds of rare props, costumes, effects and other film-used items, all pulled from privately-owned collections of authentic sci-fi, fantasy, and horror film memorabilia. Think T-Rex heads from Jurassic Park, original helmets from Star Wars, a screen-used Xenomorph creature costume from Aliens, or wands used in the Harry Potter series… you get the idea. Adult tickets are $30. Get more info here.
5. Mr. Bones Pumpkin Patch -> Culver City's favorite pumpkin village offers plenty of family fun, including photo ops in front of giant pumpkin installations, a straw maze, a super slide, giant rocking horses, and pumpkin decorating sessions. Dogs are even welcome too, on select days of the week. Runs Oct. 7-31. Tickets range from $5-20, depending on date of attendance. More info here.
6. Dia de los Muertos altars at Grand Park -> A large-scale altar and over a dozen art installations curated by Self Help Graphics will be on display throughout Grand Park through Nov. 2. More info here.
7. House of Horrors: A Prime Video Pop Up Shop -> For Halloween 2021 Amazon Prime Video is stepping up their IRL game with a pop-up experience featuring show-inspired costume displays from multiple Amazon Originals, including The Voyeurs, Black As Night, Madres, and I Know What You Did Last Summer, which all will premiere on the streaming network in October. Visitors can shop select costumes, stop for photo ops with special displays, or swing by a candy kiosk. Free to attend. Runs Oct. 1-31 at Amazon Pop Up, 8551 Melrose Ave. Hours are 10 a.m. to 6 p.m. on Monday to Saturday, and 11 a.m. to 7 p.m. on Sundays.
8. Boo at the Zoo -> The Los Angeles Zoo goes wild this October with the return of Boo at the L.A. Zoo, featuring Halloween decor, a spooky stroll with photo ops, an extinct-animal graveyard, and other weird and wacky animal facts and educational opportunities. Weekends include special animal feedings, merry-not-scary entertainment, take-home crafts, and, during the last two weekends in October, trick-or-treat candy stations scattered throughout the Zoo grounds. Runs Oct. 1-31. All activities are included with Zoo admission, which is $22 for adults, and $17 for children 2-12. Tickets are More info here.
Tuesday
9. Vista Vision at the Ace Hotel DTLA -> This free poolside film screening series at the Ace Hotel upstairs has two events this week: Tuesday features Wes Craven's Scream and on Wednesday you can watch Tim Burton's Beetlejuice. Both screenings start at 7:30 p.m. More info here.
10. Are You Still Listening? -> Are You Still Listening is a free monthly comedy show presented by Netflix is a Joke Radio. The series returns this Tuesday to Dynasty Typewriter with a lineup featuring Comedian CP, Jared Goldstein, Robby Hoffman, Maggie Maye, Atsuko Okasuka, and Aaron Weber. The show starts at 8 p.m. RSVP does not necessarily guarantee entry, and admission will be based on first come, first served. More info here.
11. Fall Plant Sale -> The Theodore Payne Foundation in Sun Valley kicks off their fall plant sale on Tuesday, with a 10% discount offered on all plants, seeds, bulbs and gear. The nonprofit nursery specializes in California native plants, so if you've been thinking about adding some natives to your garden, this might be a good opportunity. Sale runs through Nov. 6. More info here.
Wednesday
12. Cemetery Lane at Heritage Square Museum -> The victorian homes at Heritage Square Museum get a haunted makeover during this 5-day vintage trick-or-treat experience, running from Oct. 27-31. There are 13 themed trick-or-treat stops in all, and tickets are $25-$30 depending on time of entry. More info here.
13. 'Auteur/Voyeur: Through The Rear Window' Series -> From Oct. 11 to Nov. 3, American Cinematheque is showcasing at series of films at the Los Feliz 3, thematically connected by the subject of voyeurism. Tickets are $13 per film. This week screenings include Cache on Wednesday, Red Road on Thursday, and Blue Velvet on Thursday and Friday. Get more info and the full series schedule here.
14. Andy Warhol at The Luckman -> The Luckman Fine Arts Complex at Cal State LA is hosting a new exhibition of over 70 works by Andy Warhol, including 10 recently-acquired silk screens, plus a trove of polaroids from the artist's personal collection. Admission is free, but reservations (available Wednesdays through Sundays) are highly recommended. More info here.
15. Haunt 'O Ween LA -> Building on last year's drive-through experience, this year's Haunt 'O' Ween LA at the Westfield Topanga expands into a spooky fun playground of family friendly in-person attractions, including a pumpkin patch, spooky graveyard, trick-or-treating area, food trucks, wine tasting, and more. Runs Oct. 1-31. Tickets are $30 per person on weekdays and $35 on weekends. More info here.
16. Nights of the Jack -> Set at the King Gillette Ranch in Calabasas, Nights of the Jack creates an interactive walking trail more than a half mile in length, lined with thousands of hand-carved, illuminated pumpkins and pumpkin inspired installations. Runs daily from Oct. 1–31. Weekday general admission is $34.99 per person, and weekends run $39.99. More info here
Thursday
17. City of Ghosts at L.A. State Historic Park -> This Thursday, Clockshop, LAist, CalArts School of Film and Video and California State Parks are teaming up to host two free episode screenings of the animated series City of Ghosts at L.A. State Historic Park. The event will feature episode 4, "Tovaangar" and episode 6, "Koreatown." Screenings will be followed with a Q&A with artist Mercedes Dorame and City of Ghosts creator Elizabeth Ito. The screenings are presented in conjunction with Dorame's Pulling The Sun Back art installation, on display through Jan. 31, 2022. Event starts at 5:30 p.m. More info here.
18. 7th Annual G-Oktoberfest -> Burbank camera shop Filmtools brings back its annual G-Oktoberfest event this Thursday beginning at 2 p.m. The free day of activities kicks off with product seminars and insightful talks from top camera brands, then morphs into a parking lot party featuring tacos and beer at sundown. Free to attend. More info here.
19. Madonna: Truth of Dare at Expo Park -> Celebrate the 30th anniversary of Madonna: Truth or Dare with a night at Exposition Park featuring a live Vogue showcase with appearances by Icon Mother Devine Gorgeous Gucci, artist Shaun Ross and impresario Legendary Damon; a screening of Madonna: Truth or Dare, an after party DJ set from Desire spinning a selection of Madonna covers from the Italians Do It Better label, and MOTHERMARY performing her version of "Like a Virgin." GA Tickets start at $25 per person.
20. Halloween Parties at Bar Lis -> Bar Lis at Thompson Hollywood is hosting a number of Halloween festivities on their rooftop Thursday through Saturday 10 p.m. to 2 a.m. including a Halloween Disco party on Thursday. Costumes are encouraged for all three events but not required.
21. Night of Terror -> Freedom City Church is hosting at Night Of Terror at its 98-year-old church building located in Historic Uptown Whittier. This year's scare attraction and maze are built around the theme "Life is a Vapor." Runs Oct. 28-31. Tickets are $15. More info here.
22. Creep LA -> JFI Productions' Creep LA has been a mainstay of local immersive horror shows since debuting in 2015, and this year's edition promises a more intimate experience. Starting Sep. 30, Creep takes over The Ghost Light venue inside the Three Clubs bar in Hollywood, only allowing six guests in per performance, according to Scare Zone. Shows runs during timed blocks on select dates from through Oct. 31. Tickets are $95 per performance, plus service fees. More info here.
23. Halloween Horror Nights -> Universal Studios Hollywood brings their annual terror attraction back starting on Sep 9. This year's edition includes the return of the "Terror Tram," featuring "The Ultimate Purge," along with a maze based on "Halloween 4: The Return of Michael Myers." GA tickets range between $69-$99, depending on the date of attendance. More info here.
24. Los Angeles Haunted Hayride -> After adapting to a drive-thru version last year, the Haunted Hayride is back in Griffith Park for 2021 with in-person activities based around a fictional town named Midnight Falls, circa 1985. In addition to the signature hayride, highlights for this year's event include a Trick or Treat Maze, the Midnight Mortuary Tour, and the Dead End Diner. Kicks off this Friday, Sep. 24 and runs on select nights through Oct. 31. General Admission tickets are $39.99 (access to all attractions) and if you want to do the hayride only it'll run you $29.99. Get more info here.
Friday
25. Boos and Brews -> This Friday, Angel City Brewery is hosting a free event featuring Halloween beers, candy pairings, and live performances, all from 7 to 10 p.m. Costumes encouraged. More info here.
26. Star Trek II: The Wrath of Khan at Skirball -> This Friday, the Skirball Cultural Center is celebrating their latest exhibition, Star Trek: Exploring New Worlds with a special screening of Star Trek II: The Wrath of Khan. The film will be preceded by conversation with director Nicholas Meyer and Star Trek expert Scott Mantz beginning at 6:15 p.m. Tickets for the event are $20. More info here.
27. The Nightmare Before Christmas w/ Danny Elfman -> Elfman's live-to-film version of The Nightmare Before Christmas was a longstanding tradition at the the Hollywood Bowl, but after a pandemic hiatus the show will now be hosted at Banc of California Stadium. Two shows are now scheduled, one for Friday, Oct. 29, and a second just recently added for Sunday, Oct. 31. Tickets available (as of first publication of this post) starting at $39. More info here.
28. Long Beach's inaugural Oktoberfest festival -> This Friday tips off two full weekends (Oct. 22-24 and Oct. 29-31) of Okbtoberfest action at Scottish Rite Event Center in Long Beach. Expect authentic German beer, food, dancing, and live entertainment. General admission tickets are $20 per person. Remember that beer, wine and food are all available for purchase, and not included with admission. More info here.
29. Día de los Muertos at Hotel June -> On Friday Hotel June will celebrate Día de los Muertos with an evening full of cocktails, dancing and DJ sets by Jason Bentley and Kyle Woods. The event is complimentary and open to the public. Guests are invited to also enjoy specialty cocktails at the bar and dinner at Hotel June's poolside restaurant, Caravan Swim Club.
30. A Groundling on Elm Street -> The newest sketch show at the Groundlings Theatre runs on Friday and Saturdays through Nov. 20. Tickets are $25. More info here.
31. Beware the Dark Realm -> Now in its fifth decade, The Silvey family's Beware The Dark Realm is one of the longest running mom and pop haunts in the county, offering what they describe as a "high intensity walk-through attraction filled with terrifying live monsters, amazing special effects, and incredible sets." Runs Oct. 15-16, 22-23, and 29-30. The event is free, but front-of-the-line tickets are available with a $10 donation to Family Promise of the Santa Clarita Valley. Get more info here.
32. Urban Death Tour of Terror -> Zombie Joe's Underground Theatre's annual tradition of Urban Death continues with a new series of terrifying vignettes, bookended by walks through a creepy maze. Runs every Friday and Saturday in October start on Oct. 1, and ends with special performances on Oct. 31 and Nov. 1. Tickets are $15 per person. More info here.
Dining
33. Eataly LA's Restaurant Fest -> Eataly LA's signature dining event Restaurant Fest returns Oct. 29 to Nov. 14 for two weeks of special two course menus that highlight some of fall's best ingredients. Enjoy Italian staples like Ravioli Di Zucca (butternut squash ravioli) at La Pizza & La Pasta or grilled Balsamico Bistecca at rooftop woodfire restaurant Terra. The special menus come with affordable set prices of $25 at La Pizza & La Pasta and $49 at Terra. Premium Italian wines will also start at just $29 a bottle during this event.
34. Captain's Dinner at SASO -> Tickets are now available for SASO's one-night only coastal tasting menu featuring captain Cameron of Blue Boat Fish Co and Pacific Northwest oysters from farmer Dylan of Baywater Shellfish Co. Happening Wednesday, Oct. 27 the bountiful multi-course menu prepared by Chef Dominique Crisp of SASO will include oysters and geoduck prepared two ways; a Pacific paella made with local spot prawns, purple savory clams, local fish and spiny lobster; whole fish prepared Basquaise style and a Pacific pie for dessert. Tickets cost $125 per person (after tax and fees) and include an after party with the Captain, oyster farmer and Chef Crisp.
35. Haunted House Kit -> Huckleberry Bakery & Café is bringing back its Haunted House Kit ($65) for pre-order until October 31. The kit comes with a variety of organic and plant-based candies, sprinkles, icing, chocolate cookies and more to build a spooky house. The kits is available for pickup with 24 hours' notice by ordering online through Tock (click on Catering) or calling 310-451-2311 during business hours.
36. Flamin' Hot Dog on a Stick -> The iconic Hot Dog on a Stick has partnered with Frito-Lay/PepsiCo to create Cheetos Flamin' Hot Sticks. Add Cheetos Flamin' Hot topping to any stick item and pair it with the new Strawberry Mango Lemonade with Tajin seasoning. The spicy items are available now through Jan. 16, 2022.
37. Halloween Specials at The West Hollywood EDITION -> From Oct. 25 through Nov. 2 the Lobby Bar at The West Hollywood EDITION is shaking up a bloody Sunset Sangre ($20), a deep bittersweet concoction featuring flavors of Bigallet China-China, agave nectar, sour blood orange puree and volcan reposado, the drink is served with a web of cotton candy. In addition Chef John Fraser's vegetable forward restaurant Ardor (located on the ground level) will offer a devious Poison Apple dessert ($16) on the menu for Halloween weekend Friday through Sunday. The dessert is made up of salted caramel espuma, roasted apple ice cream, caramelized puff pastry and an edible cinnamon stick. 
---
Any notes or corrections? Want to suggest an event we should add to an upcoming list? Hit us up at [email protected].