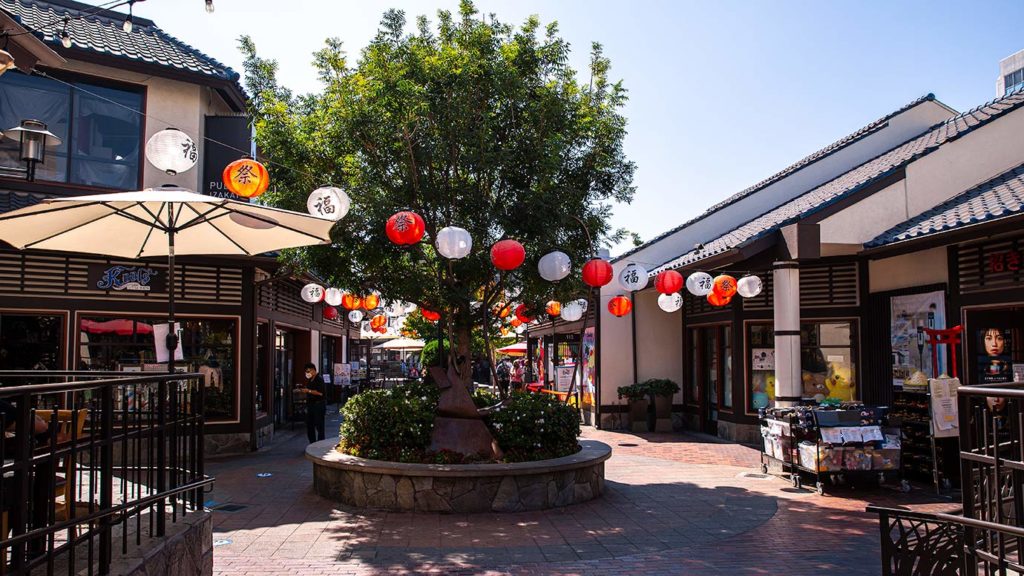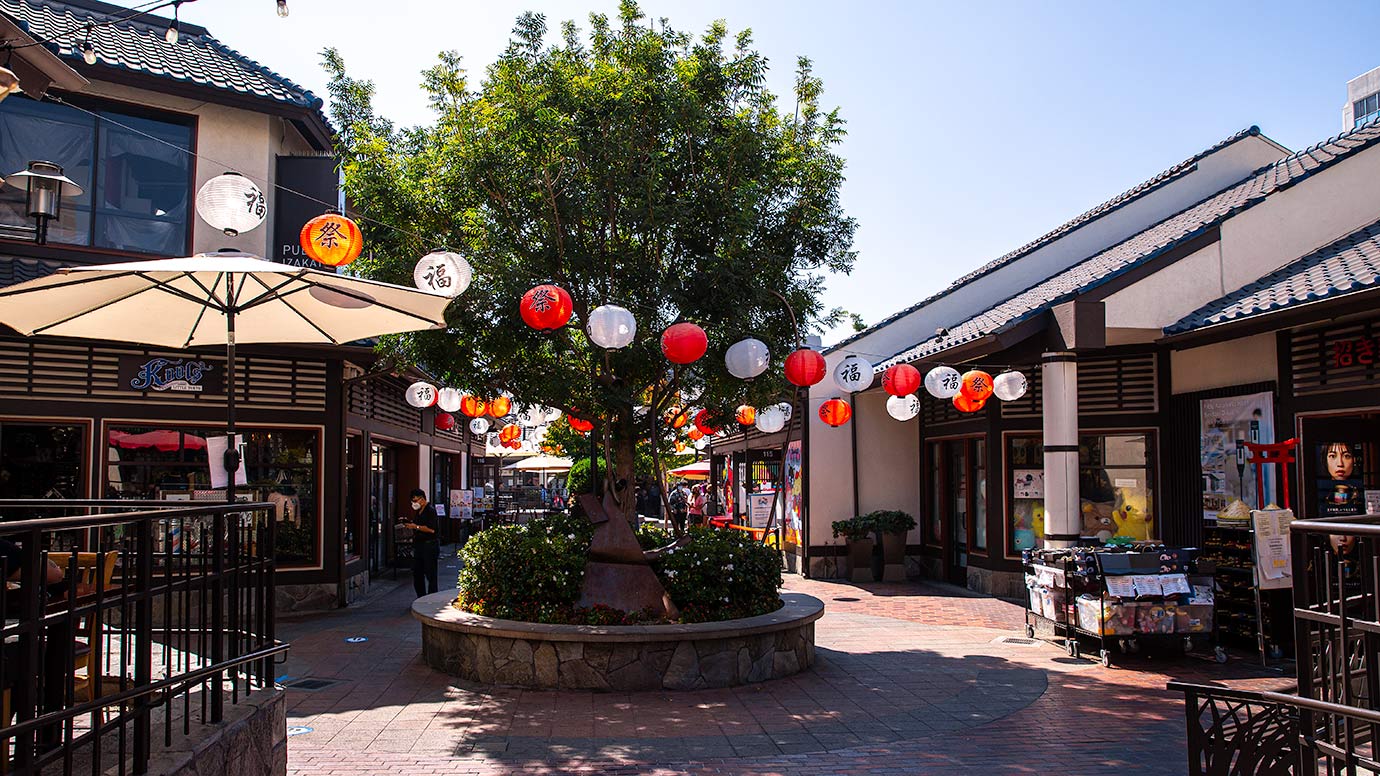 Little Tokyo is 135 years old. It's one of only three remaining Japantowns in the nation, and it's the second oldest neighborhood in Los Angeles. Several storefronts are legacy businesses run by the same families for decades. Mochi shop Fugetsu-Do, open since 1903, is literally the oldest Japanese-American-owned business in the United States! The first Shabu restaurant in North America is also right here in our Little Tokyo as well.
This neighborhood has survived the Great Depression and the incarceration of 120,000 Japanese-Americans during WWII. Now, it's trying to weather COVID-19.
Many businesses are suffering from financial hardships due to the pandemic, but there are several ways you can support Little Tokyo right now. Several restaurants are open, pivoting to outdoor dining, street dining, rooftop dining, and takeout. You can also do some Japanese-focused shopping and stop by a few key historical monuments to learn more about this beloved neighborhood.
Dining in Little Tokyo
Before the pandemic, restaurants in Little Tokyo were so busy that they didn't even take reservations. During peak hours, wait times would sometimes span one to two hours. Now, almost all of the restaurants have pivoted to takeout, delivery, and outdoor dining. While indoor dining is still prohibited, Little Tokyo plazas have transformed free spaces into outdoor dining areas—and the wait times are now much shorter.
In Japanese Village Plaza, several restaurants offer outdoor seating and one izakaya spot has even taken over the rooftop of the plaza's parking lot. Over on historic 1st Street, the north side is completely closed off to expand al fresco dining onto the road. Some restaurants have also moved into alleyways, fixing them up with twinkling string lights. At Honda Plaza, half of the parking lot is now a community food space with first-come, first-served picnic tables and patio umbrellas. Two restaurants inside Little Tokyo Galleria have ventured outdoors, setting up shop on the top levels of the mall parking lot.
Find a description of each plaza, the businesses open during the pandemic, and some nifty tips on how to enjoy Little Tokyo below. Kanpai!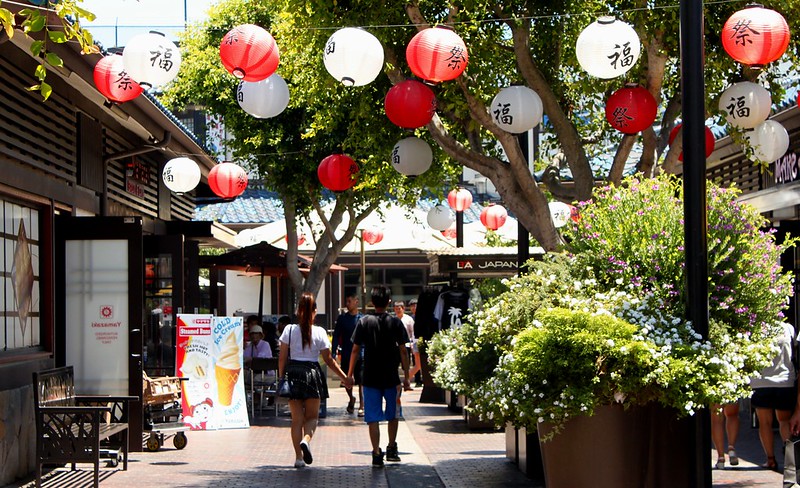 Built in 1978 and located in the heart of Little Tokyo, Japanese Village Plaza is home to Japanese-themed shops and a variety of authentic Japanese food. The Village has several small outdoor tables and additional public seating is a short walk away at Honda Plaza.
Dining Options
Open since 1991, Shabu Shabu House is the first Shabu Shabu restaurant in North America. It's famous for its long wait during dinner service, but now, the restaurant offers takeout. The Shabu Shabu dinner set ($18) comes with all the fixings and coffee jello for dessert. They also have a popular Angus beef curry ($12) with house-made pickled cabbage on the menu. Orders by phone at 213-680-3890. Note that the restaurant is cash only. –> More information
Hama Sushi famously has a warning sign on its front door stating, "No tempura, no teriyaki, no noodles, only sushi and sashimi." True to the sign, you'll find pristine cuts of fish turned into rolls and sashimi here. There used to be a pretty long wait for seating inside the cozy establishment. Now, Hama is taking phone orders every day from 5-9 p.m. Sake and beer are also available for takeout. –> More information
Opened in 2009, TaNoTa Takoyaki serves takoyaki, the most popular street food in all of Japan. Nicknamed "octopus balls," this street snack is made with flour batter, pieces of octopus, and other savory items. Cooked on a special molded pan, the balls come out crispy on the outside and gooey in the center. TaNoTa owner Mr. Takeo was born and raised in Osaka, the birthplace of takoyaki. He infuses a special chicken bone soup (cooked for five hours!) into his batter. He also gets creative with his offerings. Seven types of takoyaki toppings are on the menu including jalapeño, spicy caviar, parmesan, and truffle oil. Delivery through a number of apps and curbside pickup is available, though you can still catch a glimpse of the takoyaki being prepared in the front store window. –> More information
Established in 2011, Cafe Dulce is the premier spot to get a good cup of coffee and some opulent doughnuts. But that's not all they serve—the green tea cookie-crusted roti filled with red bean is a signature sweet you must try. –> More information
Sushi Komasa has served traditional Japanese dishes and sushi for decades. There used to be a constant line outside this tiny eatery, but now they are operating on takeout orders. The updated menu features several fan favorites like the Sushi C combo, Sashimi & Tempura plate, and BBQ Eel over rice. –> More information
Honeymee serves "true milk" soft serve topped with a chunk of honeycomb. The milk used is from a local family-owned and kosher-certified farm. Chocolate, yuzu, and matcha are also topping options. –> More information
Enjoy open-air dining at Izakaya Fu-ga's new beer garden located on the rooftop of the parking garage. The new setup also comes with a new menu of Teppan items, yakitori skewers, and seafood BBQ platters alongside Japanese whiskeys, sake, and more. –> More information
Operating on takeout, Mitsuru Café is an old-school casual dining spot serving teriyaki and tempura. The attraction here is the menu of made-to-order snacks like Imagawayaki, a hockey puck-shaped pancake stuffed with red bean and Mitarashi dango; mini rice dumplings; and skewers drizzled with sweet soy sauce. –> More information
Oomasa is a great choice for diners who like combination bentos that come with a little bit of everything. They also offer a number of specialty rolls and traditional sushi. Takeout only. –> More information
Yamazaki Bakery sells Japanese-style bread, cakes, steamed buns, and other baked goods. –> More information
Ramen Maruya offers housemade ramen and broth. For a few dollars more, you can turn a meal into a combo, which comes with a mini donburi of your choice. They also have their own small outdoor dining area. –> More information
T.O.T. is offering premium Tonkatsu Sets on their menu like Black Pork Lion, Mille Shiso Cheese Katsu, and Chicken Oroshi Katsu. There's also donburi, curry, and noodles. Outdoor seating is available and so are takeout and delivery. –> More information
Pick up some Japanese groceries at Nijiya Market. You can find pre-packaged foods, ramen, unique snacks, and fresh produce here. –> More information
The first Chinchikurin opened in 1999 in Hiroshima, but now has over a dozen locations in Japan and three locations right here in Los Angeles County. Little Tokyo's Chinchikurin serves Hiroshima-style okonomiyaki. Okonomiyaki is a savory omelet with a smorgasbord of ingredients. Usually, there are 11 layers of vegetables, protein, and carbs. This thing is a beast you'll probably want to share with a friend. The Hiroshima-style okonomiyaki is slightly different from the classic Osakan-style omelet. The ingredients are all distinctively layered instead of merging, and there is a hardy serving of cabbage and a layer of grilled noodles thrown into the mix. There are nine combinations on the menu, including seafood, ground beef, torched green onion, and Japanese mayo. Available for delivery, takeout, and outdoor dining. –> More information
Kagura offers a little bit of everything. There are affordable specials where you can build your own meal from 35 tasty choices that include sashimi, bowls, curry, ramen, and salads. The special is only available during outdoor dine-in lunch hours from 11:30 a.m. to 2:30 p.m. Delivery is also available through a number of apps. –> More information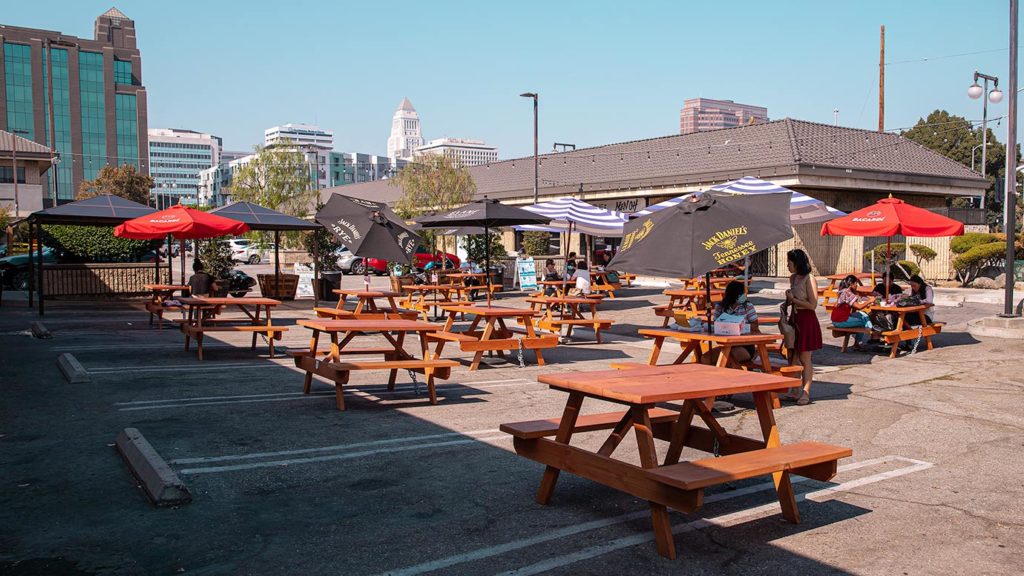 Grab a cocktail, slurp some ramen, sip matcha, and dine on fine sushi all inside Honda Plaza. Half of its parking lot is now a community food space with picnic tables and patio umbrellas.
Dining Options in Honda Plaza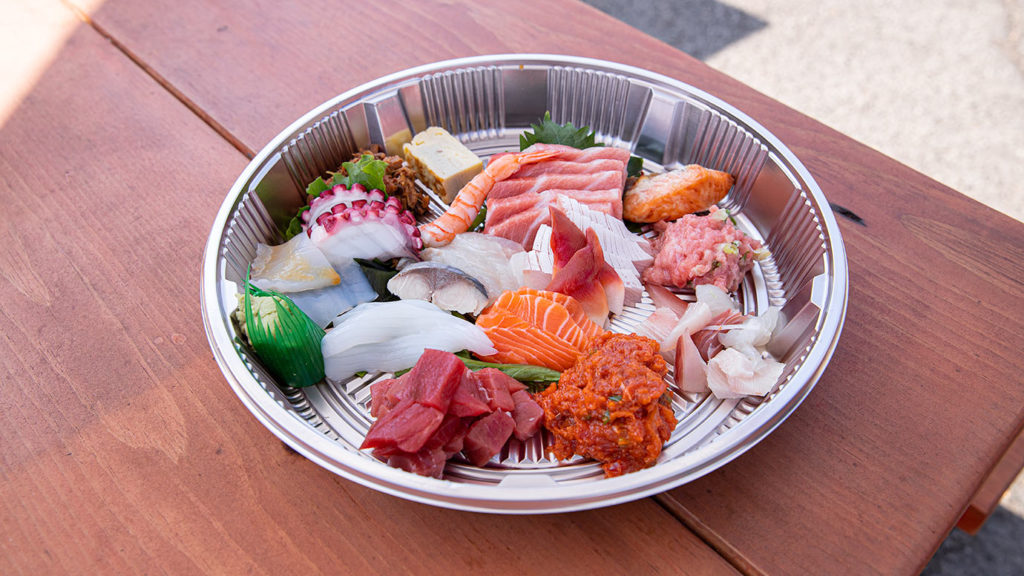 For over 40 years, Sushi Gen has been one of the most popular sushi restaurants in Los Angeles. During the pandemic, they've pivoted to takeout only. The menu is limited but features all the hits like the sushi deluxe, sashimi deluxe, and yellowtail collar. You can also order sushi and sashimi a la carte over the phone. –> More information
PASTA e PASTA by Allegro serves Japanese-Italian-style pasta. The Allegro family started as a pizzeria in Japan and here, you'll find Beef Ragu, Uni, Squid Ink, and Chicken Spinach Cream pasta. Open for takeout. –> More information
South Korean bakery Tous Les Jours is a global franchise with over 1,600 stores around the world. French-Asian inspired baked goods are made fresh every day. Find breads, colorful macarons, and savory croquettes filled with kimchi here. A must is the Milk Bread filled with buttercream. It's like eating a fluffy cloud that's carting a stick of soft and creamy butter. The bakery is also a great place to get a birthday cake. The cloud cream cakes are seriously delicious. –> More information
Men Oh Tokushima Ramen offers a number of classic ramen broths. You can find Shoyu, a light chicken and soy-based broth, and Black Garlic, a base made of Kurobuta Pork bones. Turn your meal into a combo for a couple dollars more. The Tokushima pork rice bowl add-on is the best option. –> More information
Enjoy Hawaiian comfort food from Aloha Café, open since 2004. You can find items like Loco Moco, Kalua Pork, and spam musubi here. The breakfast and lunch menu are both served all day. They are open for takeout, and there are small tables in front for dining outdoors. –> More information
BBQ Chicken DTLA is a Korean-style fried chicken shop. On the menu, find fried chicken bone-in or boneless in a variety of different spices, and chicken wings in eight different sauces. –> More information
Matcha café and green tea shop Tea Master is offering Japanese-style matcha soft-serve and a variety of green tea drinks. Walk-ins are welcome. –> More information
The Mermaid bar is serving wings, burgers, and other bar bites alongside several tropical punches and specialty cocktails, including boozy slushies. Dining is all outdoors at public picnic tables. Delivery and pickup is also available through GrubHub. –> More information
Kinjiro's Izakaya dishes and hearty quick meals are available for takeout through the Tock app. They recently set up their own section in Honda Plaza for al fresco dining as well. –>More information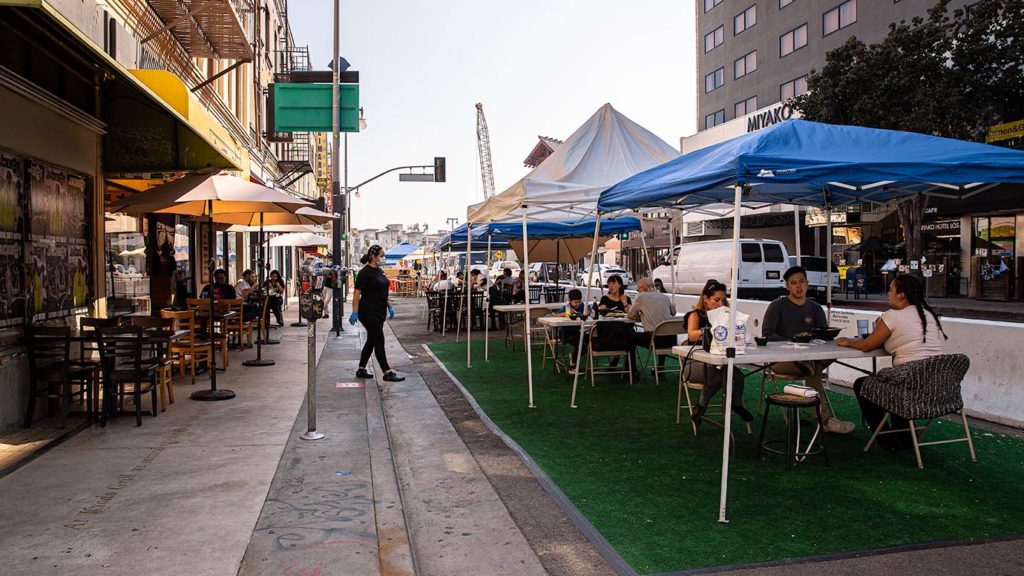 The entire north side of 1st Street is closed to make room for an expanded outdoor dining space. 1st Street is home to legendary mochi store Fugetsu-Do, award-winning ramen, and Japanese beers.
Dining Options along 1st Street
Daikokuya is hands-down the most popular ramen joint in Little Tokyo. Order the Daikoku ramen with Tonkotsu soup. It's served with pork belly chashu, marinated boiled egg, bamboo shoots, and bean sprouts. For a richer broth, ask to add Kotteri (pork fat). Ramen can be turned into combination meals with small-sized dishes and salad for an extra fee. Keep in mind, this place is cash-only. –> More information
Fugetsu-Do has been family operated since 1903 and is the oldest Japanese-American-owned business in the United States. It offers a wide variety of hand-made Japanese confections and a colorful selection of mochi. Some flavors, like cherry blossom and Ichigo Daifuku (mochi topped with a fresh strawberry), are seasonal while chocolate and red bean are always on rotation. The store is open for socially distant shopping. –> More information
Suehiro is a late-night diner that's served homestyle Japanese food in Little Tokyo for decades. Open for takeout, delivery, and outdoor dining, the entire menu is available including Sukiyaki, Chazuke, and combination meals with all the fixings. –> More information
Open for takeout and outdoor dining, Sushi Enya is serving Chirashi bowls, sashimi, and specialty rolls. Vegans can also enjoy a meal here with inventive dishes like sweet corn tempura, Japanese tomato, and truffle asparagus. –> More information
RAKKAN Ramen is an award-winning ramen restaurant straight out of Japan that serves plant-based broth. It also offers a number of noodles to suit every diet, including gluten-free and kale noodles. There are plenty of vegan dishes, like the avocado tofu bowl and vegan gyozas, but they also offer meat here, like grilled pork on ramen and a crispy chicken bowl. –> More information
Get a full afternoon tea experience with tiers of tea sandwiches, scones, and more. Chado Tea Room is located at the Japanese American National Museum and is open for outdoor dining, delivery, and takeout. –> More information
Far Bar has a patio and outdoor dining area to enjoy local beers on tap, Japanese bottles of beer, and bar eats like wasabi fries, Asian-inspired tacos, and burgers. Takeout is also available. –> More information
Mitsuru Sushi & Grill offers American and Japanese comfort food for takeout and outdoor dining. On the menu, you can find hearty breakfast plates, burgers, and sushi. –> More information
Marugame Monzo is open for freshly made hand-cut udon. The menu is slightly limited, but there are more than enough signature hot and cold udon bowls to choose from. Takeout is also available. –> More information
Hachioji Craft Ramen is serving Shoyu and Shio ramen for outdoor dining, takeout, and delivery. If you are going with other members of your household, consider the 84-ounce Sapporo beer tower. –> More information
Near the hustle and bustle of Little Tokyo's 1st Street is French and Japanese brasserie Azay. Here, critically-acclaimed Chef Akira Hirose, formerly of Maison Akira, offers classics like kakuni omurice alongside Boeuf Bourguignon, Duck Confit, and a full Japanese Breakfast. –> More information
Little Tokyo Galleria is an indoor shopping center with a Japanese market and a few restaurants, including a rooftop drive-in dining experience and a Japanese tapas spot offering an 84-ounce Sapporo beer tower.
Dining Options at Little Tokyo Galleria
Vegan macrobiotic sushi restaurant Shojin has pivoted to a rooftop dine-in-your-car experience every Friday and Saturday. Make a reservation and pre-order your food through the drive-in menu, then pull up to the Little Tokyo Galleria parking lot and head up to the roof where someone will deliver your meal. Time your reservation for sunset for maximum vibes. Alcohol will not be served during this experience. Takeout and in-house delivery are also available Tuesday through Sunday. –> More information
Izakaya BIZAN has outdoor dining in the parking lot of the Galleria. Pull up a chair and order a variety of yakitori skewers, sashimi, and other Japanese small plates. They also have a Sapporo beer tower if you're drinking with friends. –> More information
Things to Do in Little Tokyo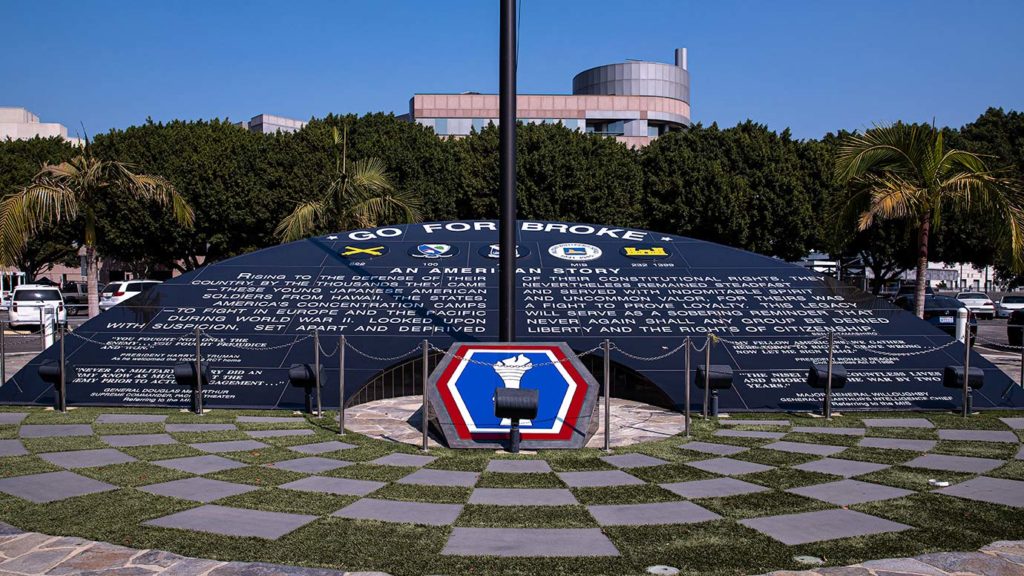 There are key historical parts of Little Tokyo that are a short walk from one another. Visit these places and support the surrounding business nearby.
Go For Broke Monument
The monument commemorates the heroism of Japanese-American soldiers who fought in World War II. It embodies the Japanese-American veterans' values of courage, sacrifice, equality, humility, and patriotism. Designed by Roger M. Yanagita and built in 1999, the monument is engraved with the names of over 16,000 men and women who courageously fought so that future generations could live freely in the United States without fear of racial prejudice. –> More information
"Home is Little Tokyo" Mural
This mural illustrates 100 years of Little Tokyo history. It was created in 2005 by muralists Tony Osumi, Sergio Diaz, and Jorge Diaz with the help of almost 500 residents and sponsored by non-profits and local business owners. Find it across the street from The Japanese American National Museum along Central Avenue. –> More information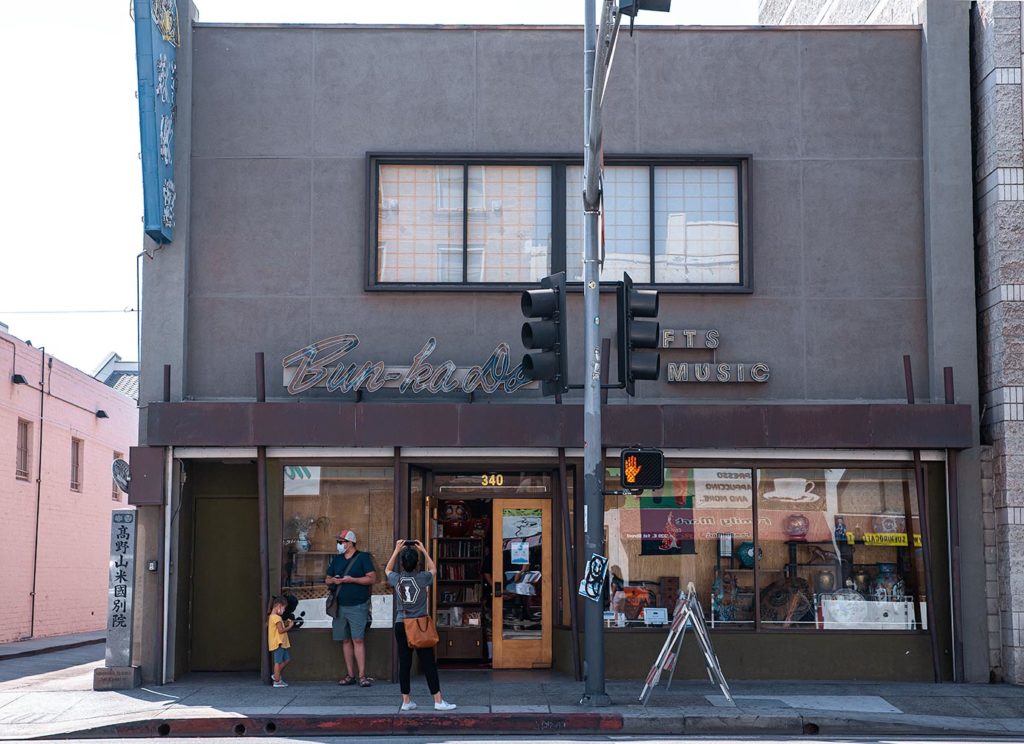 Bunkado
Open since 1945, Bunkado (which translates to "house of culture") is a kitschy shop that sells unique gifts, home goods, books, kitchenware, and other Japanese knick-knacks. Tokio and Suye Ueyama opened the shop after enduring 40 months in a government-run internment camp during WWII. It remains a family-owned business today. –> More information
Explore Japanese Village Plaza
The Japanese Village Plaza is Little Tokyo's most popular destination for dining, street food, and shopping. Places like Hama Sushi, Shabu Shabu House, and Nijiya Market are all located here. Hob Nob and Pop Killer are awesome places for clothes, and Little Tokyo Cosmetics carries all the latest J brand beauty products. For an extra dose of cuteness, stop by the Sanrio store. –> More information
The Japanese American National Museum
The Japanese American National Museum is the only U.S. museum dedicated to sharing the experiences of Japanese-Americans and the part they play in U.S. history. Although the museum is not open at this time, it is hosting many virtual events for kids and adults. –> More information
MOCA Geffen
The MOCA Geffen is devoted exclusively to contemporary art. It is temporarily closed, but the public can view Los Angeles–based artist Barbara Kruger's Untitled (Questions.). The reinstalled monumental wall work takes over the entire wall on the north side of the building. MOCA is offering many virtual programs as well. If you're in the market for a new mask, several artists have designed face masks for purchase online. –> More information
Donating & Volunteering in the Little Tokyo Community
The Little Tokyo Community Council (LTCC) created the Little Tokyo Small Business Relief Fund GoFundMe in partnership with Little Tokyo Service Center (LTSC) to provide financial support for local small businesses during the ongoing COVID-19 crisis. Generated funds help the organization award $2,000 per qualifying small business. –> More information
The Community Feeding Community program provides meals to individuals whose jobs were impacted by COVID-19. For $15, you can help feed someone and support a small business at the same time. Meals are purchased from a rotating list of businesses in Little Tokyo and the Arts District. 100% of donations go directly to hospitality workers in need and those small businesses. –> More information
The neighborhood is also looking for volunteers to deliver food donations to local affordable housing residents. Donations of non-perishable food and supplies are also welcome. The Little Tokyo Service Center's (LTSC) food pantry is also in need of financial donations. The organization supports underserved individuals and families in the area. –> More information
For more information on additional Little Tokyo businesses to support, visit the Go Little Tokyo website and resource page.