Sometimes just going to the game isn't enough. What you really want is to get the full-fledged downtown L.A. experience, whether it be by including a pre-game meal, an awesome happy hour, or maybe just some post-game bar hopping. But where to go?
Well if you've ever asked yourself this question, then this is the list for you.
Now, for sake of digging a bit deeper, I'm going to omit (for the most part) the obvious activities awaiting for you in the strip-mall like atmosphere of L.A. Live. Anyone with half a brain can locate a kiosk there and quickly ascertain what's where.
Instead what I'll focus on is some of the top places to drink, eat and hang out that are a short distance away from Staples, things just off the beaten path that you may want to include on your day/night out to the ballgame, concert, or whatever other event you may be attending at the arena.
Obviously there are literally hundreds of potential activities around Staples but hopefully this list will get you going in the right direction.
Let's start with the happy hours (after the jump!). Note that the approximate distance away from Staples Center is provided in the parenthesis.
Happy Hours Near Staples Center
So I've ordered some of the choice happy hours in the area, beginning with the closest in proximity and ending with the furtherest away. You could probably estimate that for each 0.1 miles of distance, you're looking at a 2 minute walking. So for example the Border Grill, listed at number 5 here, would be about a 16 minute jaunt on foot.
1. Arashi Sushi (.2 miles) – A happy hour staple in downtown L.A. that has been mentioned on multiple local publication best-of lists. Happy hour selections include a variety of nigiri for $2.50 and up and Asahi or Sapporo for $4
2. BottleRock (0.2 miles) – A wine bar with a happy hour selection of $5 food plates, including chicken wings,  short rib sliders, pacific oysters, and al pastor tacos. Plus, get wine by the glass starting at $5 as well. Happy hour is Monday – Friday 4:30pm – 7:00pm. Saturday 3:30pm – 6:00pm. Sunday all day.
3. Case Nosta Ristorante & Bar (.4 miles) – One of the longest happy hours in all of downtown L.A. going till 9:00pm. Happy hour prices include half-off ANY cocktail (so you're not limited) plus a few different $6 and $8 small plates to choose from.
4. Bar & Kitchen (.5 miles) – New American cuisine with a modern vibe located inside the O Hotel off Flower St. During happy hour you'll find cocktails at $7, well drinks at $5, and beer from $4 – $6. Small plates are $5 each and include pork rinds, crispy shrimp, and pork belly tacos. Happy hour is Monday – Friday 4:00pm – 7:00pm.
5. Border Grill (0.8 miles) – Happy hour is is Monday to Friday from 4-7PM, Saturday from 3-7PM, and Sundays 3pm till close. You'll find beer, wine, margaritas, sangria, and mojitos ranging from $5 to $7, plus some delicious (and sizable) $3 tacos.
6. Rooftop Bar at the Standard (0.8 miles) – If you want to go on the super bougie and expensive side of things, this place is the standard setter for downtown Los Angeles. Recommending the happy hour so you can at least check the place out once before paying all-out bougie prices.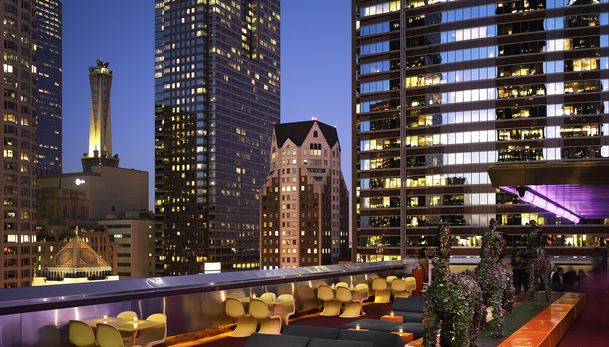 [Photo Credit: The Standard Hotel]
Good Restaurants Near Staples Center
Happy hour may not be your thing, or maybe you're looking for an epic meal before you head inside for your event. If so, check out some of these options.
7. Palm Restaurant – (0.1 miles) $$$$ Steak House just across the street from Staples. If you can afford court-side seats, then this might be the pre-game meal for you.
8. The Original Pantry Cafe (0.3 miles) – If you're looking for that 24-hour diner experience just a stone's throw away from Staples Center, this is it.
9. Local Table (0.4 miles) – My girlfriend swears by this place. Relaxed vibe and healthy fare make this a strong choice for dinner if you're in the area.
10. California Kabob Kitchen (0.6 miles) – Had to include some value options on this list, and I must say as someone who consistently ordered delivery from this place while working in downtown, the kabobs will not disappoint.
11. Sugarfish (0.7 miles) – One of the 13 best spots for sushi in all of Los Angeles. Pretty much that says it all. Worth the walk even if you're parked over near Staples.
12. Cabbage Patch (0.9 miles) – Almost outside our designated "Staples zone" but worth it if you're looking for healthier fare that can't counteract some of the slop you're sure to scarf down from the concession stands inside Staples.
More Bars Near Staples Center
Unfortunately, the best bars in downtown aren't all joined in a row next to Staples, but there are many which are only a short walk (or Uber/Lyft ride) away. Here's some quick recommendations:
13. The Veranda Bar at the Hotel Figueroa (0.2 miles) – For my money, one of L.A.'s best kept secrets. The lightning here at night is amazing with the skyscrapers surrounding you like trees in an urban forest. Chill spot to relax and grab a post-game drink.
14. Seven Grand (0.8 miles) – If you want to sip on some whiskey after the game, this is your spot.
15. Pattern Bar (0.8 miles) – Fashion-y vibe with cocktail names to match (this is the place where you can drink a 'Chanel'). Kind of a NYC vibe transplanted to a DTLA location.
16. Ace Hotel Upstairs Bar (0.8 miles) – Hipster vibe with a quasi high-class atmosphere, the two things I like most about Ace are the variety of monthly events they host and the wonderful view you can take in while sipping on a cocktail from the roof.
17. Crane Bar (0.9 miles) – A nice downtown dive bar with a laid back atmosphere and vintage arcade games for you to play in the back. When you want to keep things low key.
More Stuff to Do Around Staples
Of course there's more to do than just bar hopping and eating in downtown Los Angeles, so if maybe you're headed to Staples on a weekend or want to make a day of it while visiting from out of town, you can always check out 18. The Grammy Museum (.01 miles), 19. The FIDM Museum & Galleries (0.5 miles), or if you want to extend your range try exploring 20. The Original Lost Angeles Flower Market (1.2 miles) or even taking a quick Metro ride over to 21. Grand Central Market (1.4 miles).
All in all, there's sure to be something to keep you entertained when you're hanging out in downtown. Since I know this list is not exhaustive, I encourage locals to provide their own recommendations to the list in the comments section below, that way if any out-of-towner stumbles upon it they can get some additional ideas.
Let us know below what your favorite things are to do before or after you attend an event at Staples Center!