Tricks? Forget it. We only want the treats. And that's our aim with this week's list!
From October 30 to November 3 in L.A., you'll find a free "Huluween" activation, trick-or-treat trails at multiple shopping destinations, a Halloween Carnaval in West Hollywood, Spaghetti Festival at The Elysian, a John Williams Spotlight Series at Disney Concert Hall, a Son Little concert at Skirball, First Fridays in Long Beach, multiple Día de los Muertos celebrations, and more.
Things To Do This Week
M = Less than .5 miles from an L.A. Metro Station, FA = Free Admission, TP = Top Pick
---
Huluween: Now Screaming – FA > In the spirit of Huluween, the public is invited to celebrate the spooky season with an immersive experience at the Pacific Design Center from Sunday, October 29 through Tuesday October 31. Walk through a maze filled with a collection of scream-worthy encounters from shows and movies streaming on Hulu including "American Horror Story," "Annabelle," "The Boogeyman," and more. Tickets are free. More info here.
Spooky Movies & Popcorn at Long Beach Beer Lab -> Monday's are dedicated to Spooky Movies & Popcorn at Long Beach Beer Lab. This week they're screening Final Destination at 1 and 7 p.m. A basket of popcorn is just $6. More info here.
Urban Death Tour of Terror – > Zombie Joe's annual tradition of Urban Death is back with a brand new series of terrifying vignettes, bookended by walks through a creepy maze. Final performances run this Monday and Halloween Tuesday. Advance tickets are $20 per person. More info here.
Nights of the Jack -> The annual 1-mile trail of Halloween lights and jack o'lanterns at King Gillette Ranch comes to a close this week with two final nights (Monday and Tuesday). In addition to the signature walk, expect live pumpkin carving demos, face painting, a souvenir shop, and a "spookeasy" offering adult beverages for sale. Admission runs $29.99-$44.99 depending on which day of the week you attend. Get more info here.
Boney Island – M > Boney Island has moved its annual Halloween haunt from the confines of Griffith Park to a new home at the Nature Gardens of Natural History Museum Los Angeles. Attendees can expect an array of glowing installations, spooky skeletons, and shadow puppetry interlaced with artistic performances, real fossils from the museum's collection, live animal presentations, and plenty of trick-or-treating opportunities for the little ones. Boney Island closes out its 2023 run with two finals evenings, this Monday and Tuesday. Tickets are $25. More info here.
West Hollywood Halloween Carnaval – FA TP > For the first time since 2019, the city of West Hollywood is bringing a massive block-party style Halloween spectacle to a one-mile stretch of Santa Monica Blvd between Doheny Dr and La Cienega Blvd. Happening this Tuesday, expect DJ sets, food trucks and thousands of attendees dressed in their costumed best. Free to attend. Runs 6 to 11 p.m. More info here.
DTLA Halloween Festival for Kids – M > On Tuesday, the the Downtown Center Business Improvement District is hosting their 16th annual Halloween Fest at Grand Hope Park. Guests can expect a trick-or-treat trail, crafting station, photo ops, and a kid-friendly magic show The event runs 5 to 8 p.m. Tickets are $10 pre-sale, or $13 at the door. More info here.
Pumpkin Path Treats Trail at 2nd & PCH – FA > Long Beach shopping destination 2nd & PCH themes out for Halloween Tuesday with a DJ set, photo booth, Halloween-themed characters, and special giveaways. There will also be a trick-or-treating trail at select retailers for the little ones. Runs 5 to 7 p.m., and free to attend. More info here.
GCM Trick or Treat – M FA > This Tuesday, Trick or Treat at Grand Central Market turns the Downtown food hall into a spooky playground featuring drinks, food, and costumes, and of course trick-or-treat stations at the 35+ vendors. Runs 4 to 10 p.m. and free to attend. More info here.
Treat Trail at One Colorado – M FA > On Halloween Tuesday, Old Pasadena's One Colorado hosts a Treat Trail with store-to-store Trick-or-Treating for kids, followed by a screening of Casper (1995) at 7 p.m. Free to attend. Chairs and blankets for the screening are encouraged. More info here.
Trick-or-Treat at Baldwin Hills Crenshaw – M FA > 20+ retailers will be offering free treats for kids during a trick-or-treat celebration at Baldwin Hills Crenshaw Plaza on Tuesday. The event runs 5 to 8 p.m., but treats are available first-come, first-served (and supplies are limited). Get more info here.
Halloween Party – Magic with Christopher Wonder – M > The touring, immersive Halloween pop-up bar Black Lagoon closes out its take over of Lost Property Bar in Hollywood with a Macabre Magic & Diabolical Drag Halloween Party this Tuesday featuring Christopher Wonder and Valora Von Tease, presented by Reyka Vodka. Tickets cost $15. More info here.
Halloween Horror Nights – M > This Tuesday is the last night for Universal Studios' Halloween Horror Nights. Take a terrifying ride on the Terror Tram, and expereince a litany of scare zones, lives shows, and a bevy of different haunted houses, including The Exorcist: Believer and Universal Monsters: Unmasked. GA tickets start at $87, but VIP and express packages can push the price point well over $300 depending on the offer. Get more info here.
Shaqtoberfest – M > This year's edition of Shaqtoberfest closes out its 2023 run this Monday and Tuesday. The historic Queen Mary in Long Beach has transformed into an even scarier place offering evenings of live entertainment, themed bars and lounges, carnival rides, plus a brand new "Gray Ghost" haunted trail that takes guests deep into the depths of the historic luxury liner. GA tickets start at $34.99. More info here.
Knott's Scary Farm -> Halloween Tuesday is the last day to experience Knott's Scary Farm and their signature lineup of haunted attractions, mazes and thousands of monsters ready to scare the living daylight out of you and your crew. Tickets cost $75 a per person. More info here.
Spaghetti Festival at The Elysian – TP > Starting this Wednesday, The Elysian Theater hosts 10 days of new plays and performances produced by emerging talent, all being presented for the first time, and all in the spirit of "let's throw it against the wall and see what sticks!" Get tickets, more information and see the full lineup of shows here.
That Damn Horse: The Stories of Gay Rodeo at The Autry -> That Damn Horse: The Stories of Gay Rodeo is a theatrical reading/performance based on 60+ interviews collected from the Gay Rodeo Oral History Project (housed in the Autry archives), which explores the history and diversity of gay rodeo. On Thursday, The Autry hosts a special performance of the play followed by a conversation with Roger Bergmann, former president of the International Gay Rodeo Association, and Voices of Gay Rodeo Oral History Project team members Rebecca Scofield and Court Fund. Doors open at 5:30 p.m., and the performance begins at 7. Tickets are $10. More info here.
24th Street Theatre Día de los Muertos – FA > 24th Street Theatre's Día de los Muertos Festival is back this Thursday. Now in its 18th year, the annual event draws thousands of guests, offering an evening of live performances, food vendors, artisan booths, altars, art installations, and a cemetery of remembrance. Runs 6 to 10 p.m., and free to attend. More info here.
Día de Los Muertos Celebration at the San Gabriel Mission Playhouse – FA > On Thursday, the Mission Playhouse invites everyone to a Dia de Los Muertos Celebration from 6 to 8:30 p.m. at the Mission Playhouse Plaza. Attendees can come together to pay tribute to their departed loved ones through the communal altar adorned with sugar skulls and marigolds. Los Colibri and Ballet Folklorico will perform and a selection of Dia de Los Muertos bites and drinks will be available for purchase, including chocolate caliente and mini pan de muerto. Free to attend. More info here.
John Williams Spotlight Series – M > As part of a multiyear retrospective, legendary composer John Williamns has curated a series dedicated to film music at the Walt Disney Concert Hall, with concerts to be conducted by Gustavo Dudamel, David Newman, and Thomas Wilkins. The series opens this Thursday and Friday with a live score-to-picture screening E.T. the Extra-Terrestrial, featuring Dudamel and the Los Angeles Philharmonic. Both evenings begin at 8 p.m. Tickets start as low as $74. Get more info here.
Gabba Gallery's Wishlist 11 -> Gabba Gallery's 11th edition of their affordable art show is on view and available to purchase on the spot now until Nov. 11. Curated by Jason Ostro and Elena Jacobson the show highlights the talents of over 75 artists from around the world and allows art enthusiasts to build their art collection in a more approachable way. The gallery is open open Thursday through Saturday More info here.
Reign of Terror Haunted House -> This award-winning haunted house and walkthrough experience located in Thousand Oaks is now in its 25th season. The 2023 edition features 138 rooms in 10 different, inter-connected sections within 28,000 square feet of floor space. Standards tickets are $35. The final week of tickets are available for this Tuesday and Friday. More info here.
Macario at Grand Park – M FA > On Thursday, Gloria Molina Grand Park concludes their Día de Los Muertos programming with a free screening of the 1960 film Macario, presented in partnership with the GuadaLAjara Film Festival (GLAFF). The film begins at 7:30 p.m. and tickets must be reserved in advance. More info here.
First Thursday ArtWalk in San Pedro – FA > The November edition of the San Pedro ArtWalk offers pop-up activities and extended hours from some 30+ local galleries and studios, all from 5 to 8:30 p.m. Free to attend. More info here.
Son Little at Skirball – FA TP > R&B artist Son Little brings his nationwide tour to Skirball Cultural Center this Thursday for an invigorating performance of songs in promotion of his latest album, Like Neptune. The show begins at 8 p.m. and is free to attend with RSVP. Plus, there's free parking too! More info here.
Under Pressure at Beyond The Streets – FA TP > This Friday, a new group show of contemporary airbrush artists curated by L.A. graffiti artist Mister Cartoon opens at Beyond The Streets & Control Gallery at 434 N La Brea Ave. Under Pressure features 16 artists from a wide range of backgrounds, ages, and techniques, showcasing the historic significance and evolution of airbrush as an artistic medium. Friday's opening reception runs from 7 to 9 p.m., and the works will remain on display through December 23. Free to attend. More info here.
First Fridays in Long Beach – FA > The November edition of First Fridays along Atlantic Ave in Long Beach celebrates Día de los Muertos with a community ofrenda, mariachi, and dance performances, plus the monthly assortment of extended hours at participating businesses, and special discounts. Runs 6:30 to 9:30 p.m. More info here.
La Cage -> Experience the electric La Cage live show at Hollywood's Roosevelt's secret theatre this Friday. Inspired by the golden age of supper clubs and the iconic La Cage Aux Folles nightclub, the evening includes live vocals, dazzling dance, and a live band, all paying tribute to drag culture pioneers with emcee Tommi Rose and surprise celebrity guests like Cheyenne Jackson and Ada Vox. Audiences can also sip on classic cocktails and dine on Cinegrill Theatre's supper club inspired menu. La Cage shows run on select Friday nights at 7 p.m. and 10 p.m. Tickets for the show start at $55. More info here.
Dining & Drinking
(picks by Christina Champlin)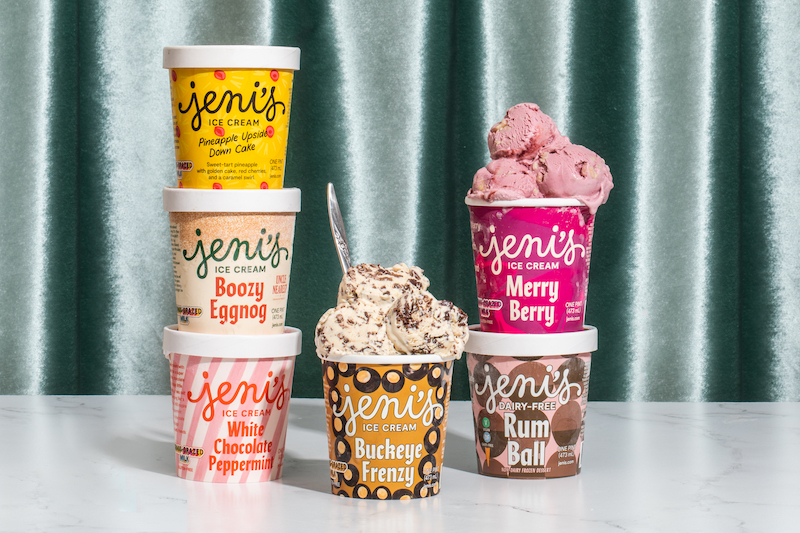 Jeni's Splendid Holiday Ice Cream Flavors -> Jeni's Splendid Holiday flavors will be available at all shops nationwide starting on Thursday, November 2. Customers can enjoy five seasonal creations, including the Merry Berry, a berry buttermilk ice cream with cookies and raspberry coulis, and the popular Boozy Eggnog with rich custard, nutmeg, and whiskey. This season, Jeni's also introduces their version of the Italian affogato with three special ice cream flavors ready to be topped with cold brew from Slingshot Coffee Co. Stop by a Jeni's scoop shop to select either The Classico with Salty Caramel, Triple Mocha with Texas Sheet Cake, or amaretto inspired Toasted Almond Crunch with Brown Butter Almond Brittle.
Guerrilla Tacos Beetlejuice Themed Dinner & Movie -> Guerrilla Tacos celebrates Halloween night with a Beetlejuice-themed five-course dinner that perfectly matches Tim Burton's quirky movie. The menu features creative interpretations of the movie's food moments, including a Masa Corn Dog, Chow Fun, and Wedding Cake. Costumes are encouraged for this outdoor patio event, drinks can be purchased, and the movie and dinner experience cost $50. The doors open at 6:30 p.m., and the movie screening commences at 7 p.m. Tickets and more info here.
New Happy Hour at BOA Steakhouse Santa Monica -> BOA Steakhouse Santa Monica has launched a happy hour. Guests can sip on $12 cocktails, like a refreshing Lychee Martini, paired with a fine selection of bar bites priced between $3 to $16. There are a handful of cocktails featured and the food portion encompasses everything from fresh oysters, Peruvian scallops to a wagyu smash burger and truffle-laced tots. Located just steps from the ocean, this is a great pick to enjoy a sunset nosh session. BOA Santa Monica's happy hour is available in the bar and lounge area from Monday through Friday from 5:30 to 6:30 p.m. and on weekends from 5 to 6 p.m.
---
Want to get the best things to do in L.A. sent straight to your inbox? Join over 60,000 Angelenos who subscribe to our twice weekly email newsletter!
By subscribing, you agree to our terms of use and privacy policy and consent to receive emails from We Like L.A. about news, events, offers, and partner promotions.