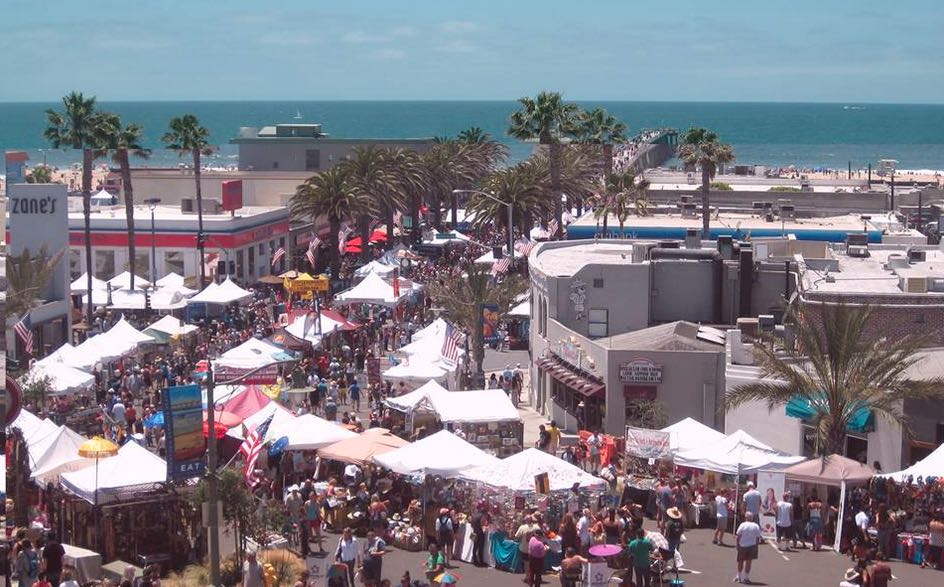 Okay, let's go out on a limb and assume you're not taking refuge under an air conditioning vent all weekend. You want options? We've got options.
This September 2-5 in Los Angeles, catch the opening weekend of the L.A. Times Food Bowl, First Fridays in Chinatown, $3 movie tickets for National Cinema Day, Fiesta Hermosa, KCRW Summer Nights at Grand Performances, Hooray LA! at The Ford, Americana in the Park, Back to the Valley, and more. Read on for the full list.
Things To Do For Labor Day Weekend
L.A. Times Food Bowl -> The Los Angeles Times Food Bowl is back with a month-long celebration of the city's culinary scene with special events including food tours, exclusive dinner collaborations, an outdoor movie screening and more. The series opens with a launch party event tonight at Grandmaster Recorders, then the weekend action continues with a Downtown food tour event on Saturday, and an Eat See Hear collab at The Autry on Sunday. Prices vary by event. Get more info here.
Broad Humor Film Festival -> After a two-year hiatus, Broad Humor Film Festival returns this week with a four-day event at Look Dine-In Cinema in Monrovia. The Thursday to Sunday showcase features a packed slate of comedic shorts, features and web series–all created by women. Special panel discussions and talks fill out the schedule of events. Four-day passes cost $95, and individual day passes range from $25 to $40. Get more info here.
Cinecon -> Cinecon celebrates its 58th year by heading to Hollywood Legion Theater this Thursday to Monday. The five-day showcase puts the focus on unusual, rarely seen, and otherwise out-of-the-public eye films, with packed slates of screenings interspersed by Q&A programming. A full- festival pass runs $299, or you can grab a day pass starting at $75. Get more info here.
Maestro at The Movies -> This Friday to Sunday, the Hollywood Bowl celebrates the 90th birthday of iconic composer John Williams with LA Phil concerts featuring a selection of Williams' most iconic scores, backed by clips from the films they appeared in. Get more info here.
Drunk Theater -> Bay Area import Drunk Theater is exactly what it sounds like: A comedian downs five quick shots of whiskey and then sees if he/she/they can make through an improvised set with five sober counterparts. The next performance pops up at the Santa Monica Playhouse this Friday. Pre-sale tickets are $20 per person, or it's $25 at the door. More info here.
First Fridays in Chinatown -> Galleries, restaurants and other creative businesses in L.A. Chinatown band together for an evening of extended hours every first Friday of the month from 5 to 9 p.m. Read the full list of participants here.
Dance DTLA -> This Friday, catch the Music Center's final Dance DTLA event of the summer, an evening of Samba with instructor Fransini Giraldo and music by DJ Yukicito. For each event, you'll learn easy-to-follow steps, allowing everyone to get into the groove right from the jump. Very family-friendly and always free. No reservation required. More info here.
Four Days of Pool Parties at Skybar -> Skybar at Mondrian Los Angeles will host Labor Day Weekend pool parties Friday through Monday. More info here.
Rooftop Cinema Club Presents Summerween at ROW DTLA -> Rooftop Cinema Club Arts District celebrates "Summerween" at ROW DTLA with four days (Friday to Monday) of spooky and/or scary classic films. The lineup includes Psycho (1960), Scream, Coraline, Hocus Pocus, Halloween (1978), and more. Individual tickets start at $20.75 More info here.
Back to the Valley -> A brand new Back to the Future film screening event transforms the Van Nuys Civic Center into "Hill Valley" for just one night, this Saturday.. Expect a Cafe 80's food court, movie cars on display, a live performance from The Flux Capacitors, raffle giveaways and more. Tickets are $5 for adults and $3 for kids. Get more info here.
Grand Performances + KCRW Summer Nights -> This Saturday, Grand Performances teams up with KCRW to host performances by Allison Russell and ÌFÉ, along with a DJ set from Raul Campos. Free to attend, no RSVP necessary. Runs 6 to 10 p.m. at California Plaza. More info here.
Fiesta Hermosa -> This Saturday to Monday, The Hermosa Beach Chamber of Commerce's signature outdoor festival closes out the summer with three days of live music on multiple stages, a food fair, maker's market, carnival, petting zoo, tarot readings, and more. Get more info here.
National Cinema Day -> Movie theaters really want guests to come back to in-person viewing. How bad? This Saturday, for National Cinema Day, over 3,000 theaters nationwide will offer $3 tickets for screenings in all formats, including IMAX. Regal, AMC, and Cinemark are all participating. Just watch out for those booking fees! More info here.
626 Night Market -> This Saturday to Monday, The 626 Night Market returns to its flagship location in Arcadia with over 300 food, merch, and craft vendors at Santa Anita Park. Pre-sale tickets are $5, or it's $6 at the door. More info here.
Taste of Japan -> Join Taste of Japan in celebrating Shin-Sen-Gumi's 30th anniversary through a Saturday of food samples, live entertainment, anime cosplay, cultural activities and more. Happening at the Torrance Cultural Arts Center. Admission is just $1. More info here.
Bob Baker Marionette Theater: Hooray LA! -> First performed over 40 years ago, Bob Baker's enduring tribute to the city of angels comes to The Ford this Sunday with a performance featuring dozens of hand-crafted marionettes, taking the audience through iconic moments in the history of Los Angeles. Tickets start at $10. More info here.
Sunday Afternoon Concerts in the Dome -> Mount Wilson Observatory continues its 2022 season of concerts hosted inside the historic 100-inch telescope dome, where the acoustics are said to be some of the finest in the world. This Sunday, the program features a jazz performance led by Michael Valerio on bass and vocals. here will be two shows, one at 3 p.m. and the other at 5 p.m. Tickets are $50. Get more info here.
New Exhibitions at LACMA -> The Los Angeles County Museum of Art has two new exhibitions debuting this September, beginning with Objects of Desire: Photography and the Language of Advertising, opening this Sunday, September 4.
Americana in the Park -> McCabe's Guitar Shop and the City of Santa Monica team up for a series of free concerts held at Gandara Park every Sunday in September. All events run 4 to 7 p.m., and are free to attend. See the full lineup and get more details here.
Dining & Drinking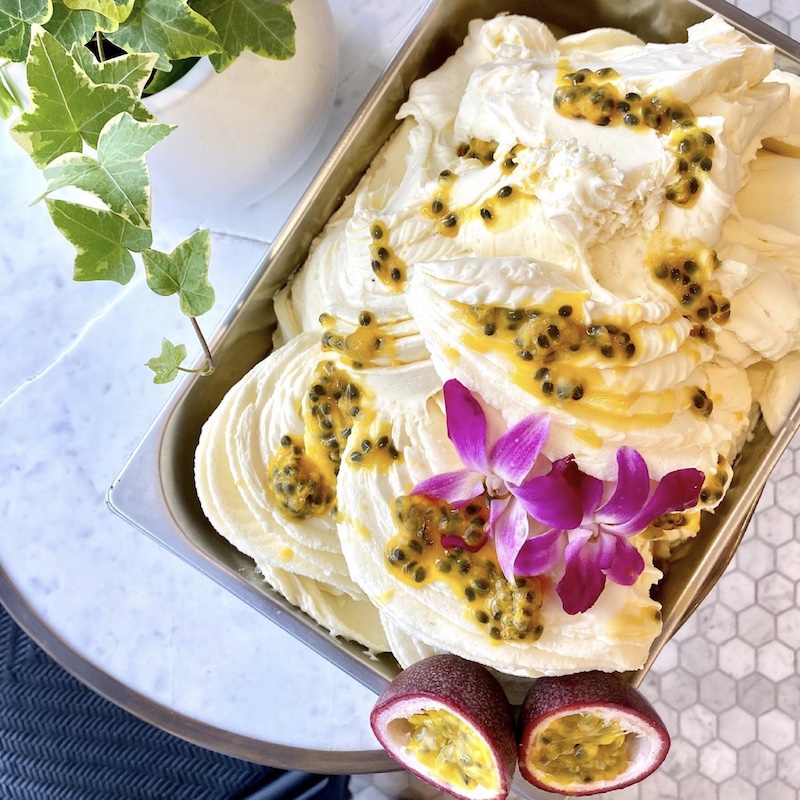 Free Capri Gelato -> Capri Gelato & Coffee Bar is giving out complimentary gelato while supplies last from September 2-5. The freebie is a mini scoop of Capri's signature Passion Fruit Goat Cheese gelato. Inspired by the gelatorias of the Amalfi Coast, gelato at Capri is prepared in traditional Italian style and slow-churned daily on-site.
Monday Brunch at Superba Food + Bread -> On Labor Day, both Hollywood and Venice locations of Superba Food + Bread will extend their weekend brunch service to Monday. The Hollywood location will open at 9 a.m. on Monday, Venice will open at 8 a.m. and brunch at both locations will be served till 4 p.m.
American Beauty Opens Bar Early for Labor Day -> Venice Steakhouse American Beauty opens their bar at 11 a.m for early celebrations this Monday. The Win~Dow, American Beauty's casual burger stand will also be open at 11 a.m. so you can pair your cold libations with a classic smashburger and a side of fries.
Parm Boyz Pop-Up -> After an extended hiatus, the Parm Boyz are back with another tasty Italian prix fixe this Monday, September 5 at Ronan. For $40 a person, guests will dine on Antipasti, Caesar Salad, Chicken & Eggplant Parm and Tiramisu. Reservations are now live on Resy.
Lobsterfest at Tam O' Shanter -> Spend Labor Day at Tam O'Shanter by cracking open lobsters at the historic 100 year-old restaurant. Lobsterfest, held on Monday, takes place on Tam's patio. For $100 per person, guests will feast on two hard shell boiled Maine lobsters, family style sides and snacks as well as chocolate and blueberry whoopie pies. Maine beers and craft cocktails will be available in the garden. Reservations are now available on OpenTable.
Vegan Ice Cream Showdown -> Get a cool down from the extreme heatwave by stopping into Café Gratitude in Larchmont for their Vegan Ice Cream Showdown. Taking place on Labor Day (September 5), the ticketed event costs $20 and includes samples of local vegan ice cream vendors, vegan bites from Café Gratitude, live music, Oliopop root beer floats, a photo booth, and more.
Labor Day Specials at Velverie Café and Teahouse -> This Monday, Velverie Café and Teahouse in Beverly Hills offers a $3 discount on all beer and wines by the glass. A special Labor Day Cocktail "The Last Hurrah" made with Cocchi Americano, sparkling wine, club soda, and lemon will be featured for the day alongside European inspired food specials (Velverie Slider, a Mini Bowl of Salt Spring Mussels with Crostini, and a Merguez Pistolet). Guests can pair a food special with "The Last Hurrah" for $25.
---
Want to get the best things to do in L.A. sent straight to your inbox? Join over 60,000 Angelenos who subscriber to our twice weekly email newsletter!
By subscribing, you agree to our terms of use and privacy policy and consent to receive emails from We Like L.A. about news, events, offers, and partner promotions.