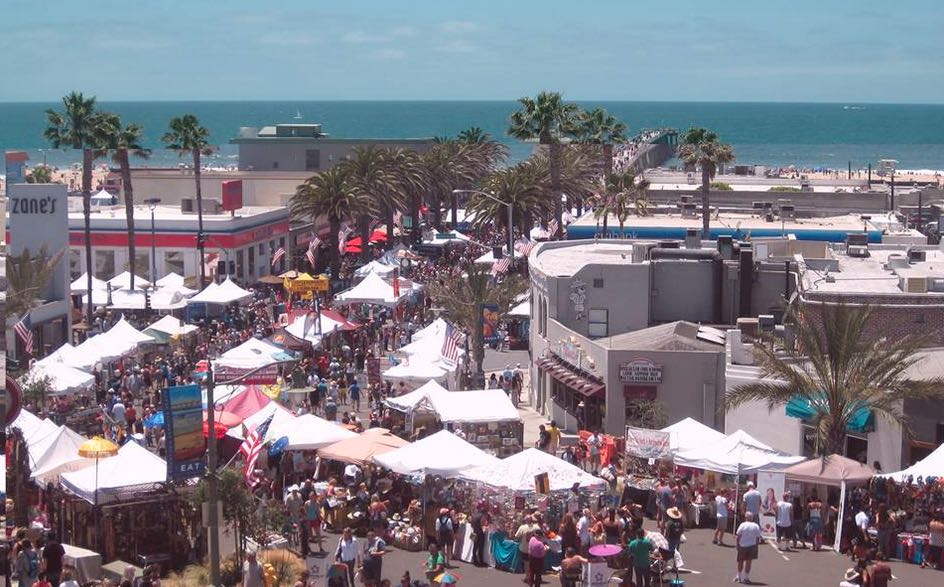 As we cruise into this Memorial Day weekend, there's plenty to choose from in SoCal, whether it's seeking out public art, settling in for some chill vibes, or taking some time to remember those who gave their lives in service.
From May 27-30 in Los Angeles, you'll find a community bike tour by Metro Arts, the Fleet Week Expo in San Pedro, Fiesta Hermosa in Hermosa Beach, L.A. Zine Fest in Long Beach, a new Keith Haring exhibit at The Broad, the 36th Annual JazzReggae Fest at UCLA, and MUCH more. Your holiday weekend starts below.
Free Ideas Taking Metro
Did you know that every Wednesday we collaborate with Metro Los Angeles to create a fun guide of 5 free things to do for the weekend that are also accessible through Metro's rail and bus service? Check out our top two picks below, and be sure to scope out the full guide here.
Metro Art: Journeys By Bike -> In partnership with Metro Art, Metro Bike Share hosts a Community Ride called "Journeys by Bike" this Saturday from 9 a.m. to noon. The ride begins at Union Station where guests will be guided through the the newly installed Metro Art exhibition. From there, you'll check out community art along a 5-mile route that finishes up at the Vermont / Expo station. Riders 16 years and older can reserve a Metro Bike at no-cost for the event, but remember to bring your helmet! More info here.
GO METRO: Take the B, D or L Lines to Union Station
Marina Culture Jam -> The Department of Beaches and Harbors and The Music Center have teamed up for a free spring series at Burton Chace Park in Marina del Rey, and you can catch the next installment this Sunday. Part II of the The Marina Culture Jam features a ceremonial and social dance performance by the Korean Classical Music & Dance Company, as well as traditional Filipino folk dance and music by Kayamanan Ng Lahi. A cultural workshop accompanies the event, which runs from 11:30 a.m. to 2:30 p.m. More info here.
GO METRO: Take the 108 Line to Mindanao / Lincoln
Things To Do This Weekend
M = Less than .5 miles from an L.A. Metro Station, FA = Free Admission, TP = Top Pick
---
LA Fleet Week – FA > The annual LA Fleet Week honors United States Sea Services through a series of live performances, tours, aerial demonstrations, and neighborhood activations, all taking place from May 24-29. The LA Fleet Week Expo (open to the public) will be held adjacent to the Battleship IOWA in San Pedro from Friday to Monday. Get more info and see the full schedule of events here.
Africon -> Starting Thursday, this four-day conference celebrates the African Diaspora through a series of panels, chats sessions, and social gatherings, culminates with an Afro Music Festival headlined by Asake. Get more info on the full schedule of events and locations here.
Movie Night at Ivy Station – M FA TP > The lawn at Ivy Station transforms into an outdoor movie setting this Friday to celebrate AAPI month with a free screening of Crazy Rich Asians. The space opens up for guests at 7:45 p.m., and the movie starts at 8:15. Low-back chairs and blankets encouraged. Free popcorn too! More info here.
The Last Improv – M > This Friday at Dynasty Typewriter, The Last Improv gathers an A-list lineup of comedians to perform skits based on the stories of a guest monologist who offers impromptu diatribes inspired by audience suggestion. Dan Black hosts with special guests to include Nicole Byer, Mary Holland, Brandon Scott Jones, Paul Welsh, Neil Casey, and Christina Calph, plus guest monologist Brett Gelman. GA tickets are $25 in advance. Starts at 7:30 p.m. More info here.
Stand Up for Pups -> On Friday, Wallis Annenberg PetSpace and Can't Even Comedy present Stand Up for Pups, a dog-friendly comedy show to support animal rescue. Caitlin Benson hosts a lineup that includes J.D. Witherspoon, Jay Washington, Shea Freeman, Valerie Tosi, and Chris Greene. A DJ set and meet-and-greet with adoptable pups starts at 7 p.m., with the stand-up to begin at 8 p.m. Tickets are $20. More info here.
Fourth Fridays in Long Beach – FA > Retro Row in Long Beach comes alive on the fourth Friday of the month with special pop-ups, live performances, and extended store hours from shops on 4th St between Temple and Cherry. The event runs 6 to 9 p.m. Get more info here. More info here.
The Broad Presents Keith Haring: Art is For Everybody – M TP > Beginning this Saturday, The Broad's newest exhibition display over 120 artworks and archival materials of the late New York artist and activist Keith Haring. The specially ticketed "Keith Haring: Art is for Everybody" exhibit will explore Haring's work centered around nuclear disarmament, the HIV/AIDS crisis and more. In conjunction with the show, the free permanent galleries upstairs will display works from Haring's contemporaries, including Jean-Michel Basquiat, Jenny Holzer, and Andy Warhol. Runs May 27 to October 8. Advanced, timed reservation is required, starts at $22 for adults. More info here.
Fiesta Hermosa – FA TP > Memorial Day weekend in Hermosa Beach means one thing: Fiesta Hermosa! This May's three-day festival features a makers marketplace with over 250 vendors, live music and a carnival. Runs Saturday to Monday, starting at 11 a.m. each day. Admission is free for most areas, but it'll cost you $5 to get into the (beer) garden. More info here.
Open Stage at The Elysian – FA > Every month The Elysian Theater in Frogtown offers an open invite for performers looking to workshop their ensemble (meaning three or more people) material to a live audience. The next Open Stage event is this Saturday, and even if you're not a performer, you can attend for free to see what weird, inventive, and hilarious stuff locals have been working on. Plus, there's free pizza before the show! Runs 2:30 to 5 p.m. Get more info and RSVP here.
Mama's Nightmarket -> Not your average foodie event, this Saturday's Mama's Nightmarket highlights under represented mom and pop restaurants that have served their communities for decades. The theme for spring is "LA street food" and every dish will be under $12. Restaurants keep 100% of their profits from the event and a portion of proceeds will also be donated to @heyrespectyourelders, a nonprofit organization focused on feeding seniors in minority communities while supporting local restaurants. Tickets start at $34 for GA and go up to $125 for VIP. Starts at 6 p.m. More info here.
Topanga Days – > The annual fundraiser festival for the Topanga Community Center returns over Memorial Day weekend for three days (Saturday to Monday) of games, food and live music, capped by a Memorial Day parade. Adult single day tickets for non-members start at $50 per person. More info here.
MAINopoly -> Board game meets food fest at the 8th annual MAINopoly, taking place this Saturday on Main Street in Santa Monica. Advance GA tickets start at $30 per person, which get you an allotment of credits (MAINopoloy dollars) you use to pick up bites at restaurants up and down the block. Each spot you visit helps fill up your game board which offers a shot at prizes. Runs 1 to 5 p.m. More info here.
The California Beer Festival -> The California Beer Festival takes place trackside at Santa Anita Park this Saturday and Sunday. Sip through a number of California craft beers from Calidad to Figueroa Mountain Brewing Co. and enjoy food trucks while taking in the heart racing sport of horse racing. Tickets cost $40. More info here. 
L.A. Zine Fest – FA TP > This Sunday, the world of DIY printed materials and magazines lives on at the annual Los Angeles Zine Fest. Coming to the Expo Arts Center in Long Beach, expect an afternoon of over 200 zine vendors, plus a chance to check out hands-on workshops, panels, and DJ sets. Runs 11 a.m. to 6 p.m. Free admission. More info here.
Corgi Nationals  -> This Sunday at Santa Anita Park, the folks behind SoCal Corgi Beach bring together some of the fittest dogs around to showcase the pure athleticism (and joy!) of corgis. See the pups race for top prize, and in between check out Corgi-centric vendors, carnival rides, and food vendors. Tickets start at $12. More info here.
Torrance Antique Street Faire -> Check out over 200 antique and specialty sellers every fourth Sunday of the month. The fair also features an antique appraisal booth and live musical entertainment. More info here.
36th Annual JazzReggae Fest -> Now in its 36th year, this Monday's JazzReggae Fest at UCLA's Sunset Recreation Center offers an afternoon of chill jams and good vibes, all mixed in with food trucks, live art, and craft vendors. Music will include the UCLA student ensemble Sparker Band, plus sets by Your Grandparents, Jordon Ward, Maxo Kream and Hempress Sativa. Tickets are $20. Runs 11 a.m. to 7 p.m. Get more info here.
Memorial Day Remembrance at Forest Lawn – FA > On Monday, Forest Lawn locations around SoCal (including Hollywood and Glendale) will offer a tribute dedicated to those who lost their lives while serving. Activities will include a special keynote address, patriotic music, and color guard. Start times vary by location. Get more info here.
---
Dining & Drinking
(picks by Christina Champlin)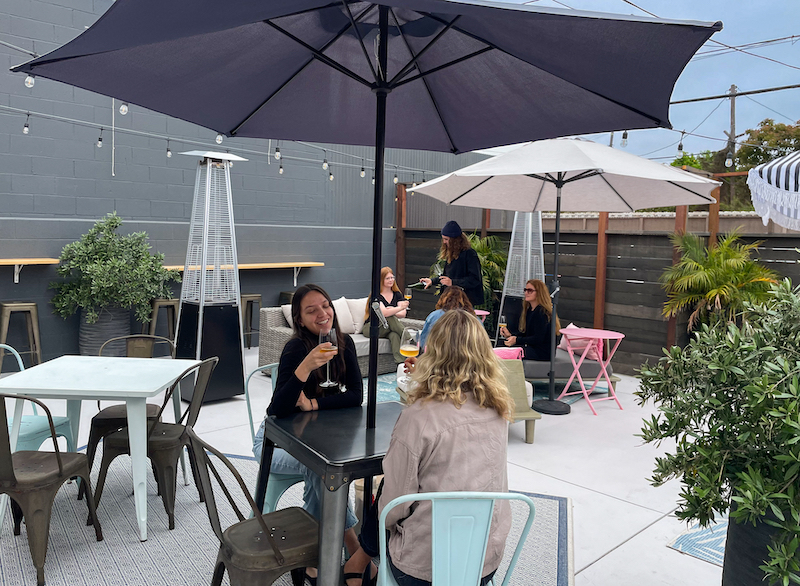 Hotcakes Bakes & Evil Twin Day Lounge Memorial Day Pop-Up -> On Saturday, Hotcakes Bakes and Evil Twin are hosting a Memorial Day Weekend pop-up in their Culver City space. The newly opened patio will be transformed into a day lounge with summer tunes by DJ LITO and Evil Twin's Dylan Weiss pouring natural wines, Hotcakes Bakes' Elfie Astier serving sweets, and Arepas made on-site by Kitchen El Camino. Happening from 2-7 p.m.
A Cha-kaiseki at Shibumi -> Tomoko Imade Dyen's Culinary Curation project returns with another Japanese focused series this time centered around the beauty of green tea. Kicking off the series is a "Cha-kaiseki" collaboration dinner at Shibumi, this Sunday, May 28. The hyper seasonal seven course meal includes a number of foraged mountain vegetables and will conclude with a tea service during dessert. Reservations can be made on Tock for $200 per person. 
Katana Re-Launches Red Sun BBQ Garden Party -> Katana in West Hollywood is bringing back their summer Red Sun BBQ Garden party every Sunday evening starting this weekend. Taking place on Katana's patio overlooking the Sunset Strip, guests will be treated to a Japanese robata grilling experience, live DJ and the debut of new summer dishes and cocktails. Red Sun BBQ series runs every Sunday through Labor Day from 5 to 10 p.m. 
Taiwan After Dark -> In honor of AAPI Month Suntory Whisky and Steep are transporting Angelenos to Asia this Saturday with Taiwan After Dark. Rossell Hu from Taiwan's Bar Lonely will be mixing and stirring up cocktails infused with tea and Asian ingredients. The event runs from 4 to 10 p.m. on a walk in first-come first-served basis.
Free Coffee for Veterans & Active Duty Members at Coffee and Plants -> This Monday, plant-based coffee shop Coffee and Plants in Studio City and Pasadena will be offering complimentary drip coffee to active duty service members and veterans from 7 a.m. to 3 p.m. to celebrate Memorial Day.
---
Want to get the best things to do in L.A. sent straight to your inbox? Join over 60,000 Angelenos who subscribe to our twice weekly email newsletter!
By subscribing, you agree to our terms of use and privacy policy and consent to receive emails from We Like L.A. about news, events, offers, and partner promotions.