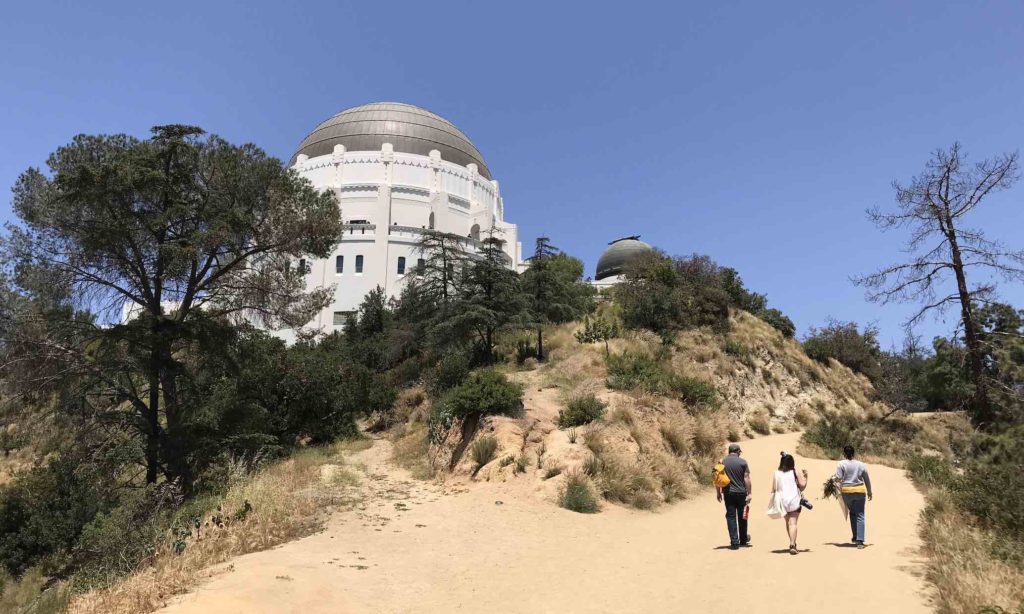 Every week in Los Angeles there are tons of great things to do (even before the weekend gets started) that we think you ought to have on your radar. With that in mind, we put together a list every Monday through Friday morning to keep you in the know about what's happening in the city you love (or maybe just like).
This week, from Monday, April 1 to Friday, April 5, features the return of Melrose Rooftop Theatre, I Like Scary Movies Experience ,First Fridays at the Natural History Museum, Passover Dinner at the Skirball, All Space Considered at Griffith Observatory and MUCH more.
Remember you can always go to our L.A. events calendar page to get an updated rundown of what's happening around the city.
Hope you find the rundown useful and, as always, enjoy your week!
---
Keep in mind that while we retain complete editorial control of our content, for some of the ticketing options provided we utilize affiliate links and receive a commission if you purchase through our links.
---
Monday April 1st, 2019
1. E.P. & L.P. in West Hollywood continues their stylish cinema series Melrose Rooftop Theatre with several screenings this week that include Bohemian Rhapsody, Pretty Woman and more.
2. There's a free Monday Night Fiction Workshop at Beyond Baroque in Venice this Monday. The weekly workshop will be facilitated by author, screenwriter, playwright, and director Barra Grant. FREE
3. The 21st Annual NOIR CITY: HOLLYWOOD film festival returns to the Egyptian Theatre in Hollywood for 10 nights (March 29-April 7) featuring films from this exciting artistic era.
4. Hot Tub With Kurt And Kristen at The Virgil is one of the most popular weekly variety shows happening on a Monday in Los Angeles.
5. April Fools! The UCB Prank Call Show at UCBT Franklin.
Tuesday April 2nd, 2019
6. Enjoy an evening yoga and meditation session at the Guasti Villa at Peace Awareness Labyrinth & Gardens.
7. General Assembly, dogdrop and Angel City Brewery together will host "Tech, Pups, & Pints", a panel featuring dog start-ups and a dog-friendly mixer to follow after the panel.
8. Museum of Illusions has recently launched a brand new experience. Guests can walk through eye popping 3D exhibits inspired by cartoons, art, current events, pop culture and more. The museum is open daily.
9. Free admission at: Kidspace Children's Museum (from 4 to 8 p.m.), Natural History Museum, and the La Brea Tar Pits Museum.
Wednesday April 3rd, 2019
10. The Natural History Museum of Los Angeles County welcomes the traveling exhibition Antarctic Dinosaurs to Southern California from April 3, 2019 through January 5, 2020.
11. This Wednesday night is Drag Queen Bingo at Hamburger Mary's in West Hollywood. It's a comedic event featuring transgender hosts, celebrity guests, and fabulous prizes.
12. April 3 is National Boysenberry Day and Knott's Berry Farm is throwing a Boysenberry Festival complete with food and live shows.
13. Grand Central Market will host a trivia night on the Broadway side of the open air market at 8 p.m.
14. The Egg House visits Los Angeles March 20 – April 28 for an egg-themed, 12,000-square-foot pop-up multi-sensory experience showcasing a series of installations and activations around egg themed creations. Open Wednesday through Sunday.
Thursday April 4th, 2019
15. If Halloween and horror movies are your favorite topics then I Like Scary Movies Experience will be just what you're looking for. Guests can expect to see, hear, feel, and smell recreations of iconic moments from IT (2017), Beetlejuice, The Shining, The Lost Boys, and A Nightmare on Elm Street. There won't be costumed actors jumping out trying to startle but there will be multi-sensory surprises along your winding path. The pop up experience runs April 4 through June 16.
16. Chinatown After Dark going down at Far East Plaza happens every first Thursday of the month and is a testing ground for chefs in our city as well as a place to enjoy local music.
17. Head to Downtown San Pedro for First Thursday Art Walk featuring street vendors, food trucks and after hours at art galleries in the Artist District.
18. Amoeba Music in Hollywood welcomes The Drums into their record store for a signing and free performance to promote their latest album Brutalism.
19. Every first and third Thursday of the month Brennan's in Marina Del Rey hosts their famous turtle races. Since 1974, this tradition brings these little speedsters out of their sanctuary (located in the bar) for an exciting game that support charities. Race starts at 9 p.m.
20. Join tea experts at OneTea and chocolate experts Dandelion Chocolate for a pairing of small-batch, single origin tea and chocolate.
21. Grand Park hosts spring concerts featuring L.A.'s youth artist every Thursday (until May 10) at 12:15 pm. FREE
22. There's a free mindful awareness meditation going on at the Hammer. Participants are welcome to stay for the entire 30-minute session or leave when they choose. FREE
23. Free admission at: MOCA Grand & MOCA Geffen (5 to 8 p.m.), Skirball Cultural Center (noon to 5 p.m.), Japanese American National Museum (5 to 8 p.m.) and Long Beach Museum of Art (3 to 8 p.m.).
Friday April 5th, 2019
24. First Fridays return to the Natural History Museum this Friday for an after hours party with DJs, cocktails and food. The event will explore the forces of nature focused on drought this month.
25. Enjoy a Passover-themed evening at Skirball Cultural Center this Friday. In partnership with the nonprofit Miry's List, Rabbi Sarah Bassin (Temple Emanuel of Beverly Hills) will welcome everyone with the Passover story and tie the experience of refugees today. Guests will then enjoy wine and an elaborate Syrian dinner inspired by the Passover tradition prepared by a family who recently resettled in Los Anegeles. Evan Kleiman of KCRW's Good Food will also moderate a discussion with the chefs about their arrival stories.
26. The Griffith Observatory hosts a monthly forum where some of the most amazing phenomena in the known universe are explained and discussed. It's called All Space Considered and it takes place on the first Friday of every month. FREE
27. Open Fist's presents its annual "political pop-up" featuring a rotating roster of short plays that explore the nation's current social and political climate and how the past year has affected us all. For this show only, the audience will relax on cozy couches in a speakeasy setting at Atwater Village Theatre. The show runs on weekends until April 13.
28. First Fridays in Long Beach will throw a County Fair with fair food, a pie eating contest, local vendors, art, live music, a storytelling farmer and more.
29. Humphry Slocombe and chef-partner Jason Neroni of The Rose Venice have teamed up to create a specialty ice cream flavor inspired by the Venice neighborhood they both call home. Staring this Friday the Surfer's Breakfast a flavor featuring buttermilk ice cream, black sesame granola and jam will be scooped for the entire month. Stop by at 6 p.m. the first 50 guests to order a scoop of the Surfer's Breakfast flavor will receive a special Rose Swag Bag. The Rose Venice cookies will also be available at the shop.
30. Get up close and personal with sharks at the Aquarium of the Pacific during Shark Lagoon Nights. Guests will have the opportunity to touch bamboo sharks and view large sharks in an after hours setting. FREE
31. Petersen Automotive Museum will host a free screening of Oil in the Blood in their William E. Connor Penthouse. Guests can meet the filmmakers and enjoy light refreshments during the event. FREE
32. Don't Tell Comedy pops up in Mid City at a secret location with some of the biggest names in comedy. Performers are kept under wraps and the location will be emailed to all ticket holders. BYOB!
33. The 26th annual Carnaval Primavera presented by the Greater Huntington Park Area Chamber of Commerce will be held on Pacific Blvd., between Gage Ave. to Slauson Ave. Expect business exhibits, food, arts and crafts, live performances, a children's sidewalk chalk art contest, and amusement rides for all ages.
34. Decompress at Mystic Journey Crystals in Venice with a crystal sound bath that combines original compositions and performances with crystal singing bowls.
35. Since its the first Friday of the month check out all the cool events happening around town including block parties and art walks for First Fridays.
36. Desert X returns for its bi-annual public art show February 9 through April 21. Spread throughout the Coachella Valley in various locations, artists are commissioned to use the desert landscape as their canvas with breathtaking results.
37. Free admission at: Norton Simon Museum (5 to 8 p.m.).
Food Pick for the Week
This week's pick by Christina Champlin, Co-Founder of We Like L.A.
Tam O'Shanter will host an exclusive Game of Thrones whisky tasting and food pairing on Thursday April 4 from 6 to 9 p.m. The dinner will feature eight GOT Scotch whiskies each representing a house from the Seven Kingdoms and one for the Night's Watch guard. Guests will dine on an eight course meal prepared by the iconic Tam O'Shanter restaurant. Whisky is provided by Diago in collaboration with HBO. View the full line of GOT whiskies here. Tickets cost $149 per person. Costumes are highly encouraged and the best dressed will take home a special prize.
Tam O'Shanter is located at 2980 Los Feliz Boulevard Los Angeles, CA 90039
---
Want to get our to-do lists straight to your inbox every week? Sign up for our email program. Have an upcoming event you'd like suggest for listing? Drop us a line at [email protected]