There's a lot to like about this week in Los Angeles, from a history of western wear to Hollywood burlesque, and everything in between.
From May 23-27, experience L.A. Fleet Week, Dress Codes at The Autry, a new Murakami exhibition at The Broad, Pop-Up Magazine at Ace Hotel, live music at the Original Farmers Market, Abuelita's Kitchen at LA Plaza Cocina, Africon, a new Zócalo talk, and more. Explore all your options below, and enjoy your week to come!
Things To Do
L.A. Fleet Week -> This year's L.A. Fleet Week celebrates our nation's sea services with a week of special performances and forums, culminating in a four-day expo on the waterfront in San Pedro that includes live entertainment, ship tours, aerial demos, a veteran's village, and more. Get the full schedule of events here.
L.A. Underwater: The Prehistoric Sea Beneath Us -> The newest exhibition at the Natural History Museum focuses on L.A.'s prehistoric past, when much of the land we see together was covered by ocean, and sea creatures. Included with general admission to NHM, which starts at $15 for adults. Open Wednesday through Monday. More info here.
Dress Codes at The Autry ->  What do a pair of jeans say about culture? How about a fringed jacket or an Aloha shirt? The Autry's latest exhibition, Dress Codes, puts a focus on iconic western style to weave together how these iconic clothing items came to shape social identity in the American west. The exhibition showcases more than 150 objects from The Autry's archive of clothing and textiles. Exhibition included with regular museum admission ($14 for adults). Open Tuesday through Sunday. More info here.
Abuelita's Kitchen: Mexican Food Stories -> LA Plaza Cocina is the nation's first museum and teaching kitchen dedicated to Mexican food, and they have a brand new multimedia exhibition now open to the public. Abuelita's Kitchen: Mexican Food Stories examines the importance of the abuela, or grandmother, in Mexican cuisine by showcasing the personal journeys of ten Indigenous, mestiza, Mexican-American, and Afro-Mexican women through a selection photographs, texts, recipes, and a documentary film. The exhibition runs Wednesday to Sunday through Sep. 4. Entry is free. More info here.
A Forest for the Trees -> A brand new experience by artist Glen Kaino (artistic producer of In & Of Itself on Broadway) is now open at Ace Mission Studios near DTLA. A Forest for the Trees pushes visitors to rethink their relationship to the natural world by immersing them in a surreal forest environment built within 28,000 square-feet of warehouse space. Check out animatronic head pieces, illusions of fire, and a dazzling light performance built upon the re-creation of a 144 year-old fig tree that once stood on Olvera Street. Adult tickets (non-peak hours) start at $20 per person during non-peak hours, and go for $30 during peak hours. Runs Wednesday to Sunday through the end of the summer. Get more info here.
Femme Follies -> A new weekly burlesque series called Femme Follies debuts at the rooftop lounge of Bar Lis this Wednesday. Miss Tosh (star/creator of Beauty of Burlesque) headlines the evening, which will include live performances and DJ sets. More info here.
New at The Broad -> Two new exhibitions are now open at The Broad, headlined by Takashi Murakami: Stepping on the Tail of a Rainbow. The specially ticketed exhibition is Murakami's first solo show at the museum, and includes 18 of his works along with new immersive environments created by the artist and his studio, Kaikai Kiki Co., Ltd. Also debuting on May 21 is This Is Not America's Flag, an examination of the cultural identity through the works of twenty individual artists and their treatment (and often subversion) of the iconography of the flag. Tickets to access both new exhibitions are $18, and include same-day access to The Broad's third floor galleries. The Broad is open Wednesday to Sunday.
Africon -> Starting Wednesday, this four-day conference celebrates the African Diaspora through a series of panels, speeches, chats sessions, and social gatherings, capped by an Afro Music Festival headlined by Jidenna, to take place at the Baldwin Hills Crenshaw Mall on Saturday. Get more info on the full schedule of events and locations here.
Live Music at Farmers Market -> Thursday Night Music is back on the west patio of the Original Farmers marketing starting this Thursday. The summer-long series kicks off this Thursday with a Bob Marley Tribute performed by Fully Fullwood. Performances runs weekly on Thursdays from 6 to 8 p.m. through Aug. 25. More info here.
Pop-Up Magazine at The Ace Hotel -> This Thursday, the live multimedia experience Pop-Up Magazine returns with its "spring issue" to The Ace Hotel Theatre. The collection of stories and performances will include contributions from artist and author Chanel Miller (NYT bestselling memoir Know My Name), podcast host Tracy Clayton (Another Round, Netflix's Strong Black Legends), author and illustrator Kristen Radtke (The Verge; Seek You: A Journey Through American Loneliness and Imagine Wanting Only This), 2020 Pulitzer Prize finalist Chloé Cooper Jones (author of Easy Beauty), writer Brooke Jarvis (The New York Times Magazine, Wired, The New Yorker), author Elena Passarello (Let Me Clear My Throat and Animals Strike Curious Poses), photographer Oscar Castillo (Magnum Foundation grantee) and more. Tickets start at $39. More info here.
What Do We Want From The Next L.A. Mayor? -> This Thursday, Zócalo Public Square puts the L.A. Mayor's race in focus with a special discussion panel featuring USC political scientist Ange-Marie Hancock Alfaro, Green Qween co-founder and CEO Taylor Bazley, and CSUN government and community relations assistant vice president Rafael de la Rosa. All Things Considered host Janaya Williams moderates. Reception to follow the discussion. Free to attend. More info here.
King Lear at The Wallis -> This Thursday to Sunday at The Wallis, a new production of Shakespeare's King Lear continues featuring actor Joe Morton (ABC's "Scandal," the legendary Brother from Another Planet, Netflix's "The Politician") in the title role. Shows run on select dates through June 5. Tickets for some performances are as low as $29. More info here.
L.A. County Fair -> The centennial edition of the L.A. County Fair continues at Fairplex in Pomona with a new spring timeframe, and its usual assortment of carnival rides, concerts, and way-too-greasy food. Advanced purchase adult tickets start at $15. Open Thursday to Sunday through the end of the month. More info here.
AAPI Heritage Month Movie Night -> To celebrate Asian American and Pacific Islander Heritage Month, the Million Dollar Theater is hosting a pair of Asian produced, directed, and performed films to screen on the final two Fridays of May. This Friday features a screening of Parasite starting at 7 p.m. Tickets are $5. More info here.
Jazz at LACMA -> This Friday at 6 p.m., the Los Angeles County Museum of Art welcomes jazz vocalist Denise Donatelli to the Smidt Welcome Plaza as part of the ongoing Jazz at LACMA series, which continues every Friday evening through June 24. Admission is free, however seating is limited and first come, first served. More info here.
Create to Destress -> On Fridays in May, artist Carmela Morales leads special workshops on making personalized embroidered canvas bags as a way to destress, spur mental health conversations, and learn a new skill. The sessions run from 5 to 7 p.m. in Virginia Avenue Park in Santa Monica, and are free to attend. The workshops are part of the month-long We Rise 2022 event series, which aims to reshape mental health treatment by promoting awareness and increasing community access to health and wellness resources. More info here.
Dining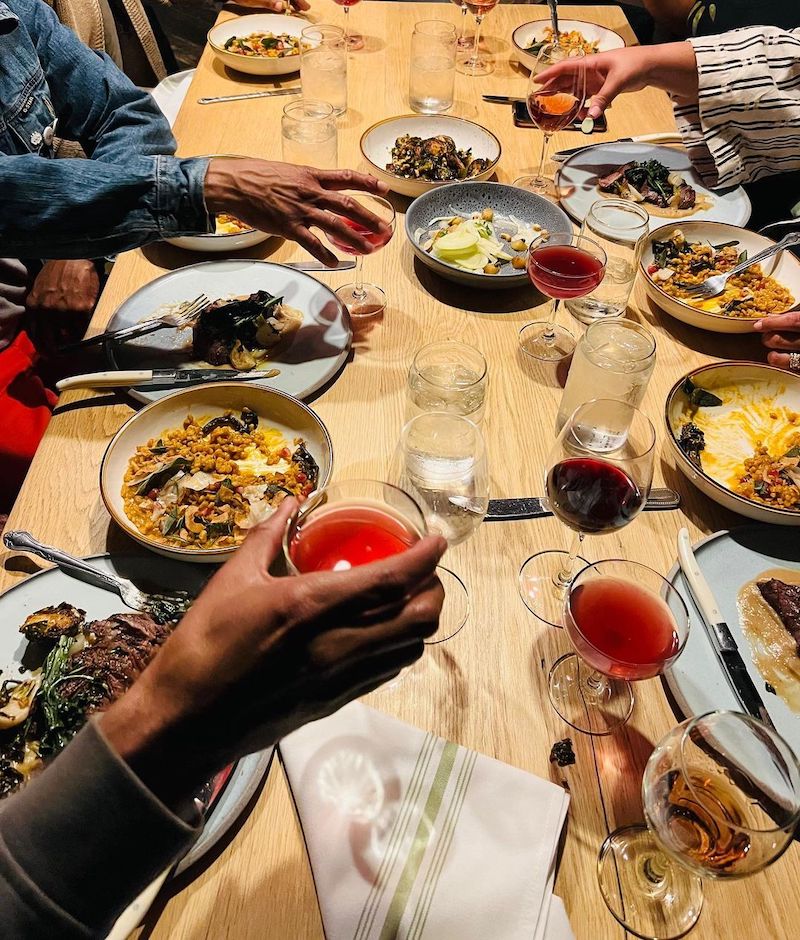 LOAM at Ace Hotel x Westside Winos -> This Wednesday, LOAM hosts Westside Winos, a one-night only, five-course tasting menu paired with organic and biodynamic wines selected by Westside Winos. The five course dinner and wine pairing will take place in LOAM's flora-draped dining room. Menu highlights include a Charred Snap Pea Salad complemented by a glass of Muscat Blanc; Market Risotto paired with 9 Volt Grenache Noir; and a rhubarb Upside Down Cake served alongside a Vermouth Bianco. Tickets cost $90 per person and can be purchased via OpenTable.
Abbey Day -> Last year West Hollywood declared May 23 "Abbey Day" and this year the legendary restaurant is offering $7 apple martinis and a throwback performance of their popular drag show Lip Service. More info here.
Red Boat x Cassia One Night Menu -> This Wednesday, Red Boat Fish Sauce team sup with Cassia for a dinner service to celebrate the release of Red Boat Fish Sauce's new cookbook. A great way to enjoy the remaining days of AAPI Month, guests for that evening will be treated to a selection of à la carte dishes inspired by the cookbook, and prepared by Cassia's Chef Bryant Ng and Chef de Cuisine Jessica Guilbaud. Red Boat founder, Cuong Pham, along with co-authors Chef Diep Tran and Tien Nguyen will be in attendance as well as Chinatown bookstore Now Serving selling the cookbook. Proceeds from the event will be donated to Asian Americans Advancing Justice. Reservations are not required. The menu is open to patrons.
---
Want to get the best things to do in L.A. sent straight to your inbox? Join over 60,000 Angelenos who subscriber to our twice weekly email newsletter!
By subscribing, you agree to our terms of use and privacy policy and consent to receive emails from We Like L.A. about news, events, offers, and partner promotions.