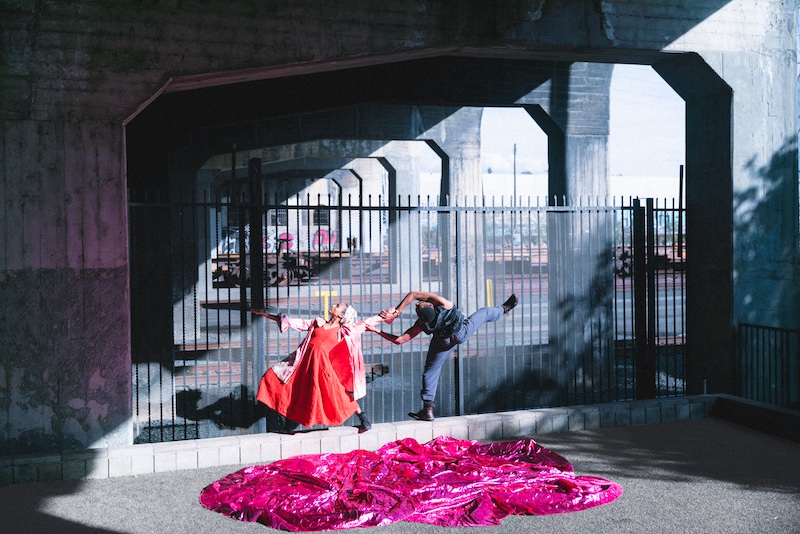 [Update: Thursday, March 12, 2 p.m.]
Dear We Like L.A. Readers,
Here at We Like LA, we focus on how to best enjoy the city that we love. That often includes going out to support local art, culture, shops, institutions, restaurants, and more. We understand that in the face of COVID-19, it's not the best time to do that. Not only are events being canceled all over the city, but social distancing means avoiding large gatherings.
This morning, Governor Gavin Newsom ordered Californians to cancel or postpone gatherings of 250 or more people, at least through the end of March. In Los Angeles, Mayor Garcetti has called for events of more than 50 people to be postponed or canceled amid concern regarding the spread of the coronavirus.
Clearly, this situation is evolving rapidly. It's important for us as a community to be aware of best practices, and do our part to slow the spread of illness. For now, we plan to halt our daily, weekend, and weekly events posts, maintain an updated list of cancelations and announcements regarding COVID-19, and post content about how you can still enjoy L.A. from the safety and comfort of your homes.
-WLLA Team
Los Angeles provides no limit of things to do, some awesome and some not so awesome. Since time is precious in this fast-paced city, we curate a list of things to do in Los Angeles for every weekend that'll help you decide how you want to spend your limited supply of attention (not to mention dollars!).
This weekend in L.A. from Friday, March 13 to Sunday, March 15 features St. Patrick's Day bashes, a new dim sum concept, Noche de Estrellas, and MUCH more.
Remember, you can always go to our L.A. events calendar page to get an updated rundown of what's happening around the city.
We hope you find the rundown useful and, as always, enjoy your weekend!
*** SPECIAL NOTE: On Wednesday, March 11, the World Health Organization (WHO) declared COVID-19, also referred to as coronavirus, a pandemic. Worldwide, over 120,000 people have been infected by the virus, according to NPR. On March 4, 2020 Los Angeles County declared a local health emergency in response to new Novel Coronavirus Activity (COVID-19). Public Health has recommended that individuals avoid non-essential travel, public gatherings, and places where large groups of people congregate, especially those over 65, who have underlying health conditions, or who are pregnant. Public Health also recommends social distancing, which is trying to keep six feet of space between you and others. If you feel sick, you should stay home.
The County's website also has many excellent resources, including an F.A.Q. on COVID-19, and general steps you can take to stop the spread of illness, including a guide on proper handwashing. ***
---
Keep in mind that while we retain complete editorial control of our content, we utilize affiliate links for some of the provided ticketing options and receive a commission if you purchase through our links.
---
Friday, March 13th, 2020
1. Queer gallery and gift shop A Love Bizarre will host an opening reception for Parker Day's ICONS: Revisited. Portrait photographer Parker Day initially debuted her ICONS show in 2017 but will revisit select portraits, each shot on 35mm, in this showing. Other reception activities include stick and poke tattoos and a raffle.
2. The Aquarium of the Pacific hosts Noche de Estrellas, an evening of Latin music, dancing, dinner, and more surrounded by stunning ocean life.
3. A flower-filled sky takes over Eataly L.A. as it welcomes spring with a new seasonal pop-up called Bar Fiorito. Inspired by the spring flower fields of Italy, Angelenos can bask in the colorful atmosphere while enjoying refreshing spritzes and a new aperitivo menu of Italian bites.
4. The Wizard's Den is an immersive pop-up where aspiring spell casters can concoct their own magical potions (aka cocktails) using a variety of witchy props and ingredients. The pop-up opened Feb. 26 and runs on various dates through April 5.
5. It's Millennial Lotería at Grand Central Market this Friday. Play this ironic and hilarious updated version of the classic "Mexican Bingo." Reimagined cards include La Dama as "La Feminist," El Catrín as "El Hipster," Las Jaras as "La Hashtag," and more.
6. Asian AF presents South Asian AF at UCB Sunset this Friday, showcasing comedic Asian American talents in acting, stand-up, improv, sketch, music, dance, and storytelling. The show has been featured on NBC, ABC, LA Times, NY Times, Gizmodo, Indiewire, and many more.
7. Cava Discovery Week gives Angelenos a chance to taste and learn about the popular sparkling wine from Spain. Presented by D.O. Cava from March 9-15, top bars and restaurants will offer curated food pairings, wine flights, and happy hour specials.
8. The 22nd Annual NOIR CITY: HOLLYWOOD film festival returns for 10 nights, March 6-15, of screenings at various theaters around L.A.
9. The Groundlings recently debuted an extra rowdy sketch comedy show from the Main Company called Bar Fight. It runs every Friday and Saturday.
10. It's been 40 years since the terror at Camp Crystal Lake. What better way to celebrate than with an anniversary screening of slasher classic Friday the 13th on Friday, March 13? The screening takes place at Fine Arts Theatre in Beverly Hills and includes photo ops, trivia, immersive decor, giveaway, horror merchandise, and more.
11. Pasadena International Film Festival (March 12-19) at the Laemmle Playhouse 7 features panels and presentations with over 100 screenings from 15 countries.
12. Play an adults-only, late-night, 80s-inspired trivia game show at Two Bit Circus this Friday night. Dubious nun Sister Suxxxie hosts and guests should prepare for strong language and sexual themes. If that's cool with you, tickets are $10.
Saturday, March 14th, 2020
13. Celebrate St. Patrick's Day on The Queen Mary during Shamrock 'N' Roll, featuring live bands, Irish fare, pints, and more.
14. L.A.'s only live animated comedy show Picture This! is back with another show at The Virgil.
15. The N'owt but Stout Festival comes to Torrance's Yorkshire Square Brewery for a St. Patrick's Day craft beer celebration. This fest features exceptional dark beers on cask from 30 breweries across California.
16. Heidi Duckler Dance (HDD), in conjunction with LA Opera's Eurydice Found Festival, presents Underway on March 14 and 15. Inspired by Rainer Maria Rilke's poem "Orpheus. Eurydice. Hermes," HDD will take audiences to the underworld of Hades, staged at L.A.'s historic 7th Street Bridge. Viewers will sit facing the train tracks for a unique local performance.
17. Norton Simon Museum hosts a Drop-in Drawing every Saturday. Guests can pick up a drawing board, paper, and pencil at the Information Desk and enjoy drawing in the galleries and Sculpture Garden.
18. MiniBar Hollywood will host its annual Hollywood Crawl of Fame, a St. Patrick's Day bar crawl through Hollywood. The event will include live Irish music, along with a party at the end of the crawl.
19. The Ensemble Shakespeare Theater returns to Descanso Gardens for performances with a botanical backdrop every Saturday and Sunday in March and April. This is a moving production traveling to peak bloom spots as the season changes so bring your walking shoes. The show starts at 2 p.m. and is included in the price of regular admission, no registration required.
20. Grand Central Market hosts a free community Herb Swap and Plant Craft. Participants can bring dry or fresh herbs to swap with others. There will also be a wildflower bomb craft activity. FREE
21. Celebrate St. Patrick's Day with an epic pub crawl through either Hollywood, DTLA, Santa Monica, or Long Beach. Partygoers will have a chance to visit several bars with music, hundreds of beers on tap, drink discounts and much more.
22. In LA Plaza de Cultura y Artes' latest exhibit, "afroLAtinidad: mi casa, my city," visitors step into a recreated Afro-Latinx home and explore the personal objects of an Afrolatinidad family living in Los Angeles. The exhibit closes on July 20, 2020. FREE
23. The St. Patrick's bash at Brennan's in Marina del Rey will feature bagpipers, green beer, and live music from several bands.
24. Artist CANTSTOPGOODBOY has collaborated with Star Trek on a collection of hoodies, crews, jackets, flannels, T-shirts, hats, sneakers, and original artwork. All of it will be for sale at Gabba Gallery March 14-15. Star Trek costumes, props, and iconic artifacts will be on display at the gallery as well.
25. The Santa Monica Conservancy hosts a Downtown Walking Tour uncovering the history of the area and its architectural gems.
26. Mixografia presents Wrong is Right: Remembering John Baldessari, an exhibition celebrating the late artist through his collaboration with local print publishers and Baldessari's 1970s video works. The exhibit is on view through April 4, 2020. FREE
27. Scum and Villainy Cantina in Hollywood hosts Sir Patrick's Day, a tribute to actor Patrick Stewart. Expect specialty cocktails and games. Wear themed X-Men or Star Trek apparel for 20% off your bill. FREE
28. Immersive theater company Ceaseless Fun presents its latest show, Everyone Agrees It's About to Explode. Guests arrive at a vacant building where a radical leftist group is planning future activities. Of course, things soon begin to go awry. The show runs select dates through April 5.
29. You can score Pi Day pizza deals this Saturday. Get a personal pizza for $3.14 at Fresh Brothers (cheese, pepperoni, or vegan cheese and pepperoni). Valid for dine-in, carryout, and delivery orders with the code PIDAY. You can also get a classic 2-topping pizza for $3.14 at PizzaRev with the purchase of a drink.
30. Don't Tell Comedy pops up in Manhattan Beach and Venice at secret locations emailed only to ticket holders. Performers include some of the biggest names in comedy, but you won't know who's on until you get there. BYOB!
Sunday, March 15th, 2020
31. Los Angeles Ballet's A Chance to Dance is a monthly community day during LAB's season. Dancers offer free ballet classes, alternative dance/fitness classes, and lectures and demonstrations. FREE
32. Foodie market Smorgasburg LA is open every Sunday at ROW DTLA, offering a massive roster of indie food pop-ups, merchandise vendors, and more. This weekend, they'll host the LA Record Fair curated by Beat Swap Meet. Shop here for vintage vinyl, vintage T-shirts, cassettes, and CDs.
33. Challenge yourself with a 75-minute yoga class while enjoying views of the DTLA skyline during Flow + Flavor: Rooftop Yoga at Smorgasburg x ROW DTLA.
34. Molcajete Dominguero at LA Plaza de Cultura y Artes welcomes Angelenos to explore Latinx art, craft, clothing, food, and beverage vendors from Southern California this Sunday.
35. Stop by La Luz De Jesus Gallery located inside the Soap Plant/Wacko complex for Everything but the Kitschen Sync, an annual juried exhibit of over 160 pieces from 70 artists. The exhibit runs through March 29, 2020. FREE
36. The Annenberg Space For Photography hosts Vanity Fair: Hollywood Calling. The exhibit spans four decades of celebrity portraits from the magazine's annual Hollywood issues and captures from past Oscar night parties. FREE
37. Tami is not a certified or trained exercise instructor, but she will lead you through a vigorous workout routine with lots of pelvic thrusting. Tammercise takes place Sunday afternoon at Angel City Brewery. Enthusiastic participants may win free beer. FREE
38. A collection of artists will present an inspirational night of art and performance at Turbine Montage, located at Thymele Arts in Hollywood. This Sunday evening's performers include artist Pam Noles, puppeteer Liz Hara, performance artist Dimitri, writer Sarah Klegman, and musician Michael Mortilla. There will also be free wine, water, and treats. The suggested donation is $10. RSVP by emailing [email protected].
39. El Cid hosts a live recording of Kim and Ket Stay Alive…Maybe, a comedy podcast in which two friends each describe a horror movie the other hasn't seen and discuss how they might survive. 
40. Free Museum Day: Museum of Latin American Art and Craft and Folk Art Museum (pay what you can).
Food Pick for the Week
This week's pick by Christina Champlin, Co-Founder of We Like L.A.
Revered Cantonese chef Tony He will host a grand opening celebration for Chef Tony, his all-day dim sum concept in Old Pasadena, on Saturday, March 14. Dishes are made-to-order and prepared with ingredients not normally associated with the cuisine. Examples include Chinese broccoli with black truffle sauce, shrimp dumplings topped with gold leaf, and coconut pudding shaped like adorable white rabbits.
He is recognized as Vancouver's best elevated Chinese and dim sum restauranteur but also earned local acclaim for Sea Habour Seafood in Rosemead. Food critic Jonathan Gold called it the "best in California" in 2004, and continued to offer praise throughout the years.
Now, He says the goal of Chef Tony's first U.S. location "is to create a memorable dining experience, serving dim sum to a new generation of diners. Guests are welcome to sit at the bar solo, order a cocktail, and try our house special dim sum platter or celebrate with a group of 30 in our private dining room."
Stop by this Saturday for a few delicious freebies. The first 300 guests will receive two free dim sum dishes. After that, all guests will receive one free dim sum dish when dining in. One of our favorite options is the Steamed Lava Salty Egg Yolk Bun. But, you can't go wrong with any of Chef Tony's creations, so bring a few friends and try a little bit of everything.
Chef Tony is located at 2 E. Colorado Blvd. in Pasadena.
---
Want to get our to-do lists straight to your inbox every week? Sign up for our email program. Have an upcoming event you'd like to suggest for listing? Drop us a line at [email protected]