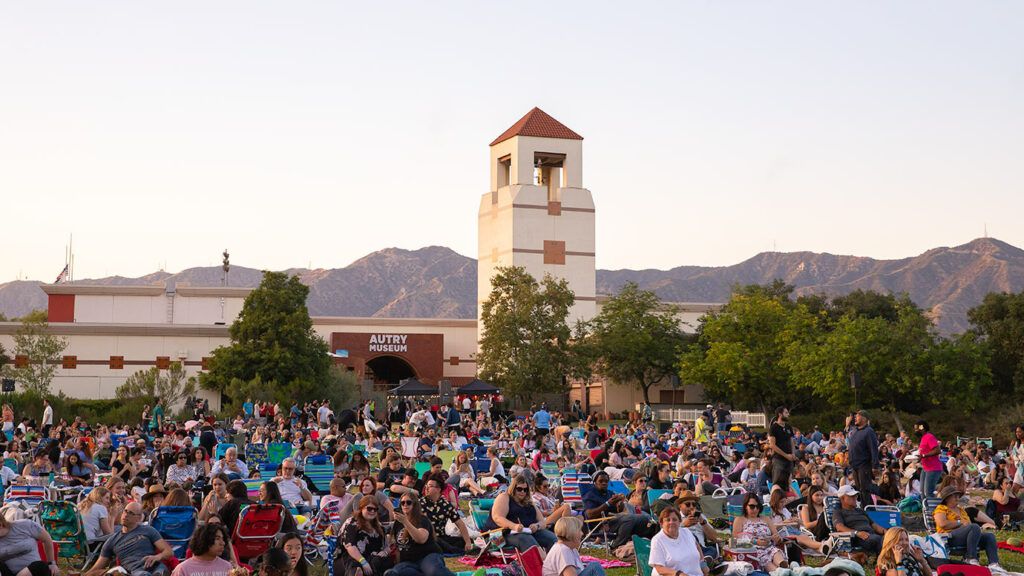 We're closing out another month in the city of angels with a terrific lineup of events.
For April 28-30 in Los Angeles you'll find an Arts Party at The Hammer, Jazz at LACMA, the Brewery Artwalk, Bob Baker Day, a star party at Griffith Observatory, Street Food Cinema at The Autry, Jackalope in Pasadena, a Pizza Fest at L.A. LIVE, KCRW's Good Food PieFest, the Smorgasburg LA Art Fair, and MUCH more. Enjoy your weekend!
Things To Do This Weekend
Arts Party: Saturated -> This Friday, college students from all over SoCal will meet up at The Hammer Museum a joyous evening of live performance and after-hours access to the galleries. Guests can check out music by BJ the Chicago Kid and Cruza, attend workshops by L.A. Zine Fest, snag temp temporary tattoos by Roberto Euán, and and get free cookies from Insomnia. The party runs 7 to 10 p.m. Free to attend, no ticket required. More info here.
Jazz at LACMA -> On Friday, catch a live jazz performance at LACMA's Smidt Welcome Plaza by the Los Angeles Jazz Orchestra. Concerts runs 6 to 8 p.m. Free to attend, but seating is first-come, first-serve. More info here.
Under the Tuscan Groundlings -> This Friday, a new sketch comedy show called Under the Tuscan Groundlings opens at The Groundling's Theater featuring members of the Main Company, and directed by Lisa Schurga. Friday's opening night also includes a post-show party with the cast featuring Italian food, snacks, wine and beer. Tickets are $50. Show begins at 7:30 p.m. More info here.
Empowerment: Corita + Dolores -> This Friday to Sunday, the Los Angeles Department of Cultural Affairs honors the the legacy of Corita Kent (American artist, designer, educator, social justice activist and former religious sister) and Dolores Huerta )American labor leader and civil rights activist) with three days of performing arts and documentary screenings, all taking place at Lankershim Arts Center in North Hollywood. All events are free to attend. Get more info here.
The 13th Eclectic Music Festival & Art Crawl -> The South Pasadena festival returns on Saturday with dozens of diverse musical acts on stages and intimate venues all across town. An array of other activities are also on the dock including open galleries, beer and wine gardens, family friendly things to do, food trucks, an Artisans' Alley marketplace and a South Pas Vintage Village. Runs 3 to 10 p.m. Free to attend. More info here.
Public Star Party -> On Saturday, Head to Griffith Observatory to try out telescopes, gaze at celestial objects, and pick the brain of volunteers from the Los Angeles Astronomical Society, the Los Angeles Sidewalk Astronomers, and The Planetary Society, who will all gather as part of the Observatory's monthly Star Party series. Runs 2 to 9:45 p.m. More info here.
Street Food Cinema -> The 2023 lineup of Street Food Cinema kicks off on Saturday with a screening of the Oscar-winning Everything Everywhere All At Once at The Autry on April 29. SFC screenings continue weekly through the rest of the summer (film dates are up through June 24 as of publication of this post) at venues including Verdugo Park and L.A. State Historic Park. Advance GA tickets start at $22. More info here.
Taste of Home -> This Saturday, People Assisting the Homeless (PATH) hosts its second annual food fundraiser, Taste of Home, at Sunset Las Palmas Studios in Hollywood. Over 30 local vendors will participate including Ayara Thai, Shlap Wings and Irv's Burgers. Tickets start at $95. Proceeds from ticket sales will support PATH's mission in ending homelessness in Los Angeles.
Grand Performances -> This Saturday, Grand Performances and Pakistan Arts Council, LA present a performance by singer and composer Ali Pervez Mehdi. The concert takes place at California Plaza from 6 to 10 p.m. and is free to attend. More info here.
Open Stage at The Elysian – Open Stage at The Elysian Theater is an open invite for performers looking to workshop their comedic ensemble (meaning two or more people) material to a live audience. Also, free pizza! The next edition of the series runs this Saturday from 2:30 to 5 p.m. More info here.
Yoga On The Mountain -> On the last Saturday of the month, the Santa Monica Mountains Fund hosts a morning of outdoor yoga and live acoustic music at the King Gillette Ranch in the heart of the Santa Monica Mountains. All skill levels are welcome. Free to RSVP, and reservations are required to attend. More info here.
Jackalope Pasadena -> Jackalope brings its artisan market back to Central Park in Old Pasadena for a two-day event showcasing this Saturday and Sunday featuring over 200 local vendors selling indie goods, clothing, jewelry, home decor, housewares, art, photography, and food. Outdoors. All-ages. Free to attend. Runs 10 a.m. to 5 p.m. both days. Get more info here.
The Brewery Artwalk -> The twice annual open studio weekend at the Brewery Art Complex returns this Saturday and Sunday with dozens of participating artists showcasing their works. Free to attend. Runs 11 a.m. to 6 p.m. both days. More info here.
Renegade Craft Fair -> This Saturday and Sunday, the Renegade Craft Fair takes over the Santa Monica Airport Interim Open Space for two days of exploring over 200 small businesses, makers and artists. Runs 11 a.m. to 5 p.m. both days. More info here.
Pizza City Fest -> Twenty pizza vendors are expected to fire up their signature pies for this new food festival happening at L.A. LIVE on Saturday and Sunday. It addition to the selection of slices, expect a number of salad vendors, dessert participants, collaborations as well as panels and demos from respected pizza masters will be part of the festival. Tickets start at $95. More info here.
An Evening with David Sedaris -> For two nights (this Saturday and Sunday) humorist, essayist, and short story writer David Sedaris stops by The Theater at ACE Hotel to share published stories, diaries, and works-in-progress live on stage. Tickets start at $49.50. Shows start at 7:30 p.m. both nights. More info here.
Bob Baker Day -> On Sunday, The 9th annual Bob Baker Day brings a festive carnival atmosphere to Los Angeles State Historic Park, including music, games, and puppets from the Bob Baker Marionette Theater. The event is free to attend, but suggested donations of $20 are happily accepted to support the theater's mission. Runs 10 a.m. to 5 p.m. RSVP is required. More info here.
Good Food PieFest -> KCRW's Good Food PieFest & Contest comes to Royce Quad on the campus of UCLA this Sunday with hundreds of pies, baking demos, a marketplace, beer garden, kids activities, access to the Fowler Museum galleries, and more. Runs noon to 5 p.m. Free to attend with RSVP. More info here.
Cinco de Mayo at LA Plaza -> Join LA Plaza this Sunday for a free event celebrating the battle of Puebla. Guests can expect live music and dance as well as art workshops, with food and drink available for purchase. Starts at noon. More info here.
Montrose Craft Beer Fest -> The Montrose Craft Beer Fest returns to Honolulu Ave. on Sunday with annual showcase featuring 20 brewers and breweries from the Los Angeles area. Guests can enjoy beers paired with delicious food samples, various booths, lawn games and music. Tickets start at $55. Runs noon to 4 p.m. More info here.
Smorgasburg LA Art Fair -> Curated by Art Share LA and Shadow Box Gallery, the first-ever Smorgasburg LA Art Fair comes to the weekly food market this Sunday with a selection of artisan vendors including ceramicists, painters, and woodworkers, plus a photo zine swap meet. There will also be performances and live painters layered into the day's programming. The market runs 10 a.m. to 4 p.m. Admission free. More info here.
Dining & Drinking
(picks by Christina Champlin)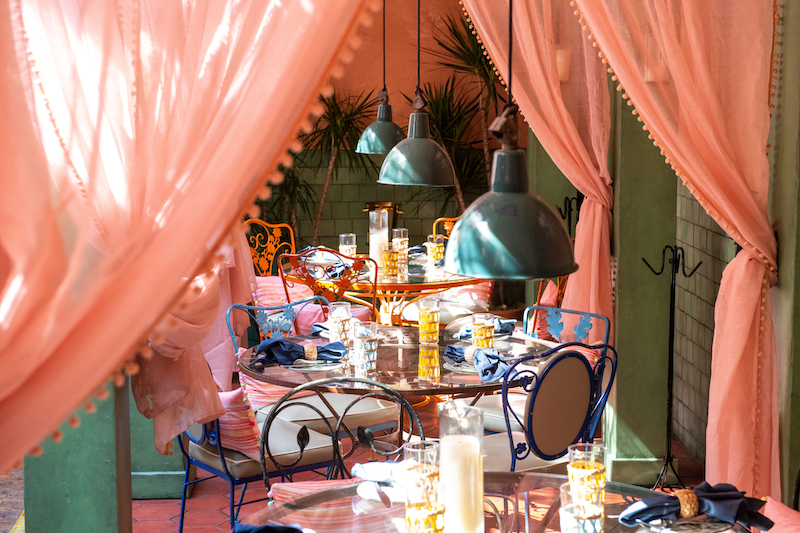 DineLA -> DineLA returns April 28 to May 12 with specially-priced lunch and dinner menus at restaurants all over Los Angeles County. From Pasta|Bar in the valley, to Yangban Society in Downtown and The Hideaway in Beverly Hills the options and type of cuisines are endless. Deals can run as low as $15 for lunch and around $65 for the extra fancy dinners. Get all the info and menus here.
Filled Market -> Celebrate the last weekend of Filipino Food Month (aka Buwan ng Kalutong Pilipino) at Filled Market this Saturday. Taking place at the Manila District in Downtown, the pop-up market features local Filipino-owned brands, food vendors and artisans. More info here.
Smashin Saturday at Common Space -> This Saturday, Hawthorne's Common Space Brewery hosts an all day smash burger and beer event featuring Back to the Burger and Hamburgers Nice. The burger bash kicks off at noon. More info here.
---
Want to get the best things to do in L.A. sent straight to your inbox? Join over 60,000 Angelenos who subscribe to our twice weekly email newsletter!
By subscribing, you agree to our terms of use and privacy policy and consent to receive emails from We Like L.A. about news, events, offers, and partner promotions.