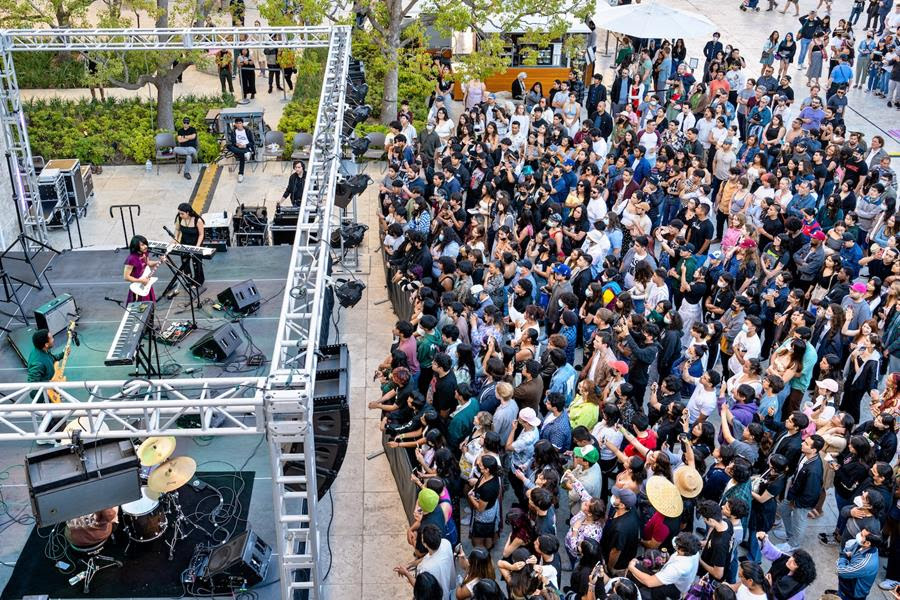 Free concerts. Open streets. Community healing. A neighborhood fair. This weekend, it's all about public events in public spaces, and we are definitely here for it.
For May 19-21 in Los Angeles, you'll find Salsa Night at Ivy Station, Beach Streets and LB Proud! Fest in Long Beach, CicLAmini in Watts, Museums of the Arroyo Day, Pick Pico Festival, NHM's Bug Fair, a Macabre Masquerade, Off the 405 at The Getty, and more. Your weekend starts after the jump!
Free Ideas Taking Metro
Did you know that every Wednesday we collaborate with Metro Los Angeles to create a fun guide of 5 free things to do for the weekend that are also accessible through Metro's rail and bus service? Check out our top two picks below, and be sure to scope out the full guide here.
Beach Streets in Long Beach -> The City of Long Beach brings "Beach Streets" to Downtown LB this Saturday, all anchored around a 2.5 mile stretch of Broadway closed to vehicular traffic from Pine Ave to Redondo Ave. Expect multiple hubs offering DJ sets, skate demos, live music, marionette performances, a Kids Zone, and more. PLUS: Beach Street intersects with the LB Proud! Fest at Bixby Park (just off Broadway) which includes 3 stages of music, a queer bicycle parade, and beer garden. Beach Streets runs from 11 a.m. to 5 p.m. Proud! Fest goes from 11 a.m. to 7 p.m. Both are free to attend. More info here.
GO METRO: Take the A Line to 1st St station OR take the 60 line along Long Beach Blvd.
CicLAmini Watts -> The second CicLAvia event of the spring heads to Watts this Sunday for a "mini" course that runs north on Central Ave, then east along 103rd. Expect the usual pedestrian-oriented experience featuring activities such as self-guided walking tours, scavenger hunts, street games, local business engagements, and art and cultural activities along the entire 2-mile open streets event. Runs 9 a.m. to 3 p.m. Free to attend. More info here.
GO METRO: Take the A Line to 103rd / Watts Towers station OR Take the 53 Line along Long Beach Blvd OR Take the 55 along Compton Blvd.
Things To Do This Weekend
M = Less than .5 miles from an L.A. Metro Station, FA = Free Admission, TP = Top Pick
Odd Nights at The Autry – TP > Odd Nights at the Autry return every third Friday of the month now through September. Expect an indie bazaar populated by funky vendors, food trucks, and live music. Runs 5 to 10 p.m. Tickets are $5 and parking is free. More info here.
Salsa Night at Ivy Station – M FA > Dance the night away with a free evening of salsa instruction and live music at Ivy Station this Friday. Instructor Pepe Gonzalez leads a half-hour intro lesson starting at 6:30 p.m., then the Fermín Sifontes Fusion Salsa Band plays an extended set from 7 to 8:45 p.m. Free and open to the public. More info here.
Cinespia – M > Every summer, Angelenos pack a picnic basket and head to the Hollywood Forever Cemetery for screenings of films modern, cult, and classic. This year Cinespia has moved to L.A. Historic Park for a bigger and more spacious screening environment. This Friday, the series kicks off with a screening of Lord of The Rings: The Fellowship of the Ring. Doors open at 6:15 p.m. Tickets cost $22 per person. More info here.
Jazz at LACMA – FA > The Los Angeles County Museum of Art hosts free jazz concerts on Fridays at Scmidt Welcome Plaza. This week, catch a performance by Oscar Hernández & Alma Libre. Starts at 6 p.m. Seating is first-come, first-served. More info here.
Electrify Expo – M > This three-day (Friday to Sunday) event at the Long Beach Convention Center showcases the latest in the world of electric vehicles, offering guests test drives on demo courses, special exhibits, a lineup of experts to chat with, and even a kids zone. Tickets for the public days (Saturday and Sunday) cost $20. More info here.
It's a Coop Party at Manuela! – FA TP > Meet the new baby chicks of The Hungry Gardens at Manuela this Saturday, with an assist from nonprofit RuckusRoots and visual artist Jamia Weir. The Coop Party will include family-friendly chicken-focused activities, an interactive art installation, a chance to hold baby chicks and participate in the chicken naming raffle. Runs 10 a.m. to 1 p.m. Free to attend. More info here.
Heal Hear Here – M FA TP > Los Angeles nonprofit L.A. Freewaves have organized a special healing event at L.A. State Historic Park for this Saturday featuring performances, an ancestral walking tour, a labyrinth with listening, dancing, drumming circles, meditation sessions, poetry readings, a community sculpture, tea serving, bike rides, and workshops from 30+ artist groups/organizations. Runs 3 to 7 p.m. Free to attend. More info here.
Off The 405 at The Getty – FA > On Saturday, The Getty's annual Off the 405 series returns with a performance by SPELLLING, supported by DJ Zuri Adia. Concerts continue monthly through August. All are free to attend, though RSVP is required. DJ sets starts at 6 p.m., live performance begins at 7:30 p.m. More info here.
Playa Vista Fit Expo – FA > This Saturday, a family-friendly fitness expo pops up at Concert Park in Playa Vista featuring group exercise classes, demos, games, contests, giveaways, and more. Free to attend, but remember classes require pre-registration on Eventbrite. Runs 10 a.m. to 1 p.m. More info here.
Legends Warehouse Sale – M > This Saturday, DTC athlete-backed menswear brand, Legends will host a one-day Warehouse Sale at 3rd Street Promenade in Santa Monica. The brand is discounting some of their best sellers and some notable names will be in attendance as well. The event is open to the public and free to attend, there is a special promo where you purchase a $15 ticket to get a $20 credit at checkout during the event.
Bidstitch Flea Market – M FA > Bidstitch Flea Market returns this Saturday with another stellar lineup of vintage sellers highlighting their goods in the heart of Old Town Pasadena. Admission is free. Runs 9 a.m. to 3 p.m. More info here.
Cruel World Festival -> On Saturday, the music festival returns to Brookside Park in Pasadena with headliners Iggy Pop, and Siouxsie with a supporting lineup that includes Billy Idol, Love and Rockets, Echo & the Bunnymen, Gary Numan and more. Tickets starting at $159. More info here.
Cosmic Kiki Launch Party + Drag Show at Common Space -> Stop by Common Space brewery in Hawthorne this Saturday for a hoppy extravaganza in celebration of the Cosmic Kiki beer release. Hosted by Queen Vidja D. Gaymez, the party includes a drag show, disco dance party and plenty of beer on tap. Tickets cost $20 and secures access to the show and party, a beer and $10 donation to PFlag. More info here.
NHM's Bug Fair – M > This Saturday and Sunday, the Natural History Museum gets buggy with a weekend-long event highlighting exotic insect collections, bug-inspired artwork and jewelry, bug-tastic crafts, live animal demos, and bug-related products such as honey and silk. Get more info here.
Beverly Hills Art Show – FA > This Saturday and Sunday, over 300 artists are expected to participate in the Beverly Hills Art Show. Taking place in Beverly Gardens Park the event is free to attend and includes a wine and beer garden, demonstrating artists, children's activities, gourmet food trucks and several community exhibits. More info here.
Cajun Shrimp Boil -> Santa Anita Park hosts their annual Cajun Shrimp Boil this Saturday and Sunday. The public are invited to enjoy cajun-style bites from 818 plates, beer and Thoroughbred racing. Tickets start at $47. More info here.
EEEEEATSCON -> On both Saturday and Sunday, The Infatuation's signature food fest comes to the Santa Monica Barker Hangar with a bevy of top restaurants from L.A. and the East Coast under one roof, plus live music and plenty of panels. GA tickets start at $30, but you'll still have to pay for food samples once you're inside. Get more info here.
Artazan – M > Saturday and Sunday, Artazan comes to the Pasadena Convention Center for a two-day event exploring all things hand crafted. Over 200 exhibitors are participating from jewelry to woodwork, ceramics, clothing and food. Tickets cost $8. More info here.
Museums of the Arroyo Day – M FA TP > Five museums and historic homes along the Arroyo Seco offer free admission for the annual Museums of The Arroyo Day, this Sunday. Participants include The Gamble House, Heritage Square, the L.A. Police Museum, the Lummis Home, and the Pasadena Museum of History. Free shuttles connect museums for those who want to visit multiple locations. Runs noon to 5 p.m., with last admission at 4 p.m. More info here.
Macabre Masquerade: A Gothic Masquerade Experience – M > Witches Brew Events (Carnaval de la Lune, The Krampus Tavern, Tiki Noire) are bringing an immersive Masquerade Ball inspired by the works of Edgar Allan Poe to The Globe Theater this Sunday. Expect an evening of themed cocktails, tarot readings, roaming characters, poetry, and photo opportunities, all paired with a seven-act cabaret/burlesque presentation. Tickets range from $69.99-$119.99. Elegant formal or cocktail attire is required. Starts at 6 p.m. More info here.
Pick Pico Festival – M FA > After a three-year hiatus, the Pick Pico neighborhood street fair is back this Sunday with a 100+ booths/vendors, a kids zone, face painting, live entertainment, and food, all centered around the intersection of Pico Blvd and Overland Ave. The last event drew over 5,000 visitors, so expect a crowd! Free admission. Runs 11 a.m. to 3 p.m. More info here.
Dining & Drinking
(picks by Christina Champlin)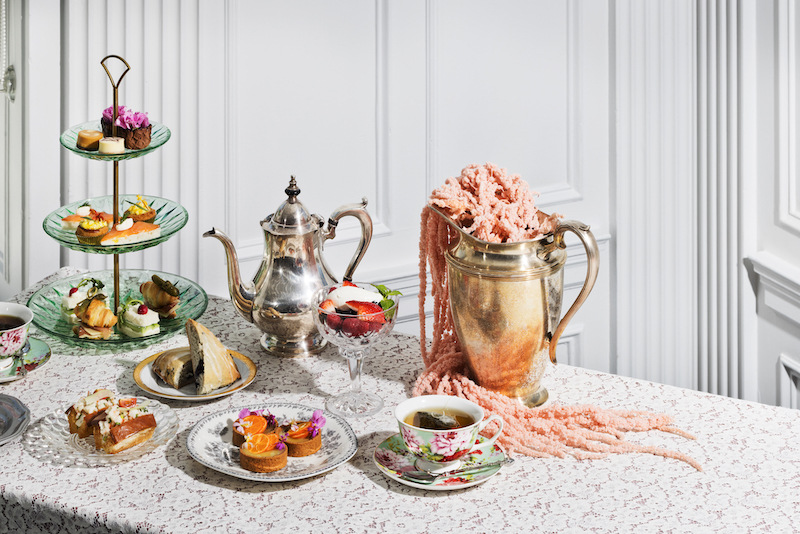 A New Afternoon Tea Experience -> Lillie's at The Culver Hotel will launch a weekly Saturday Afternoon Tea service between 10 a.m. to 2.30 p.m. Priced at an approachable $55 per person, the experience includes house-made scones and Petit Fours alongside savory tea sandwiches, pastries and seasonal fruit. Guests can pair their meal with artisanal teas, cocktails and natural sparkling wines. Reservations can be made through Open Table.
Taiwan After Dark -> In honor of AAPI Month, Suntory Whisky and Steep are transporting Angelenos to Asia this Saturday with Taiwan After Dark. Guest bartenders from Taiwan's Imbibe Taipei and Bar Lonely will be mixing and stirring up cocktails infused with tea and Asian ingredients. Split into two consecutive Saturdays (May 20 and May 27) Taiwan After Dark runs 4 to 10 p.m. on a walk in, first-come first-served basis.
Looking Ahead…
Eleonore Toulin x Coucou -> On Monday, May 22 Parisian bistro Coucou welcomes French Chef Eleonore Toulin for a seasonally-driven, seven-course dinner at the Venice restaurant. Highlights include Radish and French Butters, Porchetta stuffed with leeks and herbs and Yuzu Lemon Tart Meringue Bites. Tickets are required for the evening and can be purchased via Resy for $100 per person. An option to add on aperitif and wine pairing for an additional $45 is also available.
Mort & Betty's at Jewel -> Vegan deli Mort & Betty's pops up at Jewel in Virgil Village on Monday, May 22 with a menu celebrating Tu Bishvot and the art of deli food, both traditional and new. Taking place from 5 to 9 p.m., guests will find menus featuring Milk Bread Challah, Lemon Strawberry Rugelach, Scallion Latkes, Reuben Tacos and vegan deli items from mushroom pastrami to corned beets. Get reservations and more info here.
---
Want to get the best things to do in L.A. sent straight to your inbox? Join over 60,000 Angelenos who subscribe to our twice weekly email newsletter!
By subscribing, you agree to our terms of use and privacy policy and consent to receive emails from We Like L.A. about news, events, offers, and partner promotions.