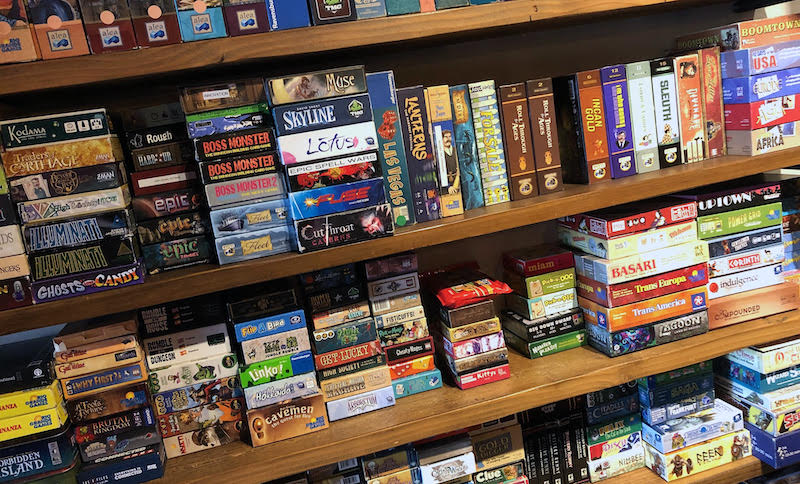 Board game cafes and bars were popular in L.A. prior to the pandemic, with groups of friends gathering over everything from Exploding Kittens to Settlers of Catan or complicated tabletop RPGs. Though they've yet to reopen, GameHaus in Glendale is offering a subscription service that allows you to try new games or play old favorites in the comfort of your home.
Subscriptions are $30 a month and let you borrow two games at a time for up to two weeks. Considering that the cost of a board game can often be about $20-30 or more, it's not a bad deal if you play often and like to try new ones. What games do they have? Well, a lot.
GameHaus' collection includes over 1,800 games, all listed in alphabetical order here. You'll find classic stuff like Sorry and Clue, party games like Cards Against Humanity and Time's Up, and strategy games like Ticket to Ride, 7 Wonders, and Mysterium. If you find the list overwhelming, you can also check out GameHaus' featured and selected games here. Listed are staff favorites, plus suggestions for which games are best for the number of players you have.
Due to COVID-19 safety protocols, you'll have to request and reserve your games in advance—no in-store browsing for now. Once you've done that, pickup hours are Tuesdays from 5-9 p.m. and Saturdays from noon to 5 p.m. When you're ready to try new games, just repeat the request process, drop off your old games, and take home your new ones. Note: all games will be quarantined for at least three days upon return.
GameHaus also offers desserts, which you can also pre-order and pick up with your games. Each week's offerings will be posted to Instagram. For example, this week they've got a classic apple crumble pie ($27), a dark chocolate pistachio pie ($30), cheesecake bars (six for $15), and giant chocolate chip cookies (six for $15).
Curious about what happened to the other board games bars in town? Dragon and Meeple unfortunately closed for good last year. Geeky Teas in Burbank is open for in-store retail, curbside pickup, and shipping of both games and teas. Guild Hall in Burbank remains closed for the time being.