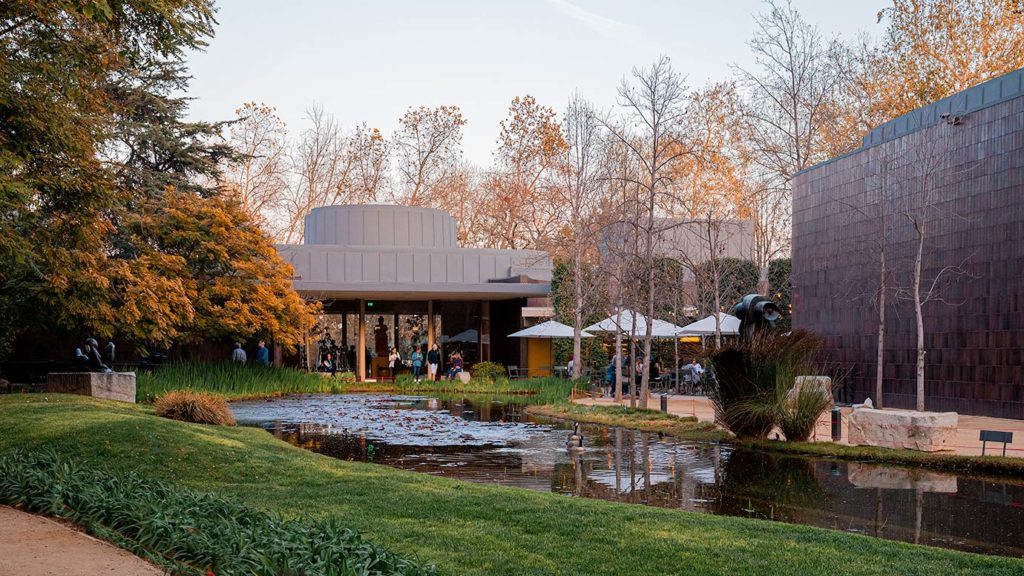 We used to tell you about all the things you could go out and do in Los Angeles on a daily, weekly, and monthly basis. Then, COVID-19 changed life for all of us, in a thousand small and massive ways. Until the pandemic is behind us, we'll post events that adhere to Public Health's current protocols—including plenty of at-home and online events—every Monday and Thursday. We hope they keep you busy, make you laugh, teach you something, or help you feel less alone.
This weekend, we've got a themed carwash, a conversation with Ai Weiwei, virtual poetry slams, online art exhibits and astronomy events, drive-in cinema, a new seafood restaurant, sushi deals, and more. Have something you want to submit for next week? Hit us up: [email protected].
In-Person Events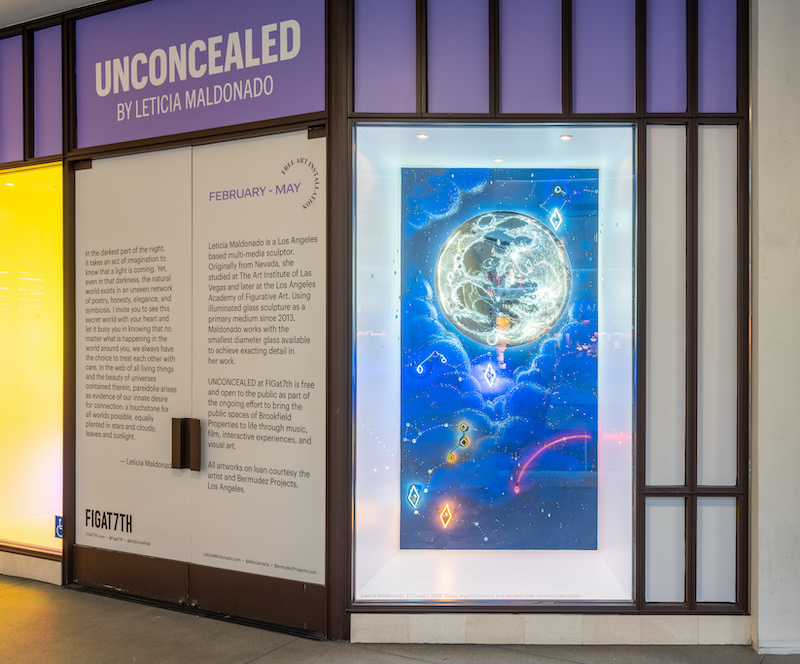 UNCONCEALED by Leticia Maldonado is a new art installation at FIGat7th on view now through May 15, 7 a.m. to 11 p.m. In one window, find a twinkling nightscape, neon stars, and El Conejo, an etched mirrored moon. In another, find three neon roses.
FX is celebrating its upcoming fourth season of Snowfall with a free, themed carwash at 3601 W. Slauson Ave. The event includes a drive-thru wash tunnel with 80s-style lights, music, and effects. FX has also partnered with Official Black Wall Street and KJLH to support local, Black-owned businesses. The car wash is open Feb. 19-21 from 9 a.m. to 5 p.m. It's first-come, first-served, but you'll also need to RSVP for a specific time slot here.
Go for a morning stroll with your dog on Feb. 21 at South Coast Botanical Gardens. Tickets are $15. This event takes place every third Sunday.
The Rose Bowl is hosting a Drive-Thru Fair Foodie Fest Feb. 12-28 featuring fair foods like turkey legs, deep-fried Oreos, and doughnut cheeseburgers. Admission is free, but you'll have to pay per item. Register online in advance to receive a free mini funnel cake.
Insomniac presents Electric Mile, a drive-thru festival experience inspired by the unique worlds of signature events including EDC, Beyond Wonderland, Nocturnal Wonderland, Escape, and Countdown. The event takes place at Santa Anita Park through Feb. 28 and features music, a warehouse rave, 5 million lights, installations, and more.
Drive-In Theatre at The Hollywood Roosevelt screens classic films every Sunday in the hotel's valet lot. This weekend, catch The Wedding Singer. Tickets start at $45.
Street Food Cinema pivots to a drive-in format starting Friday, Feb. 19 with movie screenings all weekend long at the Santa Monica Airport. Friday's slate includes Toy Story and Who Framed Roger Rabbit.
Hollywood Legion Theater at Post 43's drive-in cinema will screen Nomadland Friday through Sunday. Open seven days a week, reservations include popcorn, soda, and candy for each guest. Tickets start at $65 for two people.
Magic Asphalt, the stand-up comedy drive-in located in the parking lot of the Magic Castle, returns this weekend with shows two shows on Feb. 20. To see the full lineup, various showtimes, and meal package add-ons, go here.
Through March 15, Downtown Santa Monica, Inc. will recognize Black History Month with a series of art installations by Black artists including Tiayrra Bradley, Shplinton, and Mira Gandy. All three pieces can be found on the Third Street Promenade. Exact addresses and more info here.
Glendale's Electric Dusk Drive-In will be screening Basic Instinct, La La Land, and The Lady and the Tramp this weekend.
WE Drive-Ins in Santa Monica is screening Minari all week long. The film follows a Korean-American family's move to an Arkansas farm in search of their own American dream.
The Marina Drive-in's weekend (Feb. 19-20) offerings include Up and Charlie and the Chocolate Factory. All screenings begin at 6:30 p.m. with doors an hour earlier. Tickets are $20 per car. Nearby restaurants are open for outdoor dining and takeout if you're looking for a meal to enjoy beforehand or in your car.
At-Home & Online Events
Angel City Brewery's new quarterly panel series kicks off on Feb. 21 at 2 p.m. with Crafting Conversations: Black in Beer. The panel includes Josie Becker of Common Space Brewery, Robert Scott of LA Ale Works, Tyler Sadler of Brew'd Up Podcast, Cait & Brite of Beers A' Go Go, and Samuel Chawinga of Boomtown Brewery.
In celebration of Black History Month, the American Cinematheque and the African American Film Critics Association present a panel with Shaka King, Philippe Lacôte, Franklin Leonard, Ekwa Msangi, Euzhan Palcy, and Kemp Powers on examining the diversity within Black identity through their careers in cinema. Moderated by Gil Robertson, President of the AAFCA, the event is on Feb. 20 at 11 a.m. Sign up here.
The Skirball presents a rare conversation with visual artist, filmmaker, and political activist Ai Weiwei on Feb. 21. Weiwei has dedicated his life and career to speaking out against human-rights violations around the world. This event is free to attend and will premiere on YouTube.
The Autry presents a virtual screening and a Twitter watch party of Thom Andersen's documentary Los Angeles Plays Itself on Feb. 20.
The Norton Simon Museum presents A Trio of Treatments: Conserving Manet, three short videos about the conservation of three Édouard Manet paintings. Watch here.
On Feb. 19 at 6 p.m., join LACMA for a virtual poetry slam inspired by "Vera Lutter: Museum in the Camera."
On Feb. 19 at 5 p.m., NewFilmmakers Los Angeles (NFMLA) hosts a conversation with Will Packer and Shayla Cowan from Will Packer Productions. They'll discuss production and development for film and television, the current production landscape, and industry success with the New American Mainstream audience. Watch here.
Check out LA Plaza de Cultura y Artes' exhibit "afroLAtinindad: mi casa, my city" virtually here. The exhibit "explores the history and contemporary experiences of Afrolatinidad in Los Angeles through art, photographs, and personal objects."
Santa Monica College's John Drescher Planetarium's Friday evening event The Night Sky Show is a free, live virtual program that shares the latest news in space exploration and astronomy. Freeware sky visualization tools show guests the constellations, planets, and deep-sky objects in the SoCal night sky. The 30-minute show will be followed by a short Q&A.
Long Beach's International City Theatre opens its 36th season with a virtual presentation of Yasmina Reza's Tony award-winning play Art. It streams on-demand Feb. 18 through March 8.
Frieze goes digital this year with a three-day (Feb. 17-19) broadcast that brings together some of the leading voices in art and culture for in-depth discussions, performances, and much more. Access the Anniversary Sessions: 30 by becoming a member for $50.
Japan House LA presents its next virtual exhibition, "NATURE/SUPERNATURE: Visions of This World and Beyond in Japanese Woodblock Prints" on Feb. 15. The exhibit includes three sections. Woodblock Printing goes over the history and process of the art form. Nature depicts landscapes from Japan. Supernature depicts supernatural beings. View online through May 31 here.
Truth in Photography is an open-ended online forum to talk about photography and social change that launches on Feb. 19. Per a release: "This interactive project questions the singular truth of photography by presenting multiple points of view, featuring a diversity of curators, photographers, critics, and historians, integrating vernacular photography, photojournalism, and fine art photography. Truth in Photography interrogates the nature and intentions of the medium and examines the relationship between the photographers and their subjects." The launch also includes three curated exhibitions on view for Winter of 2021.
Universally Unknown hosts a virtual reception for artist Meghan Hedley's "High Desert." Hedley's work is inspired by the New Mexican landscape and "the journey that brought her to her new home on a ranch filled with horses, goats and animals while really playing on the color and spirit of the desert." The event is on Feb. 20 at 6 p.m. Register for the Zoom link here.
California Craft Beer Week officially kicked off on Feb. 12 featuring virtual events including panels on bold beer pairings, the resurgence of the IPA, homebrewing, and more. Other online tastings and pop-up events are happening across the state, so definitely check out the full lineup here.
New York-based gallery Arcade Project Curatorial's latest online art show California Lite brings together 26 multicultural artists living in California to present their interpretations of light and life under the California sky. Free to view. Runs Feb. 10 through March 17.
Grand Park's Lovers Rock is a two-week digital festival this year, focused on music and food, "rooted in the Reggae sounds of the 1970s and in Caribbean nightclubs in London." Viewers can enjoy on-demand entertainment and vegan recipes on Grand Park's digital channels Feb. 12-28. Guests include The Wailers' Aston Barrett., Jr., Morning Becomes Eclectic host Novena Carmél, DJ Rashida, Storm the DJ, and more. Recipes come via Angela Means Kaaya, founder of Jackfruit Cafe.
Modernism Week, Palm Springs' premier midcentury architecture and design event, is virtual this year (Feb. 1-28) with an array of online experiences you can stream safely at home.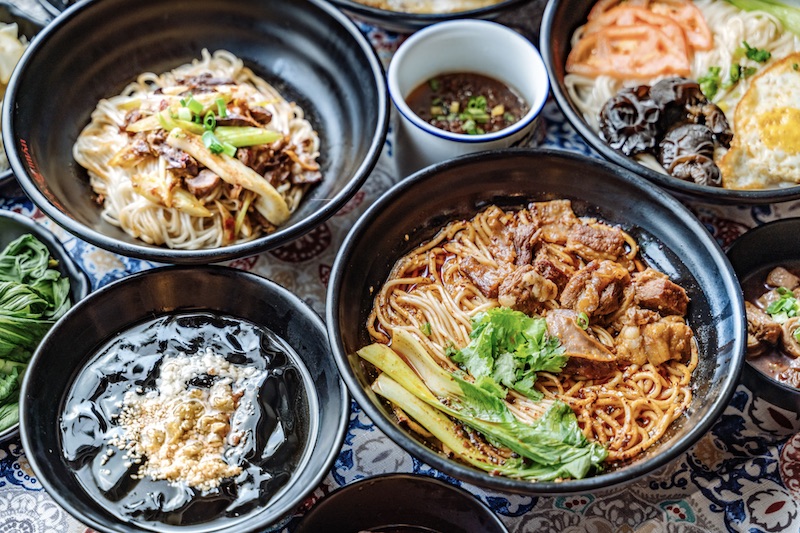 Pickup & Delivery
Chef Dominique Crisp's Saso is now open in Pasadena, featuring an extensive seafood menu available for lunch, happy hour, and dinner. Some options include the Jamon Iberico Sandwich with maple butter, jicama, and handmade white bread; Navarra-style Bone-in Wagyu Tomahawk and Alaskan Mussels with fennel, charred leek, and chistorra; Txangurro Tortas / dungeness crab cakes with queso navarra, hot peppers, avocado crema; and Pasta Saso with handmade duck egg-yolk pasta, shellfish, fin fish, prawns, and ginger. Takeout and outdoor dining available.
In honor of National Flirting Week (Feb. 14-21), Japanese delivery concept Krispy Fish has teamed up with dating platform Tinder on limited-edition combo boxes to enjoy at home or on a socially distanced date. From Feb. 12-28, order up a "Hold My Handroll" box, "Plenty Of Fish In The Sea" box, or "Soul Mate" box and receive a one-month membership to Tinder Gold on the house.
Mian, the Chongqing noodle house from chef Tony Xu (Chengdu Taste), opened a third location in Artesia last week. In partnership with local restaurateur Bill Chait, this specific location features a number of exclusive menu items including Chengdu beef jerky, thousand-year-old egg with torched chili sauce, and a Mung Bean Horchata cocktail.
Bloom and Plume Coffee in Westlake has teamed up with Community Loving to collect school supplies and monetary donations for students at 153rd Elementary School. Donate supplies through a registry, or drop items off at the coffee shop to receive a drip coffee on the house. Donations will be taking place all month long.
---
Need more delivery and takeout options? Check out our latest comprehensive guide here.