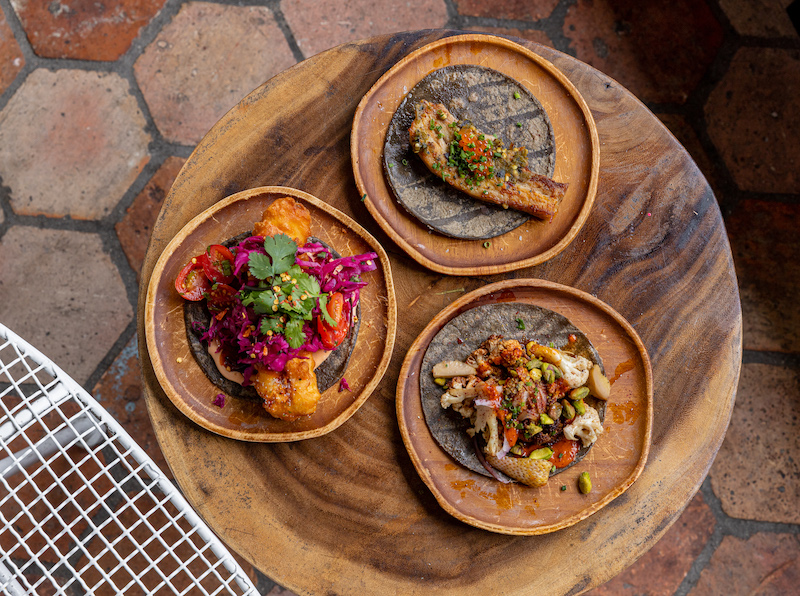 The late Jonathan Gold once said that "A taco, it could be argued, is the basic unit of consumption in Southern California, the parcel of corn and spice and animal whose masters line our boulevards, a food whose reach extends from the meanest barrio streets to the heart of Beverly Hills." With so many options to choose from, the average Angeleno may spend their whole lives searching for the perfect taco. But what is the perfect taco?
We probed the minds of five Los Angeles taco masters to get their verdict on what makes the ideal taco, from basic ingredient formats to specific flavor combinations, to preparation secrets.
You can read their responses below. But, just a fair warning, their answers will likely make you very hungry!
Gilberto Cetina, Chef/Owner of Chichen Itza and Holbox.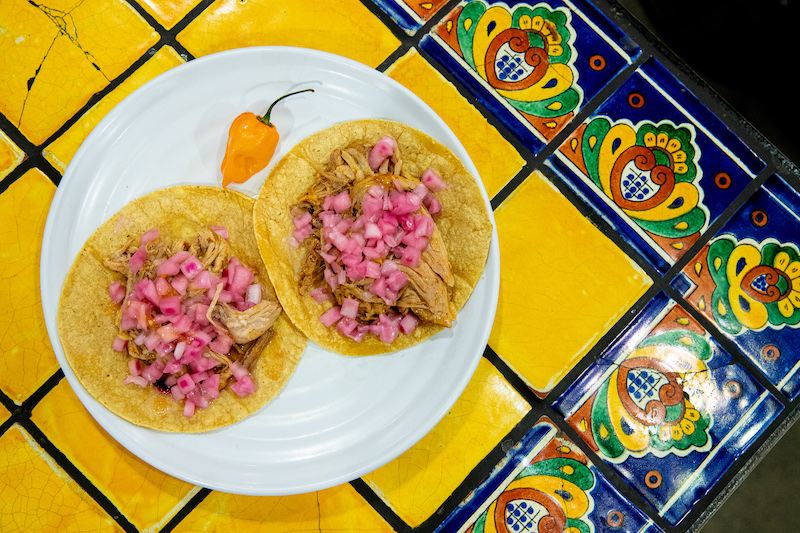 What is your favorite taco on the menu?
The cochinita pibil taco. It's the number one item on the menu because it's delicious and best represents Yucatecan cuisine. It has its roots in pre-Columbian cuisine; the thing that helped Mesoamerican tribes survive were corn and the tortilla.
What ingredients go in your tacos?
The first thing is the tortilla. It has to be a good quality tortilla. Ours are made at La Princesita in East L.A. They're organic, non-GMO yellow corn. The flavors of the tortilla play a lot into the final flavor of the taco. Ideally, all the ingredients should come together as a composed dish. The components that make a great taco are number one, the tortilla; number two, protein or vegetable; whatever's in it, it needs to have a good flavor and acid. You need that acid to balance the other ingredient, which is fat.
What kind of preparation goes into making your tacos?
Pork is obviously the main ingredient in cochinita pibil. At Chichen Itza, we use a mix of pork butts, pork belly and rib. The pork belly is skin on because we want that component of flavor. Traditionally, it's made with whole pig and we try to represent the whole pig with those three ingredients. The pork is marinated with sour orange and achiote. Sour oranges have the sour of a lemon and the sweetness of an orange; the flavor is a combination. Cochinita pibil is normally cooked in a pit, which we don't do here for health department and practical reasons. In pit cooking you have the initial temperature burst when you put the pan into the pit that's been lit or has hot stones. The temperature's high and you smother it, then you're left with residual heat which slowly tapers off. That gives the pork a level of caramelization during the first level of the cook, but then it tapers off and finishes off the cooking very gently.
What we do at Chichen Itza to mimic that process is we cook our cochinita pibil with a marinade and wrap it in banana leaves. We place it in an oven, but the oven isn't on, it's off completely. Into the bottom of the oven, we place the ashes and embers from our wood-burning grills. We place the pans with pork on top of that, wrapped in banana leaves, and we close the oven. For the first couple hours of cooking, the temperature of the oven does get into the 400-degree range, but then the heat tapers off. We don't manage to trap enough steam in the oven like pit cooking does, but it's as close as we can to the regular process. The other cool thing that does is it puts a smokiness onto the cochinita pibil which gives it its characteristic aroma and flavor as if it were pit cooked.
What should the ideal taco taste like?
A cochinita pibil taco should be porky, acidic, smoky and fatty. Those are the markers of a good cochinita.
Gary Huerta, Partner at Cena Vegan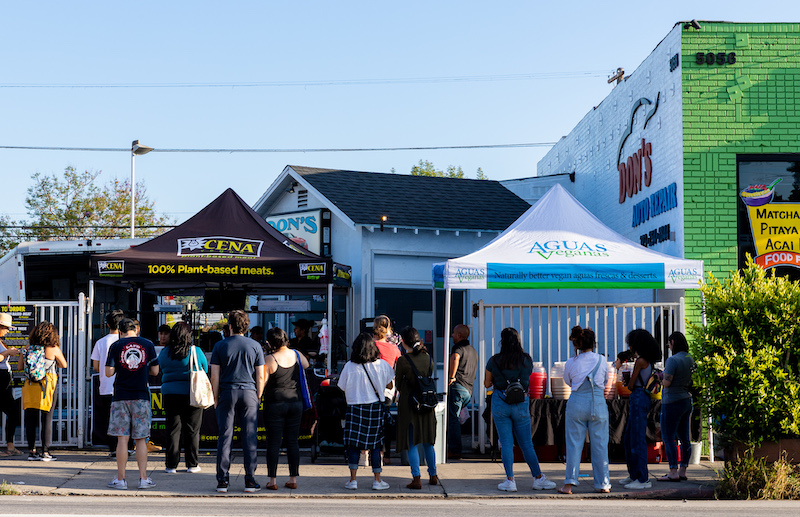 What is your favorite taco on the menu?
I go with about 60% of our customers and say the carne asada is awesome. At any street vendor you can get a carne asada and I'm proud that ours can stand up next to any of the meat ones around. It's just as good an in a way, it's better because at least you know you're getting non-GMO.
What ingredients go in your tacos?
All of our tacos are plant-based using plant-based meats, so we have four kinds: al pastor, barbacoa, carne asada and pollo asado. That's what we use as our meat; we also make our own salsas and condiments. We press all our tortillas fresh on-site.
What kind of preparation goes into making the tacos?
We serve a traditional street taco, which is basically "meat", cilantro and onions, homemade salsas and pico de gallo. We also add a guacamole made fresh and a chipotle-cashew crema. But our tacos are very much the traditional L.A. street taco. So, in terms of our preparation, the only thing we do that is different than what a regular meat taco might be on the street is that our plant-based meats are prepared at our kitchen in Cypress Park before they come out. Otherwise, it's no different than any other street taco. We make our own tortillas with organic masa.
What should the ideal taco taste like?
That's a tough question to answer. In a way, the taco has become the Los Angeles equivalent of New York's pizza. There's the traditional taco, which we make, and those should be authentic as hell, which ours are. Bottom line, is I think a taco should be authentic. I've had a lot of other tacos that are fusions that are made with really amazing things, and those are amazing things on their own merits, but I would say a taco is an interesting vehicle to either be traditional or for a chef to express their vision.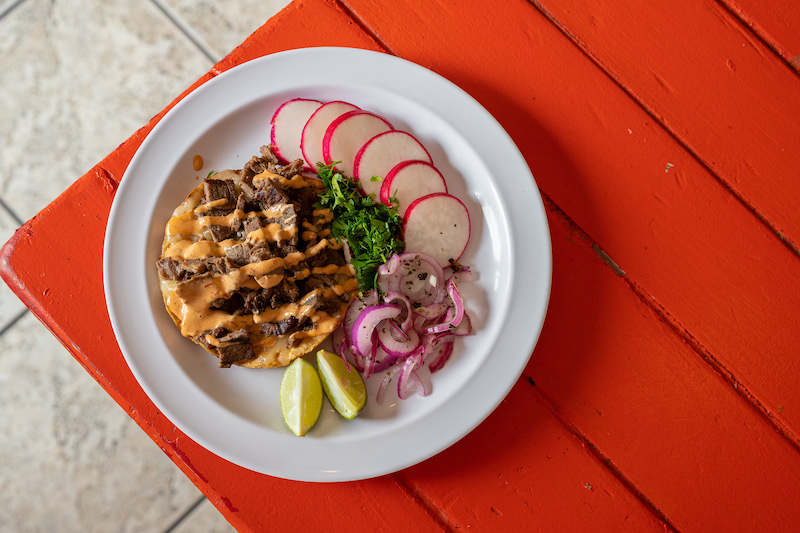 What is your favorite taco on the menu?
My favorite taco at Mexicali Taco & Co. is the carne asada cachetada. It's an opened flamed tortilla grilled til its charred and smoked making it super crunchy. Melted Jack, flame broiled skirt steak, and a chipotle aioli to top it off! It's a flavor combination like none other.
What ingredients go into your tacos?
Tacos in Mexicali are simple. That's what makes it great. It's served plain just meat and tortilla. It's the Mexicali way. It consists of really a nice cut of skirt steak grilled over high heat over open flame to give it a nice char notes and at the same time locking the juices inside. Meat is wrapped in quality corn or flour tortilla and that's it. Then it's taken to the salsa bar where guests can customize their taco experience. Anywhere from very hot habanero salsa verde, to medium chile de árbol salsa to very mild salsa de molcajete. Avocado sauce, minced cabbage, pickled onions cilantro, onion, pico de Gallo and so on.
What type of preparations go into making the tacos?
There is a lot of preparation that goes into a taco even though it looks simple. Each salsa has its own characteristics. Some for instance, the vegetables are grilled; some are braised, others fried, and others are fresh. The meat has to be marinated for at least 24 hours. Then there's the actual assembly of the taco. Is all about timing. Grilling the meet and tortilla at the proper time.
What should it taste like?
We have three main types of tacos at Mexicali. The carne asada being the most popular. The chicken and the al pastor. Carne asada has a flavor of a well-executed steak like one you would find at a steakhouse. The grill flavor of the meat should really stand out. The chicken is also grilled and should remind you of a backyard barbecue; a hint of Smokey pepper and citrus should really stand out. Last but not least the al pastor. Grilled over the spit allows for a different flavor profile. Not quite grilled or charred. It's a very unique juice from the pork and the achiote pineapple marinade cascading over the other layers that makes it delicious. All of these meats combined with your own touch of salsas from the bar could make it a very unique taco depending on your style.
Adrian Gracia, Chef at Veranda at the Hotel Figueroa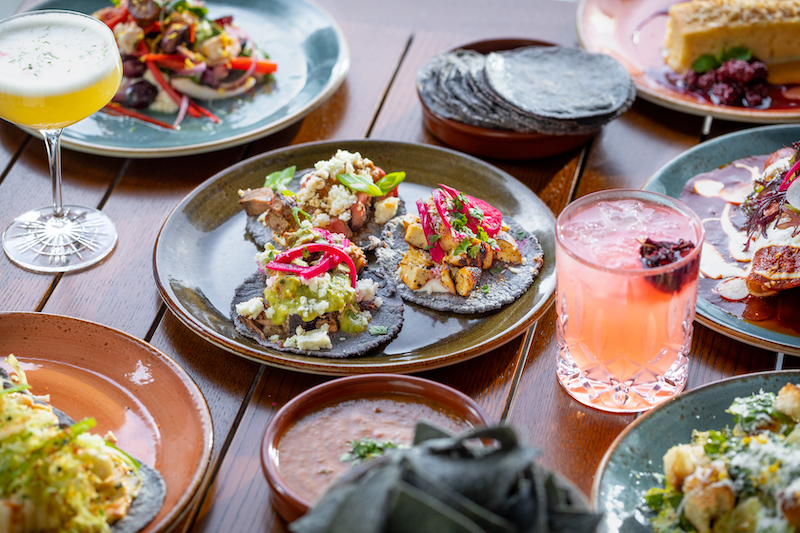 What is your favorite taco on the menu?
The chicken taco happens to be my favorite and will give you a charred barbecue flavor on the chicken with a hint of sweetness, and topped with a smoky roasted tomato salsa with a kick. It's then finished with salty cotija cheese and pickled onions for that acidity I enjoy in so much on my tacos.
What ingredients go into your tacos?
We use a variety of ingredients in our tacos, I try to keep the ingredients simple, but when they are combined in a taco they are delicious. We use tomatillos, dry chiles like moritas, anchos, arbol, and guajillo for our marinades and salsas. Our tortillas are made with organic blue corn, and we use great quality meat and fish.
What kind of preparation goes into making your tacos?
It starts with our marinade which is an adobo marinade made with achiote paste, dry guajillo chiles, and ancho chiles. Then follows the salsa, making it with care by properly roasting the tomatillos, re-hydrating the dry chiles, making small batches at a time. My tacos will vary on flavors between which taco you order, you order the carnitas taco, it will be rich, sweet and will be topped with a bright acidic, creamy avocado tomatillo salsa to cut through the richness of the meat.
What should the ideal taco taste like?
A perfect taco starts with a fresh tortilla, grilled or braised meat, spicy salsa with some queso fresco. I like to keep it simple and to its humble beginnings.
What is your favorite taco on the menu?
Right now, it's the lamb shoulder taco. It's served on our house made Gordita flour tortilla, comes with Labne, parsley, onion, burnt tomato, lemon, and some habanero. It's really spectacular!
What kind of ingredients go into your tacos?
I try to use a variety of ingredients. From different meats to whatever veg is in season. It's mostly whenever I feel like trying something new or inspired. Working every day, and then sometimes it just happens that everything falls into place, and I come up with a new idea.
What type of preparations go into making the tacos?
Well, it depends. For instance, I'm working on a lamb shoulder taco that's a little unique in that we slice the lamb shoulder thin, marinade it, and cook it on our upright spit roaster.
What should it taste like?
Tacos should be flavorful, have some heat, a crunch, savoriness from the main ingredient and a nice herb to compliment the ingredients.
---
Got a favorite taco spot in Los Angeles we ought to know about? Make sure to tag @WeLikeLA on Instagram next time you post a photo of your perfect taco.