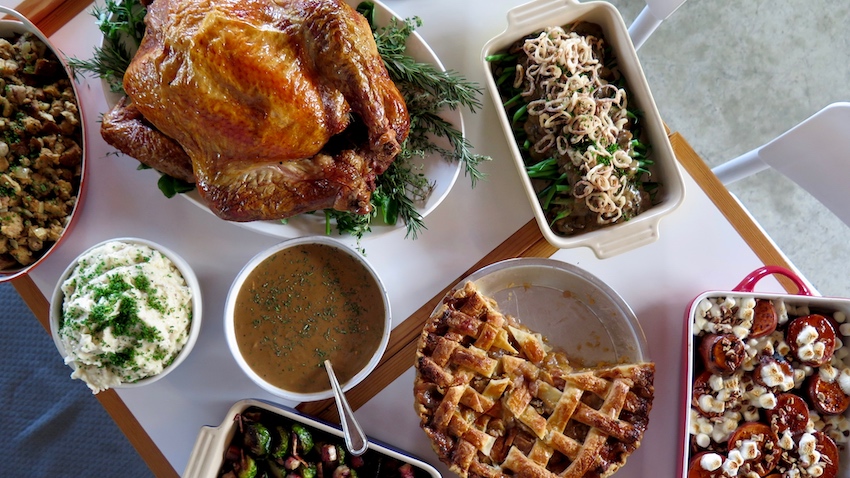 This year the holidays are starting to look a bit more normal with family and friends finally able to gather again. But if you've volunteered to host a Thanksgiving feast and are feeling the anxiety of that responsibly, opt to let the talented cooks in our city take care of the food for you, whether you want to order to-go or bring your family to dine-in.
From holiday pies to full meal packages and everything in between, plan ahead with the help of local restaurants, bakeries and ice cream shops (ice cream pies!) featured in this guide. Here you'll find everything from classic turkey meals to waffle sandos and Thanksgiving tacos, and of course more dessert options than you'll have room for. But that's ok. There's always next year!
Hosting at Home or Bringing Something to a Thanksgiving Party
etta -> Wood-fired focused restaurant etta in Culver City is offering a take and bake feast for Thanksgiving that serves up to four for $250. The meal package comes with a number of eclectic eats (eight total) including Black Truffle Parker House Rolls, Spicy Meatballs, Fire-Roasted Turkey with sweet onion and wild mushroom gravy and Lumache pasta in a porcini ragu. Batched holiday cocktails can also be added on for $38. Orders can be made through Tock now through Nov. 19. Pick up takes place Nov. 23-24.
Superba Food + Bread -> No matter the size of your Thanksgiving party Superba Food + Bread has you covered with an a la carte holiday menu that can either serve 10 to 12 guests or smaller parties of four to six people. Mains offered include Whole Roasted Mary's Young Turkey and a Glazed Beeler's Heritage Ham. There are a number of classic sides to choose from including Vegan Mushroom Leek Stuffing, Green Beans Amandine and Mashed Yukon Gold Potatoes. Superba's bakery will also be whipping up pies for the occasion, choices include Honey Crisp Apple, Bourbon Chocolate Pecan and Cinderella Pumpkin Pie. Plenty of breads are being offered as well from Parker House Rolls to Cheddar Chive Biscuits and a Polenta Porridge Boule. Pre orders are available via Tock now through Nov. 21 at 10 p.m. Pick ups can be made at all four Superba locations on Nov. 25th from 9 a.m. to noon.
Slab -> Burt Bakman's BBQ restaurant Slab has a Thanksgiving dinner package featuring a whole smoked turkey with all the sides, including mac n cheese, collard greens and mash potatoes as well as dinner rolls, turkey gravy, Slab BBQ sauce and your choice of Pumpkin or Pecan Pie. Smoked meats like brisket can also be tacked onto the package for a special fee. The set serves four people. Pre-orders are available now until Nov. 19 through Tock. Pick up will take place Nov. 24-25.
Huckleberry Bakery & Café -> Huckleberry Bakery & Café will once again offer a Thanksgiving Catering Menu where you'll build your perfect holiday meal from a large catering menu. Whole Roasted Mary's Organic Turkeys brined for 48 hours, Whole Turkey Breasts for smaller parties to Scottish Salmon, Beef Tenderloin as well as many sides, breads and sweets can be found on the menu. Pre-order via Tock, e-mail [email protected] or by calling 310-451-2311. The deadline for orders is Nov. 18 at 3 p.m. Pickup and delivery are both available on Nov. 24-25. The team at Esters Wine Shop & Bar will also be popping-up at Huckleberry that Thursday with a selection of wines and gift boxes to sell if people happen to be picking up their catering.
Bourbon Steak -> Bourbon Steak is offering a turkey meal for two to-go and a feast package that feeds up to six people. The $189 package for two includes a Truffle Caesar Salad, Autumn Squash Apple Soup and Parker House Rolls as starters. A Roasted Heritage Turkey with stuffing, gravy and shareable sides as the main course and a Pecan Dandy Cinnamon Roll for dessert. The larger feast package includes most of the items mentioned in the smaller package with an option to either choose a 16 pound Whole Roasted Turkey ($249) or a six pound Black Truffle Rubbed Black Angus Rib Eye Roast ($349) as the main. Packages require pre-order by Nov. 16, to be picked up by Nov. 24 at 5 p.m. To order, call (818).839.4130 or email [email protected]
Eataly LA -> Customize your entire Thanksgiving feast with the help of Eataly LA. From meat and cheese platters to aperitivos like Focaccia and Roman style pizzas to even seafood platters, your starters game will keep guests plenty happy. A family style Thanksgiving dinner for four ($229) comes family style and include your choice or a Pumpkin or Pea Soup, Pumpkin Ravioli, Glazed and Sliced Turkey Breast, sides of sweet potatoes, green beans, and broccolini with an Apple Pie with mascarpone cream for dessert. Orders can be made now through Nov. 21 by emailing [email protected]. Pick up is Nov. 23-24. View the entire menu here.
The Pie Hole -> The Pie Hole is taking pre-orders for Thanksgiving pies and DIY pie kits now until Nov. 19 on Tock. Flavors available this season include Pumpkin, Earl Grey, Cardamom Cherry, Salted Caramel Pecan, Chocolate Brownie as well as savory pies like Turkey and a Mac & Cheese pot pie. If you are headed out of state for the upcoming holiday, consider shipping a slice of SoCal to your destination, The Pie Hole is also available for out of state shipping through Goldbelly.
Playa Provisions –> Playa Provisions' holiday pie options include Pumpkin, Apple Cranberry Crumble, and Bourbon Pecan. Deadline to reserve a pie is Nov. 21. with pick-up on Wednesday and Thursday from opening until 1 p.m. the week of Thanksgiving.
McConnell's Ice Cream -> For the Thanksgiving season, McConnell's Ice Cream's is offering their popular Pumpkin Ice Cream Pies. These bad boys are made with a salted browned butter shortbread cookie crust, filled with their signature pumpkin pie ice cream and topped off with pecan pralines and salted caramel sauce the pie serves eight to twelve and cost $50. Pre-orders on McConnell's website are available now with local pick-up at all scoop shops Nov 23-24.
Lodge Bread Co. -> Let Lodge Bread Co. take care of all your Thanksgiving baking. From Pumpkin Pie and Sweet Potato Loaves to Dinner Rolls. They even have house-made Cranberry Sauce. Pre orders now through Nov. 15.
Dear Bella Creamery -> Taiwanese-American owned Dear Bella Creamery is serving up an Ube Casserole Ice Cream Pie for the upcoming holiday. In collaboration with chef Ted Lai of Plant Alchemy, the dairy-free and gluten-free creation is a take on the classic American sweet potato casserole. Made-from-scratch with all natural plant-based ingredients the pie is made with fresh butter-roasted ube, torched marshmallows, and candied pecans poured over a graham cracker crust. The Ube Casserole Ice Cream Pie serves eight to ten people and costs $40. Preorders for Thanksgiving can be made online now until Nov. 21. Thanksgiving pick up dates are between Nov. 22-24. Those who want to try the pie asap can also grab a slice at the store now. Note that 10% of sales from the pies are donated to Asian Americans Advancing Justice as part of Dear Bella Creamery's chef collab series.
Sweet Rose Creamery -> Sweet Rose Creamery's Thanksgiving ice cream pies ($48) are available for pre-order now until Nov. 15 through Tock or calling either Brentwood Country Mart or Main Street shops. This year Sweet Rose is featuring three seasonal flavors Apple Pie, Pecan Pie and a vegan Pumpkin Pie. Orders will be available for pickup Nov. 22-24 with a limited number of pies available in the shops on a first-come, first-serve basis from Nov. 19-24. Pie offerings include the below.
Breadblok -> Gluten-free bakery and café Breadblok will offer a number of desserts for the holidays. From tartlets to pies everything is handmade from scratch. Thanksgiving desserts are available as minis in store and large sizes on pre-order. This year items include a vegan Apple Crumble Tartlet topped with a cinnamon maple streusel crumble; Pumpkin Pie with a sweet dough tart shell, pumpkin filling, topped with whipped cream and pumpkin muffin pieces; and a Pecan Pie. All Thanksgiving orders need to be placed three days in advance.
Restaurants Serving Thanksgiving Menus
The Restaurant at Mr. C -> The Restaurant at Mr. C's Thanksgiving bounty includes Zucchini Velouté', Pumpkin Potato Gnocchi in a Taleggio Fondue and a plate of Oven Roasted Turkey with gravy, chestnut stuffing, sweet mash potatoes with candied pecans, maple brown sugar cranberry sauce and bacon wrapped asparagus. The meal ends with Homemade Pumpkin Pie with meringue, topped with amaretto cookies. The Thanksgiving prix fixe cost $95 per person with the option to enjoy the main course only for $49. Children ages 5-12 can dine on the menu for $45.
Tu Madre -> Tu Madre's West Hollywood location is bringing back their Thanksgiving Taco this year. Available Nov. 22-28 the taco is filled with shavings of braised turkey leg, crispy mashed potatoes, turkey gravy, cranberry sauce and chives. Sweet Potato Taquitos stuffed with soyrizo, black beans, and vegan mozzarella cheese drizzled with vegan ranch and avocado tomatillo salsa are also available and make an excellent starter. All Tu Madre locations are open 11 a.m. to 5 p.m. on Thanksgiving.
LOAM -> Vegetable-conscious newcomer LOAM at the Ace Hotel Downtown Los Angeles will be open on Thanksgiving day from 3 to 11 p.m. offering a three-course Thanksgiving Pre-Fixe menu for $80 per person as well as a full Thanksgiving feast to-go. Highlights include Confit Smoked Turkey served with sage stuffing, a root vegetable smash, cranberry sauce and turkey jus; Pumpkin Risotto; and Upside Down Cake with persimmon, cardamom and earl grey ice cream.
Bourbon Steak -> If your friends and family are split between steak lovers and turkey fans, consider spending Thanksgiving at Bourbon Steak. The special Thanksgiving dinner menu ($94 per person) features a classic roasted turkey, signature steaks such as a bone-in dry aged striploin, or a lobster pot pie. Numerous sides can be added to the meal like roasted honeynut squash, creamed spinach and mac 'n cheese gratin. Each guests will have their choice of dessert as well.
Lunetta -> Chef Raphael Lunetta will host a Thanksgiving meal this year at his expansive Santa Monica restaurant's two garden patios, newly renovated dining room and bar. Thanksgiving at Lunetta ($95 per person) comes with a choice of starters that include Maine diver sea scallops and roasted chestnut soup; a choice of mains like a maple herb turkey plate with all the fixings to a six-hour slow cooked osso buco and your choice of dessert. The restaurant will be open 2 to 7 p.m. on Thanksgiving.
Sugar Palm -> Sugar Palm at Viceroy Santa Monica is open from 3 p.m. to 10 p.m. on Thanksgiving serving a three-course prix fixe menu ($95 for adults, $45 for children) with vegan options available and a complimentary glass of bubbles. Highlights include Lamb Osso Bucco, Roasted Turkey with green apple and walnut stuffing and a Pumpkin Spice Panna Cotta for dessert.
Bardonna -> All day brunch spot Bardonna will be open from 8 a.m. to 3 p.m. on Thanksgiving Day, with Turkey Day specials running for one whole week (Nov. 22-28.) Guests can enjoy a Thanksgiving Waffle Sandwich featuring turkey, stuffing, gravy, cranberry sauce and sautéed kale between a buttermilk waffle; a vegan version of the waffle sandwich stuffed with sweet potato mash and a Vegan Thanksgiving Wrap.
Barton G -> Barton G. Los Angeles is offering a special three course menu for $85 per person during Thanksgiving dinner service. The family style meal includes a Roasted Squash and Chicories salad, Confit Turkey Breast and Leg with brown butter sage stuffing, smoked gravy and a number of sides. A Brown Butter Blondie topped with spiced pumpkin mousse and salted bourbon caramel served with vanilla ice cream and snickerdoodle popcorn finishes off the meal. A Thanksgiving a la carte menu will also be available that day.
etta -> If you don't want to pick up from etta, they'll be is serving dinner on Thanksgiving Day from 2 to 8 p.m. offering a special chef's Thanksgiving menu for $95 per person and a $35 kids menu. Highlights include Black Truffle Parker House Rolls, Fire-Roasted Turkey with sweet onion and wild mushroom gravy, Cannellini beans with braised kale and an Apple Cranberry Cobbler.
Playa Provisions -> Playa Provisions' Thanksgiving dine-in menu is offered from 1 to 6 p.m. and features a Chicory and Apple Salad starter, as well as a classic Thanksgiving plate with an assortment of white and dark meat turkey with all the fixings (yams with earl grey marshmallows, green beans with almonds, potatoes, stuffing, gravy, and cranberry sauce), and a choice of two desserts.