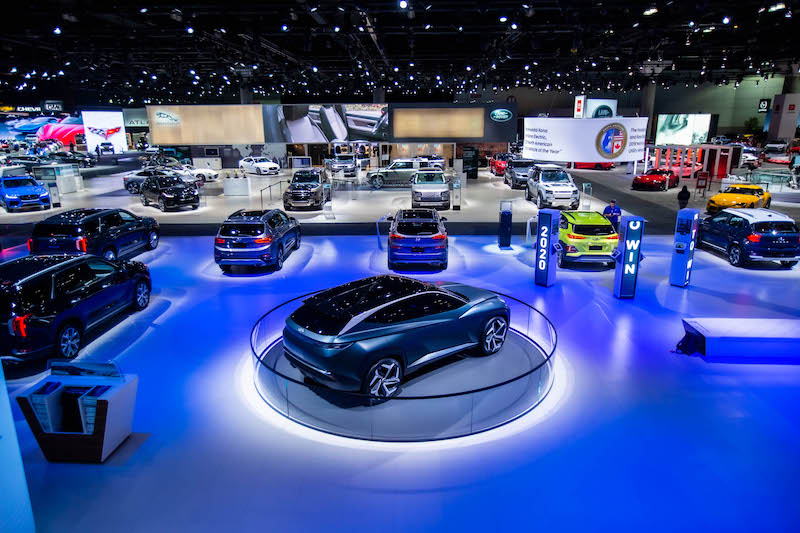 Whether you're interested in travel by four wheels, or exploring the city on your own two feet, the next three days in the Southland will present plenty of opportunities for both.
This weekend in L.A., from Nov. 19-21, features the LA Auto Show, Winterlit in Santa Monica, the Great Los Angeles Walk, Jackalope Arts in Pasadena, Sound and Community Day at the Academy Museum, and more.
[Remember, if you want to stay connected with our weekly updates, be sure to sign up for the We Like L.A. Newsletter]
Friday / All Weekend
1. LA Auto Show -> The LA Auto returns to the Los Angeles Convention this Friday to kicking off an annual 10-day event that features a dozen participating brands offering test drives, including outdoor courses from Camp Jeep, Ford Bronco, and Volkswagen. Visitors can also check an after-market showcase, Galpin's Hall of Customs, and cutting edge concepts created by the Art Center College of Design. Adult any-day tickets start at $20. More info here.
2. Winterlit -> Winterlit, opening this Friday, transforms the Third Street Promenade into a festive experience featuring tens of thousands of colorful lights, decor and garland, all extending on to 2nd and 4th Streets. illuminating convenient shopping and cozy outdoor dining experiences. Friday's open includes the annual lighting of the official City of Santa Monica 24-foot-tall holiday tree beginning at 6 p.m. More info here.
3. Reel Change: The New Era of Film Music -> From Nov. 19-21 at the Walt Disney Concert Hall, the LA Phil presents a series of three concerts featuring film and television compositions curated by Kris Bowers (Green Book, Bridgerton), Nicholas Britell (Moonlight, Succession) and Hildur Guðnadóttir (Joker, Chernobyl, Battlefield 2042). Friday and Saturday's shows start at 8 p.m., and Sunday's concert is at 2 p.m. Tickets start as low as $20. More info here.
4. Glossier Opens LA Flagship Store -> Digital beauty company Glossier opens its official west coast flagship on Thursday, Nov. 18. Known for its popular skincare and make-up products, the company draws crowds of people to their pop up stores all over the world in hopes to capture the brands whimsically designed stores and to shop products IRL. The new permanent location located in West Hollywood is inspired by classic Hollywood studios, a massive "Glossier Globe " reminiscent of Universal Studios greets guests once they walk in and an amphitheater-style communal area surrounds the entrance encouraging guests to linger and even to plug in your laptop or phone for some impromptu work. Oversized props like a 17′ tall Boy Brow and lots of well lit photography worthy moments mixed in with Glossier product counters take over the rest of the store. Look out for Glossier Alley with additional public spaces, coffee service and more to come in 2022. 
5. Habitat Restoration Day -> This Friday morning the Friends of the LA River (FoLAR), California Native Plant Society, and San Fernando Valley Audubon are hosting a special meet-up to remove invasive mustard plant from the Sepulveda Basin. removal and bird walks in the Sepulveda Basin. Guests who participate will learn about how the invasive species affects the local environment, and also be treated to special birds walks coutesy of the SFV Audubon (binoculars provided!). Runs from 8 to 11 a.m. More info here.
6. After After School Special -> The Elysian Theater (located on Riverside Dr. adjacent to Frogtown) just re-opened last month as a home for live comedy events, and this week's slate of performances is capped off by a late-night Friday show featuring three local comedians promising an experience akin to the "weirdest of weird very special episodes" of an after school special. Tickets are $10. More info here. Also, a pro-tip: If you have a late-night food craving, come early and scope out the taco vendor who posts up across the street on the other side of Riverside Dr.
7. Lightscape at the LA Arboretum -> On Friday, Nov. 12, the LA Arboretum opens an illuminated nighttime attraction for the winter season called Lightscape. The mile-long, self-guided walk features thousands of twinkling lights in various themed attractions including a Winter Cathedral, Star Tunnel and Fire Garden. Adults tickets start at $32. Runs on select nights through Jan 16, 2022. More info here.
8. Intervention: Fresh Perspectives at USC PAM -> To mark the USC Pacific Asia Museum's 50th anniversary, the institution is hosting a group exhibition featuring seven asian American artists who created works in response to the PAM's collection. The recently opened exhibition runs through Feb. 6, 2022. Museum admission is $10. More info here.
9. Elf on the Shelf Magical Journey -> Elf on the Shelf is back at the Pomona Fairplex beginning Friday, Nov. 5. This year's attraction features newly upgraded scenic displays, a Christmas village, ice-skating rink, and of course the signature walk-through journey of Christmas from an elf's perspective. Tickets are $19.95 for children and $24.95 for adults. Runs on select dates through Jan. 2, 2022. More info here.
10. Portraits at LACMA -> The Los Angeles County Museum of Art has two new exhibitions celebrating portraiture now on view: The Obama Portraits Tour and Black American Portraits, both on display inside the Resnik Pavilion. The Obama Portraits Tour includes Kehinde Wiley's Barack Obama and Amy Sherald's Michelle LaVaughn Robinson Obama, both on loan from the Smithsonian's National Portrait Gallery. LACMA general admission tickets are $25, and remember that L.A. County residents can get free admission on weekdays after 3 p.m. More info here.
11. Becoming Jane: The Evolution of Dr. Jane Goodall -> A new exhibition at the Natural History Museum spotlights the life and work of renowned scientist and chimpanzee conservationist Dr. Jane Goodall. Visitors can explore Dr. Goodall's life and work through a series of multimedia installations, including digitally rendered chimpanzees, a life-size replica of Dr. Goodall's research tent, and even a talking hologram of Dr. Goodall herself. NHM general admission tickets are $15. More info on the exhibition here.
Saturday
12. 16th Annual Great Los Angeles Walk -> Each November on the Saturday before Thanksgiving, the Great Los Angeles Walk brings Angelenos together for a group amble across Los Angeles County. This year's route covers thirteen miles, beginning at the San Gabriel Mission then heading west to DTLA where participants will pass by numerous points of interest, including El Pueblo Historical Monument, The Last Bookstore, Disney Concert Hall, Angel's Flight Railway, and Grand Central Market. Organizers ask that guests are vaccinated and bring a mask. Journey starts at 9 a.m. More info on how to join here.
13. Jackalope -> This Saturday and Sunday, Jackalope brings its artisan market back to Central Park in Old Pasadena for a two-day event showcasing over 200 local vendors selling indie goods, clothing, jewelry, home decor, housewares, art, photography, and food. Outdoors. All-ages. Free to attend. Get more info here.
14. Young at Heart Pet Adoption Event -> November is Adopt-A-Senior Pet month, and the Annenberg PetSpace is celebrating in style with a special party that puts some sweet senior dogs and cats in the spotlight. Saturday's Young at Heart Pet Adoption event features bingo, meet-and-greet sessions with adoptable pets, complimentary snacks and refreshments, kids' crafts, a scavenger hunt, and raffle prizes. Runs 11 a.m. to 4 p.m. Admission is free. More info here.
15. Zombie Thoughts -> As part of Culver City Public Theatre's programming at Carlson Park, Zombie Thoughts is a choose-your-own-adventure style story of two video game avatars, one of which teams with the audience to complete an interactive quest. This weekend (Saturday and Sunday) will be the final performances. Starts at noon on both days. Free with RSVP. Get more info and tickets here.
16. Self Care Saturdays -> This weekly program presented by Downtown Santa Monica, Inc. in partnership with Fit Girl Club LA offers free fitness classes covering mix of workout styles. This Saturday's classes include Signature HIIT with Basecamp Fitness at 10 a.m., and Buns & Boxing with Femme Fighter Founder Jaimie Lee Bess at 11 a.m. More info on the program here. Register for classes here.
17. Asphalt Comedy -> This Saturday's edition of the pop-up outdoor comedy series, Asphalt Comedy, comes to Melrose with a special partner in mind. Tickets are $30 for general admission, and 50% of the proceeds from Saturday's show go to to AIDS/LifeCycle. The benefit lineup includes David Koechner, Elanaor Kerrigan, Shawn Pelofsky, and Craig Conant. More info here.
18. RADwood SoCal 2021 -> This Saturday at the American Honda Campus in Torrance, RADwood brings 80s and '90s automotive lifestyle back with a collection of era-appropriate cars, trucks and BMX bikes. GA tickets are $15, and it's $30 if you want to register your car to show. More info here.
19. Adaptive Sports Festival -> This Saturday, the third annual Adaptive Sports Festival returns to Brookside Park in Pasadena for a day-long event promoting inclusiveness and awareness of people living with disabilities in the community. Over 30 sports wheelchairs will be provided for participants for activities including archery, beep baseball, basketball, pickleball, handcylcing, tennis, and more. There will also be a art workshop and resource fair. Registration is free, but limited. More info here.
20. Operatic Hansel and Gretal -> Pacific Opera Project's outdoor, family-friendly production of Englebert Humperdinck's iconic opera Hansel and Gretel comes to Forest Lawn Glendale for weekend performances on Nov. 13-14 and Nov. 20-21. Tickets range from $10-$35, and tables (for either two or four persons) are available. More info here.
Sunday
21. Maxwell House Autumn Open House -> Attention brides and grooms to be: The Maxwell House, a historical landmark and event space in Old Pasadena, is hosting a free, afternoon event featuring complimentary food and refreshments guests browse vendors and query professionals for tips and tricks on wedding planning. Everything from DJs and bartending to bridal headpieces and desserts. Event starts this Sunday at 2 p.m. More info here.
22. Animals of the Arroyo: Wildlife Encounter -> On Sunday, Pasadena Humane and Kidspace Museum team up to host a mini wild-life adventures for kids ages 7 to 12. Participants will get hands-on as they learn about the wild animals that inhabit the Arroyo. The one-hour program starts at 11 a.m. Free to register. More info here.
23. Sound and Community Day -> This Sunday, The Academy Museum hosts a day of demos and interactive experiences aimed to showcase the role of sound and music in film. The day of events includes drop-in activities with audio engineer Haiden McGill, a gallery conversation with Sound Editor Gregory Hedgepath, and a special screening of Tron inside The David Geffen Theater. Activities start at noon. More info here.
24. Smorgaburg LA Record Fair -> 21 months after its last appearance, the LA Record Fair will be popping up at Smorgbasburg LA this Sunday. Explore troves of curated vintage vinyl as you work up an appetite to try out one (or more!) of the tasty vendors at Smorg, including new addition Bungkus Bagus (read the dining section below for more info).
Dining
25. Sushi Kisen -> Izakaya Tonchinkan opened Sushi Kisen this week bringing an authentic and approachable edomae sushi restaurant to the city of Arcadia. The menu features a wide range of nigiri, from Ootoro to Geoduck and even Abalone. The Karaage chicken with wasabi dipping salt or the simmered octopus both make excellent starters, and the combination sashimi set provides a nice introduction to what Sushi Kisen has to offer. Look out for the impressive list of seasonal nigri including Barracuda, Firefly Squid and Pine Mushroom items on this list are very rare and a real treat for fans of Japanese cuisine. The space at Sushi Kisen is tasteful and minimalistic, with several dining tables and a large sushi bar showcasing the expertise of the chefs. It's also family-friendly. A fantastic choice for the unpretentious sushi enthusiast.
26. Dinner Menu at Angry Egret Dinette -> Wes Avila's comfort food haven Angry Egret Dinette recently launched dinner in their newly updated tropical-themed dining room. The dinner lineup changes on a weekly basis and is offered on Friday and Saturday nights only. Small bites might include Grilled Prawns smothered in a spicy arbol salsa, Chicken Tacos and Pearl Scallop Uni Tostadas. A tight knit selection of mains like a Bone in Ribeye and Squash Asada were also on the menu during a recent visit. A constant dinner offering is the Pu Pu Platter special, which is delivered on a lazy Susan filled with an assortment of shareable bites that change every weekend. The platter we enjoyed had lamb tacos, grilled eggplant, potato taquitos in guac, grilled rockfish and a cheese quesadilla. On Sundays (9 a.m. to 3 p.m.) the restaurant also serves brunch on their patio. For Guerrilla Tacos fans, Taco Thursdays takes place on the patio with Avila grilling up tacos just like the old days.
27. The Green Room Reopens -> Speakeasy bar The Green Room reopens on Friday with new movie inspired cocktails, elevated bites and a newly renovated patio. Located on the grounds of popular hilltop restaurant Castaway in Burbank, The Green Room can be accessed through an unmarked door just past the hostess table. Once inside guests will be greeted with a complimentary welcome drink and cocktails such as Summer Nights (Grease) made with Grey Goose La Poire, prickly pear, lemon, Champagne, and garnished with Cotton Candy is just one of the show stopping cocktails available on the menu. Shareable plates like Steak Tartare "Cigars," Truffle Popcorn Chicken to caviar service and a seafood tower are also on the menu.
28. Casita Del Campo New Fall/Winter Item -> For a limited time, Casita Del Campo in Silver Lake is dishing out a special Chile en Nogada made with poblano chile stuffed with beef picadillo, served with a walnut-based cream sauce topped with pomegranate seeds. This dish is offered every Friday and Saturday, from 4 p.m. to closing, now through December.
29. New Vendor At Smorgasburg LA -> Balinese street food pop-up Bungkus Bagus joins Smorgasburg LA starting this Sunday. The menu features nasi bungkus a rice dish with chicken, tempe, and vegetables all wrapped together in a fresh banana leaf.
30. Vinovore Opens a New Location -> Los Angeles' female-centric wine shop Vinovore opens a second location this weekend in the heart of Eagle Rock. The new location will also include a marketplace offering pastries, coffees, provisions, sandwiches by chef Teresa Montaño of Otoño in Highland Park, as well as gift items by like-minded brands. Vinovore will be hosting an opening party this Saturday from 4 to 7 p.m. with bites, beers and wines to sip on, plus discounts on the whole shop just in time for the holidays.
---
Any notes or corrections? Want to suggest an event we should add to an upcoming list? Hit us up at [email protected]