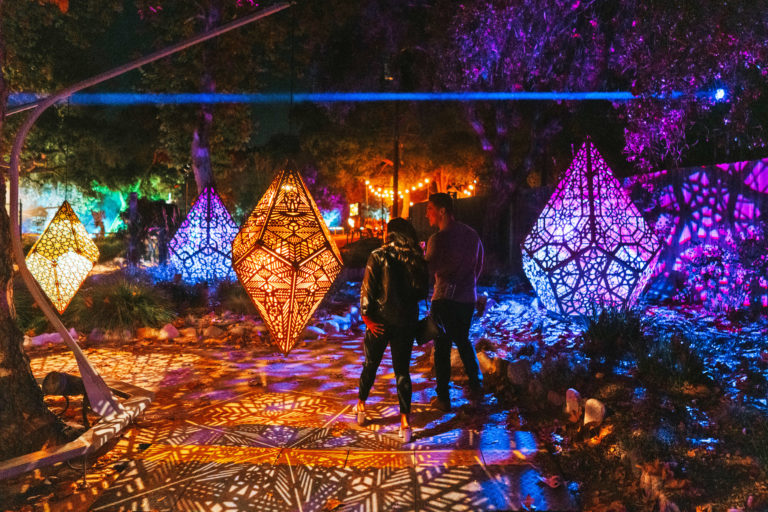 As you're well aware, we usually pump out two guides (one for the week, one for the weekend) every seven days, but in consideration of the shortened holiday work week, this will be our only to-do list for the week ahead. Savor it, people!
For the next seven days, from Nov. 22-28, your list of L.A. to-dos includes the Enchanted Forest of Light, LA Zoo Lights, a House of Gucci exhibition at FIDM, the Dodgers Holiday Festival, a two-day block party at ROW DTLA, the annual Hollywood Christmas Parade, and more.
[Remember, if you want to stay connected with our weekly updates, be sure to sign up for the We Like L.A. Newsletter]
Monday / Throughout the Week
1. Enchanted Forest of Light -> Descanso Gardens' annual illuminated, night-time experience opens this week, offering an array of vibrant light displays and installations over the course of a one-mile walk at the garden grounds. Special for 2021, an entire town of stained glass creations has been erected in the Rose Garden by contemporary sculptor Tom Fruin. Standard tickets run $32-$35, depending on weekday or weekend reservations. Get more info here.
2. LA Zoo Lights -> The L.A. Zoo's signature holiday experience is now open, featuring a plus special attractions including a pop-up storybook, the magical disco ball forest, giant glittering snowflakes, and a twinkling tunnel filled with dynamic swirls of color. Run nightly through Jan. 9, except for closures on Thanksgiving, Christmas Eve, and Christmas Day. Adult tickets start at $22. More info here.
3. LA Auto Show -> The 2021 LA Auto Show (running daily through Nov. 28) includes a dozen participating brands offering test drives, including outdoor courses from Camp Jeep, Ford Bronco, and Volkswagen. Visitors can also check an after-market showcase, Galpin's Hall of Customs, and cutting edge concepts created by the Art Center College of Design. Adult any-day tickets start at $20. More info here.
4. Winterlit -> Winterlit transforms the Third Street Promenade into a festive experience featuring tens of thousands of colorful lights, decor and garland, all extending on to 2nd and 4th Streets. illuminating convenient shopping and cozy outdoor dining experiences. More info here.
5. SPARKLE DTLA-> This holiday installation at The Bloc in DTLA feature 18 million hues of lights synchronized to festive tunes alongside a 32-foot Christmas tree and a 16-foot holiday ornament. Runs nightly every hour from 5 to 9 .m. Free and open to the public. More info here. 
6. Portraits at LACMA -> The Los Angeles County Museum of Art has two new exhibitions celebrating portraiture now on view: The Obama Portraits Tour and Black American Portraits, both on display inside the Resnik Pavilion. The Obama Portraits Tour includes Kehinde Wiley's Barack Obama and Amy Sherald's Michelle LaVaughn Robinson Obama, both on loan from the Smithsonian's National Portrait Gallery. LACMA general admission tickets are $25, and remember that L.A. County residents can get free admission on weekdays after 3 p.m. More info here.
7. Becoming Jane: The Evolution of Dr. Jane Goodall -> A new exhibition at the Natural History Museum spotlights the life and work of renowned scientist and chimpanzee conservationist Dr. Jane Goodall. Visitors can explore Dr. Goodall's life and work through a series of multimedia installations, including digitally rendered chimpanzees, a life-size replica of Dr. Goodall's research tent, and even a talking hologram of Dr. Goodall herself. NHM general admission tickets are $15. More info on the exhibition here.
8. Patriotism in Conflict: Fighting for Country and Comunidad -> The latest exhibition at LA Plaza de Cultura y Artes looks back at the National Chicano Moratorium in East Los Angeles, contextualizing the rally with the events and cultural trends that led up to the historic day of activism. Over 300 materials are on display, including photographs, silkscreen prints, hand-made posters, flyers, textiles, multi-media artworks, and video and film installations; selected memorabilia, such as medals, buttons, flags, personal letters and certificates; and special reference publications from newspapers, magazines albums, and journals. LA Plaza is open Monday, Wednesday, Thursday and Friday from noon to 5 p.m., and Saturday to Sunday from 10 a.m. to 5 p.m. Free admission. More info here.
Tuesday
9. House of Gucci at FIDM Museum -> The House of Gucci hits theaters on Nov. 24, and one day earlier a new exhibition opens at FIDM Museum in DTLA, which showcases a mix of never-before-seen photographs, footage from the film, and costumes curated by costume designer Janty Yates. Free and open to the public. Runs through Dec. 3. More info here.
10. Elf on the Shelf Magical Journey ->  Elf on the Shelf is back at the Pomona Fairplex, offering newly upgraded scenic displays, a Christmas village, ice-skating rink, and of course the signature walk-through journey of Christmas from an elf's perspective. Tickets are $19.95 for children and $24.95 for adults. Runs on select dates through Jan. 2, 2022. More info here.
Wednesday
11. Lightscape at the LA Arboretum -> On Friday, Nov. 12, the LA Arboretum opens an illuminated nighttime attraction for the winter season called Lightscape. The mile-long, self-guided walk features thousands of twinkling lights in various themed attractions including a Winter Cathedral, Star Tunnel and Fire Garden. Adults tickets start at $32. Runs on select nights through Jan 16, 2022. More info here.
12. PIE at Akbar -> The pre Thanksgiving tradition PIE is an annual event that's part food drive and part pie party at neighborhood bar Akbar. Now in its twelfth year, the public is encouraged to stop by and donate canned goods, boxed cake, pancake or flour mixes, boxes of stuffing, mashed potatoes and other shelf stable goods. Guests who donate to the food drive will also receive $1 off their pie purchases from drag queen SARAH PROBLEM.
13. Intervention: Fresh Perspectives at USC PAM -> To mark the USC Pacific Asia Museum's 50th anniversary, the institution is hosting a group exhibition featuring seven asian American artists who created works in response to the PAM's collection. The new exhibition, on display now, runs through Feb. 6, 2022. Museum admission is $10. Open Wednesday to Sunday. More info here.
Thursday
14. 9th Annual Turkey Trot Los Angeles, -> presented by UAE-USA United, returns to Downtown Los Angeles on Thanksgiving morning, November 25, 2021, in hopes to raise $100,000 for those in need through The Midnight Mission. Get more info and register to participate here.
15. Enjoy your Thanksgiving Holiday! -> If you're at home for the holiday to be with family, please enjoy your day off! If you're still mulling over possible eat-out or dine-in options to celebrate, be sure to check out our Thanksgiving dining guide here. Either way, happy Thanksgiving!
Friday
16. Dodgers Holiday Festival -> Think blue this Christmas season by checking out a new holiday-themed fan fest taking over Dodger Stadium starting this Friday, Nov. 26. Guests can explore the newly-renovated Centerfield Plaza and enjoy nightly entertainment options including ice skating rink, light displays, Santa photo-ops, plus holiday-themed treats and drinks. Tickets start at $16. Runs nightly through Dec. 31. More info here.
17. Christmas in The Wizarding World of Harry Potter -> Beginning this Friday, the village of Hogsmeade™ at Universal Studios Hollywood gets a special Christmas makeover, along with several seasonal entertainment options. The highlight is a nightly performances of "The Magic of Christmas at Hogwarts™ Castle," a dazzling projection display and musical performance. More info here.
18. Cookin' With Gas Holiday Edition -> A special holiday edition of the Groundlings' all-improv showcase runs for two performances this Friday and Saturday. Tickets are $20. More info here.
19. Snow Drops at The Grove and the Americana -> Both the The Grove and the Americana at Brand will host nightly snow flurries (7 p.m. and 8 p.m.) Santa's trolly rides beginning this Friday, Nov. 26, and continuing through Christmas Day.
20. Magnolia Park Night Out -> One Friday a month, the The Magnolia Park Merchants Association in Burbank bands together to host an evening of food trucks, live music, and shopping, on Magnolia Blvd. between Catalina St. and Hollywood Way. Runs this Friday from 6 to 9 p.m. More info here.
Saturday
21. ROW DTLA's Small Business Weekend Celebration -> ROW DTLA is teaming up with LA Original to host a two-day block party event that includes a beer garden, free gift wrapping, and a special giveaway with a chance to win $1,000 gift card. Plus: The first 100 people will receive a free Coolhaus Ice Cream Sandwich. The block party is free to attend, and runs this Saturday and Sunday from noon to 5 p.m. More info here.
22. Holiday Event in Manhattan Beach -> Manhattan Village is hosting a special holiday parade and tree lighting ceremony on Saturday adjoined by fun activities for families and kids, including photo ops with Anna and Elsa and live musical performances. More info here.
23. Paws & Pages -> This Saturday and Sunday, Annenberg PetSpace is offering a special book reading session for kids featuring the opportunity to meet an adoptable pet or critter ambassador, while also receiving a craft demonstration with materials to take home and complete. Tickets are $3. More info here.
Sunday
24. Hollywood Christmas Parade -> The 89th annual Hollywood Christmas Parade returns this Sunday headlined by Grand Marshal Sheryl Underwood and featuring over a dozen dance and marching band performance groups, plus special appearances by The 501st Legion (a volunteer group that dresses up as Star Wars Imperial Storm Troopers), the Los Angeles Vespa Club, The Big Idaho Potato Truck, and Nate Truman's Star Cars. The parade begins at 6 p.m., and the route runs east on Hollywood Blvd. from Grauman's Chinese Theatre to Vine St. where it will turn south then head back west on Sunset. Mind your street closures! More info here.
25. Smorgasburg Holiday Market -> This Sunday, Smorgasburg LA launches their annual holiday market as a special collaboration with small business marketplace Streetlet. Expect shopping options and a gift wrapping station, plus the ability to order online and pick up hassle-free. Runs every Sunday through Dec. 19.
26. Small Business Sunday at Common Space Brewery -> Common Space Brewery in El Segundo is hosting a special small business marketplace featuring over ten local vendors. Runs this Sunday from noon to 5 p.m. More info here.
27. Santa Monica Airport Antique & Vintage Market -> Every first and fourth Sunday of the month, antique collectors and vintage lovers head to the Santa Monica Airport for a special flea market featuring dozens of unique vendors. Admission is $5. Runs 7 a.m. to 3 p.m. More info here.
Dining
28. Thanksgiving Pre-Party at Good Clean Fun -> DTLA's neighborhood natural wine bar, Good Clean Fun is throwing a Thanksgiving pre-party featuring holiday-themed Jell-O shots, live music, bottle specials and exclusive wine flights poured by Merchants of Thirst's Johnathan Ross. The dinner menu and one night only food specials will also be available for the evening. The fun begins at 5 p.m. till close, reservations are encouraged and can be made via TOCK.
29. Birdie G's Hanukkah -> Birdie G's Hanukkah takeout and delivery menu will be available November 28 through December 5. The à la carte menu features a carrot miso-laced Matzo Ball Soup, savory Noodle Kugel, Sauerkraut Latkes, Corned Whole Plate Brandt Beef Short Rib with smoked tomato gravy and more. Kosher wines and cocktails will also be offered during this time. 
30. Huckleberry Hanukkah -> Huckleberry's Hanukkah takeout and delivery menu is available Nov. 28 through December 5. The Santa Monica bakery and café is offering a heat and serve menu featuring classic like Creekstone Farms Onion-Braised Beef Brisket, Slow-Roasted Scottish Salmon, Organic Potato Pancakes, Matzo Ball Soup, Organic Double Apple Noodle Kugel, Dreidel Cooking Decorating Kits and more. 
31. Holiday Tamales at Lanea Cocktail Bar -> Santa Monica's Lanea Cocktail Bar is offering a variety of tamales crafted by Petra Zavaleta of East LA's Barbakush. Lanea will be offering  Holiday Tamales that include: Grilled Chicken with Petra's Secret Seasoning, Grilled Pork with Petra's Secret Seasoning, Vegetarian filled with Queso Mozzarella, and the Pina, a vegan tamale filled with fresh Pineapple. Each tamale costs $3 and is available on the weekends now until the end of the year. Patrons can order a dozen or half dozen for dine-in or takeout. 
32. Black Friday BOGO Slice at ROCA -> ROCA's BOGO slice deal is available for one day only on Friday, Nov. 26 at the Americana. The Black Friday deal lets guests receive one additional complimentary slice per purchase. 
---
Any notes or corrections? Want to suggest an event we should add to an upcoming list? Hit us up at [email protected].