Need something different in your life? Trying to find a unique gift for that special someone? Check this list of 10 unique L.A. shops that are totally worth a look (and maybe a bit of your coin as well).
If you haven't visited each of these spots at least once then do yourself a favor and put it on the agenda.
Plus, if you think there's some honorable mentions that deserve to be on the list that we forgot, feel free to let us know in the comments below.
Cheers!
Wacko Soap Plant
A wonderful mishmash of unique toys, rare books, magazines, and art. Their customer service is outstanding, and despite the relatively modest size, don't be surprised if you end up spending an entire afternoon here browsing through the wares.
4633 Hollywood Blvd
Los Angeles, CA 90027
(323) 663-0122
More information
The Time Travel Mart [Echo Park + Mar Vista]
The only store in the city where you can find mammoth chunks, barbarian repellant, and robot milk all under one roof! And yes, that sentence only begins to describe the wonderful weirdness of the Time Travel Mart. Check the vid below for some more insight.
Sweet!
The most oddball candy boutique in the entire city. Great selection of candies from all over the world, and personality-plus with features such as a dedicated Willy Wonka section and a custom chocolate bar where you can concoct your own creations (points for the pun!).
http://vimeo.com/64189251
6801 Hollywood Blvd
Ste 201
Los Angeles, CA 90028
(323) 462-3111
More information
Necromance
Bones, skulls, taxidermy, jewelry, feathers, weapons, dolls, medical equipment…  I believe eclectic is the word. If that's your thing, definitely be sure to check out Necromance.
7220 Melrose Ave
Los Angeles, CA 90046
(323) 934-8684
More information
The Last Bookstore
They say they're the largest independent bookstore in all of California. Probably no place better in the city to find sheer volume of used books than this spot in DTLA.
453 S Spring St
Los Angeles, CA 90013
(213) 488-0599
More information
Galcos
Simply put, the best place in all of Los Angeles to find unique bottled sodas and beer. And here's 7 of our favorite sodas, in case you were wondering.
Just watch this interview with the owner John and tell me you're not excited about planning a visit.
5702 York Blvd
Los Angeles, CA 90042
Highland Park
(323) 255-7115
More information
It's a Wrap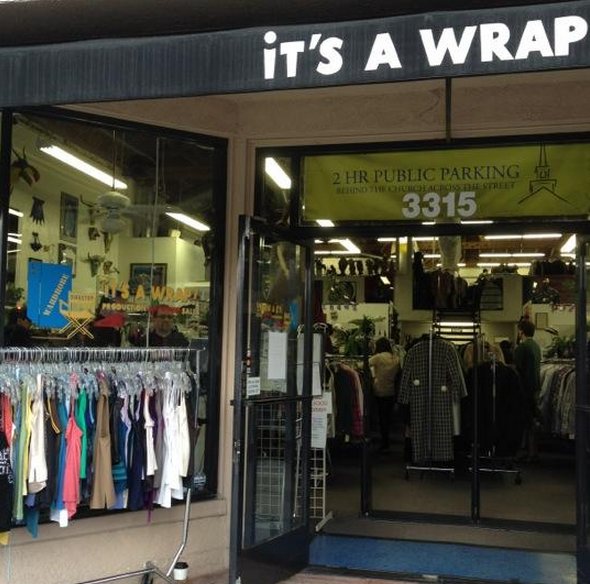 [Photo Credit: Foursquare]
It's a Wrap calls itself "..the only company on the planet that offers the general public the opportunity to purchase actual wardrobe and props from movie and TV sets for sale in 2 fabulous retail stores."
All we know is you can find some great deals their on designer labels, especially when a new shipment of wardrobe has just been dropped off. It's no wonder we include this shop as one of the 12 best thrift store spots in all of Los Angeles.
Two locations, in Hollywood and Burbank.
Whimsic Alley
Capes, wands, staffs, costumes… and so much more. They have dedicated rooms for shows like Dr. Who and Games of Thrones, and if you like Harry Potter, holy Hogwarts are you going to dig this place!
5464 Wilshire Blvd
Los Angeles, CA 90036
(310) 453-2370
More information
Nick's Metropolis
One man's junk is another man's collectible furniture. If you need something funky to decorate your place, or even just want to take a stroll through the massive jumble of old relics, you should definitely find time to stop by Metropolis Nick's.
100 S La Brea Ave
Los Angeles, CA 90036
Hancock Park
(323) 934-3700
More information
Mush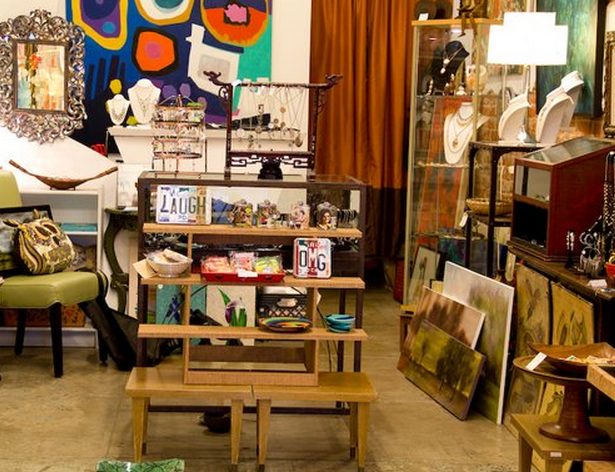 [Photo Credit: Yelp]
The owner Michelle personally curates one of the most most diverse collections of furniture and goods you'll see in the entire city. Ranges from your high-end Hollywood stuff to more modestly priced jewelry and other trinkets hand crafted by local artisans. Great place to find a unique gift.
1617 Silverlake Blvd
Los Angeles, CA 90026
(323) 664-6874
More information