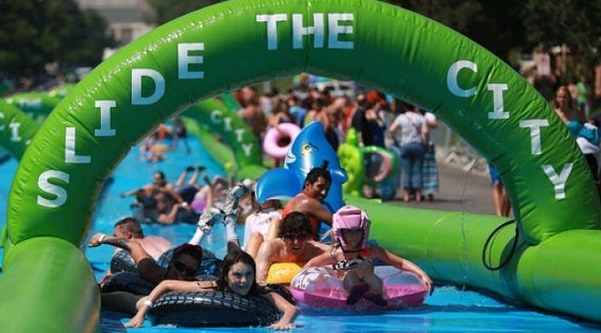 So a giant, street-wide water slide is coming to DTLA eh…? This immediately brings two thoughts to mind. One, this seems like a colossal waste of water resources in what's probably the worst drought in SoCal history. And two, this could be a lot of fun.
[Photo Credit: gojay_be_a_hero]
According to the Downtown News, an event called Slide the City, organized by McFarlane Promotions in San Diego, will set up shop in downtown on Sept. 27 creating a giant slide that will be located on Olive extending between Third and Sixth streets.
The event will charge an admission fee of $15 (for just one ride!) and prices range up to a $45 "VIP pass."
Now, to be fair, I haven't read anywhere about where the water for this event is coming from  or how many gallons will be used (though I see trucks in the above video, meaning it could be transported in, not originating from a local source).
Also there is the fact this is a for-profit event, meaning in order to permit this kind of event I'm sure the company had to pay our city a hefty price.
Still, I guess the one thing that might be of concern (even if the event pays for itself from a budgetary point of view)  is that with the drought on full blast, what kind of message does it send (if any) about our wastefulness and water usage to our citizens?
In any case if you are hell bent against the slide coming to Downtown and want to voice your concern, there is an online petition you can sign to try to stop it from happening.
Either way, let us know how you feel in the comments below.