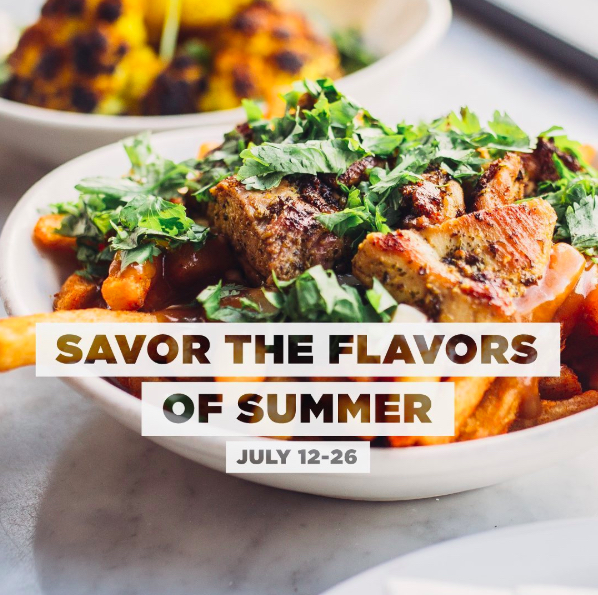 dineL.A. Restaurant Week returns for its summer edition from July 12-26. The two-week promotion features special prix-fixe menus from over 400 restaurants across Los Angeles.
Here's how it works: participating restaurants offer tasting menus from $15 to $35 during lunch and $29 to $99+ during dinner. Usually we dig through all the menus to find the ones we think are the most worthy to visit. This time we are zeroing in on the best $15 deals during dineL.A., leaving you satisfied in the stomach and wallet.
Here's a quick rundown of $15 lunch menus that should be on your checklist as you eat your way through the city the next two weeks.
HiHo Cheeseburger
Take a bite into Wagyu Cheeseburgers during dineL.A. HiHo is offering a triple patty with hand-cut fries and your choice of a slice of pie or small shake. The lunch deal is available daily from 11:30 a.m. to 5:30 p.m. –> More information
Cosa Buona
Zach Pollack is not only a pasta master he's also managed to produce some of the best pizza pies in Echo Park. The menu for dineL.A. will have you choose between a green salad or marinated olives with garlic bread. Your main is either a Veggie Supreme Pizza, BBQ Chicken Pizza or The Stepmother, an Italian Submarine sandwich. The menu is available Wednesday through Sunday from noon to 2:30 p.m. –> More information
LASA
Some of the finest modern Filipino cuisine can be found at LASA in Downtown Los Angeles. Named a 2018 Food & Wine Restaurant of the Year, this is one of the best restaurants participating during dineL.A. Available only on Saturday and Sunday from 11 a.m. to 3 p.m. You'll dine on a starter made of watermelon and cucumber and move onto your choice of Longsilog, a dish made up of house-made sausage, garlic rice and a fried egg; or if you have a sweet tooth a Pan Del Sal French Toast with whipped coconut cream and a cured egg. –> More information
Eataly L.A.
It's a pizza and pasta affair during dineL.A. at Century City's Italian marketplace. Stop into La Pizza & La Pasta one of several restaurants at Eataly L.A. to enjoy a starter and a main course. For starters, diners can choose between house-made mozzarella, bruschetta or an arugula trumpet mushroom salad. Then it's a choice between a brisket ragù tagliatelle, an Italian style niçoise salad and two types of pizzas. This deal is available everyday from 11 a.m. to 5 p.m. –> More information
Chao Krung Thai
The second oldest Thai restaurant in Los Angeles, Chao Krung is over 50 years-old. For dineL.A. the restaurant will feature some of their signature dishes for diners to enjoy. Starters include your choice of Tom Yum Chicken soup, wok fried cabbage and "Thai Dim Sum." Mains include rice dish Gra Paw Lab Khoa Beef, Thai Green Curry Tofu and pad Thai Chicken. The two course meal includes your choice of Thai iced tea or a Thai Pancake with condensed milk. The dineL.A. menu is available daily until 3 p.m. –> More information
Voodoo Doughnut
Not necessarily a place to have lunch but these famous donuts are a transplant from Portland Oregon that's taken L.A. by storm. So tasty that people happily stand inline for these sweet treats, they've decided to get in on the dineL.A. action by offering a Bakers Half Dozen featuring the famous spooky looking Voodoo Donut and a special dineL.A. edition donut made of bread pudding and topped with white chocolate. –> More information
Rappahannock Oyster Bar
This oyster purveyor located at ROWDTLA also makes one of the most delicious burgers in town. During dineL.A. you get to pick between their popular Rapp Burger, a Tuna Melt Conserva or a Charred Avocado Salad. Three side options also come with the meal. This deal is only available Monday through Friday from 11 a.m. to 3 p.m. –> More information
KazuNori
Hand rolls from SUGARFISH are so legendary that they've opened a separate sushi bar entirely dedicated to the handheld dish. During dineL.A. all three locations (Downtown, Westwood and Santa Monica) will participate. Diners will get three hand rolls (Toro, cucumber and crab) and a salmon sashimi. –> More information
---
Remember you can check the entire list of participating restaurants from all price ranges on the official dineL.A. site here.