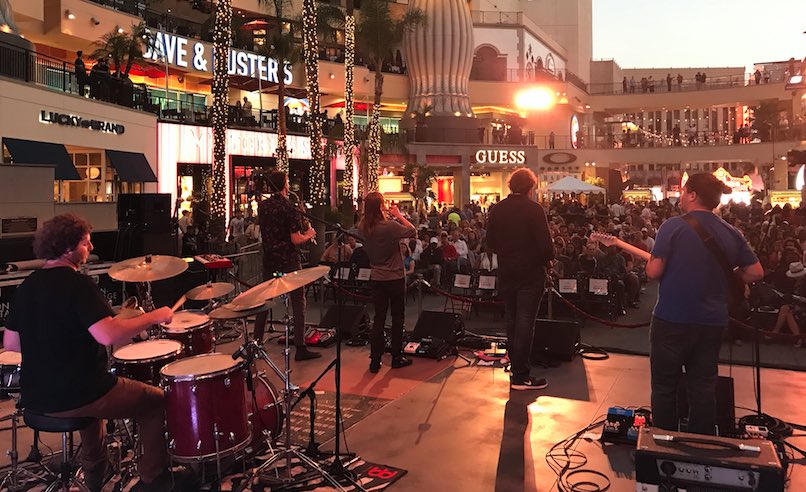 Every week in Los Angeles there are tons of great things to do (even before the weekend gets started) that we think you ought to have on your radar. With that in mind, we put together a list every Monday through Friday morning to keep you in the know about what's happening in the city you love (or maybe just like).
This week, from Monday, July 8 to Friday, July 12, features Subaru Summer Jazz Nights, Sizzling Summer Nights at The Autry, Queen Mary Free Movie Nights, dineL.A., The South Bay Greek Festival, Summer Nights in the NHM Garden and MUCH more.
Remember you can always go to our L.A. events calendar page to get an updated rundown of what's happening around the city.
Hope you find the rundown useful and, as always, enjoy your week!
---
Keep in mind that while we retain complete editorial control of our content, for some of the ticketing options provided we utilize affiliate links and receive a commission if you purchase through our links.
---
Monday July 8th, 2019
1. A colorful, winding installation called The Second Home Serpentine Pavilion is now open at the La Brea Tar Pits for the summer and its 100% free for the public to roam and explore. The pavilion is open daily and will run through November 24. FREE
2. Start your week with a free Jam Session at the Ford Theatres. This week's focus: Mexican folk dancing led by San Fernando's Ballet Folklorico Ollin. FREE
3. There's a free Mindful Yoga on the Beach series in the South Sand of the Manhattan Beach Pier this Monday at 6:30 p.m. FREE
4. Amanda Castro Band performs at Central Park in Whittier as part of the city's 2019 summer concert series. FREE
5. After runs in Valencia and Woodland Hills POP SK8, a themed pop-up outdoor roller-skating rink opens this Saturday at Westfield Culver City, running through August 4. Keep in mind every day is a different theme so check their schedule.
Tuesday July 9th, 2019
6. The Central Courtyard at Hollywood & Highland hosts free concerts every Tuesday in July as part of the 16th annual Subaru Summer Jazz Nights. There will be performances by Hunterones, Boogaloo Assassins, Bria Skonberg, and Jose Rizo's Mongorama this month.
7. Moonlight Movies on the Beach brings a summer-long series of free outdoor movie screenings on the shores of the LBC to three different locations near Downtown Long Beach and Belmont Shore. The series continues with The Little Mermaid at Granada Beach. Screenings happen on select Tuesdays and Thursdays through August 20. FREE
8. Apollo 11: The Immersive Live Show retells the tale of the first moon landing using 40,000 square feet of 360-degree graphics beaming from 32 total projectors, and an almost full-scale replica of the mylar-draped Command Module Columbia. And of course the timing couldn't be more perfect, with the 50th anniversary of the Apollo 11 mission coming up later this month. Check for discounted tickets before making your purchase. DISCOUNTED (via Goldstar)
9. The Adventure Effect will join forces with Scum and Villainy Cantina to host a Disney trivia night with special guest host Michael Giacchino, composer of Pixar movies like Up, The Incredibles and Coco. FREE
10. Mr. C's Poolside Cinema is back for the sixth year in a row. From June 11 through August 27 Angelenos can indulge in a luxury outdoor movie experience by the pool with a Cipriani menu, classic movie snacks and Peroni Nastro Azzurro. Alice in Wonderland will be screened this week.
11. Free museum days: Los Angeles County Museum of Art (also free for L.A. County residents with valid I.D. after 3:00pm on Mondays, Tuesdays, Thursdays & Fridays all month long) and Autry Museum of the American West
Wednesday July 10th, 2019
12. Back for the 16th year in a row, The Independent Shakespeare Co. presents Shakespeare in the Park at the Old Zoo in Griffith Park with a free performance of Twelfth Night on Wednesday and Friday. FREE
13. Join the Los Angeles Conservancy for a walking tour of City Hall.
14. The City of Pasadena hosts Parks After Dark a season of free activities including sports, fitness classes, arts & crafts and much more offered to youth, families and individuals every Thursday through Saturday from July 10 through August 10. FREE
15. The historic Wilshire Ebell Theatre will host a special screening of A League of Their Own. A pre-party in the Ebell garden with complimentary appetizers, a selfie booth and cash bar is included in the ticket. DISCOUNTED (via Goldstar)
16. Griffith Observatory offers a Sunset Walk & Talk one evening a month led by a Park Ranger and museum guide. FREE
17. The Hollywood Bowl welcomes Tony Bennett to their iconic outdoor amphitheater this Wednesday and Cyndi Lauper on Friday and Saturday.
18. FIGat7th welcomes the 13th Annual Dog Day an evening of mingling, music and pet focused vendors. SPCALA will also be on hand to give low-cost vaccines for dogs.
19. Shakespeare By The Sea will once again offer a ten-week program of admission-free performances with two featured productions: The Comedy of Errors and Henry V at a variety of venues across Los Angeles Wednesday through Saturday. FREE
20. The Spare Room welcomes back Evening of Tiki a one night collaboration with the best and brightest cocktail talent from around the world . Happening once a month from May through September, beverage director Yael Vengroff will work alongside each guest bartender to create an over-the-top tiki-inspired menu. The Spare Room will also have a food menu, DJs and special guests for each night.
21. Descanso Gardens hosts Summer Songs welcoming The Flashdance DJs into their Rose Garden. They'll be spinning an all-vinyl set during sunset hours and beer will be offered at concession stands.
22. Plan C a free comedy show happening on the second Wednesday of every month at The York in Highland Park returns for a round of progressive laughs starting at 9 p.m. FREE
Thursday July 11th, 2019
23. Sizzling Summer Nights at The Autry kicks off this Thursday with dance lessons with an instructor, access to museum galleries, and a separate children's dance floor, plus tacos, margaritas, and other light refreshments (available for purchase.) The series opens with a performance by Conjunto Oye!, a Los Angeles based salsa orchestra. Sizzling Nights continue weekly through August 22.
24. KCRW's Summer Nights series stops by the Hammer Museum with a performance by Pavo Pavo, KCRW DJs Anne Litt and Dan Wilcox. Food trucks and a cash bar will also be available at the party. FREE
25. Grease screens for free during Queen Mary summer movie night series. The evening will also feature food trucks themed to the night's film plus a full bar with drinks for purchase for those ages 21+. FREE
26. Celebrate summer as you enjoy the arts during Symphonic Thursdays, a series of four free concerts taking place at Marina del Rey's Burton Chace Park during July and August. Kicking off the series is Opera at the Shore – The Marina del Rey Orchestra performs a string of popular operas all in one night. FREE
27. Downtown Art Walk brings art enthusiasts and locals together every second Thursday of each month to take part in gallery tours, parties, food trucks, and and more in the heart of the Los Angeles Historic Core.
28. LA Plaza de Cultura y Artess presents Plática y Pruebas: Yucatán Summer Dinner Party with Chef Gilberto Cetina Jr., owner of Chichen Itza and Holbox. He'll be sharing summer-time recipes from his cookbook "Sabores Yucatecos: A Culinary Tour of the Yucatán."
29. Critically-acclaimed podcast Lore hits the stage of the Wilshire Ebell Theatre to tell true life scary stories that expose the darker side of history.
30. Enjoy free family-friendly outdoor movies in Malibu thanks to Screen on the Green every Thursday through August 15. This week How to Train Your Dragon will be screened. FREE
31. Night Market is back on the hilltop of the iconic Yamashiro restaurant every Thursday all summer long. Angelenos can enjoy boutique vendors, food vendors, a concert series, cocktails at Yamashiro's Pagoda Bar and an unbeatable view of Hollywood. This event is also kid friendley. Please note this year the organizers are charging $10 to park at the shuttle location. Shuttles are free and so is admission.
32. Nerd Nite is a monthly event held in 100+ cities across the globe including Busby's East in Los Angeles! Dubbed as "Discovery Channel with beer" folks will give fun and informative presentations about a variety of topics and the audience drinks along.
33. Free museum days: Japanese American National Museum (from 5 to 8 p.m.), MOCA Grand & MOCA Geffen (from 5 to 8 p.m.), Skirball Cultural Center (noon to 5 p.m.), Long Beach Museum of Art (3 to 8 p.m.) and USC Pacific Asian Museum (5 to 8 p.m.)
Friday July 12th, 2019
34. dineL.A. Restaurant Week returns for a 15-day dining event that highlights the diverse and exciting culinary experiences Los Angeles has to offer. On July 12 – 26, patrons can enjoy specially-priced lunch and dinner menus at over 400 participating restaurants throughout the city. Peek our rundown of The Best $15 Menus During dineL.A. (July 12-26) You Have to Try for starters.
35. The South Bay Greek Festival is a three-day affair at St. Katherine's Greek Orthodox Church in Redondo Beach offering lots of Greek food, traditional dance, music and more.
36. The Skirball museum will host an Outdoor Movie Series screening of The Devil Wears Prada. Check for discounted tickets before making your purchase. DISCOUNTED (via Goldstar)
37. Summer Nights in the Garden returns to the Natural History Museum this weekend. Sip garden-inspired cocktails, listen to live music, take garden tours and more. Tickets are free to this series and can be obtained online. FREE
38. Old Pasadena Summer Cinema screens Clueless at One Colorado. FREE
39. The Music Center's Dance DTLA features live music and/or DJs paired with expert dance instructors providing beginner group dance lessons for attendees. Each night has a different dance theme. The series continues with Hip-Hop (new for 2019) at Grand Park/Performance Lawn. Dance DTLA continues on select Fridays through August 30. FREE
40. The Hammer's series Catch a Thrill! Celebrating 10 Years of the American Genre Film Archive will screen late 1980's Mexican horror flick Don't Panic.
41. LA Plaza de Cultura y Artes in Downtown Los Angeles continues their Summer of Salsa concert series this Friday. Dance to the sounds of some of the city's best salsa and Cuban bands one Friday evening each month through summer. FREE
42. Caltech Astronomy invites the public to sit in on a stargazing and lecture event this Friday at 8 p.m. FREE
43. Summer Friday Night Drive-In at the Roadium returns every Friday evening from June 7 to August 30 to revive your favorite films in a classic 1950's drive-in setting. The series continues with a screening of Grease.
44. Spend the season sipping wine during sunset hour at Barnsdall Art Park's Friday Night Wine Party Series. Happening on the lawn of architectural gem the Hollyhock House, the evening features a fine selection of wines curated by Silverlake Wine, a live DJ and tours of the house. The series happens every Friday evening till September 6.
45. The Department of Beaches and Harbors presents Beach Movie Nights at Dockweiler Youth Center every Friday. This week they will screen Little Foot. FREE
Food Pick for the Week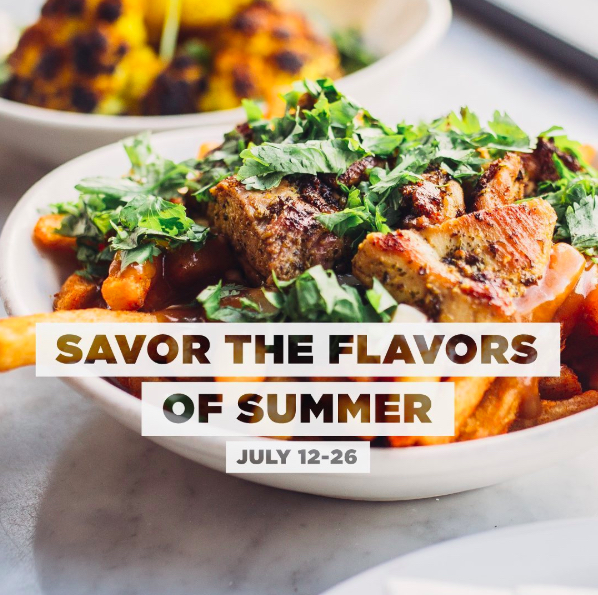 This week's pick by Christina Champlin, Co-Founder of We Like L.A.
dineL.A. Restaurant Week returns for its summer edition from July 12-26. The two-week promotion features special prix-fixe menus from over 400 restaurants across Los Angeles.
Eateries will offer tasting menus from $15 to $35 during lunch and $29 to $99+ during dinner. This season we're zeroing in on the best $15 lunch deals during dineL.A. that will leave you satisfied and save you some serious bucks. Check out our quick rundown of The Best $15 Menus During dineL.A. (July 12-26) You Have to Try and start making reservations now. Happy eating!
---
Want to get our to-do lists straight to your inbox every week? Sign up for our email program. Have an upcoming event you'd like suggest for listing? Drop us a line at [email protected]