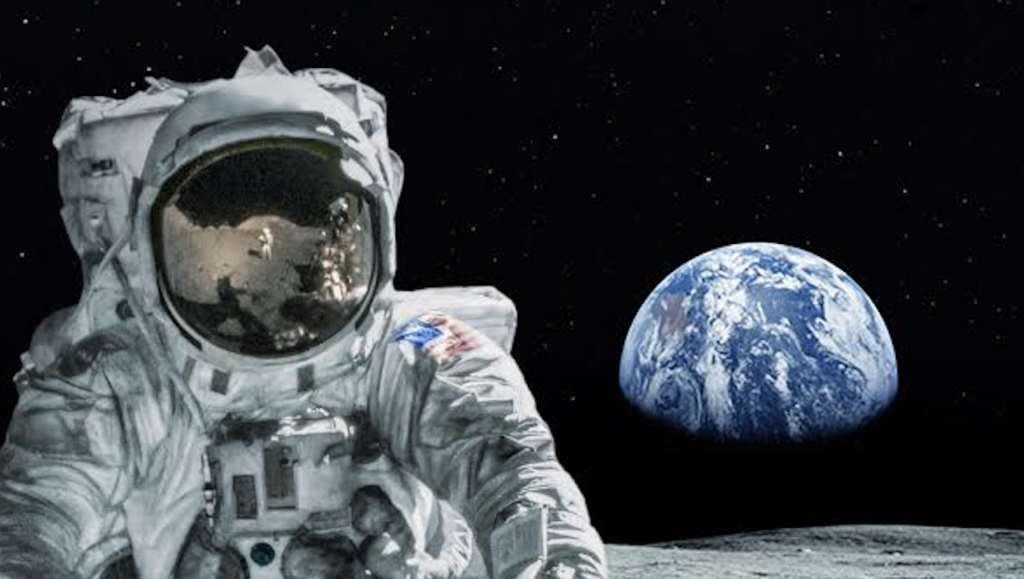 This month the grounds of the Rose Bowl host a brand new immersive live show that's all about the historic Apollo 11 mission. The experience is ambitious as it is breathtaking, and the timing couldn't be better, with the 50th anniversary of man's moon-trip milestone just around the corner.
Apollo 11: The Immersive Live Show retells the tale of the first moon landing from the perspective of Ben, a fictional retired aerospace engineer hoping to connect with his web-obsessed granddaughter, Sydney. Cue the happy tears. We follow our lead from the time he's accepted into NASA's space program, through his training and the mission's end. It's a rollicking ride, with graphics sequences as grandiose as they are expository. 
One killer clip is Ben and his wife's Houston road trip montage, a musical and ocular delight featuring Tennessee blues in booming surround-sound, the sights of each city brilliantly projected in the round.
This show isn't all whimsy, though. Both the devil and drama are in the details.
"Our characters are amalgamations of historical figures, so we can tell a more dramatic tale and focus on some of the aspects and facts that many people don't know," said show director Scott Faris.
"It was very touch and go right till the last seconds. They had 15 seconds of fuel left."
A bevy of historians made sure the show is accurate as possible, an exhaustive process that involved combing through official NASA archives and consulting with folks close to the mission.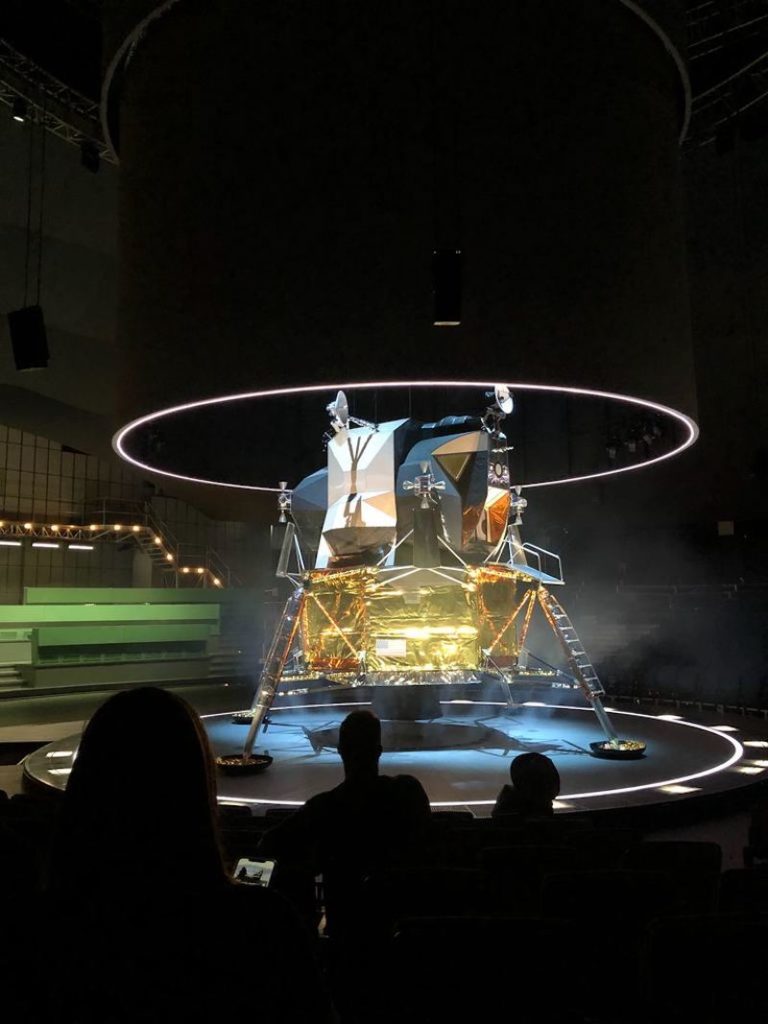 This production is three years in the making, and it shows. There are 40,000 square feet of 360-degree graphics beaming from 32 total projectors, an almost full-scale replica of the mylar-draped Command Module Columbia, intelligent lights, life-size rockets and a retractable control room in the world's largest theater touring tent. The traveling cast is 20 people deep, and the show is already slated for a three-year run through 18 American cities, with six to eight week stints in each location. 
Apollo 11 also features an original score recorded in London with a 17-piece orchestra and a rock band. These compositions really sing in the state-of-the-art, custom-built Lunar Dome; you can feel the floor shake with each cello flight.
While the dome is not technically in the Rose Bowl stadium, it's esoteric-yet-maximalist construction is a great complement to its more architecturally conservative neighbor. 
The exterior looks like a sleek space ship, an aesthetically-forward Area 51. This is theater mostly in the round, with 1600 seats forming a terraced 3/4ths of a circle around the action onstage. Actors are mic'd for maximum impact; speakers in the space adjust according to where the character is standing, so audiences can make out every syllable of this dramatic, edifying script.
It was conceived by a Swiss airline pilot researching a book and documentary on the famed space flight, and produced by Nick Grace Management, the team behind the massive hit Walking With Dinosaurs, among other things. They're no stranger to bombast, but here present something weirder than normal, a rousing deep space voyage that makes you feel adrift. The loneliness and wonder of the stars feels closer than ever, thanks to enveloping sound and video, including an at-times eerie score.
You can snag tickets now for the July 5 preview, though the show officially opens July 10. Performances continue through August 11. Seats start at $45 and seem to be moving briskly. Tickets are available here.
The show's premiere coincides almost-perfectly with the 50th anniversary of the Apollo 11 moon landing on July 20, and supplements the well-loved documentary released early this year. There's plenty of parking, but early arrival is strongly recommended.