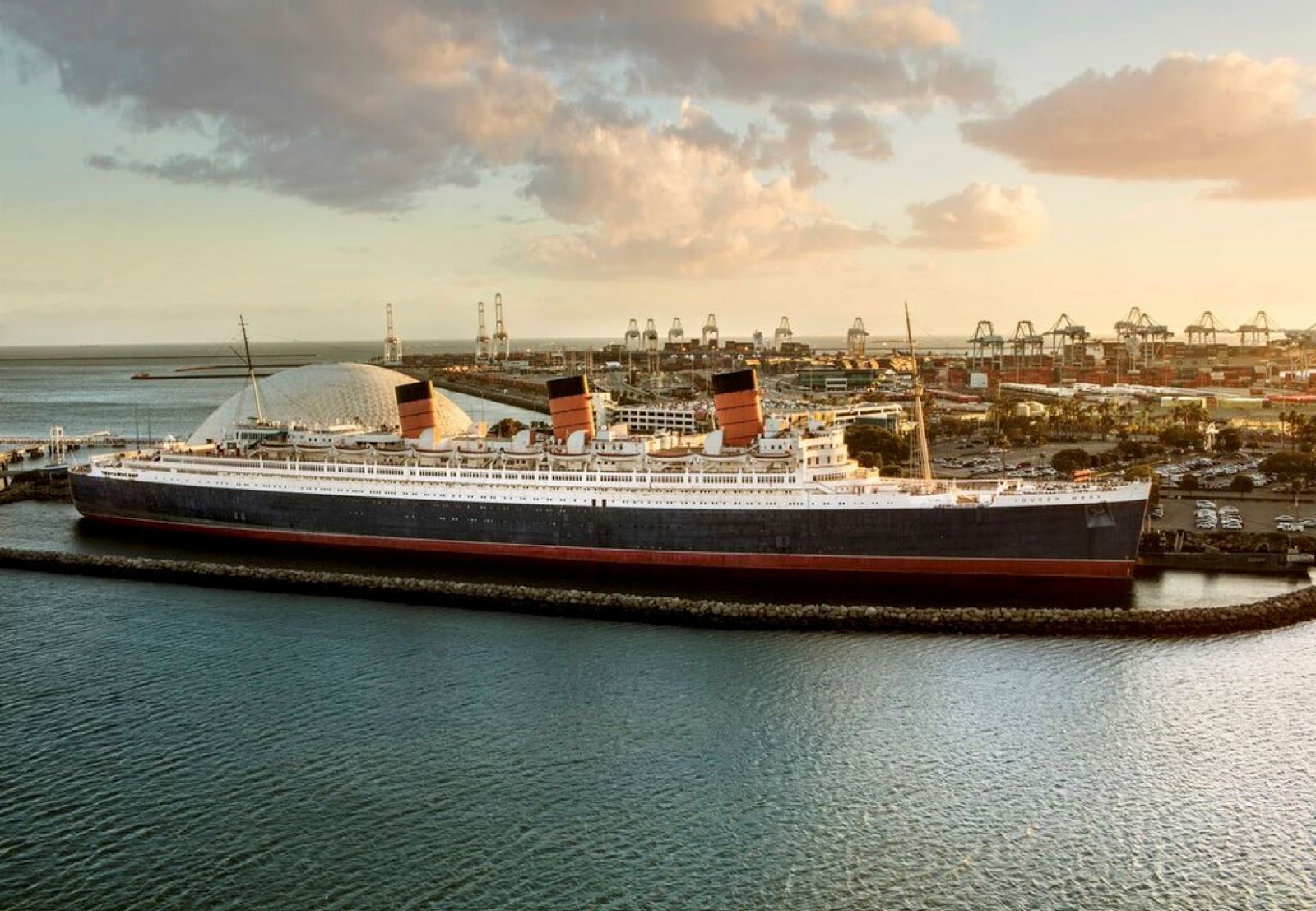 One of Long Beach's signature attractions is jumping into the outdoor movie game with a free monthly series kicking off this May. The Queen Mary's Movie Night Summer Series opens with a screening of Mamma Mia! on May then continues on select Thursdays through August 22.
We know what you're thinking: How is the Queen Mary going to get all these people on board to see an outdoor movie? Well, that's not exactly how it's going to work.
Screenings will take place on the Queen Mary Seawalk, a lawn adjacent to the ship. The historic vessel provides the backdrop, and each evening will feature food trucks themed to the night's film plus a full bar with drinks for purchase for those ages 21+. Plus, free is a pretty good price for admission, although even that comes with a small caveat (see parking details below).
The complete summer 2019 schedule is as follows:
May 16, 2019, 6 p.m. – 10 p.m.: Mamma Mia!
June 20, 2019, 6 p.m. – 12 a.m.: Double Feature: Indiana Jones – Raiders of the Lost Ark & Indiana Jones – Temple of Doom
July 11, 2019, 6 p.m. – 10 p.m.: Grease
August 22, 2019, 6 p.m. – 12 a.m.: Double Feature: Beetlejuice & Edward Scissorhands
Each events open doors at 6 p.m., and screenings start at sundown. Lawn chairs and blankets are allowed. No outside food or beverages permitted, with the exception of unopened water bottles
While admission to screenings will be free, all vehicles entering the events park will be charged a $10 fee. We'd recommend carpooling or using available public transit options if you're looking to lower costs.
For those willing to spend a bit more, Date Night Packages are available for purchase which include a reserved couch for two, one bottle of signature Queen Mary Champagne, and assorted snacks. The cost is $75 per couple.
The Queen Mary is located 1126 Queens Hwy, Long Beach, CA., 90802 For more information about the event, the the Queen Mary's Movie Night Summer Series page on their official website.
---
The Best Things to do in L.A., straight to your inbox! Sign Up For Our Email List And You Receive...
- Two emails a week, Monday AM and Thursday AM.
- Monday: The best of the week ahead. 30+ ideas.
- Thursday: What to do this weekend. 30+ ideas.
- Occasional emails with special offers and messages from promotional parters.
- Optional emails for daily to-dos, travel tips, food recommendations, and deals.
Basically, just think of us as your friend making some fun suggestions for what you might like to check out this day or week or month in L.A. Sign-up in the form below to join over 66,000 Angelenos who already subscribe!
NOTE:
If you already receive our weekly newsletter and want to update which additional emails you receive, simply click 'update subscription preferences' in any email we've sent you to change your subscription settings. Remember, per our 
privacy policy
, we respect the fact that you're trusting us with your personal info and will never share your email information.
---