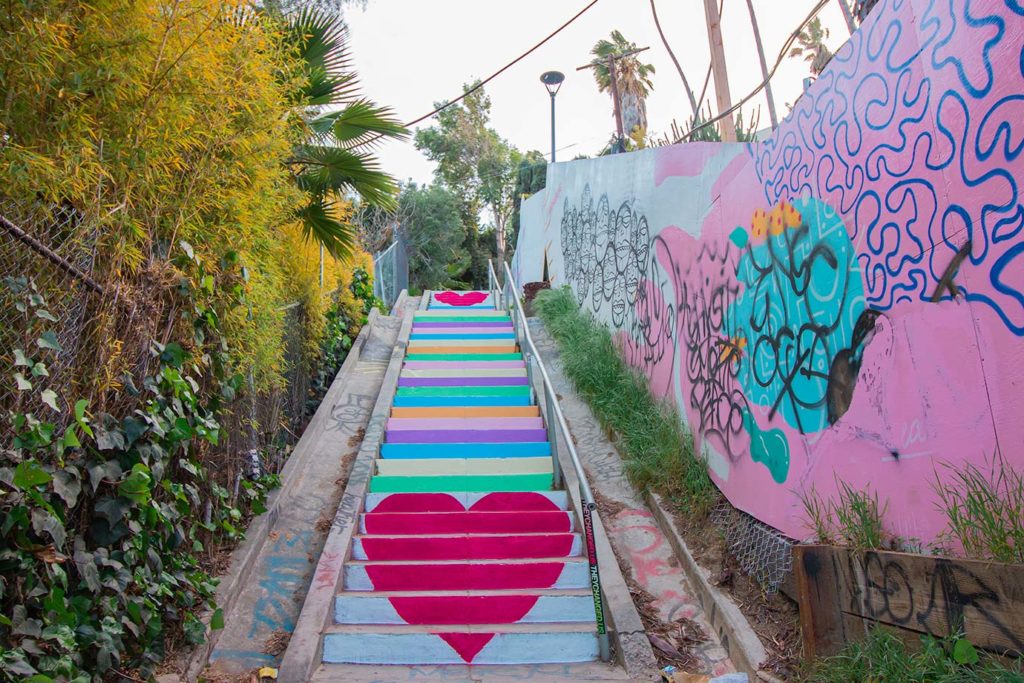 We used to tell you about all the things you could go out and do in Los Angeles on a daily, weekly, and monthly basis. Then, COVID-19 changed life for all of us, in a thousand small and massive ways. Until the pandemic is behind us, we'll post events that adhere to Public Health's current protocols—including plenty of at-home and online events—every Monday and Thursday. We hope they keep you busy, make you laugh, teach you something, or help you feel less alone.
This weekend, we've got Lunar New Year events, Mardi Gras and Valentine's Day specials, a mysterious online cruise, a drive-thru food fest, romantic drive-in screenings, candle workshops, a birding class, and more. Have something you want to submit for next week? Hit us up: [email protected].
In-Person Events
WE Drive-Ins in Santa Monica is screening Minari all weekend. The film follows a Korean-American family's move to an Arkansas farm in search of their own American dream.
The Rose Bowl is hosting a Drive-Thru Fair Foodie Fest Feb. 12-28 featuring fair foods like turkey legs, deep-fried Oreos, and doughnut cheeseburgers. Admission is free, but you'll have to pay per item. Register online in advance to receive a free mini funnel cake.
Renowned musician Devendra Banhart's drawings and paintings have earned him his first solo L.A. exhibit. The Grief I Have Caused You is on view at Nicodim Gallery Feb. 13 to March 20. On view in-person and online.
Glendale's Electric Dusk Drive-In will be screening romance films this weekend to celebrate Valentine's Day including Casablanca, Breakfast at Tiffany's and When Harry Met Sally.
The Marina Drive-in's weekend offerings include The Princess Bride, Bohemian Rhapsody, and The Notebook. All screenings begin at 6:30 p.m. with doors an hour earlier. Tickets are $20 per car. Nearby restaurants are open for outdoor dining and takeout if you're looking for a meal to enjoy beforehand or in your car.
Banter & Bliss Candle Co. in San Pedro will host a candle workshop on Feb. 14 at noon. Each guest will learn how to make two 7 oz. scented candles (you'll mix your own fragrance), which you can label with Valentine's Day foil and pair with a matchstick bottle. Tickets are $75 and include the class; two candles; a gift box with a matchstick bottle, bath bomb, and soap, and light refreshments. As strict social distancing protocols are enforced, you must RSVP in advance.
California Botanic Garden is offering an Introduction to Birding class on Feb. 13 at 1 p.m. Tina Stoner, President of Pomona Valley Audubon Society, will show you how to use binoculars and field guides to spot, record, and identify birds. Tickets are $25 for the public, $20 for members.
Magic Asphalt, the stand-up comedy drive-in located in the parking lot of the Magic Castle, returns this weekend with shows on Feb. 12 and Feb. 13. To see the full lineup, various showtimes, and meal package add-ons, go here.
The Gastro Garage returns to the W Hollywood Hotel for a night of blowtorch-powered dining. Upcoming dates include Feb. 12, 13, 19, 20, 26, and 27. Tickets are $100 per person and include multiple courses like buffalo blue chips, maple-glazed carrot pops, Japanese marinated short rib, salmon skewers, and more.
Through March 15, Downtown Santa Monica, Inc. will recognize Black History Month with a series of art installations by Black artists including Tiayrra Bradley, Shplinton, and Mira Gandy. All three pieces can be found on the Third Street Promenade. Exact addresses and more info here.
The Luxe Hotel in Brentwood will screen rom-com The Princess Bride on Feb. 12 at 6 p.m. in its parking lot (doors open at 5 p.m., must arrive by 5:30 p.m.). Tickets are $15 per car, and guests can also order food, drinks, and popcorn straight to their car via text message. To reserve your spot, call the hotel at (310) 476-6571.
At-Home & Online Events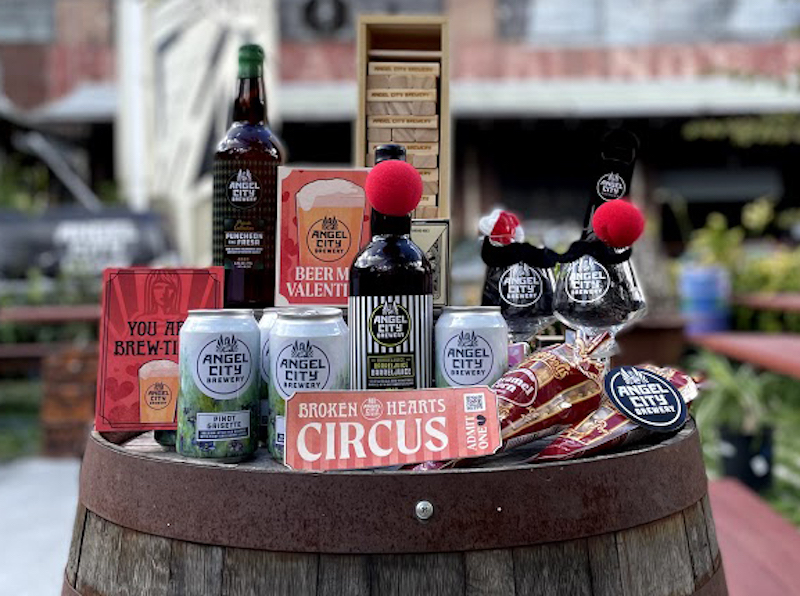 Angel City Brewery's Broken Hearts Circus is online this year, featuring virtual vaudeville performances from sword swallowers, jugglers, wire walkers, magicians, aerialists, and more. As you watch here, enjoy a kit from Angel City that includes a 6-pack of Pinot Grisette, a bottle of Puncheon the Fresh, a bottle of Barreljuice, two Teku glasses, playing cards, clown noses, candy heart pops, popcorn, and more ($65). Order your kit now for pickup through Feb. 14.
Impastiamo is hosting possibly the first-ever virtual speed dating and cooking class on Feb. 13. Guests can meet other singles as they learn how to make spaghetti with meatballs the real Italian way from private chef Arturo Avallone. Tickets are $25. You can gather the ingredients ahead of time or opt to be sent an ingredient box for $49.50 (class ticket included).
On Feb. 13, enjoy a night of live music from some of the biggest names in music, all to raise money to feed New Mexico communities facing hunger. The Food for Love lineup includes John Doe, Kurt Vile, David Byrne, Lyle Lovett, and many more. The concert is free to view on YouTube, and 100% of every dollar raised goes directly to the New Mexico Association of Food Banks.
The Golden Lunar New Year Parade goes virtual this year with an array of entertainment to usher in the year of the Ox on Feb. 13 from 1-4 p.m. An annual tradition hosted by the Chinese Chamber of Commerce of LA, this year, the event will also reflect on the history and achievements of Chinese Americans in Los Angeles.
On Feb. 13, join A Curated Situation for Dark Corners: Island Cruise '78. Explore the various 'rooms' of the virtual cruise ship to find live performances, a '70s disco, interactive games and activities, and a mystery to solve. Tickets are $10-$20, though there is a pay-what-you-can-option, too.
California Craft Beer Week officially kicks off on Feb. 12 featuring virtual events including panels on bold beer pairings, the resurgence of the IPA, homebrewing, and more. Other online tastings and pop-up events are happening across the state, so definitely check out the full lineup here.
From LACMA@Home, watch Linda Wingerter of The Stringpullers Puppet Company tell a story about the power of quilting via shadow puppetry. Available on YouTube starting Feb. 14.
Coucou French Classes teaches French the way it's actually spoken. On Valentine's Day from 1-3 p.m., they'll host a workshop that discuss romance, intimacy, and dating in France and how it compares to the U.S. Coucou suggests this class for someone who wants to understand a French partner better or just to explore relationships in a new way. Tickets are $60 per person. Register here.
The La Brea Tar Pits and the Smithsonian National Museum of Natural History (NMNH) have partnered with Universal Pictures Home Entertainment on "Camp Croods," a virtual educational experience that uses the Dreamworks film The Croods: the New Age as a launch point to learn about the Ice Age. Families can log on to learn from real paleontologists and archaeologists, complete arts and crafts projects, virtually explore the tar pits, and more. The next Camp Croods session at the La Brea Tar Pits is on Feb. 13 at 10 a.m. Registration is free here.
Greater LA's Dater LA Trivia Party is on Feb. 12 at 7 p.m. Join Greater LA host Steve Chiotakis and KCRW DJ Raul Campos for team trivia. You'll connect over Zoom and teams can use breakout rooms between rounds to discuss answers. Winners get KCRW swag and bragging rights. The event is free but breakout rooms sell out fast. To reserve one, send an email to [email protected] with your team name, and each member's first name and email address. RSVP to the event here.
On Feb. 13 at 10 a.m., The Fowler presents The Brutish Museums with Dan Hicks, a curator, professor of Contemporary Archaeology at Oxford University, and author of The Benin Bronzes, Colonial Violence and Cultural Restitution. The event will also include a panel discussion with Natasha Becker, Curator of African Art at the Fine Arts Museums of San Francisco; Marla C. Berns, Shirley & Ralph Shapiro Director of the Fowler Museum at UCLA; and Lauren Kroiz, Director of the Phoebe A. Hearst Museum of Anthropology at UC Berkeley.
On Feb. 12 at 7 p.m., CAP UCLA presents Douglas J. Cuomo's Seven Limbs performed by Nels Cline & Aizuri Quartet. The piece is based on the Buddhist practice of purification. Watch free here.
The Art Deco Society is hosting a virtual cocktail hour on Feb. 12 at 7:30 p.m. Valentine's Cocktails with Nick & Nora will feature four vintage martini recipes in honor of Nick and Nora Charles, the crime-solving couple of The Thin Man. They'll also discuss the life of The Thin Man author Dashiell Hammett. Register for the free event here.
Magician Gregg Diamant will perform a live, interactive magic show on Feb. 12 at 4 p.m. Following a series of illusions, balloon tricks, and more, Diamant will teach the audience how to do their own trick and make a Valentine's Day balloon heart. The show is free, but you can buy your own balloon kit from Diamant's website for $15.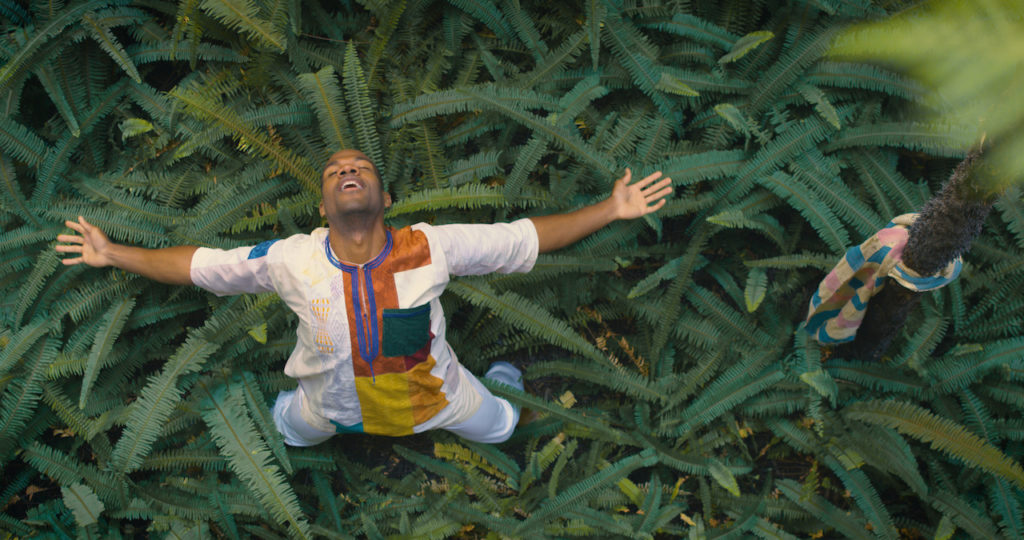 The Broad Stage hosts the West Coast premiere of Heartbeat Opera's Breathing Free on Feb. 13 at 7 p.m. Described as "an ambitious filmed song cycle dedicated to the celebration of Black artistic voices," the show features nine interconnected music videos with music from Beethoven's Fidelio, Negro spirituals, and works by Harry T. Burleigh, Florence Price, Langston Hughes, Anthony Davis, and Thulani Davis. A discussion will follow the screening. Tickets are pay what you can, starting at $10.
The Lowell Milken Center for Music of American Jewish Experience at The UCLA Herb Alpert School of Music presents a virtual klezmer workshop and concert on Feb. 14. Per a release: "The Klezmer Workshop and Concert with fiddler Craig Judelman and sonorous Yiddish singer Sasha Lurje will give viewers the opportunity to dive deep into the relationship between instrumental klezmer and Yiddish vocal styles, and klezmer punk rocker Daniel Kahn will engage with attendees and explore the inspirations behind his compositions during the next Jewish Music Masterclass." Registration is free here.
The 2021 Slamdance Film Festival is Feb. 12-15 and includes over 100 films, filmmaker Q&As, workshops, panels, and an awards presentation. The festival takes place entirely online with tickets starting at $10 for general admission and $5 for students.
Be Kind, Rewind 90s Trivia hosts a special Valentine's Day edition on Feb. 12 at 6 p.m over Zoom. Join your friends for five rounds of 90s-themed trivia for your chance to win prizes. Tickets are $5. RSVP here.
The 7th annual San Gabriel Lunar New Year festival is online this year with interactive games for the whole family and a community wishing tree. Watch on YouTube on Feb. 12 at 6 p.m.
Pasadena's Pacific Asia Museum museum will celebrate the Lunar New Year virtually with an array of programming that includes streams of lion dances and traditional Chinese music, plus Lunar New Year craft-making workshops.
Thick Strip Show is a body-positive virtual strip show that's up and running online. The next one is on Feb. 13 at 8 p.m. You can RSVP by sending $5 to paypal.me/thickstripent. The following day, they're hosting a workshop on how you can create your own sensual dance routine. That's at 4 p.m., and you can send $25 to that same PayPal address. Want to check out both? Send $28.
DTLA Proud presents 'I Choose You,' a livestream fundraiser celebration on Feb. 13 held on Princess Party's Twitch Channel. A $10 suggested donation gets you to the celebration. A $50 or more donation will get you a Proud Box filled with specially curated, festival-at-home items from partners Tito's Handmade Vodka, Papa & Barkley, Product of LA, Gay Pins, Kinda Fit Kinda Fat, DW Home Candles, Sobre La Luna, Sacred Society Apothecary, Starfucker Magazine, and much more. All donations will be matched up to $15,000 by Tito's Handmade Vodka.
On Feb. 12, KCRW invites you to an advanced free virtual screening of "Nomadland" followed by a Behind the Screens conversation with KCRW host Madeleine Brand and Jessica Bruder, author of the book Nomadland: Surviving America in the Twenty-First Century.
New York-based gallery Arcade Project Curatorial's latest online art show California Lite brings together 26 multicultural artists living in California to present their interpretations of light and life under the California sky. Free to view. Runs Feb. 10 through March 17.
Reel Love Film Fest is a new virtual film fest that focuses on the future of love on-screen. The festival includes feature films, shorts, and special events that explore the emotional spectrum of love in various forms. The fest runs Feb. 10-14. Tickets are $10 to $85.
Grand Park's Lovers Rock is a two-week digital festival this year, focused on music and food, "rooted in the Reggae sounds of the 1970s and in Caribbean nightclubs in London." Viewers can enjoy on-demand entertainment and vegan recipes on Grand Park's digital channels Feb. 12-28. Guests include The Wailers' Aston Barrett., Jr., Morning Becomes Eclectic host Novena Carmél, DJ Rashida, Storm the DJ, and more. Recipes come via Angela Means Kaaya, founder of Jackfruit Cafe.
Modernism Week, Palm Springs' premier midcentury architecture and design event, is virtual this year (Feb. 1-28) with an array of online experiences you can stream safely at home.
Paruzal Games' online escape rooms are a great way to reconnect with friends while solving a puzzle together. A live game master will connect with you over Zoom, taking you through illustrated worlds full of clues and secrets. While many escape rooms tilt towards horror or suspense, Paruzal's adventures are light-hearted and fun, such as opening a pizza shop, sprucing up a coffeehouse, or sneaking backstage to try to meet Bruce Springsteen. Tickets are $15/person. Or, if you're looking for something more bespoke, you can also ask them to create a custom game for a special occasion.
Chunky Paper is hosting a pop-up in Chinatown from Jan. 25 through Feb. 15 for Chinese New Year (Feb. 12). Discover seriously adorable, handmade red envelopes in the shape of boba tea, Dodgers baseball caps, and more. Stop by the pop-up or shop online.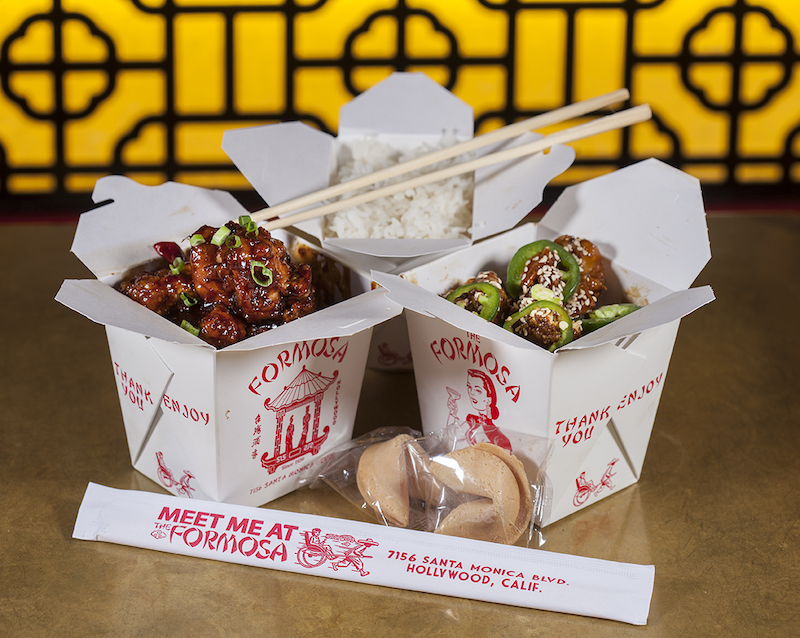 Pickup & Delivery
Still need plans for Valentine's Day? Check our guide, 40+ Special Dinners & Gifts for Valentine's Day 2021 in Los Angeles.
Mar Vista's Little Fatty has a few Lunar New Year specials to celebrate the year of the Ox. The menu is available Feb. 11 – 17. Dishes include popcorn quail, oxtail and beef curry, beef chow fun, a specialty cocktail called "oxblood julep" made with beet-infused bourbon, and more.
Angelenos can get a taste of NOLA with a number of Mardi Gras specials from vendors at the Original Farmers Market from Feb. 13-16. Specials include a family feast from The Gumbo Pot, King Cake at French bakery Michelina Artisan Boulanger, and a beignet pop-up on the Market Plaza where guests can enjoy made-to-order beignets and authentic chicory coffee.
Primo's Donuts has limited-edition heart-shaped donuts, plus seasonally decorated donuts with sprinkles and chocolate kisses. Primo's Valentine's Day special includes six V-Day donuts plus a Primo's mug for $25. You can pre-order now for pickup or get delivery online.
Pasta Sisters is offering heart-shaped chocolate ravioli served with smoked prosciutto, ricotta cheese, and walnuts in a butter and cheese sauce. Get it cooked a la carte or uncooked to make at home. Available for takeout and delivery.
On Feb. 14, Patxi's Pizza has a Valentine's Day special that includes a 10-inch specialty deep-dish pizza, two starter salads, one dessert pizza, and a bottle of house wine for $50. Deep dish pies include the BBQ Chicken, Greek, Chicken Tikka Masalas, a vegan option, and more. Available for takeout by phone or walk-in. Not available through third-party delivery services.
The Formosa Cafe, LUCKY RICE, American Express, and Resy are partnering on a Chinese New Year's menu for two Feb. 12-14. The $88 menu includes spring rolls, egg noodle dumplings, long life noodles, orange chicken, and fried sesame balls (serves two). The meal also comes with a gift tote and Year of the Ox goodies. Book for pickup through Resy.
On Valentine's Day, all sandwiches at Ike's Love & Sandwiches are buy one, get one free.
Manuela reopened this week and they've got a Valentine's menu on Feb. 14 from 5:30 to 10 p.m. It's a family-style dinner for two ($90) that includes a cocktail, deviled eggs and cream biscuits, endive and chicories, your choice of entree (ribeye, loup de mer, or roasted hen), and passion mousse cake. You'll make your entree choice when you make your reservation.
Rappahannock Oyster Bar has V-Day specials available for outdoor dining or takeaway Feb. 12-14. They include a filet mignon surf and turf ($38), chocolate-covered strawberries ($10), seared scallops ($36), a whole grilled fish with Thai herbs and chili oil ($29), and a mixed berry crumble with vanilla ice cream ($12).
We're in the midst of a historical moment as Donald Trump becomes the first president in U.S. history to be impeached twice. If this makes you feel like you need a drink, local distillery AMASS has launched Impeachment, a new peach-flavored vodka. It's available for pre-order now and will ship in early March. A portion of sales will go to the Restaurant Workers' Community Foundation. If this makes you feel like a drink but you don't drink, AMASS also makes Riverine, a non-alcoholic spirit made with a blend of regional botanicals.
Need more delivery and takeout options? Check out our latest comprehensive guide here.