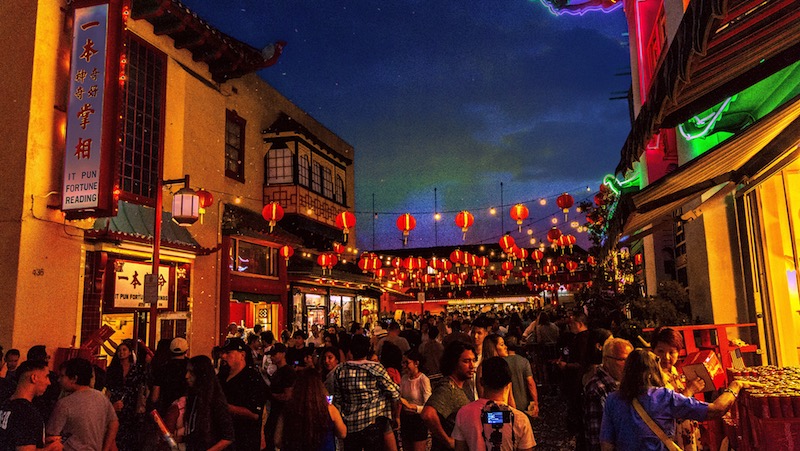 Need an August guide to Los Angeles? We've got it covered.
Peep our rundown below to browse a cornucopia of options, from the ongoing free movie and concert series to festivals, art nights, salsa dancing, art exhibitions and more. Definitely something for everyone. Have a look!
Things To Do This August
City of San Gabriel 28th annual National Night Out (August 2) -> The 28th annual National Night Out turns the historic Mission District into a block party with live music, food and games all in an effort to promote public safety. More info here.
Summer Night Cinema -> Summer Night Cinema at The Hammer has screenings screening in August: On August 2 catch Fanny: The Right to Rock, a 2021 documentary centering on a 60's era Filipina-American garage band that almost made it big. The series ten continues with the documentary Wattstax on August 9, and George Miller's Three Thousand Years of Longing on August 16. All events feature gallery access, plus drinks and bar bites for purchase. Free to attend. More info here.
First Wednesday Lecture at The AoP (August 3) -> Every first Wednesday evening of the month, the Aquarium of the Pacific hosts a free evening guest lecture and cocktail reception at the Pacific Visions Theater. For August 3, award-winning marine wildlife photographer Mike Bartick joins to discuss the amazing world of deep sea creatures. Get more info and RSVP here.
Sizzling Summer Nights -> (August 4, 11, 18, 25) Sizzling Nights are back at the Autry starting this August. Expect evenings of salsa dancing along with after-hours gallery access at the The Autry every Thursday night from August 4 to September 1. A limited quantity of $20 tickets will be made available for purchase by non-members in August. More info here.
Sunset Concerts at Skirball (August 4, 11, 18, 25) -> The Skirball Cultural Center's annual celebration of world music continues in August with four consecutive weeks of free Thursday concerts at the museum. The eclectic lineup of headliners includes Nefesh Mountain, Booker T. Jones, ADG7, and Son Rompe Pera. Complimentary access to the museum's exhibitions is included with entry. Get more info here.
Marina del Rey Concerts (August 4, 27) -> L.A. County Department of Beaches & Harbors is hosting a pair of concerts this August at Burton Chace Park in Marina del Rey. First up, the Marina del Rey symphony performs a Night Celebrating Music in Film on August 4. Then, on August 27, catch the gospel stylings of The Blind Boys of Alabama. Both events start at 7 p.m. and are free to attend. Seating is first come, first served. More info here.
House of the Dragon at NHM (August 5) -> We know the Natural History Museum has plenty to offer by way of dinosaurs, how how about dragons? Starting this August, NHM teams up with HBO for a new pop-up exhibit exploring the the mythical world of the new original series House of the Dragon. Learn about the Targaryen Dynasty and the dragons that ruled beside them while checking out new costumes and props from the series. And yes, there will be a replica Iron Throne on hand for photo ops. Included with museum admission. Runs from August 5 to September 7. More info here.
Bixby Knolls First Fridays Art Walk (August 5) -> First Fridays pops up along Atlantic Ave in Long Beach with an array of art on display, drink deals, food specials, and and live music. Runs 6:30 to 9:30 p.m. More info here.
Dance DTLA (August 5, 12, 19, 26) -> Free Friday dance parties continue at The Music Center's Jerry Moss Plaza next month with four scheduled evenings focused on Voguing, K-pop, Disco, and Bachata. For each event, dance instructors will be on hand to teach guests easy-to-follow steps, allowing everyone to get into the groove right from the jump. Very family-friendly and always free. No reservation required. More info here.
Jerk Fest LA (August 6-7) -> The 6th Annual Roots & Yam Jerk Food Fest arrives for the first weekend of August, bringing two days of Caribbean dance vibes, live music, food and drinks to Exposition Park. Two-day passes run $200, or you get can a single day ticket for the Afro Soca Dancehall Night on Saturday for $150, or a GA ticket to the Reggae Fest on Sunday for $100. More info here.
Shakespeare in The Park (Continuing August 6) -> ISC's Shakespeare in The Park continues in August with performances of Macbeth in Griffith Park on Wednesdays to Sundays starting August 6. The productions are free to attend, but donations are strongly encouraged. More info here.
Grand Performances (August 6, 13, 20, 27) -> The signature free summer music series at California Plaza continues in July with four Saturday performances, including Melissa Polinar on August 6, Extra Ancestral on August 13, Iranian-born pianist Kamyar on August 20, and a dublab tribute to Alice Coltrane on August 27. Free shows continue on Saturdays through September 25. More info here.
D*Face at Corey Helford Gallery (August 6) -> A new solo U.S. exhibition from world-renowned London-based artist D*Face, entitled Painting Over the Cracks opens on Saturday, August 6 at Corey Helford Gallery. On view through September 10, the show will feature over 70 new works and installations over two spaces in the gallery.
West LA Outdoor Sculpture Summer Festival (August 6-7) -> The inaugural West LA Outdoor Sculpture Summer Festival features two days of art walks, art tours, and free activities held at two at separate garden venues: Franklin D. Murphy Sculpture Garden at UCLA on August 6, and Beverly Gardens Park on August 7. Both events are free to register for. Get more info here.
Angel City Brewery Avocado Fest (August 6) -> Angel City Brewery is celebrating the release of two crowd-favorite seasonal brews – Avocado Ale and Guavocado Ale with a party featuring a DJ, Aerialist, food, and avocado themed games such as avocado juggling and an avocado eating contest. More info here.
Steep Summer Market (August 6) -> Eat, drink and shop small local businesses during Steep's bi-annual Summer Market. Taking place from 5 to 9 p.m. in Chinatown, the outdoor event will have over 20 local food vendors, local makers, and independent businesses.
Uncorked LA (August 6) -> Uncorked: LA comes to the California Science Center featuring a curated selection of over 100 wines plus local food trucks, live music, after-hours access to the museum and more. GA tickets start at $65. More info here.
Summer Strolls at The Huntington (August 6, 14, 21) -> Enjoy the gardens during twilight hours on select evenings at The Huntington from June through September. Advance tickets ($20 per adult) are required.
Sunday Afternoon Concerts in the Dome (August 7) -> Mount Wilson Observatory continues its 2022 season of classical concerts hosted inside the historic 100-inch telescope dome, where the acoustics are said to be some of the finest in the world. This month the program features the LA Chamber Brass Quintet playing Bach, Ewazen, Kamen, Barber, Arnold, Ewald, and more. There will be two musical performances, one at 3 p.m. and the other at 5 p.m. Tickets are $50. Get more info here.
Aqualillies Summer Watershow (August 8) -> After a pandemic hiatus, the Aqualillies Summer Watershow at the Hotel Figueroa returns for an evening of live performances, cocktails, music, and mermaids, all in tribute to late actress Esther Williams and her popularization of the art of synchronized swimming. Free to attend. Runs 7 to 9 p.m. More info here.
Girlpool at Amoeba (August 10) -> Girlpool at Amoeba -> Catch a free performance by Girlpool at Amoeba Music on August 10. Show is all-ages starts at 5 p.m. More info here.
Art & Beer Night LA (August 11) -> Art & Beer Night LA comes to Flying Embers Tap Room on August 11 with 25 local artists, plus food trucks, beer, and hard kombucha on offer. $5 (pre-sale price) gets you in. Runs 5 to 10 p.m. More info here.
Brew at the Zoo (August 12) -> Evening programming is back at the L.A. Zoo on August 12 with Brew at the Zoo. Expect 40+ breweries plus animal keeper talks, live music, and bites for purchase. Standard admission starts at $70. More info here.
Levitt Pavilion Concerts (August 12-14, 19-21, 26-28) -> The Levitt Pavilion concert series takes a hiatus to start the month, then free events pick back up again starting August 12, running Fridays to Sundays through September 4. No reservations required. Get more info the lineups here.
KCRW Summer Nights (August 13, 20, 28) KCRW's signature summer concert series continues next month with a visit to Descanso Gardens (August 13) featuring sets by KCRW DJs Anthony Valadez and Jeremy Sole. Things keep going with a Chinatown Summer Nights edition on August 20, an event at the Bowers Museum on August 28. See the full schedule and get more info here.
Getty 25 (August 13-14, 27-28) -> This summer, The Getty celebrates its 25th anniversary via a series of free pop-up community festivals held throughout Los Angeles County. Each event highlights curated experiences reflective of the host community, including interactive workshops, live music and performances, an artisan marketplace, food trucks, giveaways, photo booths, and more. The series concludes this August with events in Crenshaw (August 13-14) and Watts (August 27-28). More info here.
Pickwick Vintage Show (August 13) -> Pickwick is back at ROW DTLA on August 13 for a one-day event featuring 70+ exhibitors from across California offering fine vintage clothing, jewelry, accessories, textiles, and more. Tickets range from $10-$20 depending on time of entry. Get more info here.
Picture This! (August 13) -> L.A.'s only live animated comedy show Picture This! is back in Los Angeles with a show on Saturday at Permanent Records Roadhouse. The line-up includes well known comedians and animators, cartoonists, and other artists working together to produce a hilarious show. Get $10 pre-sale tickets here.
Family Fun Festival (August 14) -> Creative Communal brings their Family Festival to 2nd & PCH in Long Beach for an afternoon affair featuring 35+ local makers, face painting for kids, and family friendly performances. Free to attend. Runs 11 a.m. to 6 p.m. More info here.
Silents Under The Stars ( August 14) -> Santa Monica Mountains Fund's Silents Under The Stars series screens Beverly of Graustark (1926) at Paramount Ranch, with musical accompaniment provided by Michael Mortilla. Walking tours of the ranch start at 6:30 p.m., film screens at 8 p.m. Free to attend with RSVP. More info here.
Old Pasadena Summer Night Rides (August 20) -> The Pasadena Complete Streets Coalition invite the public for a night ride around Pasadena. The ride will begin at Central Park at 6:30 p.m. and end at a local food establishment at 9 p.m. Kids are welcome.
Head in the Clouds Festival (August 20-21) -> 88rising's annual two-day festival comes to Brookside Park in Pasadena with a massive lineup of artists across the Asian diaspora. Two-day GA tix are going for $275 per person and does not include parking. Get more info here.
Nisei Week Japanese Festival (August 13-21) -> This August, Little Tokyo hosts a week-long celebration of Japanese and Japanese American heritage and traditions through a series of cultural exhibits and performances, bookended by a grand parade on August 14 and a two-festival at the JACCC on August 20-21. More info here.
LA Tech Week (August 15-21) -> Venture Capitalists, tech startups and entrepreneurs gather in Los Angeles this August for L.A. Tech Week, a seven day event featuring panels, mixers, meetups, hikes, talks, parties, and more, Most events taking place near and around Santa Monica and Venice Beach. Check the full schedule of what's happening here.
KCON (August 19-21) -> The traveling celebration of Korean music and culture comes to Crypto.com Arena and the L.A. Convention Center this August for a three-day weekend chock full of live performances, beauty brands, product demos, panels, celebrity meet-and-greets, and more. Single day tickets start at $45 per person. Get more info here.
Summer Saturdays at Hauser & Wirth's Garden (August 20) -> Spend an afternoon enjoying music and cocktails in a garden and art setting during Summer Saturdays at Hauser & Wirth. Located in the Arts District no tickets are required to hang out in the garden where Manuela will be serving specialty cocktails featuring items from the garden. Hauser & Wirth galleries will also be open that day for the public to explore. More info here.
CicLAvia: Meets the Hollywoods (August 21) L.A.'s signature open streets event returns on August 21 with a 6.6 mile, car-free course spanning Hollywood Blvd, Highland Ave, and Santa Monica Blvd, stretching from the city limits of West Hollywood to an East Hollywood hub at the Vermont/Sunset Metro station. More info here.
Collect-A-Con (August 20-21) -> The nation's largest trading card show hits the Long Beach Convention Center over the weekend of August 20-21. Expect 500+ vendors and exhibitors along with a slew of celebrity guests and special panels filling out the two-day schedule. Single day tickets for Sunday start at $25, or $30 for Saturday. Children 7 and under get free admission. More info here.
El Segundo Art Walk (August 27) -> The El Segundo Art Walk is a self-guided art tour featuring over 50 business and works from 60 individual artists. Expect live music, art installations, a beer garden, and more. Runs 3 to 9 p.m. Free to attend. This More info here.
Hungry Neko (August 27) -> The Hungry Neko Food Festival highlights nine local establishments and their unique food and drink items. Taking place at the Venice Japanese Community Center, the lineup includes Sonoko Sakai, Kogi BBQ, Buttery Popcorn Co, 8E8 Thai Street Food, Kai Kai Dumplings, Fuyuko's Kitchen, Kuramoto Ice, The Plant Lab, and Sunny Blue. Free to attend.
Off the 405 at The Getty (August 27) -> The final event in the Getty's live music series comes on August 27 with a performance by Standing on the Corner. Free tickets will be released starting on August 13. Event runs from 6 to 9 p.m. Parking is extra. More info here.
End of Summer Bash (August 27) -> On the last Saturday of August, One Colorado in Old Pasadena marks the end of summer with a special afternoon event featuring carnival games, a photo booth, live music, and a beer garden. More info here.
The Broad: Now We're Here -> The Broad's summer music series, Now We're Here, continues on August 27 with a headline performance Grammy-winning artist Fantastic Negrito, plus spoken word from Kelly Cabellero of the Tongva Nation, and rap and hip hop from Jessa Calderon of the Chumash and Tongva Nation. Tickets are $25 per person. More info here.
Leimert Park Jazz Festival (August 27) -> Catch over 8 hours of Jazz sets plus an arts pavilion, kids zone, wine lounge, and food trucks on August 27 at the Baldwin Hills Crenshaw Mall. Admission is free, but VIP packages are available including shaded seating, drink tickets, and a meal. More info here.
---
Want to get the best things to do in L.A. sent straight to your inbox? Join over 60,000 Angelenos who subscriber to our twice weekly email newsletter!
By subscribing, you agree to our terms of use and privacy policy and consent to receive emails from We Like L.A. about news, events, offers, and partner promotions.