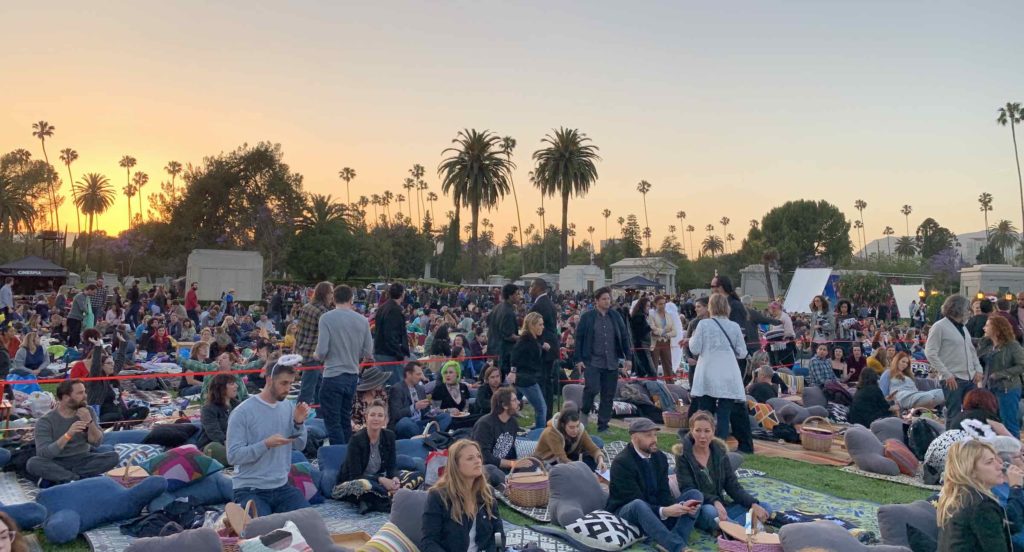 Want to hit your July in stride?
We've got an epic rundown of ideas for how to spend your month, from movie screenings and free summer concert series to unique events like The Echo Park Lotus Festival, Shakespeare in the Park, the MidSummer Scream convention, Rising Japan MusicFest, a new Pokémon exhibit at Japan House, KCRW Summer Nights, a Medieval Play festival at The Getty, a Colorado Street Bridge party, and MUCH more. Pencil in a few ideas below!
MORE GOOD IDEAS: Check out our cheatsheet of free museum days in July in and around Los Angeles.
Things To Do in July
M = Less than .5 miles from an L.A. Metro Station, FA = Free Admission, TP = Top Pick
---
Anime Expo (July 1-4) – M > Anime Expo's four-day event returns to the Los Angeles Convention Center to start July, offering anime lovers meet-and-greets with anime creators, special panels, Q&A's, workshops, interactive experiences and so much more. Four-day passes have already sold out, but you can still grab a single day tickets from between $40-$80. More info here.
Anime Culture Experience (July 1) – FA > The Anime Culture Experience brings an evening of anime culture, cosplay, special vendors, food, and cars to The Hangar at Long Beach Exchange. Free to attend. Runs 4 to 8 p.m. More info here.
Tonalism at Descanso Gardens (July 1) -> LAist and dublab team up for an vibey night party at Descanso Gardens featuring DJ sets, live projections, and other multimedia elements. Guests are encouraged to bring their pillows, cushions, and sleeping bags to use as they relax to the sights and sounds. In other words… it's going to be very chill. Starts at 8 p.m. Tickets are $35. More info here.
San Fernando Valley Comic Book Convention (July 1) -> This mom-and-pop style comic book con pops up at The Mayflower Club in North Hollywood , offering a day of artist signings, vendors, cosplay, and more. Tickets run $9. Starts at 10 a.m. More info here.
Divercity LA Multicultural Concert Series (July 2, 8, 9, 15, 16, 29) – M FA > The DiverCity LA Multicultural Concert Series brings a month of free performance and festivals to DTLA's Pershing Square, including the Los Angeles Cumbia Festival (July 2), More info here.
Shakespeare By the Sea (continuing through August 5) -> The 26th anniversary season of Shakespeare By the Sea kicked off in June at locations throughout Los Angeles and Orange Counties, with productions of Twelfth Night and Hamlet. All shows are free to attend, but donations are gladly accepted. More info here.
626 Night Market (July 1-3, 7-9) -> For two weekends in July, the 626 Night Market returns to its flagship location at Santa Anita Park with over 300 food, merch, and craft vendors. Pre-sale tickets are $5, or it's $6 at the door. More info here.
Cinespia Presents at Hollywood Forever (July 1, 8, 15, 22, 29) -> Classic film screenings are back at The Hollywood Forever Cemetery every Saturday in July, beginning with a showing of Pee Wee's Big Adventure followed by a fireworks show to start off the month. Seating is lawn style and tickets run $45 a piece for GA (and yes, parking is extra). Get more info here.
Huntington Beach Pier Plaza Festival & Carnival (July 1-4) -> The Huntington Beach Pier Plaza celebrates Independence Day all weekend long with over 70 vendors and food trucks, carnival rides, games, and live music. More info here.
Manhattan Beach Concerts in the Park (July 2, 9, 16, 23, 30) – FA > Manhattan Beach's free summer concert series runs on Sundays from 5 to 7 p.m. at Polliwog Park Amphitheater. The ten-week run of performances opens with the pin-up singing group Satin Dollz and their WWII USO camp style show to celebrate 4th of July weekend. Free to attend, no RSVP required. More info here.
4th of July Things To Do (July 4) -> Need some ideas for how to spend your Independence Day holiday? Pop over to our recent collaboration with L.A. Metro where we give you a bunch of ideas of where to catch fireworks and lights shows around Los Angeles County.
Shakespeare in The Park (Starting July 5) – FA TP > This year, ISC's Shakespeare in The Park returns with a staging of Julius Caesar on Wednesdays to Sundays, from July 5-30 in Griffith Park. Then, beginning August 9, the company begin performances of A Midsummer Nights Dream, to be held on the same Wednesday-Sunday schedule through September 3. Registration to attend (free!) is not required, but highly encouraged. More info here.
KCRW Summer Nights at The Hammer (July 6, 13, 20, 27) – FA TP > Every Thursday in July, KCRW brings Summer Nights dance parties to The Hammer Museum. Expect DJ sets, evening gallery access, and a cash bar. Free to attend. Each event begins at 6:30 p.m. More info here.
Sunset Series at South Coast Botanic Gardens (July 6, 13, 20, 27) -> This July, The South Coast Botanic Garden welcomes guests to their weekly after-hours series every Thursday from 5:30 to 8 p.m. Programming for each event includes multiple music sessions, yard games, food concessions, kid-friendly activities, and cocktails for the 21+ crowd. GA tickets start at $18 per person. Children 2 and under are free. More info here.
The Music Center's Dance DTLA (July 7, 14, 21, 28) – M FA TP > Free evening dance parties continue at The Music Center's Jerry Moss Plaza every Friday throughout the summer. Dance instructors will be on hand to teach guests easy-to-follow steps, allowing everyone to get into the groove right from the jump. On deck for July are evenings of West African Dance, Reggaeton, County Line Dancing, and Samba. More info here.
Movies On The Roof (July 7-8) -> My Valley Pass and Westfield Fashion Square have teamed up to produce a new rooftop movie series that features cozy bean bag seating, sweet views, and a lineup of new and classic films. Movies On The Roof runs every Friday and Saturday through the end of August, and tickets are $5, with 100% of the proceeds to benefit Hope Of The Valley. Get more info on the lineup here.
Maestro of the Movies: The Music of John Williams (July 7-9) -> The Hollywood Bowl celebrates the 91st birthday of iconic composer John Williams with LA Phil concerts featuring Willians and Gustavo Dudamel sharing the podium for a selection of Williams' most iconic scores, backed by clips from the films they appeared in. Get more info here.
Outdoor Movies at The Skirball (July 7) -> The Skirball's outdoor movie programming returns this month with a screening of The Way We Were. Tickets cost $20 per person. More info here.
Levitt Pavilion Concerts (July 7-9, 14-16, 21-23, 28-30) – M FA > After a quick break over 4th of July weekend, free concerts at Levitt Pavilion in McArthur Park continue Fridays to Sundays through the end of the month. No reservations required. Get more info the lineups here.
Tarot Reading Workshop at ESMoA (July 8) – FA > The El Segundo Museum of Art will host a free workshop on tarot reading, hosted by The Oracle of LA and inspired by Helena Park's Tarot collection featured in the museum's "BELONGING" exhibition (on view through September 16). Perfect for the who novice or "tarot curious." Runs 3 to 4:30 p.m. More info here.
NoHo Summer Nights (July 8, 15, 22, 29) – M FA > Starting July 8, NoHo Summer Nights brings film screenings and/or live performances to North Hollywood Recreation Center every Saturday through September 2. Free to attend, and no RSVP required. More info here.
House Party at TAM (July 9) – FA > Torrance Art Museum is hosting a House Party featuring all vinyl DJ sets spinning tunes throughout the decades, plus brews for purchase from Absolution Brewing. Era-inspired outfits are strongly encouraged. Free to attend, but 21+ only. More info here.
One Colorado Movies Under the Stars (July 8, 15, 22) – M FA TP > Movies Under the Stars features classic films screened every Saturday for the entire month of July at One Colorado in Old Pasadena. The series opens on July 8 with a showing of Sister Act at 8:30 p.m. Public seating is first-come, first-served. More info here.
Grand Performances (July 8, 15, 22, 28, 29) – M FA > Grand Performances continues their 2023 concert schedule with Viver Brasil on July 8, then continues weekly through the end of summer. The signature free summer music series at California Plaza is free to attend and takes place on select Fridays and Saturdays through Aug. 26. More info here.
Sunday Afternoon Concerts in the Dome (July 9) -> Mount Wilson Observatory continues its 2023 season of classical concerts hosted inside the historic 100-inch telescope dome, where the acoustics are said to be some of the finest in the world. This month the program features program of classical from a String Trio & Duo (Ambroise Aubrun, violin; Victor de Almeida, viola; Cécilia Tsan, cello). There will be two performances, one at 3 p.m. and the other at 5 p.m. Tickets are $55. More info here.
Family Festival: Medieval Play (July 9) – FA > Head to The Getty Center for a fun-filled festival inspired by medieval play and pastimes. Guests (costumed encouraged!) can immerse themselves in a medieval village offering courtly dance sessions, traditional live music, storytelling, boardgames, and a medieval battle with Academy of Arms. You can even storm the castle with foam swords and shields on the Getty's expansive garden lawns. Runs 10 a.m. to 5 p.m. Free to attend, but mind the parking fees. More info here.
Outfest (July 13-23) -> The LGBTQ+ film festival returns in full force with movie screenings ( in-person and online) as well as a number of special events. This year's highlights include an opening night gala at the Orpheum Theatre and Family Day events. Select events are free to attend while others require tickets. More info here.
Puppet Up! (July 14-16, 21-23)-> Producer and director Brian Henson with actor, director, and improv expert Patrick Bristow present Puppet Up! – Uncensored a night of outrageous puppet mayhem featuring 80 of the MISKREANT puppets brought to life by comedian puppeteers from The Jim Henson Company. The show will take place at Hensen Studios in Hollywood and include puppet improve from audience suggestions, recreations of classic pieces that haven't been seen by live audiences in decades. Tickets cost $75. More info here.
Summer of Salsa (July 14) – M FA > The LA Plaza de Cultura y Artes Summer of Salsa series runs one Friday each month through the end the summer, highlighting some of city's best salsa and Cuban bands in the process. The fun continues on July with a performance by Conjunto AFRO-SON. Free to attend. More info here.
South Bay Greek Festival (July 14-16) -> The South Bay Greek Festival is a three-day affair at St. Katherine's Greek Orthodox Church in Redondo Beach offering lots of Greek food (spanakopita, lamb chops, baklava), dancing, and fun. More info here.
Bergamot Station Summer Celebration (July 15) – M FA TP > Creative Arts Complex Bergamot Station will host a community celebration that offers guests access to the campus galleries plus live music, comedy shows, a photography book sale, and live painting and pet portrait commissions. Free to attend, no reservation required. Get more info here.
MDR Summer Concert Series (July 15, 22, 27) – FA > Marina del Rey host free concerts at Burton Chace Park on three dates this month, including a pair of performances by the MDR Symphony (July 15 & 27), and country/blues/folk rock band Cowboy Junkies (July 22). All events begin at 7 p.m. Free to attend. More info here.
KCRW Summer Nights with MOCA Geffen & JANM (July 15) – M FA TP > KCRW Summer Nights pop up in Little Tokyo on July 15 in collaboration with the Museum of Contemporary Art and the Japanese American National Museum. Expect live sets from KCRW DJs Travis Holcombe and SiLVA, plus food trucks, a beer garden and free after hours access to both museums. More info here.
Echo Park Lotus Festival (July 15-16) – FA TP > The 42nd annual Lotus Festival honors the people and culture of Indonesia for 2023 with live music, children's activities, a lantern launch, a dragon boat races, and more. Free to attend. More info here.
Colorado Street Bridge Party (July 15) -> After a five-year hiatus, the annual Colorado Street Bridge Party in Pasadena returns this July with an evening of live music, dancing kid's activities, food, craft beer, cocktails and a car show. Tickets are $35, with proceeds to benefit Pasadena Heritage. Children 12 and under are free. More info here.
Sunset Concerts at Skirball (July 20, 27) -> The annual free music series at Skirball Cultural Center returns with two dates in July, including a performance by blues and R&B singer Billy Valentine (July 20) followed by rapper and spoken word artist Telmary (July 27). Concerts continue every Thursday through August 24. Admission is free, but remember parking runs $15-$20 depending on if you purchase in advance. More info here.
Odd Nights at The Autry (July 21) -> Odd Nights at the Autry return every third Friday of the month now through September. Expect an indie bazaar populated by funky vendors, food trucks, and live music. Runs 5 to 10 p.m. Tickets are $5 and parking is free. More info here.
PASS THE AUX: Silent Disco at the Petersen (July 21) -> Enjoy an evening of cars and jams at The Petersen Automotive Museum, allowing guests after access to the second floor galleries, including the new We Are Porsche exhibit. Provided headsets will allow you switch between three channels of music curated by a live DJ, and food and drink will be available for purchase. 18+ only. Tickets are $30. More info here.
Rising Japan MusicFest (July 22-23) -> The Japanese music and food festival takes over Marina Green Park in Long Beach with two days focused on all things Japanese culture. Acts include pop duo Def Tech, singer Shanice and LA-based reggae artist Iakopo. Food vendors from Japan and the US will be serving everything from yakisoba to shaved ice. A Maid Cafe is also in the mix. Plenty of Asahi beer will be on draft as well as over 25 Japanese sakes. More info here.
Off The 405 at The Getty (July 22, 29) – FA TP > Live outdoor music is back at The Getty this summer with the Off the 405 concert series. In July, catch performances by Etran de L'Aïr (July 22) and Rahill (July 29). Free to attend with reservation. More info here.
Friends of the LA River's 2nd annual River Fest (July 23) – M FA TP > Friends of the LA River (FoLAR) invites the public to River Fest a free all-ages event that features an open-air film festival at LA State Historic Park, a Story Slam, interactive art and education activities, local food trucks, live DJ, booths with local environmental, arts, indigenous, and partner organizations. Ticket registration is required to enjoy all the complimentary festivities. More info here.
Venice Boulevard: A CicLAvia Event (July 23) – FA > CicLAvia's next event celebrates the new protected bike lanes and safety features on Venice Blvd with an afternoon of music, street games and guided group bike rides centered around a hub at the intersection of Venice and Bagley. Note that for this event vehicular traffic will remain active (no closed streets). Runs from 2-6 p.m. Free and open to the public. More info here.
Playful Encounters of Pokémon and Japanese Craft at JAPANHOUSE (Beginning July 25) – M FA > Pop culture collides with incredible Japanese craftsmanship when "POKÉMON X KOGEI | Playful Encounters of Pokémon and Japanese Craft" opens this July 25 at JAPAN HOUSE Los Angeles. Beloved characters like Pikachu and Charizard are ingeniously integrated into literal works of art large from ceramic to textiles and metal work. Supervised by the National Crafts Museum in Kanazawa, Japan, with support from The Pokémon Company, the exhibition features over 70 works. Gotta see em all! Admission is free. More info here.
Midsummer Scream (July 28-30) – M > If you can't wait until October for a Halloween fix, this three-day convention puts SoCal's haunt and horror community in focus with over 350 exhibitors, a dozen mini-haunts and attractions, panels, presentations, live performances, and more, all at the Long Beach Convention Center. Tickets start as low as $35 for a one-day pass. Get more info here.
Tournament of Roses Association and POP Sunset Concert (July 29) -> Tournament of Roses Association and Pacific Opera Project present a free 90-minute family sunset concert on the lawn of the Tournament House in Pasadena. Guests are treated to operatic and musical theater hits from shows including Rigoletto, Carmen, La Traviata, The Barber of Seville, West Side Story, and more. The public is invited to picnic starting at 5 p.m. and the show starts at 6:30 p.m. This event is completely free to the public, and guests can RSVP on POP's website.
Long Beach Dragon Boat Festival (July 29) -> Held at Marine Stadium, this is the largest dragon boat competitions in California. Guest will also enjoy Chinese traditional art demonstrations, acrobats, dance, music and martial arts performances. More info here.
Killer Rides (July 30) -> Once a month, Killer Shrimp Restaurant & Bar in Marina del Rey opens its parking lot to hot rod, classic car, and motorcycle displays. Free to attend. More info here.
---
Want to get the best things to do in L.A. sent straight to your inbox? Join over 60,000 Angelenos who subscribe to our twice weekly email newsletter!
By subscribing, you agree to our terms of use and privacy policy and consent to receive emails from We Like L.A. about news, events, offers, and partner promotions.