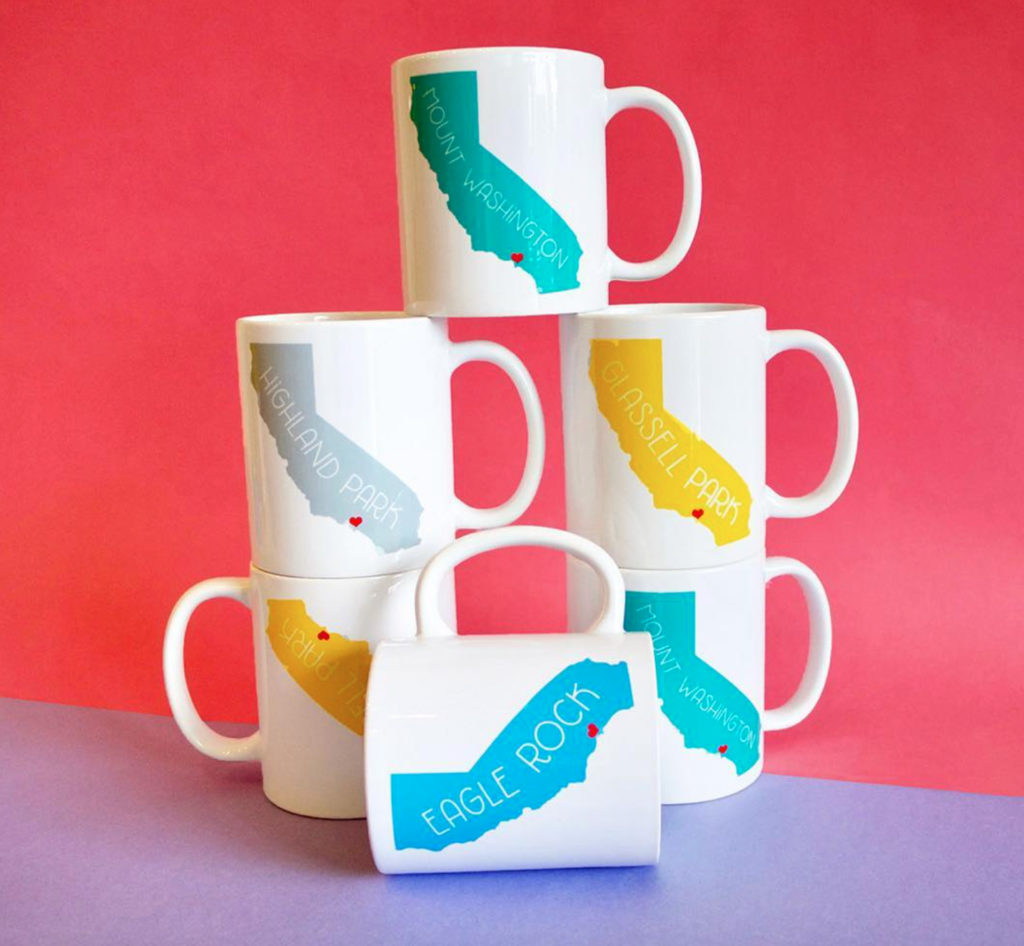 Our local retailers could use some help this year, now more than ever. Ditch Amazon, forget the big box stores, and check out these ideas for locally-made gifts or items from locally-owned shops.
Leanna Lins Wonderland (Eagle Rock)
Leanna Lin's gift shop will bring a smile to your face. They have an awesome children's section stocked with books and toys made by independent artists. You can also pick up a few things for adults, too, including original art, apparel, jewelry, plushes, and awesome greeting cards. This year, they have a gifts under $20 page, but most items are affordable for everyone's budget. –> More information
Virgil Normal (Virgil Village)
Virgil Normal works with independent designers and artists to curate a killer lineup of unique streetwear and home goods. This year, the store created an under $60 gift guide that includes a sweet Lakers T-shirt illustrated by L.A. artist Kristofferson San Pablo in honor of the 2020 world championship. –> More information
The Library Store (Downtown)
The Los Angeles Public Library store carries books, apparel, toys, stationery, and much more. Sales benefit LAPL. –> More information
Los Angeles County Store (Online)
This online gift shop only carries goods made in Los Angeles. Find thoughtfully curated artisanal food, clothing, housewares, art, stationery, and more. –> More information
Wacko Soap Plant (East Hollywood)
Open since 1971, this shop is a dreamland for those searching for eccentric gifts. There's everything here from lava lamps, tiki accessories, books and toys to rare and strange collectibles like a vampire bat suspended in resin. –> More information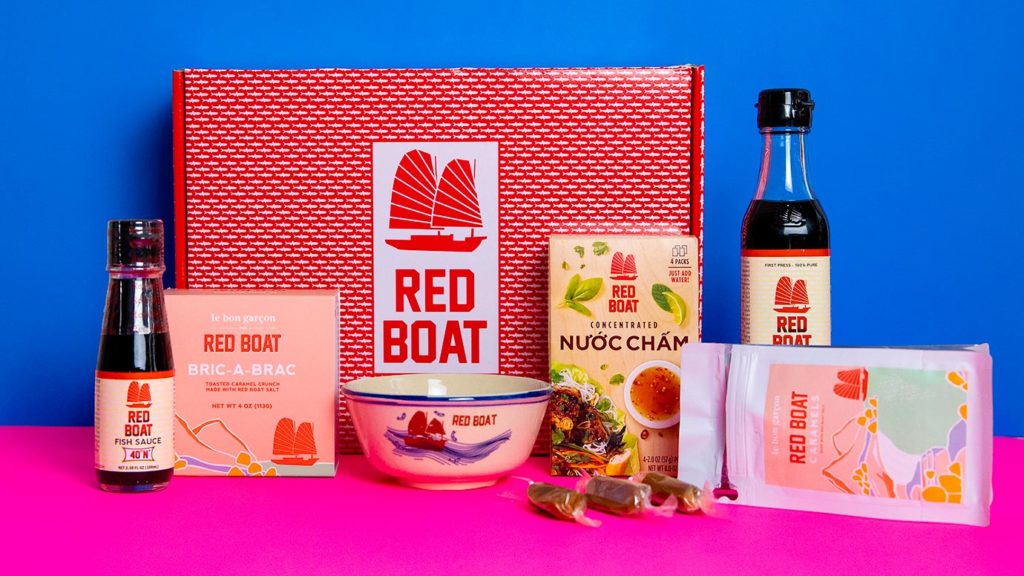 Red Boat (Online)
Cuong Pham recreated the flavors of his childhood in Saigon by bottling some of the purest fish sauce on the market. Red Boat's Holiday Gift Box ($39.95) is filled with thoughtful goodies for home chefs including Red Boat Caramels, Bric-A-Brac, 40°N Fish Sauce, Spiced Garum Salt, and a Cassia Salt Rub from Chef Bryant Ng of Cassia in Santa Monica. –> More information
Shorthand (Highland Park)
Shorthand is the perfect place to pick up the prettiest desk goods and art supplies. Its items make awesome stocking stuffers. –> More information
Big Bud Press (Echo Park)
Big Bud Press is a Los Angeles-based fashion label for fans of the bright and colorful. Its apparel is size-inclusive and unisex, and includes comfy 70s-style sweatshirts, jumpsuits, and corduroy baseball caps. They make for great holiday gifts that can be worn for years to come. –> More information
Now Serving (Chinatown)
Help friends and family up their cookbook game. Now Serving is a bookstore completely dedicated to literature on cooking and food. The store is so beloved that their book drops are sometimes as popular as sneaker drops. –> More information
Pop Killer (Little Tokyo)
For almost a decade, Pop Killer has been a store for people who express themselves through what they wear. It sells eye-popping streetwear, funny pop culture gifts, and vintage goods. Pop Killer designs its own apparel inspired by Japanese and Los Angeles culture. –> More information
Banh Oui (Hollywood)
Chef Casey Felton has curated a gift for the person in your life that loves a good charcuterie board. The hosting bag ($65) comes with Jidori chicken liver paté, marinated cow's milk cheese, bread and butter pickles, pickled Fresno chili, buckwheat honey, and a bottle of wine. → More information
Bar Keeper (Silver Lake)
Every household could do with some proper bar tools and glassware. You can find just that at Bar Keeper, plus small-batch spirits and vintage bar accessories. –> More information
Pygymy Hippo Shoppe (Fairfax District)
Open since 2010, Pygmy Hippo is a store full of vintage curiosities, handmade gifts, and offbeat items that will make you laugh out loud. –> More information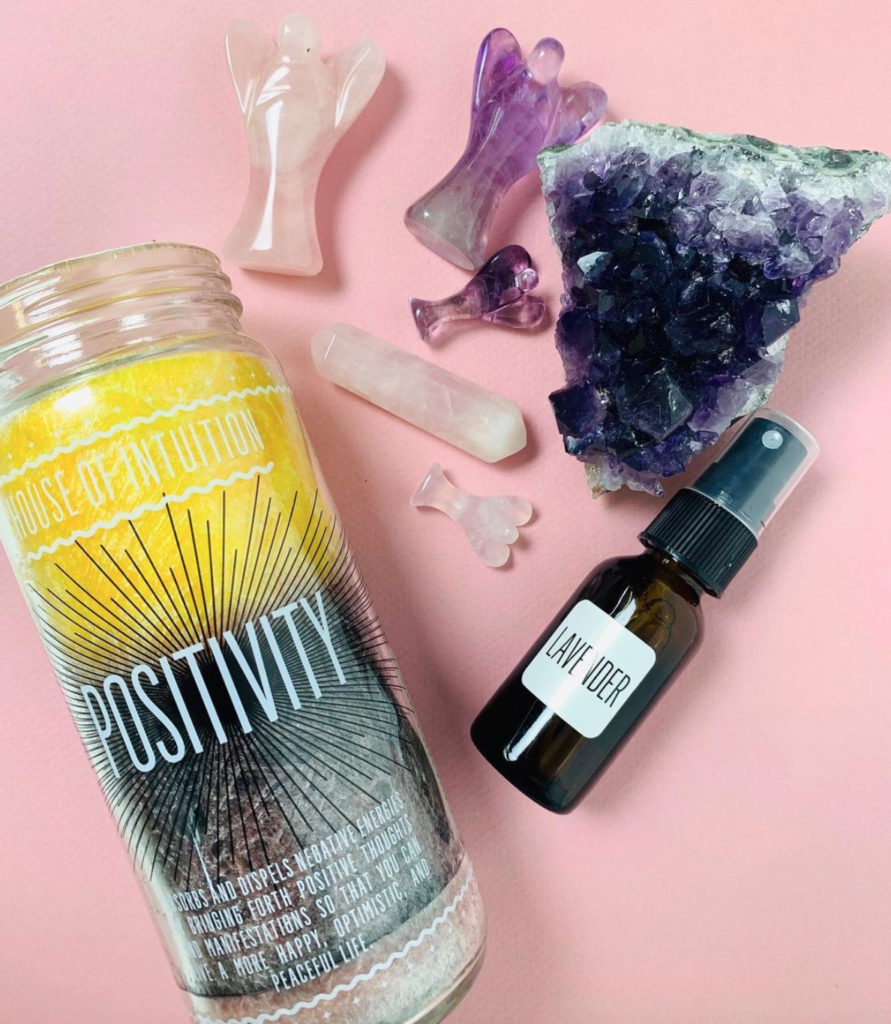 House of Intuition (Echo Park)
For the spiritual friend that's into crystals and self-care, House of Intuition is the place to shop. It carries beauty products, candles, stones, and more. Items all have a specific theme like cleansing and healing. There's even a page full of tools to help folks navigate those pesky Mercury Retrogrades. –> More information
GALERIE.LA (DTLA)
Celebrity stylist and native Angeleno Dechel Mckillian founded GALERIE.LA in 2015 to highlight socially conscious fashion, home goods, and self-care products. The boutique carries designers who use sustainable production methods to reduce their environmental footprint. Currently, GALERIE.LA is offering an online sale. –> More information
Giant Robot (Sawtelle Japantown)
Giant Robot started in the 90s as a magazine highlighting Asian pop culture, but is now a retail store and art gallery with the latest pop artist goods and apparel. Highly coveted designer toys, figures, and plushes can also be found here. –> More information
Art of Tea (Online)
This local tea purveyor hand-blends and custom crafts some of the world's finest organic teas and botanicals. Their tea gifts page features tea sampler sets, specialty holiday teas, and gift boxes that include a canister of loose leaf tea, a tea journal, and a scented tea candle. –> More information
Bodega (DTLA)
Hidden inside a produce storage room at ROW DTLA, Bodega offers online shopping and appointment-only in-person shopping. It carries all the latest from streetwear brands, rare apparel, shoe collaborations, and sneakers galore. –> More information
YOLK (Silver Lake)
A one-stop-shop for everyone, YOLK offers artisan goods, locally produced housewares, and a wide range of kids' fashion that looks cooler than anything you have in your closet. –> More information
Geeky Teas & Games (Burbank)
Nothing could be more perfect for a night in than a board game and tea. Geeky Teas in Burbank is open for curbside and shipping purchases, offering a selection of loose leaf teas, board games, and role-playing games and accessories. There are lots of nerdy blends to choose from, like the Never-ending Stortea or the Rick and More Tea, plus so many games of all kinds. There are card games, co-op games, games for kids, RPGs, new games, classic games, and more. –> More information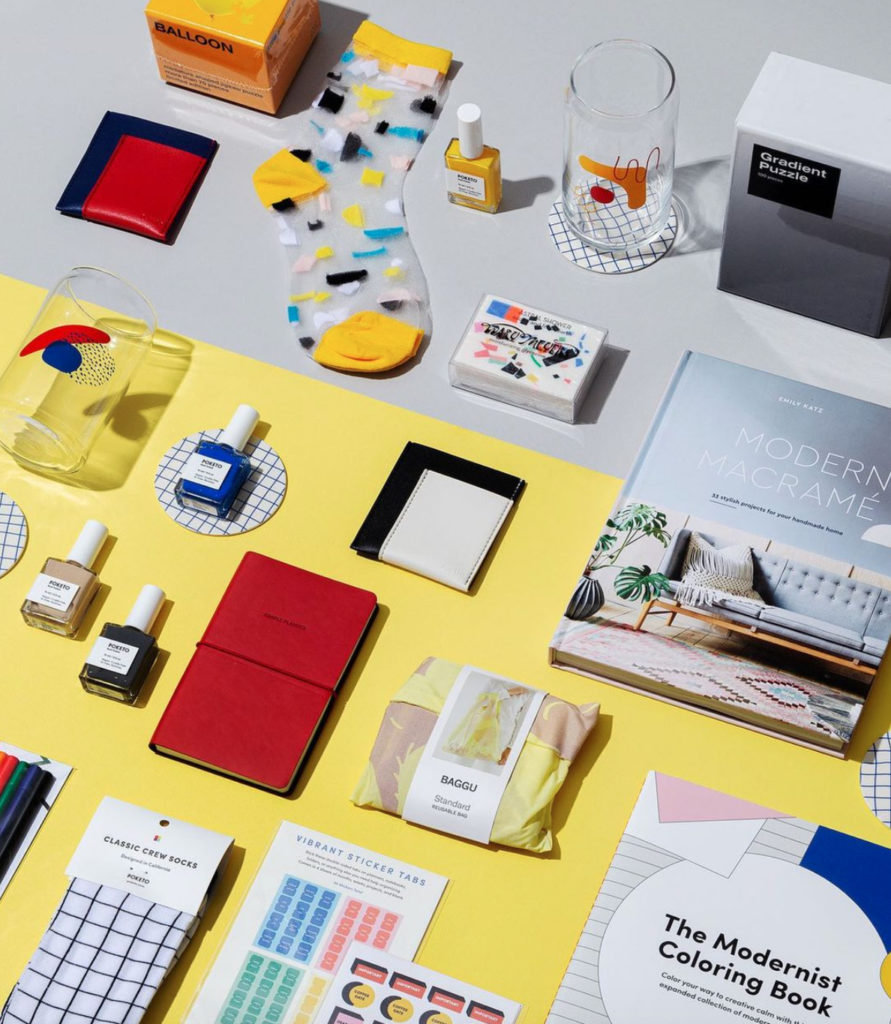 Poketo (DTLA & Little Tokyo)
Founded in 2003 by husband-and-wife team Ted Vadakan and Angie Myung, Poketo offers everyday goods with design and function in mind. Its 2020 Gift Guide includes a modernist coloring book, abstract housewares, journals, purses, and more. –>More information
CicLAva Store (Online)
For your cyclist friends, CivLAvia has its own gift shop with T-shirts, hats, face masks, totes, and more, including several items featuring artist Brian Rea's custom illustration for CivLAvia's 10th anniversary. –> More information
Matrushka (Echo Park)
Matrushka is a Los Angeles-based fashion brand offering cute, colorful, and vintage-inspired fashion handmade in Los Angeles. One of their latest releases is Ziggy Jams—David Bowie-inspired pajamas created in collaboration with artist Ann Magnuson. They also have affordable reusable face masks in a variety of eye-catching patterns. –> More information
Raw Materials (DTLA)
Raw Materials is the perfect shop for your artist friends. Find all sorts of supplies, tools, and materials here, all available for curbside pickup, local delivery, or national shipping. The selection is pretty extensive and includes paint, markers, cutting tools, easels, and lighting solutions, plus art-themed gifts and toys. –> More information
The Plant Provocateur (Silver Lake)
The Plant Provocateur offers a beautiful selection of plants, plus a few pots to grow them in and books to teach you how. The small Silver Lake shop has moved to online ordering only and every order over $20 will receive free curbside delivery. Simple and contact-free! –> More information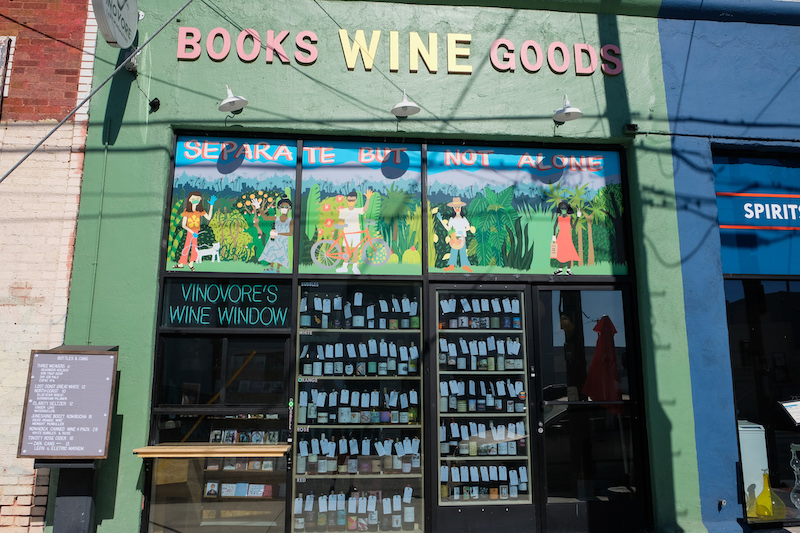 Vinovore (Silver Lake)
A bottle of wine is a pretty standard, but always appreciated, gift for those who drink it. Vinovore has a large selection of bottles with an emphasis on women winemakers. It also carries a collection of bar accessories, candles, body products, greeting cards, and other gift items. Best of all, they're now offering pickup via a wine window so there's no need to go inside. Local delivery and shipping are also available. –> More information
Lot XI (Compton)
Lot XI is an L.A.-based apothecary that offers handmade soaps, scrubs, body butters, coconut wax candles, bath bombs, and more. Many of the candles reference places in and around L.A. The Compton Native candle has notes of cedarwood, pine needle, and ylang ylang, and 15% of sales go to Compton-based organizations. –> More information
hedley & bennett (Online)
hedley & bennett aprons are worn by the industry's best. This L.A.-founded brand is the perfect place to buy a gift for the friend who loves to spend time in the kitchen. It offers gift boxes specifically curated for cooks, grillers, and bakers. –> More information
Your Local Bookstore (Multiple Locations)
Supporting your local bookstore was important before a pandemic shut down stores and limited indoor retail. Now, it's even more crucial. We know it can be done because just recently, Vroman's campaign for support resulted in a surge of online orders, bringing them from an average of 80 online orders per day to over 300! Some of our favorites: The Last Bookstore in downtown L.A. is great because they have a huge selection, easy online ordering, and you can buy a face mask with zombie hands making the L.A. sign. Chevalier's Books in Larchmont Village is open daily for in-store browsing, but also offers curbside pickup, online ordering, and Zoom book clubs. Book Soup in West Hollywood has been offering online author talks, plus in-store shopping, curbside pickup, and a 2020 holiday catalog for those who need a little inspiration. Stories Books & Cafe in Echo Park is open for daily browsing you can get a tea or coffee on your way out.