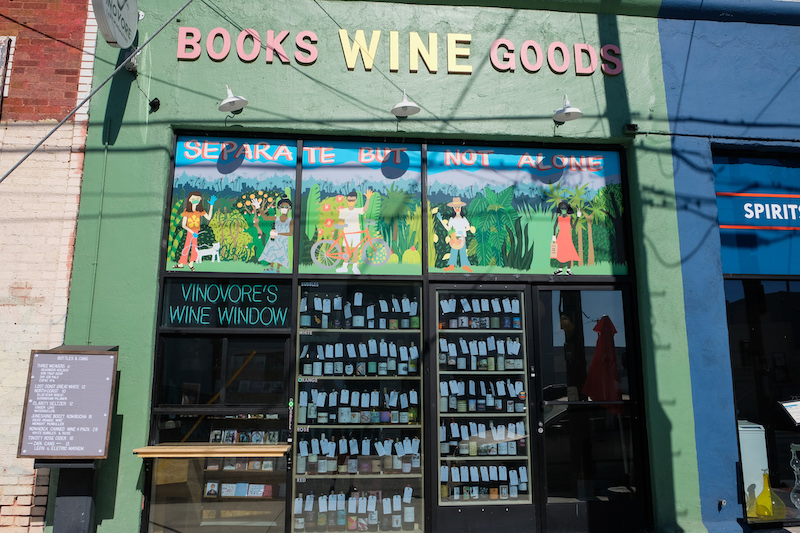 Los Angeles now has its very own "wine window," located at Vinovore, a bottle shop in Silver Lake that focuses on women winemakers. Wine windows have become a trending topic since Italy began reopening its wine windows, which date back to the 16th century and were used, in part, during the bubonic plague.
According to Wine Spectator, the buchette del vino—or, "small holes for wine"—commonly found in Tuscany served a couple of purposes. For one, nobles who owned vineyards in the 16th century could sell their wine and avoid taxes by handing it through the windows to thirsty passersby. The practice was popular through the early 20th century, but fell out of fashion after more bars with better wines opened.
 In 2015, the Associazione Culturale Buchette del Vino made it their mission to find and revamp the defunct windows. As of September 2019, they'd found almost 300 and one restaurant had even reopened its window
Recently, the Associazione wrote of a second purpose for the little windows. According to the 1634 writings of scholar Francesco Rondinelli, wine sellers used the windows to avoid contagion during the bubonic plague, which was particularly active in Italy from 1629-1631. Wine sellers would accept payment by passing a metal plate through the window, which the buyer would put coins on. The seller would then drop the coins in vinegar before touching them. The seller might take further precautions by selling pre-bottled wine or fixing a metal tube to the demijohn and letting the customer fill their own glass.
According to CBS, there are at least two restaurants in Italy using their windows for wine, while an ice cream shop uses one to pass coffee and ice cream.
Vinovore's wine window is much more modern than the stone wine holes of Italy, but it is a socially distant way to pick up a bottle. There's even a little bell you can ring for assistance. Overtop, you'll also spot a mural from artist Hannah Kitziger that reads, "separate but not alone." 
According to Vinovore owner Coly Den Haan, Vinovore stopped allowing people inside the story early on in the pandemic due to the shop's small size and moved its inventory online. As restrictions loosened, Vinvore still didn't feel quite ready to reopen for indoor shopping.

"We did start to feel that people were missing that connection of normal in-store wine shopping though, such as browsing, reading our hand-written tasting notes, and speaking with staff. More often in the last few months, people were asking to come inside. Since nothing had changed on our end with our comfort level or with the spread of COVID, we started thinking of ways to give some sort of semblance of the old Vinovore shopping experience to our clientele," Den Haan said.
Hence, the wine window. It's open for walk-up customers or you can place an order for pickup online, by phone, or via email. You can also join Vinovore's weekly Winesplaining classes. Olmstead wine director Zwann Grays hosts an online tasting featuring a different woman winemaker each week. Given that it's virtual, you may get a chance to interact with wine aficionados from all over the world. You can pre-purchase the week's wine online, then get a link to the tasting. Vinovore also sells a variety of pantry items, cheeses, charcuterie, home decor, and wellness products. Find out more here.