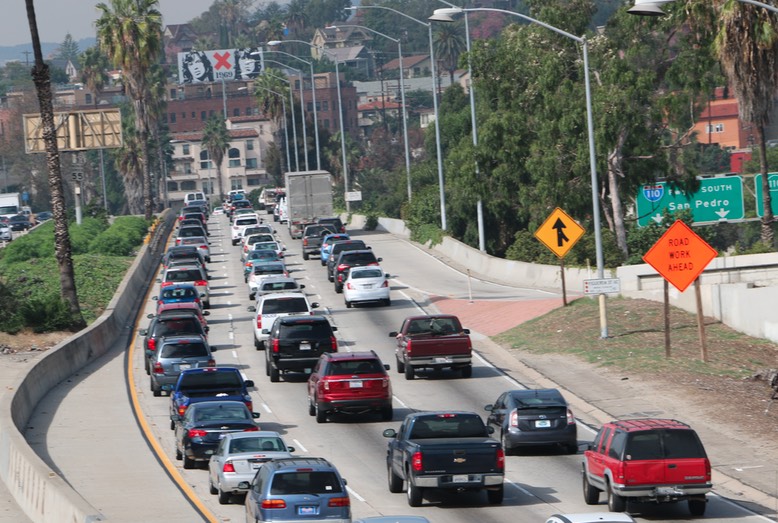 California plans to end the sale of gas guzzlers by 2035 to make a major dent on greenhouse gas emissions. Also this morning: L.A. protests over Breonna Taylor, graffiti refocuses attention on a Valley power plant that leaked methane, and two of Hollywood's biggest publications are joining forces. Finally, a reminder that local politics is just as dirty as the big leagues. First, news.
Morning News Rundown
Per a new order by Gov. Gavin Newsom on Wednesday, California will prohibit the sale of gas-powered cars and trucks by 2035. The goal is to trim greenhouse gas emissions in the state by 35%. This move mirrors laws enacted by at least 15 other countries, including Germany, France, and Norway. The White House, predictably, expressed displeasure at the announcement. [KTLA]
On Wednesday, a grand jury in Kentucky chose to indict only one of three police officers involved in the fatal shooting of Breonna Taylor. The indicted officer faces three counts of wanton endangerment. In response to the grand jury's decision, demonstrations erupted in Louisville yesterday evening and were joined by protests in cities around the country. Here in L.A., hundreds of protestors gathered downtown. [LAist]
In terms of video of ongoing protests in Los Angeles, few are documenting it on the ground better than L.A. Taco's Lexis-Olivier Ray. He was out again at the DTLA protests last night, and as you can see, it was not without some resistance by the LAPD. I strongly recommend you follow him on Twitter.
Graffiti at a San Fernando Valley power plant has reignited debate about an undisclosed methane leak that the LADWP failed to mention for three years. Messages written at Valley Generating Station included "SHUT DOWN THE PLANT" and "KIDS DESERVE CLEAN ENERGY." Local activists aim to close the power plant for good. [L.A. Times]
Variety and The Hollywood Reporter, the film and television industry's two biggest trade publications, are now joined at the hip thanks to a merger deal announced Wednesday. The deal joins Penske Media Corp with MRC, with the resulting company to be called PMRC. All told, the new entity now owns and operates Rolling Stone, Vibe, Deadline, and Billboard. The Wrap is now the only major Hollywood trade publication not owned by PMRC. [LA Mag]
The Banality of Dirty Politics
Sure, the president is game-planning his post-election coup in public, but local politicians aren't much better.
A story published yesterday in the Long Beach Post layers all the unsavoriness of the current White House with the utter banality of local elections.
Robert Fox and Cindy Allen are competing in a runoff election for the Long Beach City Council District 2 seat. According to the Post's reporting, Fox's supporters, with the campaign's consent, have been scheming for months to prove Allen actually resides in a Fountain Valley house and not a Long Beach condo, thus making her voter registration in Long Beach a felony.
At the center of the surveillance is a food delivery driver named Lee Richmond Charley, who was apparently a one-man opposition research machine. According to the reporting, Charley spent months (months!) gathering photo and video evidence outside the Fountain Valley home, even going so far as to deliver unsolicited food orders in hopes of catching Allen answering the door.
"Operation Allentown," as it was dubbed, also allegedly included the use of drones to spy on the residence, illegal background checks, and fake social media accounts set up under Allen's name.
Eventually, Charley says, he had a change of heart and decided to come forward to the Post with his side of the story after the Fox campaign "crossed the line into dirty politics."
For their part, the Fox campaign says that Charley was acting on his own accord, and, in a press release, they now accuse Allen of exploiting an "apparently bipolar, mentally ill individual" for political gain.
So yeah… politics sucks. People suck. But maybe it gets better if we all start paying attention and encouraging the less savory among us to run for office. A boy can dream.