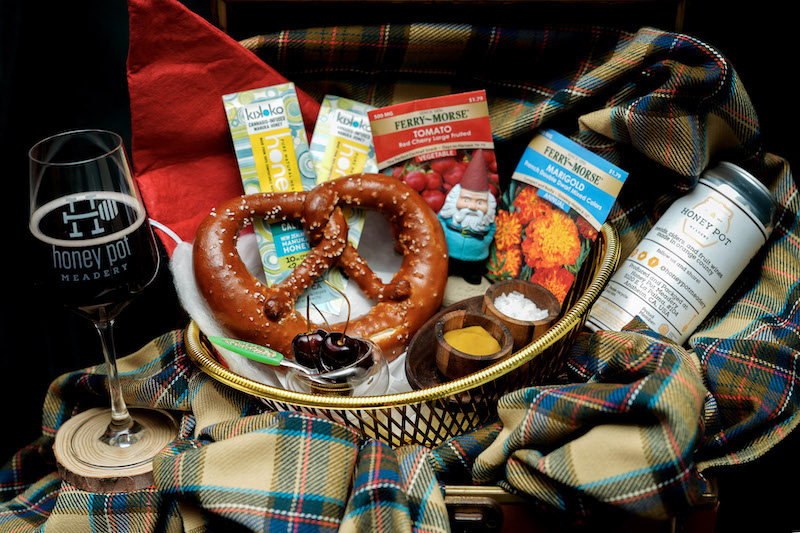 We used to tell you about all the things you could go out and do in Los Angeles on a daily, weekly, and monthly basis. Then, the coronavirus pandemic changed life for all of us, in a thousand small and massive ways. For a while, we posted strictly virtual events to keep you entertained and connected from your home. As the state, county, and city slowly reopen, we'll also include a mix of things you can do outside the house while still abiding by local health orders. We'll still offer plenty of online options for those of you who are self-isolating or who've decided to stay at home for the time being. We'll post a new list of options every Thursday morning. We hope they keep you busy, make you laugh, teach you something, or help you feel less alone.
This week, we've got in-person and online art, drive-ins, free coffee, restaurant pop-ups, live-streamed concerts and plays, and more. Have something you want to submit for next week? Hit us up: [email protected].
---
Out-of-the-House Events
On National Coffee Day, September, 29, The Palm Coffee Bar in Burbank will give away free 8oz coffees all day long. They've partnered with coffee roaster Unity on a blend called "Together We Rise."
Also for Coffee Day, Trejo's Coffee and Donuts in Hollywood will offer free 12oz cups of House Blend drip coffee with the purchase of a donut from 7 a.m. to 2 p.m.
Greek restaurant and cocktail bar Theia now offers brunch on Saturday and Sunday from 10:30 a.m. to 4 p.m. On Saturdays, enjoy Mediterranean brunch fare, bottomless Bellinis or mimosas, and customizable Bloody Marys alongside live jazz music.
Art online doesn't always convey the same feelings as viewing it in-person. Luckily, several Los Angeles galleries are currently offering socially distant, in-person visits as long as you make an appointment in advance.
The Raymond 1886's annual Indian Summer BBQ returns Sunday, September 27. Dine in at three of the restaurant's outdoor dining patios or get takeout (pre-order by Thursday). The menu includes build-your-own BBQ bowls ($18) and plates ($28) with meat options such as Brisket with Nueske BBQ Sauce, Pork Shiso with Bonito Teriyaki, and BBQ Chicken Breast with Spicy Mayo. $10 specialty cocktails will also be available for dine-in and takeout. Reservations are encouraged for dining in.
NeueHouse and Fotografiska present artist Andres Serrano's Infamous September 24 through October 6 at NeueHouse Hollywood. Per a release: "Infamous is a photographic exploration of the long history of deeply rooted racism in the United States. Throughout his illustrious career, Serrano has directly confronted the zeitgeist with provocative works. In this exhibition of over 30 photographs of racist artifacts, he continues to hold a mirror to the nation's recent, dark past."
Santa Monica's Board & Brush offers an outdoor craft session on Saturday, September 26, from noon to 3 p.m. Enjoy a glass of wine while making cute, Halloween decor. Must sign up 24 hours in advance and choose your project from the online gallery. $75.
The Calabasas Film Festival features over 25 films for streaming September 23-27, plus a drive-in screening of Honest Thief with DJs, restaurants, and a drive-through photo booth on September 25 from 6-11 p.m. at King Gillette Ranch.
This Saturday, September 26 at 1 p.m. LA-based artist Kenny Scharf hosts Karbombz! Rally along Santa Monica Boulevard between San Vicente Boulevard and Sycamore Avenue, ending where Jeffrey Deitch gallery is located. Per a release: "Karbombz! range from beat up jalopies to luxury brands. The drivers come from all walks of life. Owners connect with Scharf on the street, in front of his murals, through other drivers and through Instagram. They are painted by Scharf free and to date he has painted 260 cars around the world, about 100 of which are in LA."
Mel's on Sunset Boulevard will host drive-in movie nights every Sunday from through October 11. Tickets are $30 per car plus the driver, then an additional $30 for each adult. Kids are free. Mel's servers will take your food orders from your car.
Artist Ken Karagozian's "Deep Connections" is a new photo exhibit at Union Station that "chronicle a unique view of Los Angeles through the documentation of Metro subway construction over the last three decades." See the art online here or for yourself at the Passageway Art Gallery at Union Station.
The Abbey presents Italian Night at Abbey Road on its outdoor dining place every Tuesday from 6 p.m. to close. Italian night features Italian wines and spirits, digestif, drinks, and half-off select bottles of wine.
The Atla Adams team will debut "Alta + Friends," a Monday evening pop-up series featuring themed and special collaborative menus with emerging and established culinary talent. On September 28, enjoy a five-course Atelier Crenn menu with Dominique Crenn ($195). The ticket price includes a signed copy of Rebel Chef: In Search Of What Matters. Make ticketed reservations on RESY. Alta Adams also hosts wine tastings every Thursday.
Barry's brings its high-energy cardio and strength interval training moves to the Beverly Center starting this week. Classes will take place in the valet parking lot on the first floor of Beverly Center. Participants will all be eight feet apart. Headphones will be provided for a silent disco soundtrack. The space and materials are deep-cleaned with hospital-grade, EPA registered disinfectant for each class.
L.A. County Parks is creating scenic routes for families to enjoy walking, biking, scootering, and skateboarding. They're available in various areas on Thursdays between 5-8 p.m. and on Saturdays from 9 a.m. to noon.
Every Thursday in September from 5-9 p.m., Madre Oaxacan & Mezcaleria will host a cocktail pop-up at Terra, Eataly's rooftop lounge. Cocktails are $15 each and a portion of proceeds benefits Restaurants Care. Reservations required.
"To Protect & Serve? Five Decades of Posters Protesting Police Violence" is now on display through October 2 at the 18th Street Arts Center (Airport Campus). Open by appointment only, but you can see lots of content online, too.
Magic Asphalt, a drive-in comedy series in the Magic Castle's parking lot, returns this Friday, Saturday, and Sunday.
L.A. Dance Project is hosting a series of drive-in dances. They happen in a parking lot in DTLA, so you can roll up, park, and watch live dance from the socially distant comfort of your car. Tickets start at $75/car for members and subscribers, $100/car for everyone else.
"Icons of Darkness" opens at The Montalban this Thursday, featuring a walk-through gallery of horror, sci-fi, and fantasy movie props, plus a midway of horror-themed games.
The California Botanic Garden in Claremont features the work of five artists in residency, both online and in-person. "Homing: A Group Exhibition" artists include Margaret Gallagher, Hannah Flynn, Miwa Matreyek, Eliza Swann, and John Zappas. See the pieces online through December 1 or check out the installations in-person through October 1.
Employees Only turned its parking lot into Summer Social Club featuring a roster of socially distanced food and cocktail pop-ups. Happening every Tuesday through Sunday.
Still Life Ceramics at ROW DTLA launched Pottery in the Park, a new series of open-air, socially distanced classes held in its "park" designed space. Options include one-time classes on Thursdays, a Rosé and Clay session on Fridays, and month-long classes.
YEA! Impact and The Andaz West Hollywood offer "The Sunset Strip Presents Late Night Drive-In," a series of drive-in theater shows that mix comedy, musicians, and movies on Fridays and Saturdays from 7-10 p.m. More info on the series here.
At-Home & Online Events
In honor of Hispanic Heritage Month, chef-driven global online cooking platform IMPASTIAMO has partnered with Discover Mexico and Tequila Herradura to host free cooking classes with top chefs. On September 30, Chef Gabriela Cámara will host a class from Ciudad De Mexico, then on October 7, Chef Ruffo Ibarra will be cooking live from Tijuana. Registration is free and the ingredients needed are listed online. Guests can also purchase a special promotion kit to be delivered before the class (prices vary). Kits include a 375ml bottle of Tequila Herradura (one bottle per kit of either Silver, Reposado, Anejo, or Ultra) and the ingredients for each registered class. The series is 21+ and will take place on Zoom.
LA Design Festival moves online this year with programming that includes expert panels, video tours of design studios, online art viewings, creative workshops and art installations hosted at ROW DTLA.
"Smorg Delivered" offers contactless, free delivery of favorite Smorgasburg LA vendors through Grubhub every Saturday and Sunday from September 26 through November 1. Participating vendors include Amazebowls, Cena Vegan, Sticky Rice, Tacos 1986, Ugly Drum, Bahn Oui, Guelaguetza/I Love Micheladas, Maury's Bagels, Love Hour, and more. Customers can use the code SMORG2020 to get $5 off orders of $15 or more. The first 2,000 will receive their order in a reusable Grubhub x Smorgasburg LA tote bag.
The Ohana Festival is throwing a free virtual festival featuring past performances on September 26-27. Acts include Eddie Vedder, The Strokes, Social Distortion, Jenny Lewis, Glen Hansard, Benjamin Booker, and more as well as new performances from Deaf Charlie ft. Jeff Ament & John Wicks, Pluralone, Iron Sage Wood ft. Rob Machado, and the Aquadolls.
BOA offers Yom Kippur family dinner to-go this weekend at both its West Hollywood and Santa Monica locations. Dishes include Chicken Noodle Soup, 8-Hour Braised Creekstone Brisket, House Cured Pastrami, and sides like Challah and Rye Bread. Orders must be placed by Saturday at 5 p.m. for Sunday pickup.
The Ford Theatre is going virtual this season with a series of free events now until December 8. From world-class dance performances to in-depth discussions and spectacular live music, most of the events can be streamed on Facebook and YouTube.
Bake Against Racism's Bake the Vote sale is happening now, with proceeds from each bake sale benefitting a different cause. Participating L.A.-area bake sales include Beachwood Bakers Bake Sale, Watch Us Cook, Colossus Bread, and Cajola Catering. You'll also find cookies and a raffle here.
Rosaluna mezcal is launching High Note Golden Hour Radio, a virtual concert series on September 24 at 5 p.m. This first installment features Underpresche, an Italian DJ duo, doing a live set with synthesis and vocals from Salento, Italy. Free.
KCET's Fine Cut Festival of Films will have a virtual awards ceremony for student filmmakers on September 29 at 7 p.m. The ceremony will include clips from submissions plus insight from judges. Find Fine Cut air dates here.
On September 26 at 3 p.m., join a Zoom reception and artist talk with Jo Ann Block regarding her latest project, "Queer B4 Queer." Per the artist: "Queer B4 Queer, my latest project, examines the guts it takes to live one's entire life outside the gendered margins. These intimate portraits of older butch lesbians put the aging queer body at the center. They are posed and clad in ways that lay bare the fierce determination that informs the contours of their lifelong queer existence; these are butch lesbians who in fact pioneered the gender queer present, who refuse to be invisible." The Zoom link is here. Use the password 293694.
Scarypoolparty will livestream a performance from The Wiltern on September 27 at noon and 6 p.m., plus an acoustic set at 5 p.m. benefitting Crew Nation. Tickets are $10 here.
Esotouric presents "Inside the Bradbury Building," a 90-minute virtual history tour and Q&A session about the iconic building, on September 26 at noon. Tickets are $10, which allows you to view the program until October 3.
From the Whitefire Theatre in Sherman Oaks, "BROTHAS SPEAK!," curated and hosted by Juliette Jeffers, features spoken word, rap, and song from Jason A. Benefield, Rev. Leon Campbell, King Cassius, Kito Fortune, Charles Reese, and Markhum Who. It livestreams Saturday, September 26 at 7:00 p.m. and is available on-demand through September 28. Tickets are $15.99 with a $.87 via www.whitefiretheatre.com.
The California African American Museum presents a conversation with CAAM Deputy Director and Chief Curator Cameron Shaw and artist Nikita Gale. They'll discuss the development of "Nikita Gale: PRIVATE DANCER" (see video above) on September 24 at 5 p.m. Register for free here. Then, families can join storyteller Elise R. Peterson of Jug's World on September 26 at 2 p.m. for a free collage workshop. Register here.
On Friday, September 25 at 7:30 p.m. catch an hour of curated personal stories with Echo's monthly storytelling series, Bold Faced Secret. The theme for September is "Up Until Dawn." Per a release: "Tales run the gamut from nights of joyful abandon to encroaching deadlines, meaningful connections with friends or lovers, or, perhaps, watching the sun rise." Watch it live at here.
Join Zócalo Public Square for "Should Global Democracy Become More Direct?" on Tuesday, September 29 at 4:30 p.m. Per a release: "Participatory Budget Project executive director Shari Davis, political scientist and Citizenship and Contemporary Direct Democracy author David Altman, Taiwan Foundation for Democracy senior fellow and former Taiwan foreign vice minister Michael Kau, and Mexico City-based youth participation expert and Ollin president Greta Rios visit Zócalo to consider how direct and participatory democracy might counter autocracy. The discussion will be moderated by Noema Magazine's executive editor, Kathleen Miles." Register here.
Wise Children's production of the musical Romantics Anonymous will livestream from the U.K.'s Bristol Old Vic on September 26 at 1 p.m. to benefit The Wallis. Synopsis: "Angélique is a gifted chocolate maker inhibited by social anxiety and Jean-René is the boss of a failing chocolate factory. When Angélique takes a job in Jean-René's struggling factory, a fragile love affair unfolds." Tickets start at $20.96.
Union Station Homeless Services hosts a free Zoom webinar that asks the question, "Does Housing Really End Homelessness?" on September 30 at 5:30 p.m. The conversation features Dr. Sam Tsemberis, a pioneer of the Housing First philosophy; Cynthia Kirby, who brings the voice of lived experience; and Anne Miskey, CEO of Union Station Homeless Services.
The Skirball Cultural Center presents a virtual concert featuring LA-based Aditya Prakash Ensemble and NYC's Rini, free on YouTube on September 26 at 8 p.m.
Common Space hosts a virtual Oktoberfest on September 26 from 2-5 p.m. Games, prizes, and more will be held to benefit the brewery's food bank.
The City of West Hollywood and Classical Theatre Lab present two live costumed readings of Mae West's "The Drag" on September 26 at 6 p.m. and September 27 at 2 p.m. Free, donations accepted. Tickets are here.
Pasadena Playhouse launches PlayhouseLive, a streaming platform that will showcase live theatrical works and performances, on September 30. Check out what's coming up here.
On September 28 at 7:30 p.m., American Cinematheque will host a live conversation with filmmakers Miranda July and Spike Jonze to discuss July's new film, Kajillionaire. Register for free here.
Join NewFilmmakers Los Angeles (NFMLA) and the Academy of Motion Picture Arts and Sciences (AMPAS) on September 25 at 7 p.m. for a conversation about professional development opportunities in TV with Program Director Shari Page at the Half Initiative, an entertainment industry diversity program established by Ryan Murphy and Ryan Murphy Television. Register here to join on Zoom.
On September 25 at 7 p.m., La Plaza de Cultura y Artes will host "Home and Community: Musical Traditions with The Quetzal Family Trio" on Zoom and Facebook. Register here.
Skylight Theater presents an online screening of Wendy Kout and Jeff Reno's play "Wake Up Call" On September 24 at 3 p.m. Tickets are free with reservations here.
The Robey Theatre Company presents Making Theatre with Ben Guillory (The Performance) on September 25 at 6 p.m. Ben Guillory is the Producing Artistic Director of The Robey Theatre Company, and he'll discuss how to create theater during this Zoom event. $10 suggested donation.
From [email protected] this week, check out "Wild Wild West: A Beautiful Rant by Mark Bradford."
Will Geer's Theatricum Botanicum's "Storytime with Dragon and Friends" is on September 26 at 10 a.m. Per a release: Join company member Christopher W. Jones as "Dragon" while he hosts some special guests including Cooper Barnes (Nickelodeon's "Captain Man"), award-winning actor Beau Bridges, and Theatricum's own Earnestine Phillips and Gerald Rivers for a morning of story time, puppets, drumming, and fun for all ages." Free tickets are here.
The 14th San Pedro ♥ Festival of the Arts is online through October 4, feature 19 curated dances/companies.
"Of the Night" hand-delivers themed experiences for two that include treats, booze, activities, decor, and more. This weekend's packages include Gnomes of the Night, Erotica of the Night, and Rhinestone Cowboy of the Night. 10% of all proceeds benefit charitable organizations including Gays & Lesbians Living in a Transgender Society, The Center for Reproductive Rights, and The Actors Fund.
GRAMMY Career Day is a nationwide education program focused on career mentorship presented for middle and high school students in music programs. It kicks off September 24 with events on Thursdays at 3 p.m. through November 19. Register here.

Cook with Chef Crystal Blanchette on her Instagram Live on September 30 at 5 p.m. to learn how to make cilantro slaw, carnitas, chicken carnitas, and spicy honeydew margaritas. The event is a fundraiser for Childhood Cancer Awareness Month and Camp Ronald McDonald for Good Times. Donate here.
The Los Angeles Philharmonic's SOUND/STAGE media project debuts Friday, September 25 at 10 a.m. with "Love in the Time of COVID," narrated in Spanish by actress María Valverde, wife of LA Phil Music & Artistic Director Gustavo Dudamel.
The Natural History Museum's Dino Fest moves online this year September 22-25 featuring chats with scientists, hands-on activities, family-friendly entertainment, and more. The events take place on Zoom.
Atlas Obscura is a great site for discovering strange and wonderful places while on a road trip, but it's also been offering a host of virtual at-home experiences to enjoy while travel is off the table. For Fan Favorites Week, September 21-25, you can choose among 10 of their most popular offerings.
San Marino's historic Old Mill, El Molino Viejo, is hosting its first-ever Virtual Music Under the Stars! The 40-minute livestreamed piano and violin concert will take place on Saturday, September 26 at 7 p.m. via the website www.old-mill.org and on the Old Mill Facebook Page.
Take a tour of historic places in DTLA with the Los Angeles Conservancy. They host ticketed Zoom tours every Wednesday and feature beloved buildings like Bradbury Building, Million Dollar Theatre, and more.
Through October 4, recent grads can submit an original design for a Vita Coco billboard at Sunset and La Cienega. The first 100 submissions will receive a free year-long submission to Squarespace, the top 10 participants will get $1,000 cash to build their portfolios, and the winner will receive a full-time junior designer job with Vita CoCo. More info here.
Morrison Hotel Gallery's online exhibit Backstage Pass is now open. Per a release, the show draws from the archives of renowned photographers like Lynn Goldsmith, Bob Gruen, Neal Preston, Henry Diltz, Ethan Russell, Timothy White, and "others granted utterly intimate access to the green rooms and sidelines where music legends are truly made."
Join an online murder mystery game played in real-time over Zoom on September 19. Hosted by Murder Mystery Dinner Party, Dinner with Dracula will have guests trying to figure out who's turned into a vampire and how to save them. The party will also take place next Friday and Saturday!
Artist Jules Muck's solo exhibit, "Let the Cats Out" is now online at Gabba Gallery. See it here.
"Dollmakers VII: Folktales" is now online via Cactus Gallery featuring Anima ex Manus Art Dolls. It's a perfectly eerie show to get you ready for Halloween. Check it out here.
The Abbey Food & Bar's 15th annual Christmas in September Toy Drive for Children's Hospital Los Angeles is online this year from September 21–27. The Abbey's online wishlist (here) will be shipped directly to the hospital. Guests can also drop off an unwrapped infant toys or an age-appropriate gift during normal operating hours those same dates.
The Ford's State of LA! series features conversations with culture makers, entrepreneurs, and thought leaders in L.A.'s art scene. Watch on YouTube.
CAP UCLApresents Forced Entertainment's Complete Works: Table Top Shakespeare: At Home through November 15. Via a release: "In 2016, CAP UCLA presented Complete Works: Table Top Shakespeare, which comprised condensed versions of all 36 of the plays of William Shakespeare over six days on the stage of Royce Hall. Each performance was limited to a maximum of 100 people, so many of our patrons were unable to attend. For our 2020-21 Season we are pleased to be able to once again share all 36 plays with our audiences—only this time they will be the at-home versions where the six performers will restage the project online direct from their kitchen tables, each currently isolated in different places including Sheffield, London and Berlin." See the full schedule here.
Grand Park's Easy Mornings focus on personal wellness. The online presentations take place on Saturdays from 10-11 a.m. through October 3. Log on for stretching exercises, photography tips, coloring sessions, performances, and weekly features on local artists and food trucks. See more here. Watch on YouTube (@GrandParkLosAngeles) or Facebook Live (@GrandParkLosAngeles).
A + D Museum hosts "The View From Here," a series of video conversations with Black American designers and artists about how the environments they grew up in impacted their creative vision. The project is designed to spark conversation around topics like gentrification and identity in built environments. New videos will be uploaded this month.
Every Friday, join Dynasty Electrik for a free Crystal Sound Bath & Astrology session. The astrology discussion and meditation will be followed by a relaxing ceremonial blessing with crystal singing bowls.
Every week, the Annenberg PetSpace hosts virtual events designed to deepen the bond between you and your pet. See the full schedule here.
Have you filled out you 2020 Census yet? You only have until September 30 and it's super important to make sure California gets the federal funding and political representation it needs based on its population!
The Gourmandise School at Santa Monica Place offers weekly online cooking and baking classes via Zoom. Check out the calendar here.
The Los Angeles Philharmonic Association and KCRW present World Festival at the Holiday Bowl, a radio broadcast series of previously recorded live concerts. Tune in on Sundays from 6:30-8:30 p.m. through October 11 for a different concert each week. This Sunday, it's Little Dragon and Jimmy Cliff. Online listeners, here's your link.
Long Beach Food & Beverage presents virtual cooking and cocktail classes. See what's up next here.