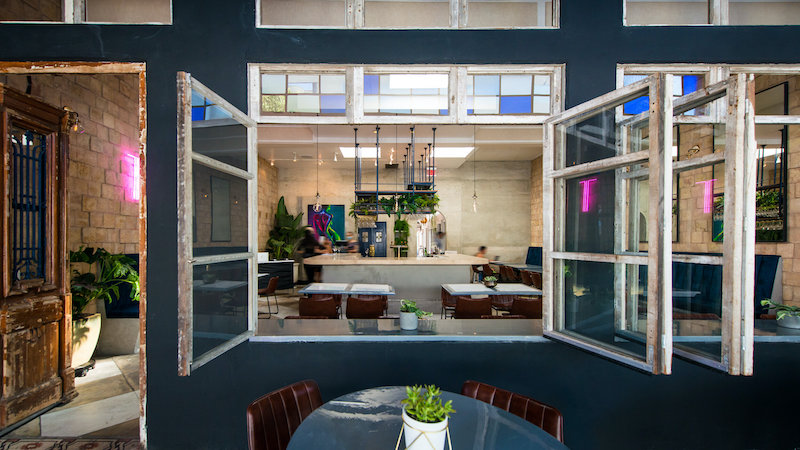 It may be an odd time to launch a new restaurant, but Theía is now officially open on West 3rd, offering fresh, Greek cuisine and unusual cocktails on its patio and for takeout. It takes over the space formerly occupied by Jaffa and comes via Max Simon and Chef Moises Placencia. 
In Greek mythology, Theía was a Titan goddess associated with sight, the aether, and in some variations, things that shine. The food at Theía is inspired specifically by the Greek island Mykonos, named for its first ruler and, according to mythology, a descendent of the god Apollo.
According to Placencia, the restaurant's many seafood dishes "derive from the strong fishing culture in Mykonos," especially their charred octopus, which comes served with fingerling potatoes, olive, cilantro, and jalapeño. Other seafood options include a crudo with grapefruit and a Loup de Mer (sea bass) served whole and crusted in salt with a butter and capers sauce on the side.
Elsewhere on the menu, diners will find a number of Greek staples, like hummus and baba ganoush with warm, soft pita or spanakopita. There's also a burger made with a lamb and beef patty topped with lettuce, tomato, onions, and tzatziki. For dessert, their incredibly flaky baklava comes in either pistachio or coffee.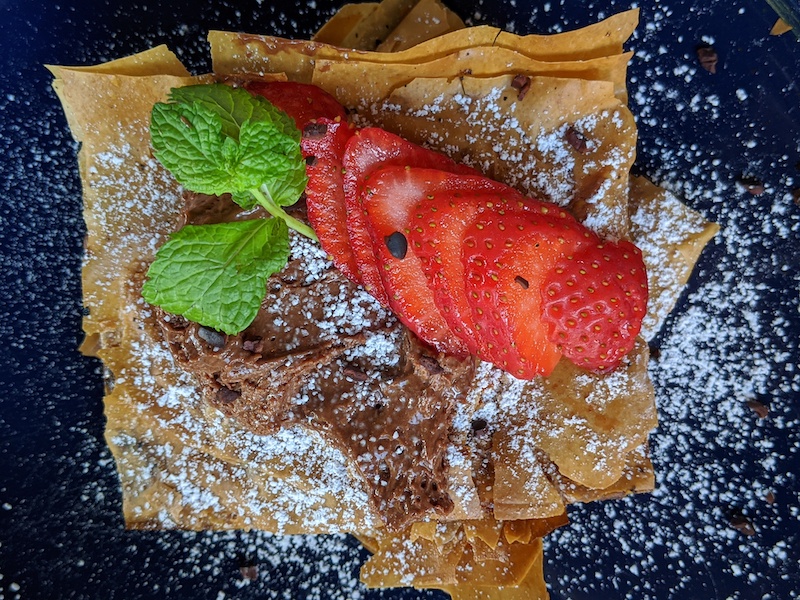 Theía's cocktail menu from bar manager Sean Leopold has several unique choices, like the Tropic Like It's Hot—made with gin, mezcal, lemon, egg white, orgeat, kiwi puree, and mint, topped with black sesame and sage— or their take on a gin & tonic with blueberries, peppercorn, rosemary, and dehydrated lemon. The idea was to also have interactive cocktails, which are a little hard to do in the time of social distancing, but still sometimes work. For example, if enjoying the tequila-based Dr. Jeckyll & Mr. Purple, the guest will add a bit of butterfly pea flower tea, which changes the drink's hue. 
On the weekends, Theía offers brunch with a customizable Bloody Mary. Happy hour is Monday through Friday, 5 p.m. to 7 p.m., and features $5 draft beer, $5-6 wines, $9-12 cocktails, and deals on small plates.
Theía is located at 8048 W. 3rd Street in Los Angeles. It's open Mon.-Thurs., 11 a.m. to 3 p.m. and 5-11 p.m.; Friday, 5 p.m. to midnight; Saturday, 10:30 a.m. to 4 p.m. and 5 p.m. to midnight; and Sunday from 10:30 a.m. to 6 p.m. for all-day brunch.