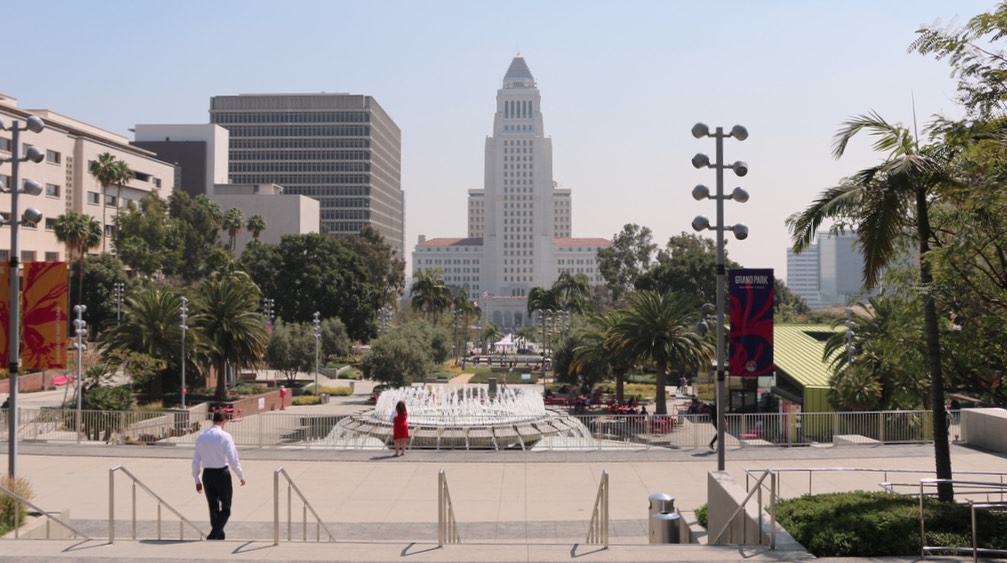 In today's brief, we discuss L.A.'s impending furloughs, County reopenings, a new restaurant trend in Riverside, and the latest on the Dijon Kizzee shooting. Finally, would an aerial tram in Griffith Park totally destroy the character of L.A.'s most revered greenspace? First, some newsy stuff.
Morning News Rundown
We know the City's financial coffers are taking a hit due to the pandemic, but projecting revenue for the 2021 fiscal year seems like throwing a dart in the dark. The City Administrative Officer's staff reports we could be anywhere between $45 million to $409 million in the red on a total budget of $6.68 billion for the coming fiscal year. In light of the massive uncertainty, yesterday, Los Angeles City Council voted to declare a fiscal emergency, which paves the way for the furlough of roughly 15,000 city employees. Furloughs would start Oct. 11 and are projected to save an estimated $104.2 million if kept in place for the entire year. [The Eastsider]
On Wednesday, L.A. County officials clarified what the county is allowing per new state reopening guidelines. Hair salons and barbershops may now reopen indoor services at 25% occupancy so long as they comply with safety and distancing protocols. Schools may also provide limited in-classroom services to students with special needs. [We Like L.A.]
Outrage continues to build over the fatal shooting of Dijon Kizzee by LASD deputies. CBS Los Angeles reports that deputies fired at least 18 shots at Kizzee as he attempted to flee after being stopped for a bicycle code violation (a code violation still not specified by law enforcement). LASD has not confirmed how many shots were fired. Congresswoman Maxine Waters, whose district includes the Westmont neighborhood where Kizzee was killed, wants the California Attorney General to launch a formal inquiry. [LA Mag]
A burgeoning trend of legal, at-home restaurants is taking off in Riverside County, where Public Health officials have permitted their business under the umbrella of a state law (AB-626) approved in 2018. As it stands, L.A. County Public Health has not yet provided a legal framework for permitting these types of at-home restaurants in Los Angeles, but that doesn't mean it won't happen in the near future. [Eater LA]
With a massive heatwave expected to hit SoCal over Labor Day weekend, you might be thinking about going to the beach. You might also be wondering about crowds, and if mask-wearing is actually enforced at beaches around Southern California. In the South Bay, the answer is yes. Since guidelines for facial coverings began in July, Manhattan Beach has given out 378 citations, with fines starting at $100 for first-time offenders. Bottom line: Make sure to pack your mask if you're heading to the sand this weekend. [Daily Breeze]
A Tram Too Far?
Last week, I mentioned that a new feasibility study will examine the possibility of building an aerial tram in Griffith Park. Some people really hate that idea, including Modern Hiker founder Casey Schreiner, who wrote a scathing takedown of the tram proposal in his blog last week. Schreiner is the author of the recently published Discovering Griffith Park: A Local's Guide. On matters of public land use in Los Angeles––and Griffith Park, specifically––he's one of the most informed sources in the city.
In his piece, Schreiner calls the aerial tram "a solution in search of a problem" and argues it would ruin the character of Griffith Park. The whole editorial is worth a read, but I'll summarize his argument here:
Construction of the tram would disturb the natural environment, obstruct views, and be a general eyesore.
If the objective is to increase mobility to the park from surrounding residential communities, there are far more cost-effective ways, such as shuttles.
L.A.'s poor record of park space conversions and the eagerness of some developers put motivations into question.
Finally, Schreiner concludes that Griffith J. Griffith, the namesake who donated the park's land to the city in the first place, would not be a fan of this idea because it runs counter to the whole spirit of why it was built: Greenspace to provide a respite from city life, not an elevator to a touristy view or a photo op.
If you're also opposed to the tram, Schreiner has some ideas for how to contact public officials and support advocacy groups, which you can find at the end of his article. [Modern Hiker]