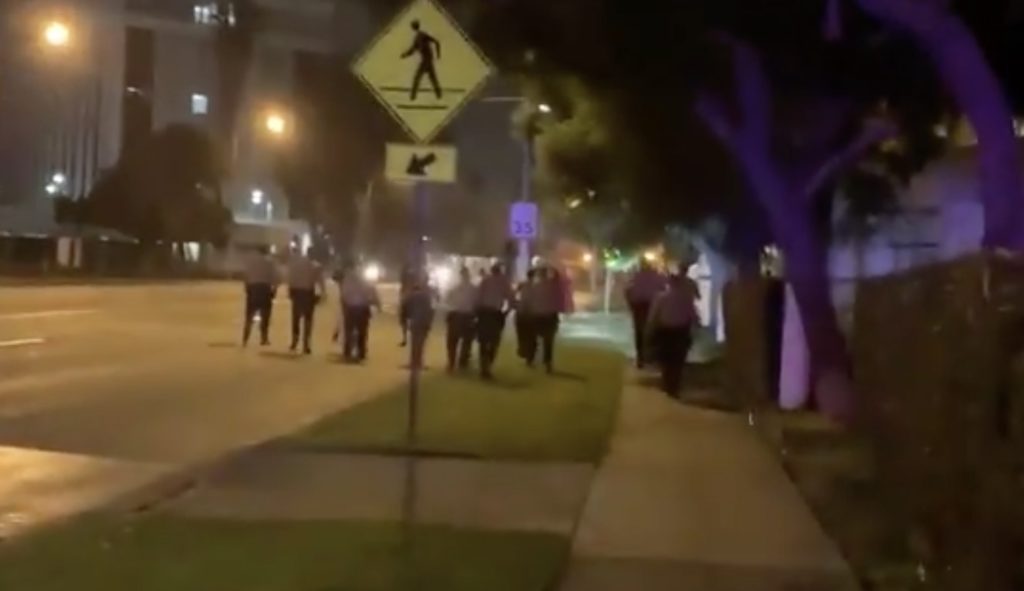 Prosecutors have dropped the case against Josie Huang, a KPCC reporter charged with obstructing justice. Plus: Containment jumps higher on the Bobcat Fire, multiple vehicles hit demonstrators in Hollywood who were protesting for Breonna Taylor, and parents are suing the LAUSD because their kids aren't learning. Finally, a closer look at the proposed Dodger Stadium gondola project. First, news.
Morning News Rundown
The D.A.'s office dropped obstruction charges against KPCC/LAist reporter Josie Huang. On September 12, Los Angeles County Sheriff's deputies pushed Huang to the ground after she attempted to record the arrest of a protestor outside St. Francis Medical Center. In the days following her arrest, Sheriff Alex Villanueva made several false assertions about the incident, some of which were rebuffed by Huang's own video evidence. Ultimately, prosecutors cited insufficient evidence in their decision. Huang is now seeking a finding of "factual innocence" to clear the record of the arrest. You can read Huang's account here. [Buzzfeed News]
The bad news is the Bobcat Fire has burned over 113,000 acres and continues to threaten multiple communities in the San Gabriel Mountains. The good news is that fire crews have made rapid progress over the last 24 hours and containment jumped to 50% overnight. Meanwhile, federal investigators are looking into whether the fire was sparked by faulty Southern California Edison equipment. [ABC 7]
As outrage continues over a grand jury's decision not to indict three officers in the killing of Breonna Taylor, a demonstration in Hollywood on Thursday night featured two separate incidents of drivers hitting protestors with their vehicles. Thankfully, no serious injuries were reported. [ABC News]
Metro's board of directors voted 12-1 to cut $1.2 billion from the 2021 fiscal budget. The vote cements big cuts in service for the coming year, including a 20% reduction in bus service. [Streets Blog]
A group of parents filed a lawsuit against the Los Angeles Unified School District, claiming its approach to distance learning has failed to preserve their children's right to an education. [LAist]
Finally, a brief public service announcement: Plan your vote, people. [LAist]
A Deeper Dive on the Dodger Stadium Gondola
I'll ask this again because it bears repeating: Do we really need a gondola system to Dodger Stadium?
Writing for Curbed L.A., Alissa Walker lays out some potential pros (there are surely a few) and cons (there seem to be a lot more of those) in moving forward with one proposed design.
Advocates say the Los Angeles Aerial Rapid Transit would move up to 5,500 people per hour on game days. That's maybe 12,000 fans in roughly two hours before the game. But in talking with transit experts, Walker casts doubt on that figure, calculating that you'd need 144 cabins boarding and departing every 30 seconds to hit that mark. I wonder, have these people ever ridden a bus in L.A.?
Moreover, as I asked in the A.M. Brief this past Monday, Walker also wonders why aren't we looking to beef up the already existing Dodgers Stadium Express? That's already moving 4,000 to 8,000 people per hour on game day, and the cost and footprint to scale that up would be significantly less risky that betting over $100 million on efficacy of a gondola.
Finally, perhaps Walker's best point is that we should also look at smaller projects that could be completed in a much shorter time frame, such as building out the walking and biking infrastructure of Elysian Park or adding strategic funiculars to expedite foot traffic moving up the hills. These types of moves would cost less while also increasing mobility around the park overall, even on non-game days.
Let me put this in baseball terms: Figuring out the transit logjam to Dodger Stadium will require a series of bunt singles and leg-out doubles, not one moonshot home run.
Read Walker's full story here.