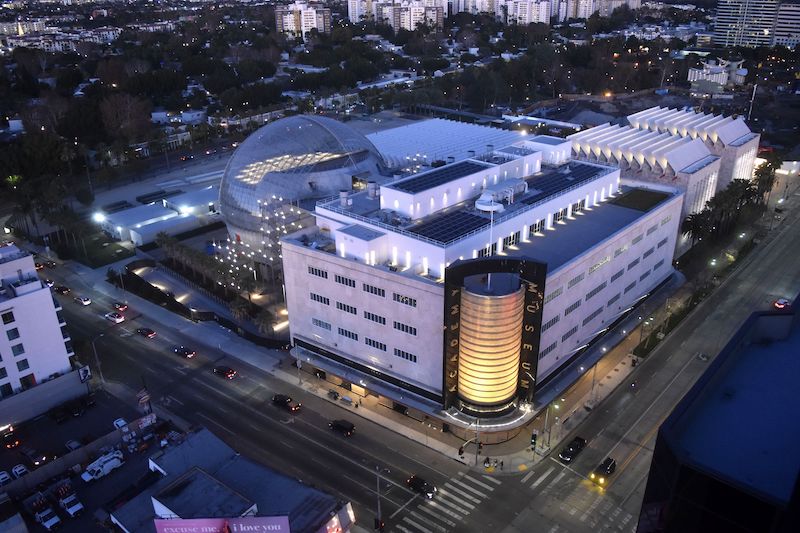 The Academy Museum of Motion Pictures will finally open in L.A.'s Miracle Mile in September of 2021. Today, museum officials offered media a peek at what the massive complex will offer visitors this autumn, plus some of the virtual programming we can enjoy in the interim. 
"Since the founding of the Academy, both the Academy and the city have tried numerous times to build a film museum so there's clearly been a desire for almost a century, if not more, to build an institution devoted to the arts and sciences of moviemaking, which is our hometown industry here in Los Angeles," Museum Director and President Bill Kramer said during a virtual Q&A this morning. 
Prior to the Q&A, a pre-recorded tour from actress Laura Dern, who sits on the museum's Board of Trustees, swept through renderings of the space and its opening exhibitions.
The 300,000-square-foot museum, designed by architect Renzo Piano, consists of two buildings connected with glass bridges. The spherical building features the 1,000-seat David Geffen Theater, replete with an orchestra pit, and the Dolby Family Terrace on its roof. The other building is the former May Company Building, built in 1939, which has been renamed the Saban Building in honor of museum donors Cheryl and Haim Saban.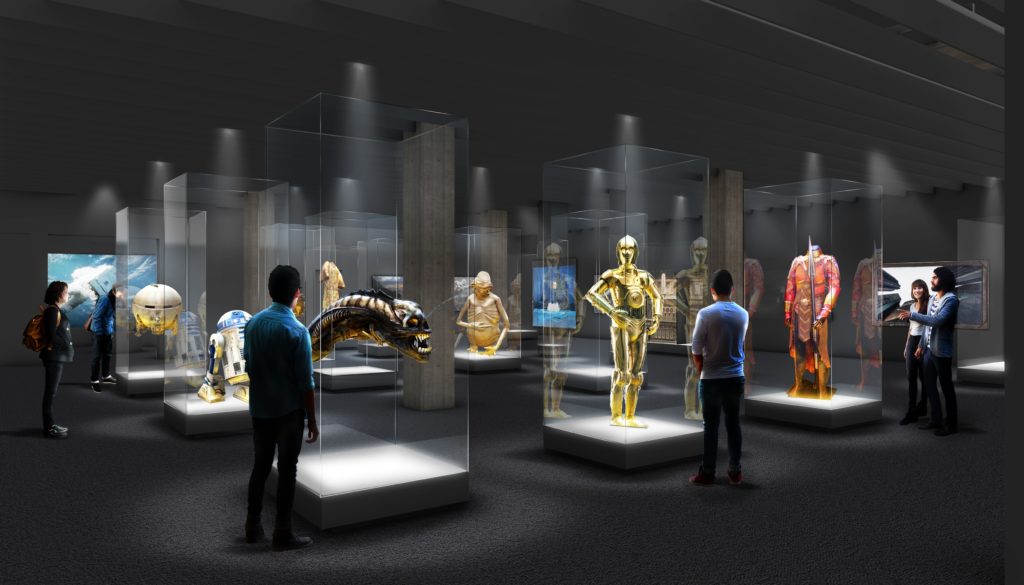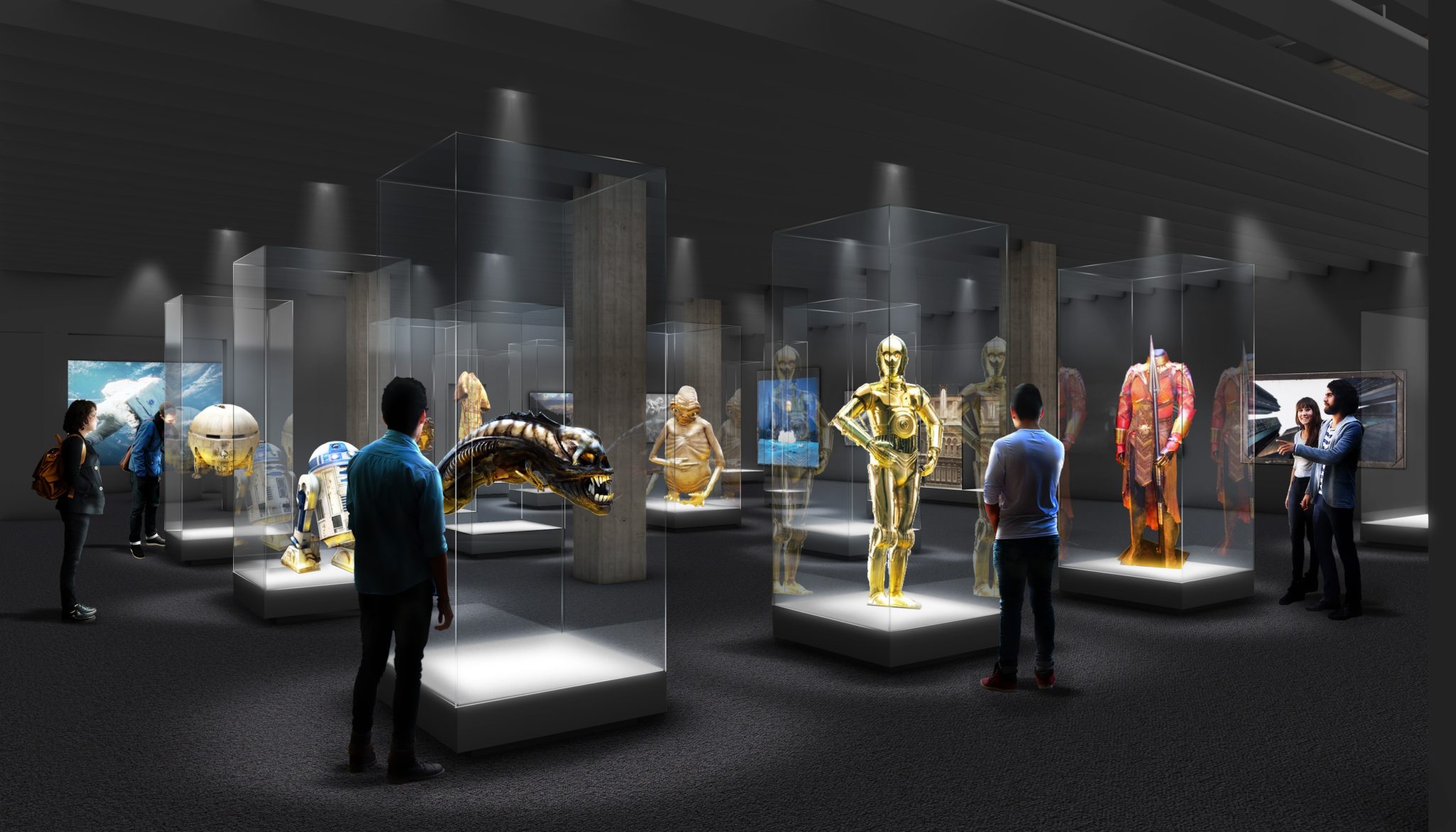 The Saban Building holds the gallery and exhibition spaces, but also the 288-seat Ted Mann theater for daily screenings and special events, the museum store, and a restaurant and cafe.
From its lobby, guests can access the Spielberg Family Gallery, where they can catch a 10-minute intro to cinema, while 10 monitors hung throughout will play clips from 10,000 films from around the world. According to Dern's tour, this is "the first space in the museum's core exhibit [Stories of Cinema], a three-floor exhibition that explores international cinema."
From there, guests can dive into all the artistic and scientific elements of filmmaking, enjoy celebrated moments in Hollywood history, and take a closer look at the "less proud' moments in history, including racial discrimination and misogyny.
For example, while an Academy Awards exhibit will include pivotal speeches and wins, it will also discuss controversies likes Oscars So White and the way Hattie McDaniel was mistreated when she won an Oscar for her role in Gone with the Wind in 1939. McDaniel, the first Black person to win an Oscar, was made to sit at a segregated table and was denied entry into the club her white co-stars visited after the ceremony.

When asked why the museum chose to explore these issues as well as cinematic achievements, Chief Artistic and Programming Officer Jacqueline Stewart said, "We know that we will have visitors who are thinking about these questions, and so we want to be a platform for furthering those conversations and helping to develop tools for having difficult conversations. We didn't feel it was the right approach to stay simply in the lane of celebration at a time when we all know that there are national and global conversations about these issues and that the media are at the center of those questions."
Another exhibit, the Oscars Experience, uses augmented reality to simulate what it would be like if you won an Academy Award and walked across the Dolby Theatre stage to accept it. Another area titled Impact/Reflection explores how narrative film and documentaries can inspired change. Its four sections will focus on #metoo, Black Lives Matter, climate change, and labor relations.

"We sincerely hope that this is going to be a space that doesn't just document these films, but really inspire people to think more deeply about how they can become more knowledgable about these issues and about the larger ways that cinema can have an impact on our thinking, modes of organization, and achieving social change," Stewart said.
Other highlights will include a gallery that's entirely devoted to the making of The Wizard of Oz, and collaborations with filmmakers Spike Lee and Pedro Almodóvar, composer Hildur Guðnadóttir, and sound designer Ben Burtt.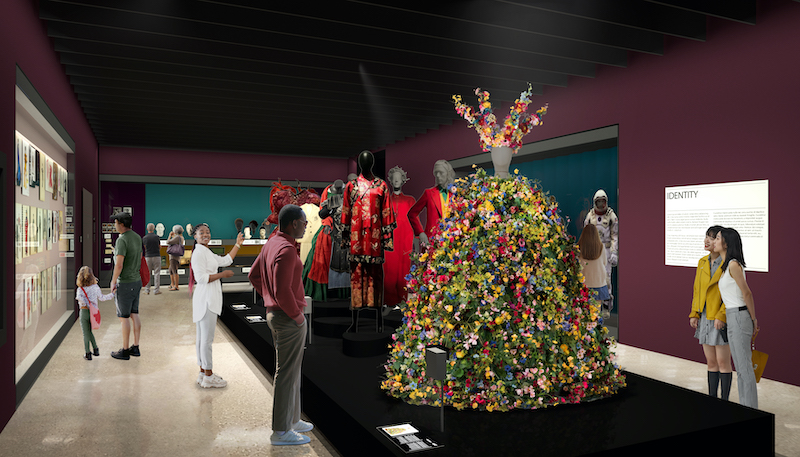 The first temporary exhibition, located in the Marilyn and Jeffrey Katzenberg Gallery, is a retrospective of Studio Ghibli co-founder Hayao Miyazaki's work that features over 300 objects, including character designs, storyboards, posters, cels, and more. Guests will follow Mei, a young girl who appears in My Neighbor Totoro, through a tree tunnel where they can enter the environments of Miyazaki's films and discover how their characters were created. There will also be a meditative Sky View installation and a Magical Forest installation. 
In the LAIKA Gallery, guests will find a collection of pre-cinematic optical toys and devices from the Richard Balzer Collection, such as shadow plays, zoetropes, and magic lanterns.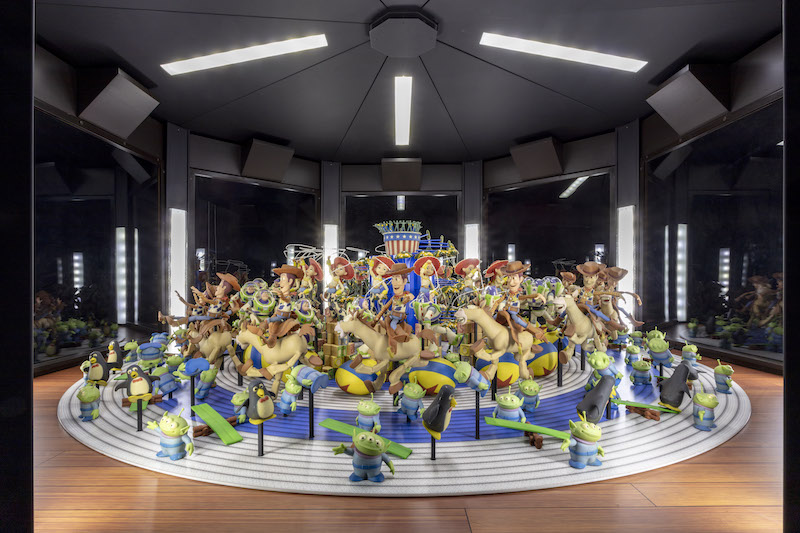 In all, the museum's entire collection will include thousands of items, including screenplays, posters, photographs, films and videos, production art, costumes, props, and more. The largest object in the museum is a 1,200-pound shark model from Jaws, but other items include the costume Danai Gurira wore as Okoye in Black Panther, stone tablets from The Ten Commandments, set decor from Norman Bates' home in Psycho, and a creature headpiece from Alien designed by H.R. Giger.
When the museum opens, there will be a host of public events, themed tours, family days, and "Quiet Mornings" for people with sensory or processing disorders.
But before the museum opens, film fans can enjoy virtual pre-programming, including Oscars content on the museum's website, screenings of Pariah and Y tu mamá también, and workshops like "How to Use Film as a Teaching Tool to Have Difficult Conversations" and "The Work of Black VFX Artists."
On April 22, the museum will host Breaking the Oscars Ceiling, a virtual conversation hosted by museum trustee Diane von Furstenberg, moderated by Stewart, and featuring Sophia Loren, Whoopi Goldberg, Marlee Matlin, and Buffy Sainte-Marie. 
To access digital programming and learn more about the museum, go here.