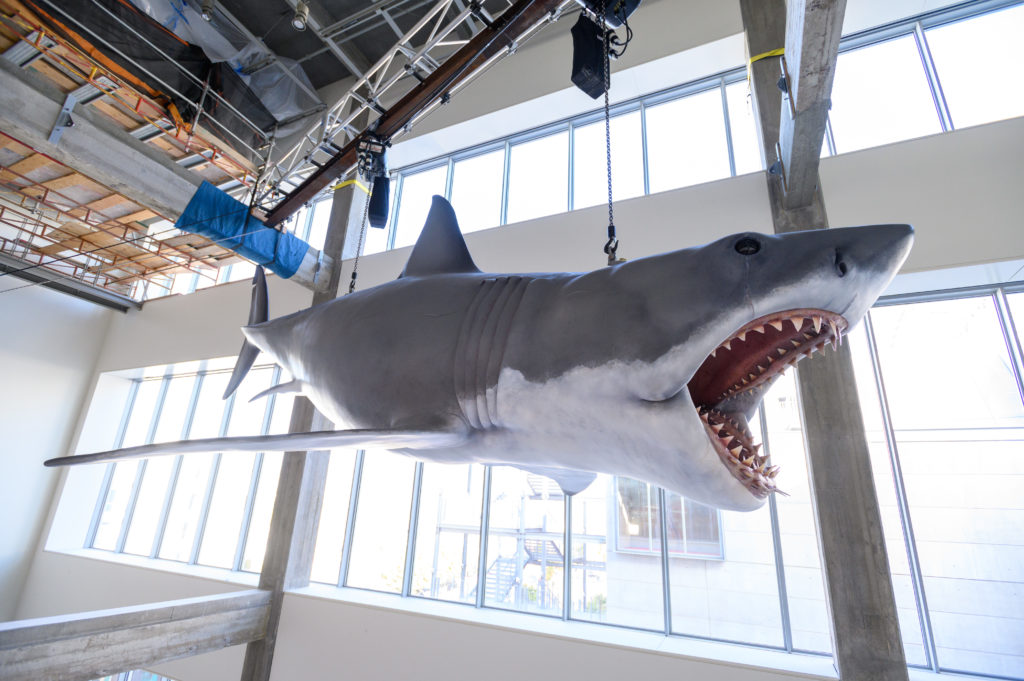 The Academy Museum of Motion Pictures just installed the last surviving full-scale shark model from Jaws. Guests to the museum will be able to see the toothy beast when the museum opens in April of 2021, but it will also be visible from outside at Fairfax Ave. and 6th St.
The 25-foot-long, 1,208-pound predator is nicknamed "Bruce the Shark" and was created by art director Joe Alves specifically for Jaws. According to the museum, Bruce was the fourth model made from the original mold. The first three were cast in latex and rubber. They later rotted and were destroyed. This one was cast in fiberglass and used in photo ops with tourists at Universal Studios Hollywood at the time of the film's release in 1975. 
In 1990, Nathan Adlen took the model to his family junkyard in Sun Valley. When Adlen closed the junkyard in 2015, he sold or gave away its many possessions, including several pieces to the Valley Relics Museum and this shark to the Academy Museum. Greg Nicotero of KNB EFX was recruited to restore the shark to its original glory.  
Bruce is now the largest item in the museum's collection. Because it would not fit in the elevator, staff had to remove two panels from the building's glass wall and place Bruce via crane.
As I'm sure you are dying to know, Bruce has 116 teeth. 
The Academy Museum is scheduled to open on April 30, 2021, assuming we have indoor museums again by then.