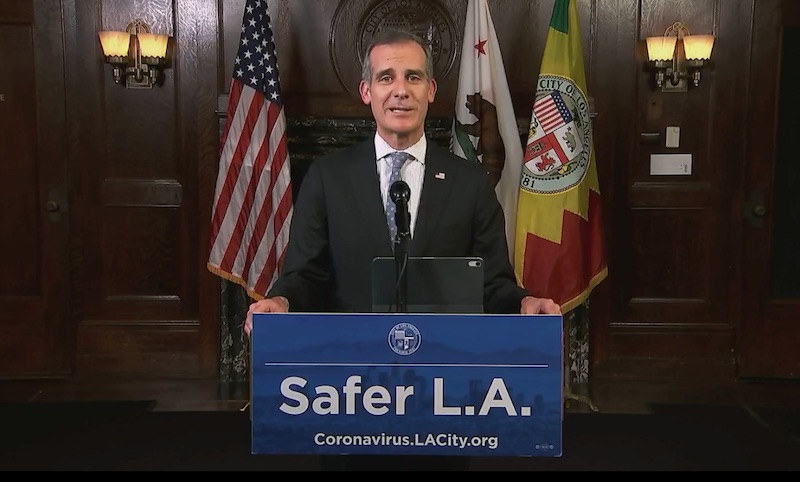 Today, Los Angeles County announced 6,124 new COVID-19 cases, the highest single-day total so far. At least 1,500 cases are due to a backlog over the weekend, but the latest count does bring the county's 5-day average to over 4,500 new cases per day. That means a new "Targeted Safer at Home" order is imminent. Public Health will work with the County Board of Supervisors to define what exactly that means and "determine additional safety modifications," according to a release.
By comparison, this is a far sharper increase than we saw during the surge this summer. From June 20 through July 3, average daily cases increased by 43%. From Oct. 31 through Nov. 13, average daily cases have increased by 108%. There are now 1,473 people hospitalized with COVID-19, 27% of whom are in the ICU.  This is a 73% increase from Nov. 7. Because the cases we're seeing right now reflect infections that were passed on two weeks ago, Public Health is not particularly confident we'll see an immediate decrease in numbers. 
On Sunday, the County announced that all in-person dining, including outdoor dining, would shut down on Nov. 25 at 10 p.m. Further restrictions and closures are likely in the days ahead. During a briefing this evening, Mayor Eric Garcetti promised that those businesses will have a safety net. 
"We will take the funds that we have in business assistance and surge them into those industries to get us through this period, to keep those businesses alive, to protect those jobs, and to make sure that they can stand up again," he said. "We could keep everything open and eventually they will close anyway, over a longer period of time, because the numbers would be more devastating."
Garcetti also implored Angelenos to stay at home for Thanksgiving, with their own households, and avoid passing on the virus and overwhelming our hospital systems.
The meeting between Public Health and the Board of Supervisors is tomorrow. It may be a somewhat contentious meeting, as Supervisor Kathryn Barger has opposed the closure of outdoor dining. 
"Businesses throughout the County have invested thousands of dollars to ensure safety for their employees and customers only to be punished for the recent surge they have done everything in their power to prevent," she said via a release. 

Barger asserts it's large gatherings, not compliant restaurants, that are contributing to the spread and that closing them will only inspire people to host more private gatherings.

Garcetti defended the new restrictions in his briefing, citing County data that indicates 10-15% of new cases may come from outdoor dining, which Public Health Director Dr. Barbara Ferrer attributed to people sitting and chatting maskless with people outside their households.
Your best bet? You know he drill by now. Wear your mask, avoid people outside your household, wash your hands.