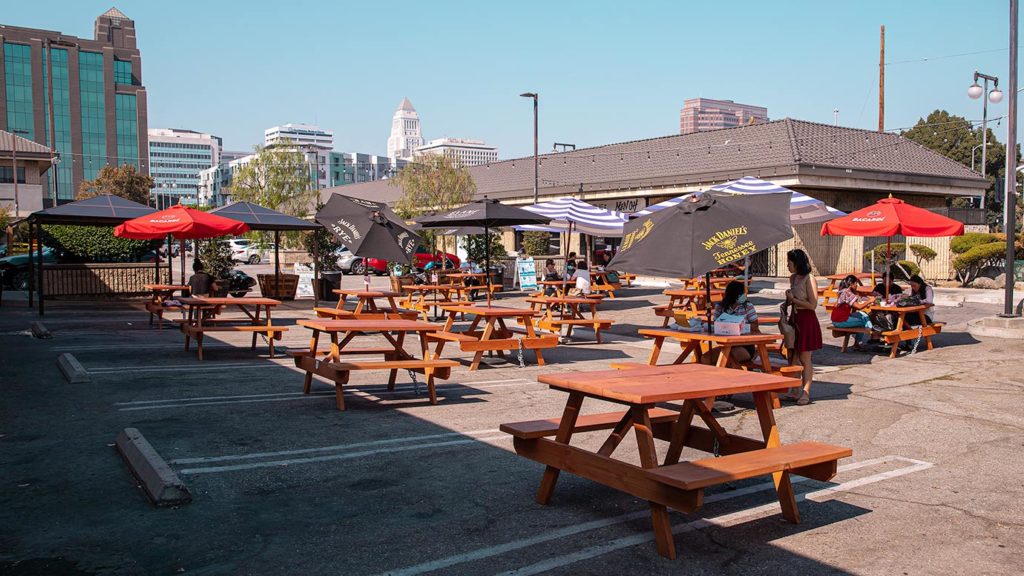 Today's announcement from the Los Angeles County Department of Public Health may not surprise you if you've been following daily COVID-19 case rates, which have doubled since early November. The most recent count brings our 5-day average case rate to 4,097, meaning it's time to say goodbye to outdoor dining for at least three weeks.
According to a release issued by Public Health this afternoon, restaurants, breweries, wineries, and bars will no longer be able to serve customers in-person as of Wednesday, Nov. 25 at 10 p.m. After that, only takeout, drive-thrus, and delivery will be allowed, while wineries and breweries may continue retail operations. This new restriction will remain in place for at least three weeks. 
This is sure to spark some controversy as restrictions kick in the night before Thanksgiving, and many local restaurants were planning to offer special menus for outdoor dining guests on Thanksgiving Day. If you made a reservation for Thanksgiving, you might want to give that restaurant a call and see if you can do pickup instead.
Last week, as COVID-19 cases surged, Public Health imposed new restrictions on non-essential businesses, limiting capacity and operating hours. At that time, Public Health warned us that if the county's 5-day average of new cases met or exceeded 4,000, they'd pull the plug on outdoor dining. And, well, we're there. 
On Nov. 19, the county announced 5,031 new cases and noted that cases were increasing at an even higher rate than the surge in July. From June 20 through July 3, the 7-day average increase in new cases was 47%.  From Oct. 28 through Nov. 10, the 7-day average increase in new cases was 68%.
Should the five-day average of new cases reach or exceed 4,500 cases, we're back to Safer at Home for at least three weeks. That means everyone except essential workers or those performing an essential activity (such as grocery shopping) would be asked to stay home. Public Health also mentioned this would trigger a curfew, but that's a moot point as the state has already imposed a curfew through Dec. 21.