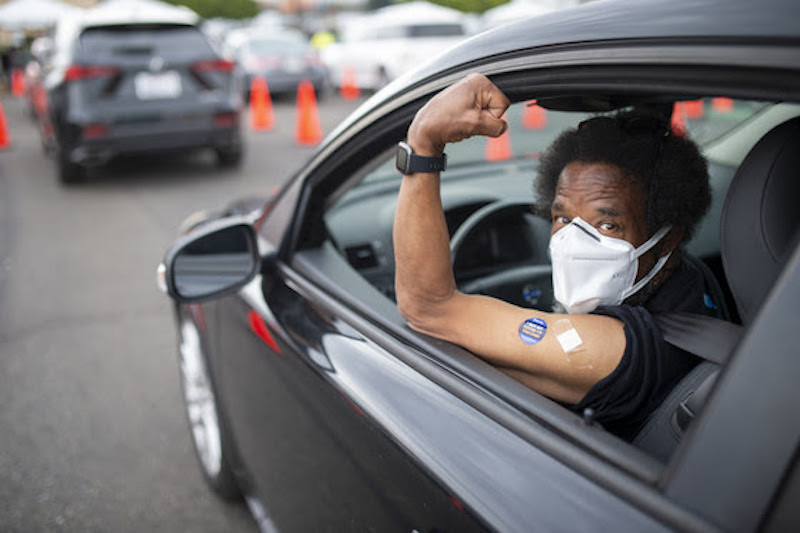 Today, state officials announced that all Californians 16 or older will be eligible for a COVID-19 vaccine on April 15. Residents who are 50 or older become eligible on April 1.
Gov. Gavin Newsom tweeted the news earlier today, saying "the light at the end of the tunnel continues to get brighter."
State officials say the vaccine supply is expected to "significantly increase" in the coming weeks, with current estimates indicating 2.5 million first and second doses per week in the first half of April, and over 3 million doses per week in the second half. By the end of April, the state expects to have the capacity to give out 4 million doses each week. Right now, California receives about 1.8 million doses weekly and can administer about 3 million doses per week.
That said, officials still believe it will take "several months" to vaccinate everyone in the state who wants a vaccine.
"We are even closer to putting this pandemic behind us with today's announcement and with vaccine supplies expected to increase dramatically in the months ahead," California Health and Human Services Secretary Dr. Mark Ghaly said via a statement. "However, we are not there yet. It will take time to vaccinate all eligible Californians. During this time, we must not let our guard down. It is important that we remain vigilant, continue to wear masks and follow public health guidance."
As a reminder, L.A. County residents can sign up for vaccination appointments here. Residents with disabilities or who don't have a computer can call (833) 540-0473 daily between 8:00 a.m. and 8:30 p.m.