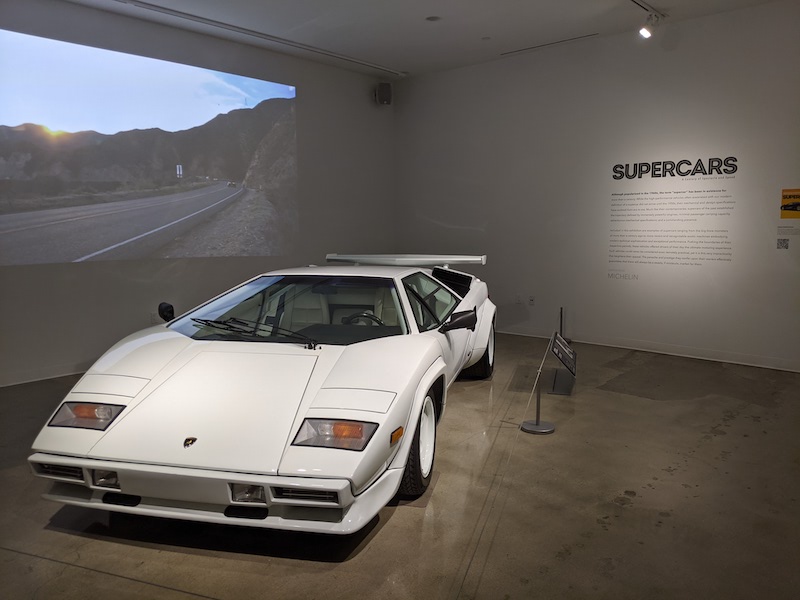 The Petersen Automotive Museum reopens to the public today featuring three new exhibits and a few changes. We stopped by earlier this week to see what it's like to go to a museum while L.A. County is in the Red Tier. 
On view now are some impressive, beautiful cars you're not likely to see on the road. The largest new exhibit, Supercars: A Century of Spectacle and Speed, highlights the evolution of the "supercar," showcasing over 30 high-performance vehicles.

This exhibit begins with a shiny Lamborghini Countach. According to Exhibitions Director Bryan Stevens, who provides a virtual tour of the exhibit, "this is what defines a supercar, even today." In particular, the car has "an incredibly audacious design, a really high price tag, extreme performance, a big engine, [and is] very exclusive and rare." 

From there, you'll move chronologically from the Benz Motorwagen of the 1880—a "supercar" in that it was the only car of its day—to vehicles from the early aughts. It stops there because in 2005, Bugatti released the Veyron, which Stevens noted is a whole new kind of supercar known as the hypercar. A hypercar exhibition will debut at the museum later in 2021. (Just in case you were wondering, a Bugatti Veyron will cost you $1.9 million.)
There are also two smaller new exhibits. Extreme Conditions shows off 11 custom off-roading vehicles, including racing, utility, and adventure vehicles. Redefining Performance features a small collection of Porsche racing cars.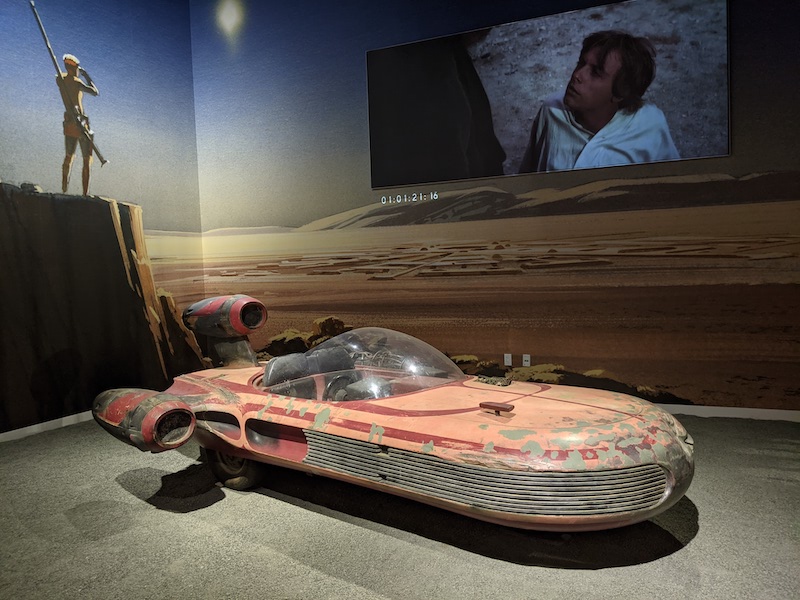 Guests will also be able to check out some pre-existing exhibits, including Reclaimed Rust: The James Hetfield Collection, Building an Electric Future, and Hollywood Dream Machines: Vehicles of Science Fiction and Fantasy. The latter's a fun one even if you're not a car buff, as you can see iconic vehicles from Blade Runner, Batman, Star Wars, and more. 
Most of the museums in L.A. County are opening up in the next month or so, including LACMA (April 1), The Autry (April 6), and NHM (April 1). One of the biggest changes you'll notice before you leave the house: you now have to buy a ticket in advance that specifies not only the date, but the time. Because all reopened indoor businesses are operating at reduced capacity, this extra measure helps ensure social distancing. 
Once inside, you'll notice another change: one-way galleries. This is also a social distancing measure. At the Petersen, this means taking the elevator to the third floor, then working your way back down to the first floor. Arrow decals on the floor designate a pathway through each exhibit. Each guest is also given a small stylus, which they can use to push elevator buttons. Touch-free hand sanitizing stations are also spread throughout the museum. 
The Petersen's store is open, but its restaurant, Drago, has permanently closed. A new restaurant partner will take over in the future, though that partner has yet to be announced.
Tickets are $16 for adults, $11 for children 4-17, and $14 for seniors 62+. Healthcare workers and first responders can get free tickets online here. Masks and a wellness check are mandatory. 
If you go, make sure to look across the street and check out the new façade of the forthcoming Academy Museum. You can read about what will be on view when it opens in September here.